Affiliate links may be included throughout this post at absolutely no cost to you.
We're just 2 days away from October 1st, but I've been seeing Halloween candy and decor start creeping it's way onto the shelves at the stores for well over a month now! Halloween is such a fun season, because you really get to put your thinking cap on and get creative when it comes to your costumes, decor and the candies and treats you make!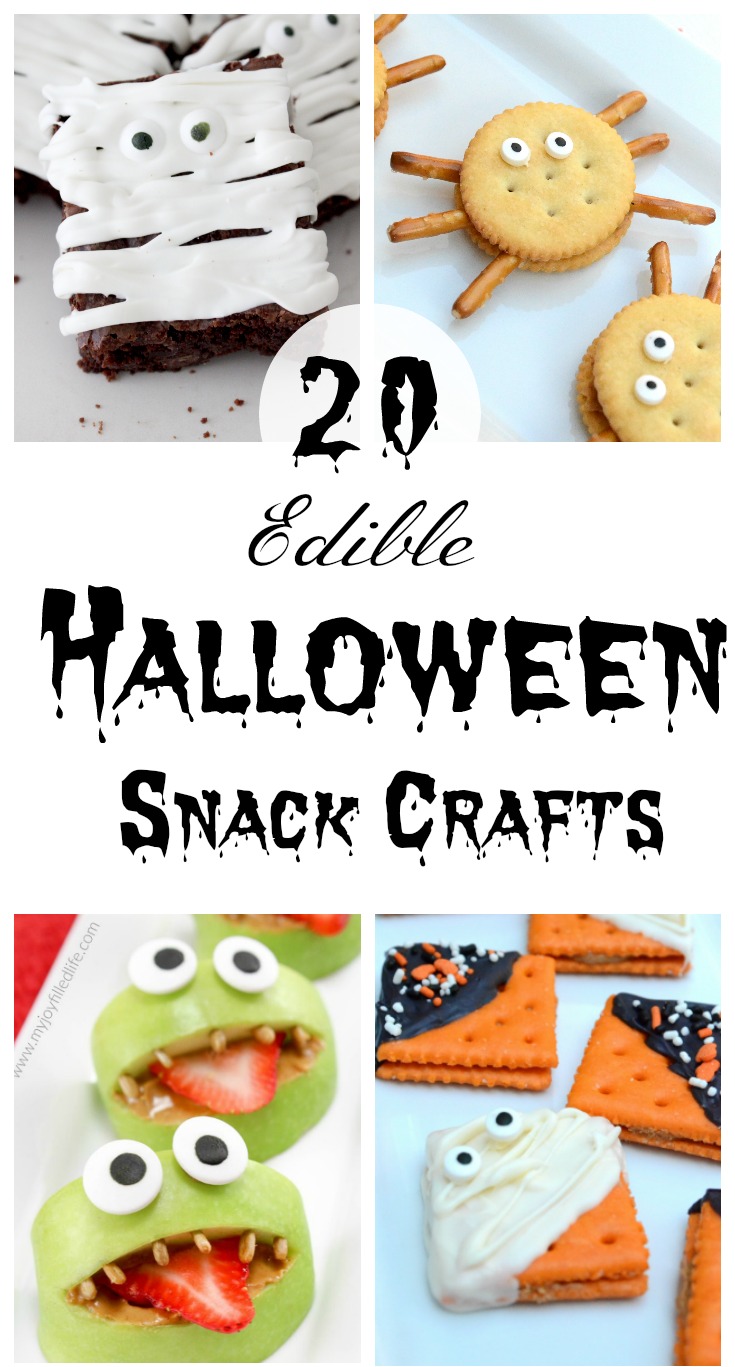 I've put together a collection of 20 Edible Snack Crafts for Kids to show you lots of really fun, delicious and simple things you and your children can prepare to get into the hauntingly fun Halloween state of mind! These treats are perfect to take to a classroom party, to serve to children who are trick or treating or to make and eat as a fun and festive afternoon snack! All of these recipes were put together by some pretty fabulous and creative bloggers (which I've linked for you,) so make sure you hop on over and show them a little love, too!
Easy Mummy Brownies – Hello chocolate, my old friend! I'm googly-eyed in love with these simple Halloween treats! The dynamic duo over at Pretty Providence is showing you how to whip up these ghostly gorgeous brownies, so stop by and take a look!
Cookie Witch Hats – I love these little cookie witch hats so much, and I especially love them because they're all filled with a fun candy surprise on the inside! You can learn more about how to make these fun treats over at Bfeedme.com!
Easy Sweet & Salty Halloween Crackers – These simple treats are super fun to make, and come together in just 5 minutes! These are perfect for when you need to put something together on the fly for school, or if you're feeling a little festive and want a quick Halloween treat! Made by yours truly! 😉
Eye of Newt Pretzels – You just can't go wrong with chocolate and pretzels, and throw a little "eye of newt" into the potion and you've got a real recipe for success! Sheryl over at Lady Behind the Curtain is showing us how to make these sweet treats, so stop by and show her some love!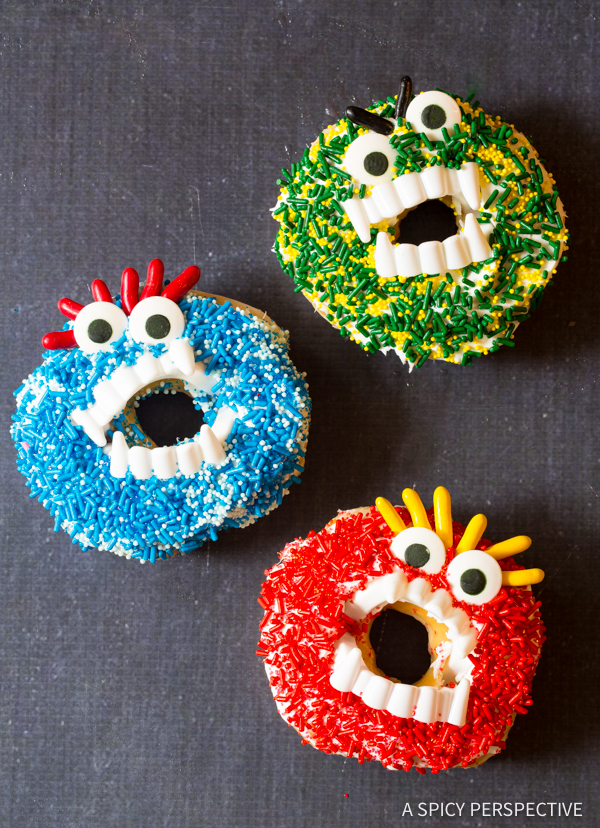 Halloween Monster Doughnuts – How spectacularly spooky are these fun and simple little monster doughnuts? These would make for a really fun snack craft for little kids to make, and they even get to keep the teeth as a toy to play with afterward! These fabulous little treats were made by the brilliant Sommer over at A Spicy Perspective!
Frankenstein Sugar Wafers – Sugar wafer are one of my favorite inexpensive treats to nibble on, and these little Frankenstein Sugar Wafers made by Shaken Together Life are frighteningly adorable and easy to make!
Easy Halloween Mummy Treats – Sure, you've probably seen lots of fun mummified treats lurking around on Pinterest, but have you ever thought about dipping candy piroulines in chocolate and transforming them into something sweet & spooky! You can find this simple snack craft right here on Southern Made Simple!
Halloween Boo Kabobs – Who doesn't love those sugary sweet marshmallow treats that always come around during the holidays?! I love this fun take on candy kabobs, and they're perfect for little hands to assemble by themselves! There treats (and tons of other amazingly fabulous treats) can be found over at We Heart Parties!
Easy Spider Peanut Butter Cookies – Here's another fun little creepy crawly treat that leans less on the "scary" side and more of the super-cute side! These are really simple for small little hands to create, and you can't go wrong with peanut butter and pretzels! You can find these right here on Southern Made Simple!
Halloween Mini Mummy Pizzas – You guys!! I LOVE these little pizza bites! They're such a creative way to get into the Halloween state of mind, and they're simple for kids to make, too! These slices of pizza perfection were created by Stefanie over at Mommy Musings, so hop on over and take a look!
Monster Marshmallow Pops – Eeek! These little monster marshmallow treats are almost too cute to eat! Kids will have tons of fun creating their own monsters and dipping them in chocolate and coating them with sprinkles! You can find a full tutorial over at Crafting with Kids!
Halloween Ice Cream Cone Snack Cups – Whether you're munching on cheesy twists or devouring some delicious witchy trail mix, these halloween ice cream cone snack cups are a fun and simple treat to make to display your favorite snacks in! This one was put together by yours truly, right here at Southern Made Simple!
Silly Apple Monsters – Hooray for fun, healthy snacks! These little monsters are made with some seriously delicious fruity goodness, and they're simple and fun to make! You can find a full tutorial over at My Joy Filled Life!
Freaky Frankenstein Oreo Pops – Do you love to sink your teeth into a devilisly delicious Oreo cookie? These little chocolate dipped cookie pops are just the thing to make and share with your friends this Halloween season!
Oreo Bat Pops – Three cheers for MORE Oreo recipes! These little bats are so stinkin' cute, and they're perfect for little hands to make! You can find a full tutorial and tons of other fun recipes like this one over at Made to Be A Momma!
Halloween Sugar Wafers – Talk about easy-peasy! Kids will have so much fun dipping these beloved sugar wafers into different colors of melted chocolate and decorating them with festive Halloween sprinkles! You can find the recipe right here at Southern Made Simple!
Graveyard Pudding Cups – Don't you just love this super simple and festive Halloween snack idea from Party Pinching? Chocolate and marshmallows are a match made in heaven, and these little ghost pudding cups are a fun treat to create and eat!
Spider Web Pretzels – What a fun treat to get tangled up into! Katie over at Made to be a Momma is showing us how to whip up these simple little treats on her blog, so hop on over and take a look!
Orange Scream-Sicle Floats – Who wouldn't want to sink a straw into these sweet little ghostly floats?! They're delicious and fun to make – and you can even use different flavors of soda to make different monsters!
Witches Broom Sticks – These non-candy treats are so much fun, and a much appreciated break from traditional sweets! Tamilee over at Tamilee Tips is giving us the skinny on how to assemble these fun Halloween treats!
If you liked this roundup of ghoulishly great Halloween Snack Crafts for Kids, you'll definitely want to hop on over and see what Thanksgiving Snack Crafts I'm sharing, too!
You can also search through seasonal snack-craft posts for every single holiday right here on Southern Made Simple! (See links below)
Valentine's Day Snack Crafts for Kids | St. Patrick's Day Snack Crafts for Kids | Easter Snack Crafts for Kids | Fourth of July Snack Crafts for Kids | Christmas Snack Crafts for Kids
Do you have any other fun ideas for simple and delicious edible crafts that kids will love? If so, drop a comment below and share the love!
PS: If you're making these for a Halloween party, don't forget the treat bags!