This shop has been compensated by Inmar Intelligence and its advertiser. All opinions are mine alone. #ItsThePerfectMatch #PerfectSnackMatch
I'll never forget the chills I felt and the excitement that filled the air as I walked down the street just hours before the huge soccer match took place. I was a young teenager on a European tour and was doing a homestay with a family at the time. The country I was visiting had their country's flags pridefully hanging from every possible place they could. Chit chat on the street was only about futbol, or soccer as we know it here in the states. That evening the family tuned in to the match on TV, and our eyeballs didn't move off of that television for one second. 
The place I was staying was in the countryside. There were other houses nearby, but they were still a good distance off. The moment the announcer declared our team the winner, that entire countryside came alive. I could hear families erupting with joy, excitement, and overwhelming pride for their country and the men on the field who led their team to victory. It was such a cool experience to be able to share those moments in another country, and from that moment on my love for soccer became very real. 
I love to catch soccer matches on TV as often as I can, and my oldest daughter has begun to take a serious interest in the sport. To help cultivate her budding interest, I decided to host a little soccer soirée for my family to enjoy while we catch UEFA Champions League matches on TV. I decorated a dedicated area in our home with a few decorations and a variety of game day snacks and treats that my daughter emphatically said were #goalworthy. To kick off our snack station on a winning note, I stopped at my local Publix to grab a few must-haves to make our soccer party a success.
Make sure you take advantage of the exclusive Pepsi offer at Publix to kick off your winning game day celebration!  ​
Currently you can find specially marked Pepsi products with UEFA Champions League packaging stocked at your local Publix, and it was the first thing to go into my shopping cart as I was picking out our snacks. Pepsi has also released a fantastic new flavor, Pepsi Mango that's a fun addition to kick up your game day a few notches. Pepsi and mango paired together is a winning match, and my family loves to treat ourselves to it while we watch the game!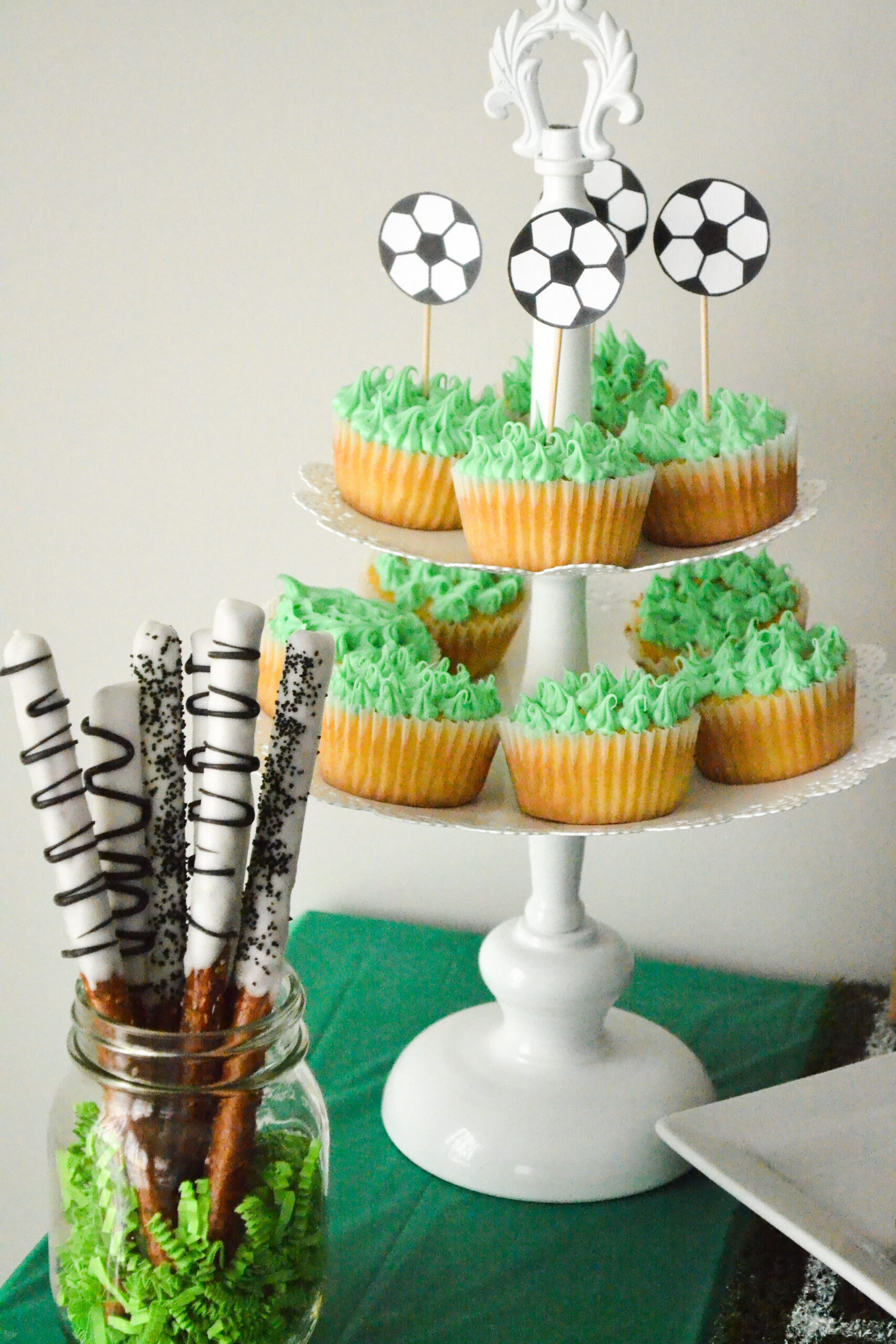 When planning a soccer themed party, I kept the menu pretty basic, but made sure to elevate the snacks a little by using black and white colors to match traditional soccer balls. A simple boxed cake mix became the cutest little soccer themed cupcakes with icing piped on to look like grass, and a bag of pretzel rods were transformed into party pretzels using a little white melting chocolate with black sprinkles and chocolate drizzled on top!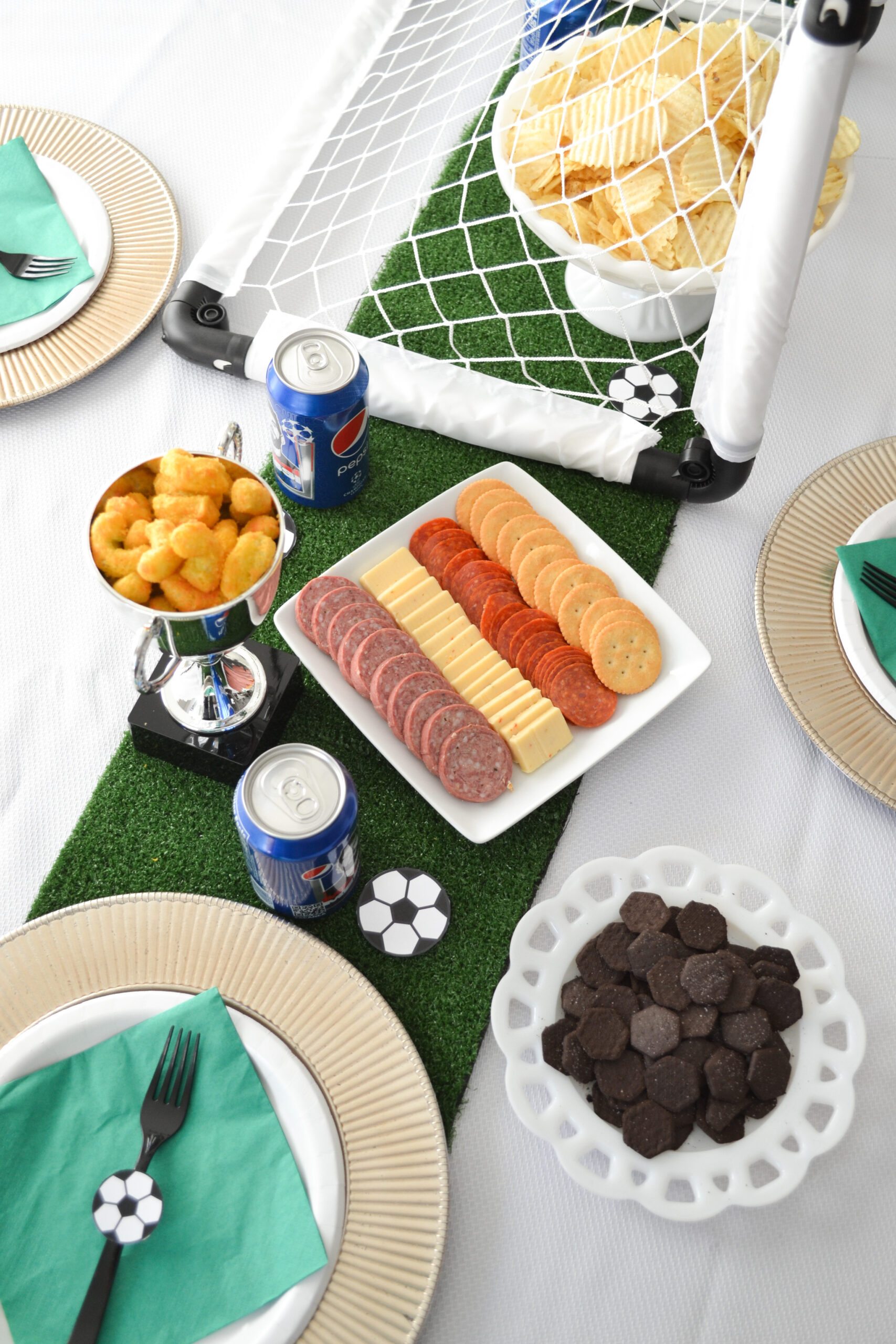 My children have a set of small practice goals they love to play with outside, and much to my delight they were small enough to use as a tabletop decoration. I stationed the potato chips and dip inside the goal, and I layered a strip of artificial turf underneath like a table runner to give the table a simple soccer field feel. You can typically find artificial turf in rolls for cheap at your local hardware store! For savory snacks, I sliced rounds of summer sausage, cheese and pepperoni and arranged them on a tray with a few crackers. Pro tip: If you have any older trophies from years past, dust them off and use them as serving bowls!
While shopping at Publix I also spotted a few chocolate cream cookie sandwiches that had a green filling in the middle. I knew these would be perfect for a soccer themed party. I used some of the leftover melting chocolate from the pretzel rods and dipped the cookies in to give them a soccer-feel. 
I also spotted square shaped pretzels, which look like miniature soccer nets to me. I drizzled a little bit of melted chocolate on them, too, and they were a total hit with all of the soccer-loving fans in our house! I lined the corner of the serving table with chilled Pepsi cans, a bucket of ice and party straws. I also cut a small section of artificial turf and used a little bit of craft paint to make a soccer field! I love the idea of doing something similar to make placemats for a soccer-themed tablescape!
I also sprinkled the table with specially marked UEFA Champions League Pepsi cans for extra decoration. My family has always loved drinking Pepsi, and I especially love that as a proud partner of the UEFA Champions League, Pepsi aims to enable fans to get closer to the sport of soccer, the tournaments and the players. In 2021, Pepsi is also continuing to empower the Hispanic community to unapologetically enjoy futbol by bringing fans closer to the most exciting matches, teams and players. 
If you're a fan of soccer and tune in to UEFA Champions League matches, grab a case of specially marked Pepsi products and game day snacks from your local Publix! Making a #goalworthy snack bar or tablescape is very easy to do, and it adds a layer of excitement to the viewing party while watching the game at home! When my daughter walked in the room and saw the soccer decorations, I could see excitement light up her eyes, just like it did when I was a teenager visiting Europe.