20 Edible Thanksgiving Crafts for Kids
Wow has this year really flown by! Before we know it, we'll be cutting the Turkey at the dinner table on Thanksgiving day! I remember always getting a kick out of celebrating the Thanksgiving holiday when I was in elementary school. Every year we'd have a "party" where we would do a special study on early American culture, put together fun little crafts and devour seasonal snacks until our bellies were stuffed!
Now that I have a little one of my own, I've been busy searching for simple DIY crafts and treats that my daughter will enjoy. Since I just can't seem to ever get food off of my mind during this time of year, I thought it'd be even more fun to find crafts that you could also eat! I've put together a collection of 20 Edible Thanksgiving Crafts for Kids that were all made by some pretty fabulous bloggers. Take a gander and let me know which snacks you'll be gobbling up this year! 😉
Candy Stuffed Turkeys – If your kiddos have a Thanksgiving class party coming up, these little stuffed turkey treats will make for a perfect party favor! You can find a step by step tutorial on how to make these little birdies over at Learning 2 Bloom!
Ice Cream Come Teepees – One of my favorite things to talk about in school was America's history – and particularly Native American culture. If your children have taken an interest in learning about different Native American tribes and the first Thanksgiving, this would be a super fun (and tasty) little project to do! You can read all about it over at Frugal Coupon Living!
Reese's Turkeys – Who doesn't love a good Reese's Peanut Butter cup?! These cute little turkeys are easy and fun to make, and with minimal mess! You can get the scoop on how to make them over at Mom on Time Out!
Rice Krispie Pumpkin Pie – This one actually does require a kitchen to make, but it's still a fun and simple recipe to make with kids! You can even individually wrap up a few slices of these and share them with others! For instructions on how to make this fun twist on pumpkin pie, head on over to Just a Taste!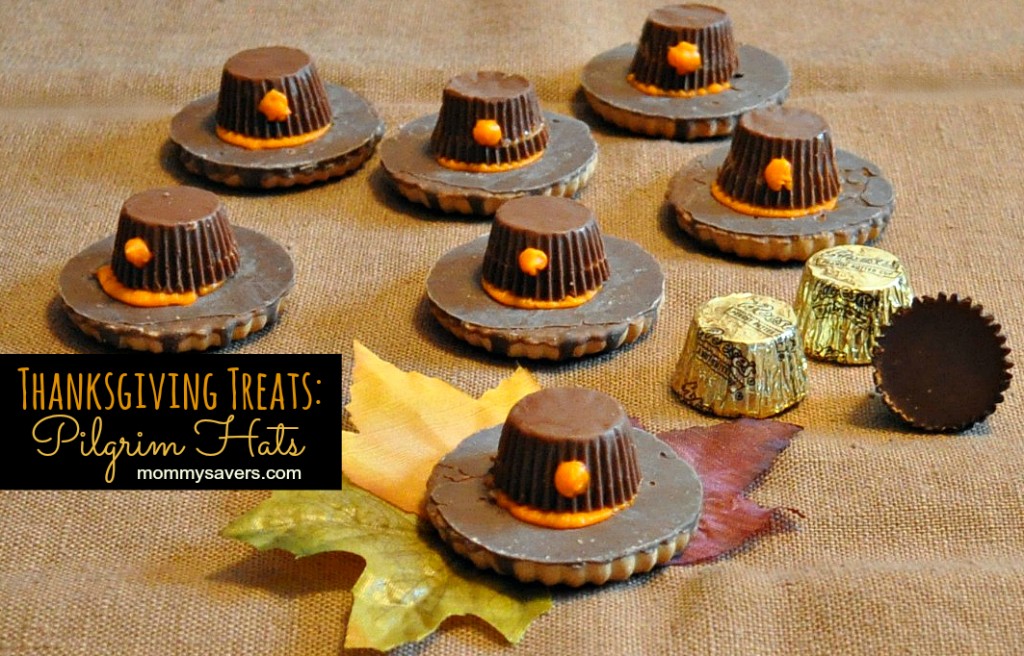 Pilgrim Hat Cookies –  Aren't these little pilgrim hats just the cutest? This one will be easy and fun for all ages! You can find a step by step tutorial over at Mommy Savers!
Turkey Snack Bags – I can just see the look on kids faces when they see these funky and fun little turkey treat bags! Kids will definitely want to "gobble" up these treats – no doubt about it! You can learn more about this simple craft over at That's What Che Said!
Thanksgiving Turkey Pretzels – – I'm seriously drooling over this candy corn, y'all. Candy corn is one of my ALL time favorite candies! I'm loving these cute little pretzel turkeys found over at Frugal Coupon Living! Combining sweet and salty foods is what I'm all about!
Popcorn Corn on the Cob Bags – I just can't even with the cuteness on this one, you guys. I mean, could these get any cuter? And how easy to make! Smart School House is giving us the skinny on how to make these fabulous little popcorn treat bags, so head on over and check them out!
Turkey Cheese Stick Craft – This would make for another fabulous Thanksgiving party favor for a school or church function! Kids go crazy over these little cheesy snack packs, so just imagine the looks on their faces when they see them all dressed up as little turkeys! You can find step by step instructions for this project over at Frugal Coupon Living!
Nutter Butter Turkey Cupcakes – Cupcakes are definitely the way to my heart, and there's a special spot reserved for these funny little turkey cupcakes! You can read all about the supplies you'll need to pull this cupcake craft off over at Mommy Savers!
Turkey Pudding Cups – Do your kiddos love pudding and jello cups as much as mine does? These little feathered friends are a super fun and simple little way to celebrate the Thanksgiving holiday! You can learn more about it over at The Keeper of Cheerios!
Thanksgiving Cone-ucopia – These delicious candy filled waffle cones are calling my name! We're crazy about waffle cones in our house, so this one is a must for us! You can learn how to make these cute little cornucopias over at This Grandma is Fun!
Reese's Pieces Turkey Bowl – This one is pretty simple, and perfect for younger kids with limited crafting skills. Man, isn't that bowl full of Reese's Pieces SO inviting! I want a bowl full for myself! Visit A Step in the Journey for more information on how to make these cute little turkey bowls!
Indian Corn Candy Craft – One of my very favorite things about this time of year is seeing all of the beautiful colors of Fall. Have you ever seen Indian corn with different colored corn kernels? They're so beautiful! I'm seriously loving these adorable Indian corn candy treat bags found over at Shaken Together Life!
Easy Acorn Doughnut Holes – If you're in need of a quick and super simple treat to make, these cute little acorn doughnut holes made from pre-packaged doughnuts are always a hit! These were made with love my yours truly here at Southern Made Simple!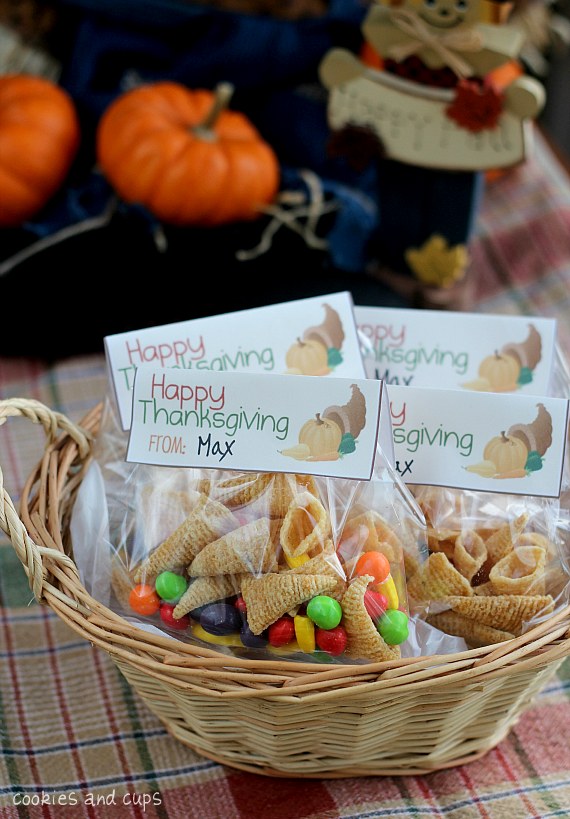 Thanksgiving Trail Mix – If you're in a pinch for time, or if you're not feeling particularly crafty, you can put together these little Thanksgiving trail mix bags with ease! There's even a free printable included, so make sure you head on over to Cookies and Cups and let her know how awesome she is for putting this sweet little treat together!
Turkey Donut Treats – Finally..a legitimate excuse to buy a whole box of donuts! Doesn't that turkey donut looks absolutely scrumptious? Dimple Prints is sharing all the details on this super easy "craft" on her blog, so stop by and say hello!
Oreo Acorns – SO much yum in one little tiny acorn! I'm loving these super delish Oreo acorns found over at Frugal Coupon Living! She's got SO many delicious and creative little Thanksgiving treats, I seriously want to make them all!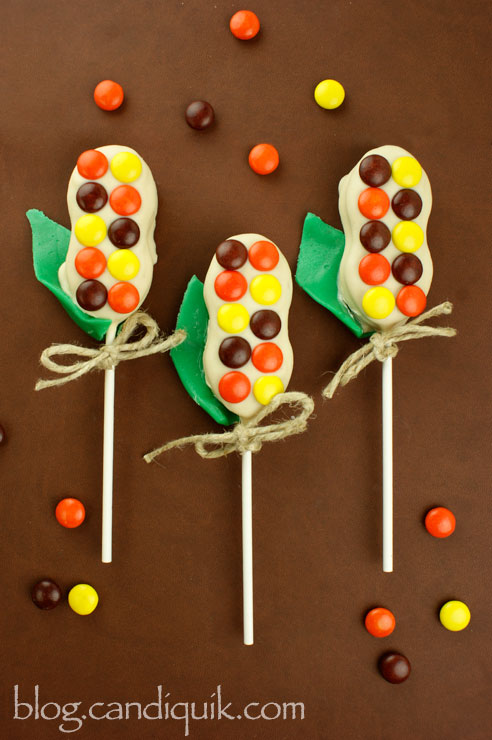 Corn Nutter Butter Pops – Can we all just take a minute and agree together that these little "corn pops" are the cutest thing we've seen all day? They're so stinkin' adorable! Miss Candiquik is sharing her step by step instructions with us on her blog so we can munch on these nutter butter candy pops ourselves, and you definitely don't want to miss it!
Scarecrow Cookies – These little scarecrow cookie pops will be the star of Thanksgiving this year! Just a few simple ingredients put together makes for some mighty cute little treats! You can read more about them at Reluctant Entertainer!
Acorn Muffin Bites – These muffin bites take a childhood favorite snack and easily transform them into a fun fall treat! Just dip in chocolate, add a few sprinkles and a pretzel stick and you've got a fun dessert perfect for the Thanksgiving season!
Acorn Cookies –  Or if cookies are more of your thing, these are also a fun and simple fall treat for kids to make using Nutter Butter cookies, melting chocolate, chocolate sprinkles and a pretzel stick! You can find the full tutorial right here at Southern Made Simple!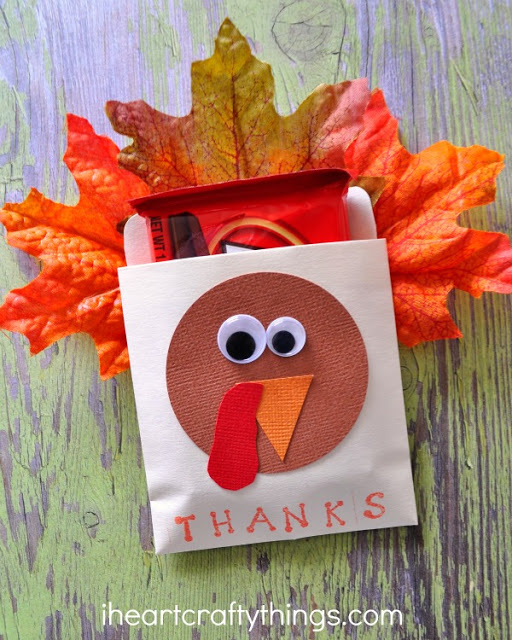 DIY Thanksgiving Treat Bag – Last but certainly not least, this little treat bag is the perfect little craft to make with kids, especially during a Thanksgiving party at school. You can also make these at home and deliver them to teachers or people in your community that you are thankful for! You can find a full tutorial over at I Heart Crafty Things!
And if you'd like to give your kiddo's sweet tooth a little break, hop on over here to check out these adorable Healthy Thanksgiving Snack Craft ideas, too!
How will you be celebrating Thanksgiving this year? Do you have any fun traditions, recipes or crafts that your family likes to put together every year? What was your favorite snack from this list of 20 Edible Thanksgiving Crafts for Kids? Leave a comment below and share the Thanksgiving love!