This shop has been compensated by Collective Bias, Inc. and its advertiser. All opinions are mine alone. #MakeGameTimeSaucy #CollectiveBias
It's no secret that football season in the south is a really big deal. It's all about those big games, big traditions, big victories and of course we have those big appetites to go along with it all! That's why during the heart of football season, I make sure to head out to my local Walmart to stock up on all of those mouth-watering game day grub favorites.
Friday night football in my local community is always the talk of the town, and while the boys are warming up on the field, folks are gathered around the campus firing up the grills and serving up some touchdown worthy foods that are in a league of their own!
I always do a little happy dance when my husband rolls the grill out on game day, because it means we'll be serving up our Friday Night Fajita Sticks to get us in the zone for some gridiron action on the field and some serious deliciousness going into our tummies!
When my Friday Night Fajita Sticks are on the menu, I always reach for 24 oz. Pace® Salsa Verde to elevate the kabobs to a whole new level. It makes for a bomb-digity marinade for the chicken, and it's lip smacking good when it's drizzled over the finished product. In fact, I'm pretty partial to all Pace® products. They're versatile, come in a variety of textures and heat levels, and they always provide that amazing and genuine southwest flavor that I'm basically craving at all times. Come to think of it, I'm pretty sure it's good on just about everything! (Except maybe ice cream…but I'd probably try it!) 😉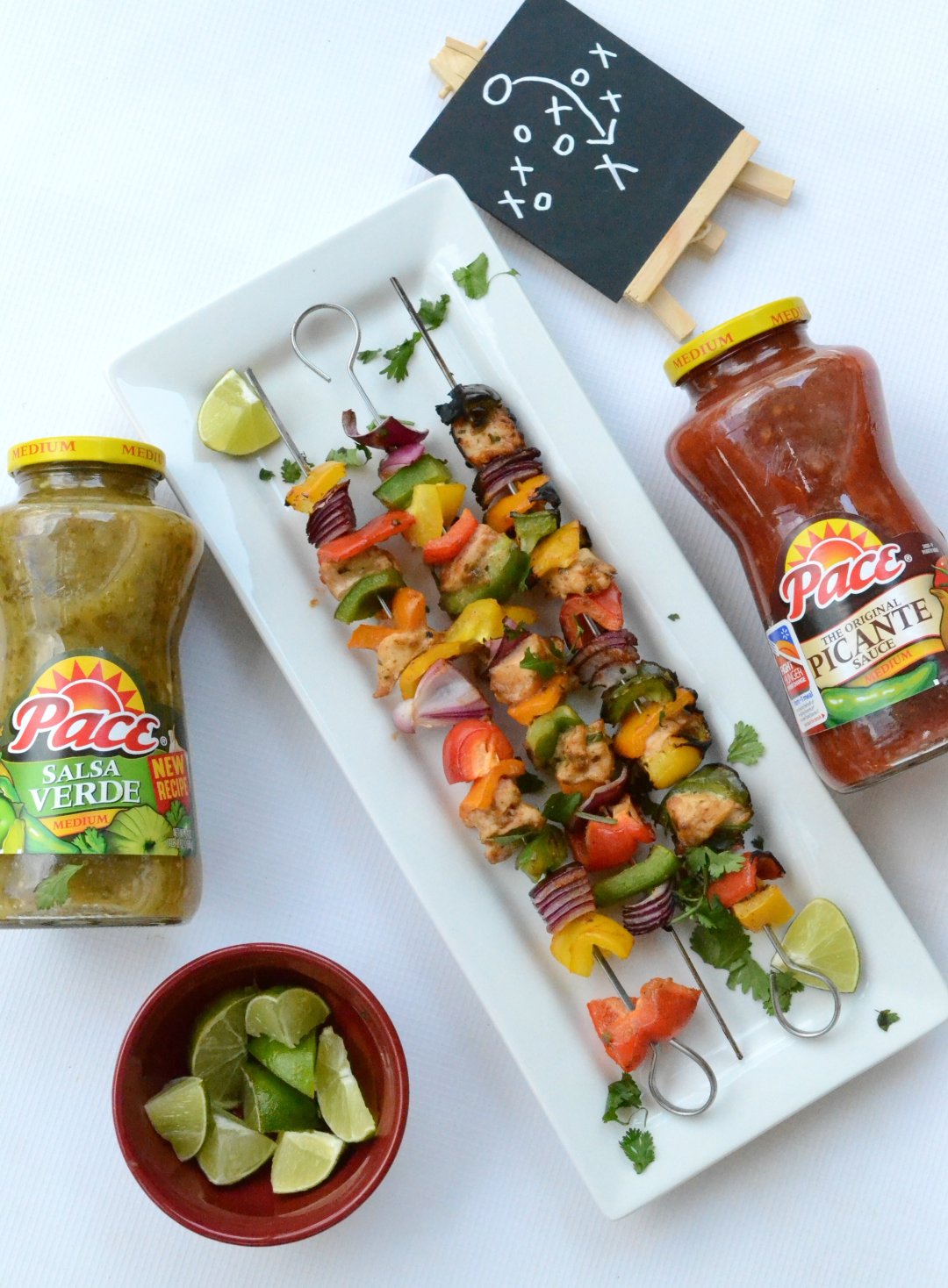 Add these awesome bold flavors to your cart with ease by hovering over the photo and clicking directly on the product!
The marinade is super easy to make, and the chicken doesn't have to marinate very long for all of those delicious salsa flavors to shine through! Just dice up a few chicken breasts into bite size pieces and toss them into a large bowl with a little olive oil, 3/4 cup Pace® Salsa Verde, a packet of fajita seasoning, the juice and zest of one lime and some fresh cilantro! I let my chicken marinate for about half an hour, but it can sit overnight in the refrigerator if you'd really like some extra delicious bold flavors!

While the chicken was marinating, I washed and diced a few fresh veggies. You can use whatever types of veggies that you like, but I like to stick with the typical vegetables that you'd find in a true fajita. For me, the green, red, yellow and orange bell peppers were a must. I crave grilled bell peppers, and these were so beautifully plump and juicy!

I also chopped a red onion to give the kabobs some contrasting color and flavor. Grilling an onion is the best way to bring out it's natural juices and flavors!
I can always count on Walmart to be the perfect one-stop shop to pick up everything I need – especially when it comes to game day foods. I made a pit stop down the Hispanic foods aisle to stock up on my favorite Pace® products so I can keep the grill rolling all season long while we're cheering on the boys on the football field and enjoying each other's company while tailgating!

Once the veggies were chopped and the chicken soaked for a while in the marinade, I loaded up the skewers and threw 'em on the grill! You can find a free printable version of the recipe below if you're feeling a little hungry!
Friday Night Fajita Sticks
Ingredients
2

lbs

boneless chicken breasts - cut into small chunks

3/4

cup

Pace® Salsa Verde

2

Tbs

olive oil

1

packet fajita seasoning

Zest + juice of 1 lime

1

handful of fresh chopped cilantro - divided

1

large red

yellow, orange and green bell pepper

1

large red onion

Pace® Picante Sauce and/or sour cream to serve on the side

optional
Instructions
In a large bowl, combine chopped chicken, olive oil, Pace® Salsa Verde, fajita seasoning, zest and juice of lime and 1/2 handful fresh cilantro into a bowl and cover. Allow to marinate in the refrigerator for 30 minutes or longer.

Wash and remove stems and seeds from bell peppers and chop into bite size pieces

Peel onion and chop into chunks

When chicken has finished marinating, reserve leftover marinade and thread peppers, onions and chicken onto skewers

Heat the grill to medium-high heat and place skewers directly onto grill

Cover and allow to cook until chicken is completely done, turning once or twice during the cook time - depending on the grill, this process will take anywhere from 6-10 minutes

While cooking, baste a little more of the marinade onto the skewers for additional flavoring

Serve immediately with fresh lime juice, sour cream or Pace® Picante Sauce
---
Once the kabobs were lined up on the grill, I made sure to baste them with a swish of the marinade for good measure. After a few turns on the grill, these bad boys were ready to devour! Serve them with a side of 24 oz. Pace® Picante Sauce or 24 oz. Pace® Chunky Salsa Medium and you're in for a real treat!
These are always a huge hit with our friends and family during football season because you can grab them and eat them on the go. You can walk around, jump up and down, hoot and holler, or whatever feels right while you're cheering on your favorite team! No matter the outcome of the game, you'll be winning big with these fajita sticks for sure!
Score Some Sweet Savings!:
Pace® has an Ibotta® offer available at Walmart! Earn $0.50 cash back with Ibotta® when you purchase a jar of Pace®! (Offer is valid on any ONE (1) 15 oz. or larger Pace® Salsa or Pace® Picante Sauce.)
Are you all about big games, big traditions and big appetites on game day? If you love firing up the grill as much as my family, you'll definitely want to give these fajita sticks a try! For more game day grub inspiration using Pace® products, click here and dig in to some seriously delicious game time treats!