These easy spider cookies are a simple and fun treat to serve at a Halloween party, or as cute little creepy crawly after school snack idea! Affiliate links may be included throughout this post at no cost to you.
Are you a fan of sweet and salty snacks? One of my favorite things to munch on when I need a quick pick me up during the day is peanut butter crackers. They come together in minutes, and the salty/sweet combo makes my taste buds oh-so happy!

With Halloween just around the corner, my mind has been busy spinning webs trying to catch any idea that pops into my head that would make for a frighteningly fun finger food perfect for the season. As I was munching on peanut butter crackers yesterday afternoon, I caught this crazy cute little idea to add some pretzel legs and candy eyes to make these little awesome arachnids!
Now, before we go any further – I have to point out a slight error on my part. As I was uploading these photos, I realized that I apparently paid no mind at all to how many legs spiders actually have. I know they have 8 legs, but for some reason I gave them six. I'd love to blame it on anything other than my own lack of attention to detail…but, alas, the fault is only mine. I just wasn't thinking. Oops! I still think they look adorable, and there's no mistaking that they're spiders. If you're making these little guys yourself, feel free to add two extra legs if that tickles your fancy. If not, they're still adorable! 😉
Easy Spider Cookies
Ingredients
1

Sleeve round salted crackers

Creamy Peanut Butter

Pretzel Sticks

Candy Eyes
Instructions
Spread a thick layer of peanut butter on one cracker

Break pretzel sticks in half and place around cracker to create legs

Place a dab of peanut butter on the center of the second cracker and place on top of legs

Spread a tiny amount of peanut butter on the back of the candy eyes and place on top of cracker

Store in air tight container until ready to eat

Enjoy!
---
You can find the candy eyes at your local Walmart, or you can find a nice selection of them on Amazon (I used the smallest size)
These are perfect to take to a Halloween themed party, to pack in a lunch box or to eat as an after school snack, or to serve at a creepy crawly themed birthday party!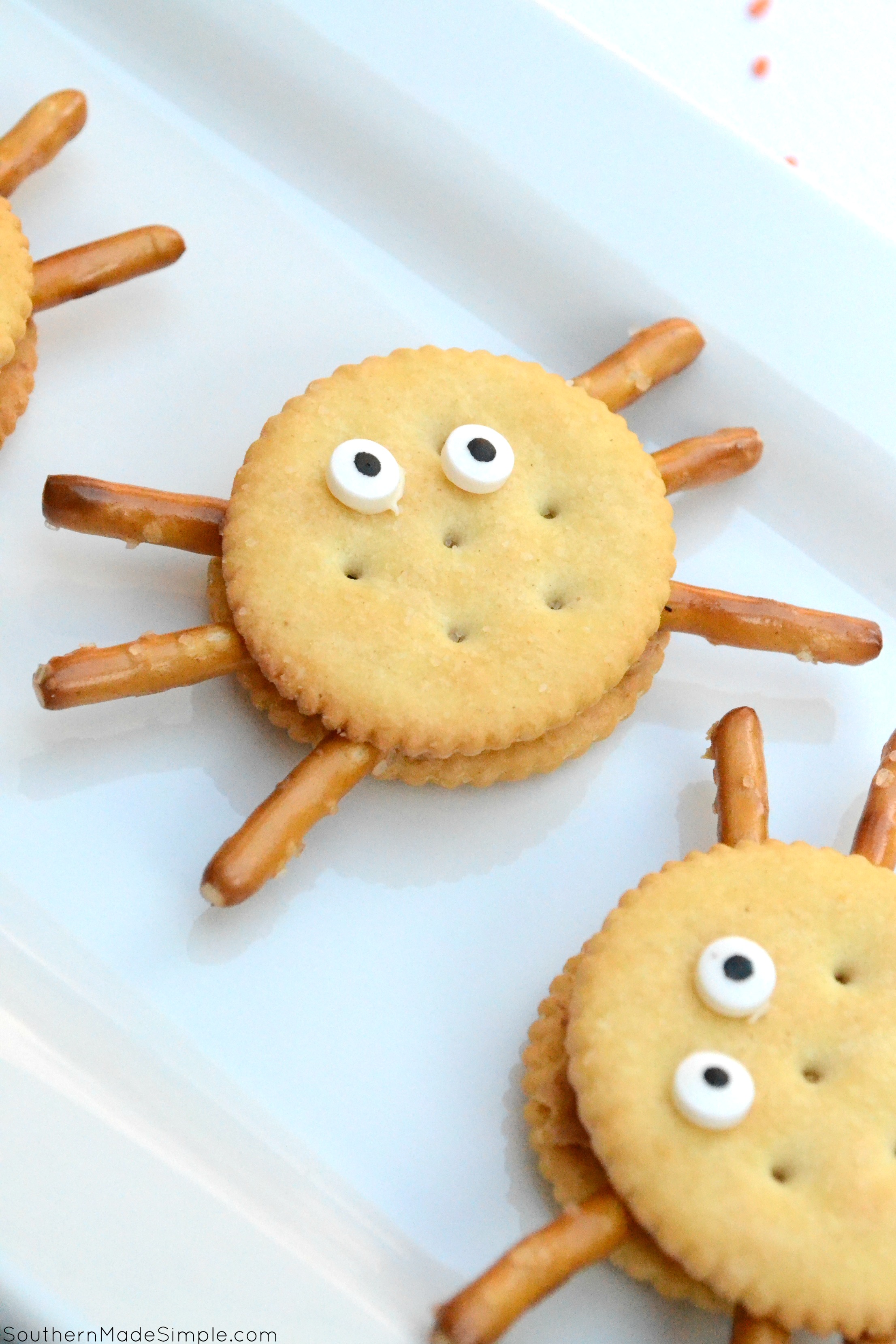 If you like this simple Halloween snack idea, you may also love these recipes found right here on Southern Made Simple! 
Haunted Halloween Pancakes| Halloween Sugar Wafers| Halloween Mummy Treats| Halloween Ice Cream Cone Snack Cups| Orange Fanta Screamsicle Floats| Freaky Frankenstein Oreo Pops