These Halloween Ice Cream Cone Snack Cups are a festive and fun way to display your favorite snacks for Halloween!
Hello all you ghouls and goblins! It may only be August, but my mind is already starting to twist and turn with fun Halloween ideas to make the month of October spook-tacularly fun! You may have seen my recent Fourth of July ice cream cone cups – and because they were such a huge hit, I decided to take the same concept and make it perfect for Halloween!
These easy Halloween snack cups are so quick and easy to make, and they can be filled with any sort of snack you can think of! I used cheese curls, but they'd be perfect to hold fruit, trail mix, candy or whatever you can think of!
Here's what you'll need to make them:
1 box sugar ice cream cups
Melting Chocolate (Orange, White and Black are perfect!)
Snack of your choice
That's it! Just melt the chocolate according to the package instructions and dip the end of each ice cream cone into the chocolate. You'll need to use a spoon to help smooth the chocolate all around to obtain a nice, even coat. While the chocolate is still wet, pour sprinkles around the rim and set on a plate or a piece of wax paper to dry. Fill with your favorite snack and serve! Easy peasy!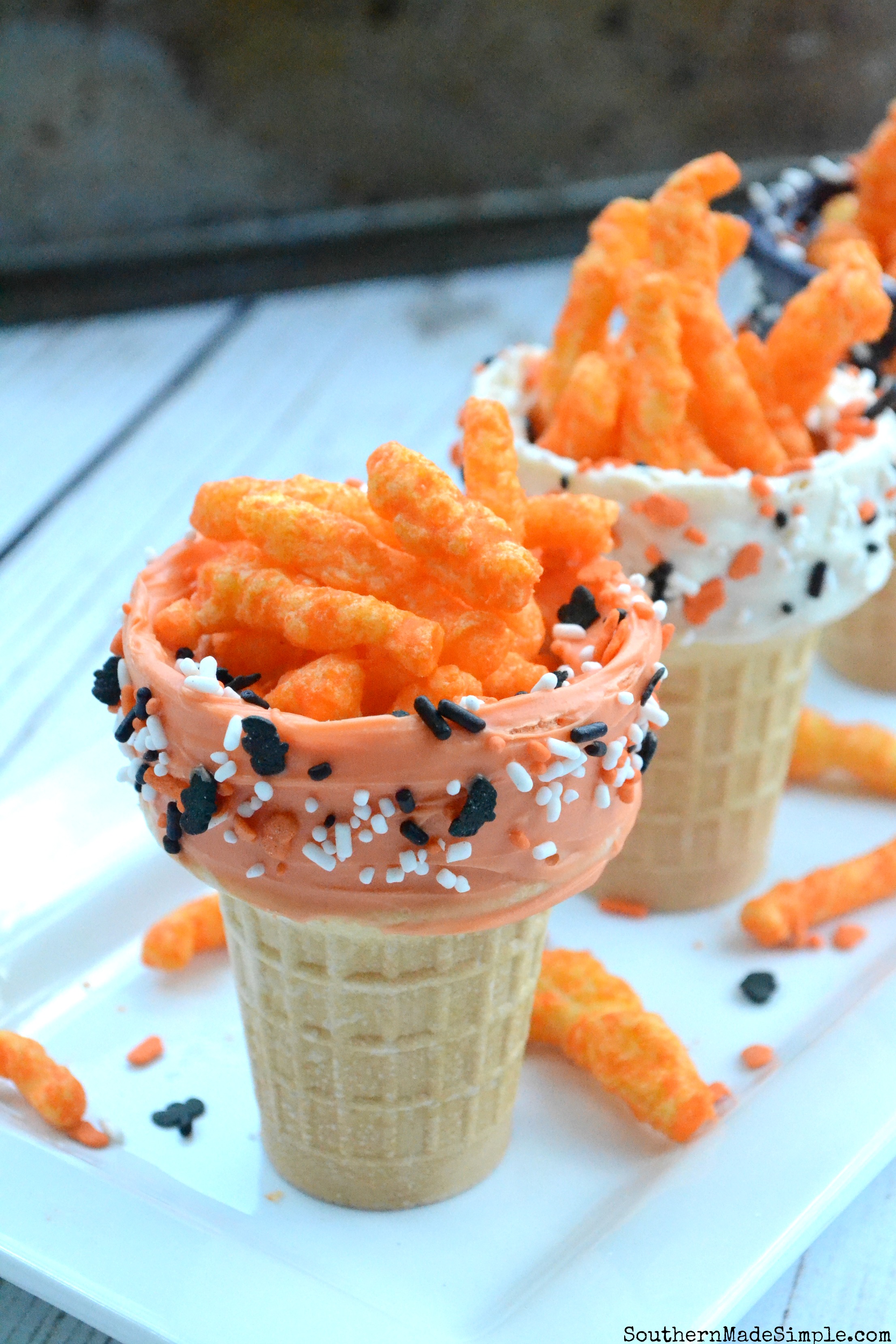 And if you have any leftover chocolate, you can use it up my coating your favorite cookies and pouring a few sprinkles on top! (See example below)
Have you been brainstorming about any fun and easy Halloween deserts or dishes to share during the month of October? If so, leave a comment below and share! I'm always on the hunt for new ideas, and I love to see the things my readers come up with!