Affiliate links may be included throughout this post at absolutely no cost to you.
Maybe it's just me, but sometimes I can't help but think Valentine's Day gets robbed of the attention that it deserves. There's just ONE day to celebrate love, but wouldn't it be just lovely to celebrate love for longer than just a day? Just as people start putting out their Christmas decorations before Thanksgiving, I start putting out my Valentine's Day decorations before the month of February has arrived. Maybe it's a little cliche, but I really do love love, and having sparkly hearts assorted throughout my home always makes me smile!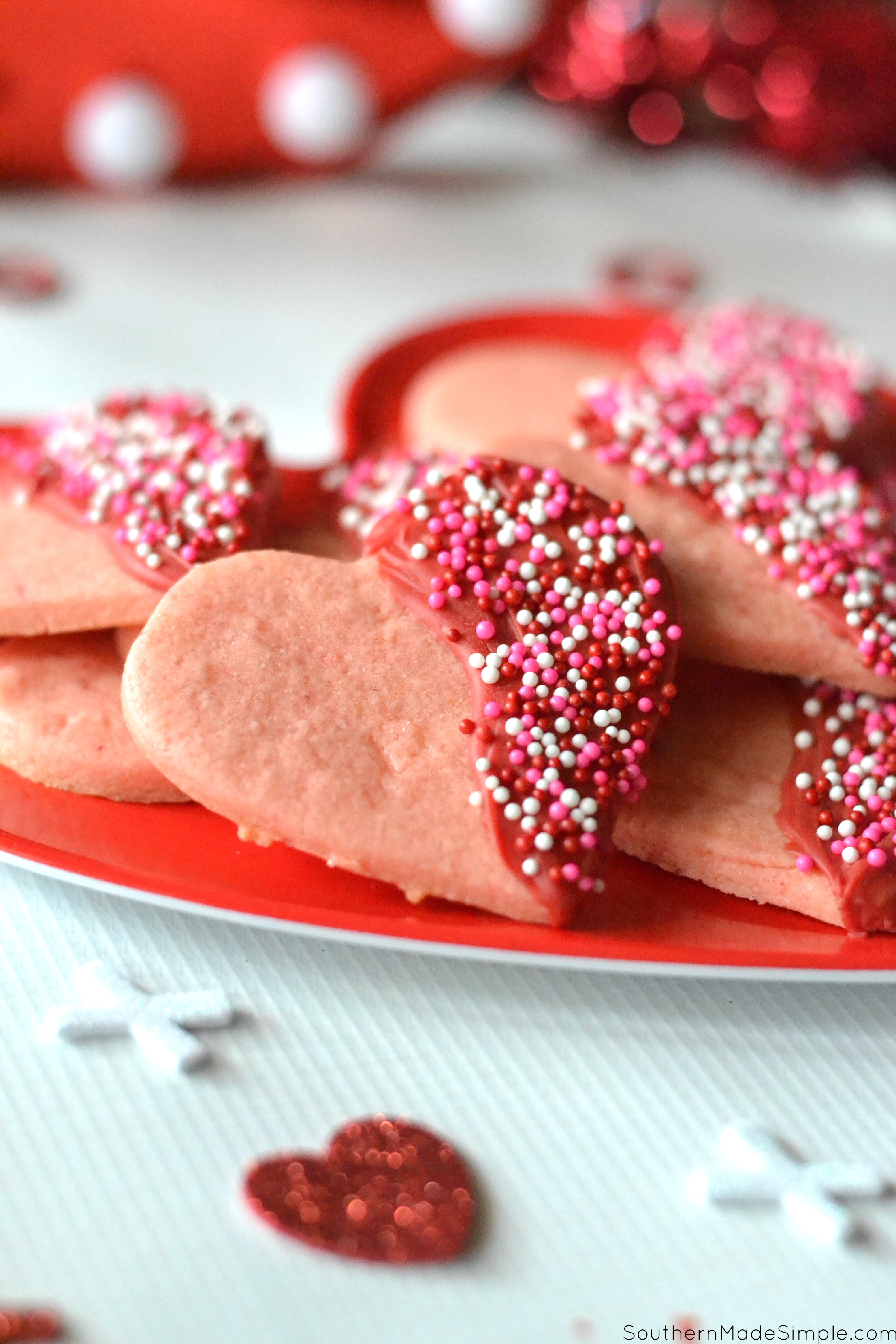 My husband and I don't do cheesy commercialized Valentine's Day gifts for each other. I cringe at the thought of someone spending $4.99 on a card for me (though the sentiment is truly nice!) and I don't have room for one more over-sized stuffed animal in this house. Instead, we simply request time with each other. Nothing fancy is ever expected, we just want to be together (without the children.) Last year we ate breakfast for supper at Cracker Barrel. This year, who knows? I'm certainly looking forward to spending time with my main squeeze, though! (He gets ALL the heart eyes from this girl!)
Leading up to Valentine's Day, I like to periodically whip up a little something sweet to get everyone in the Valentine-y spirit. This week, I made these super simple Valentine's Day Sugar cookies, and they were a hit with my husband when he walked in the door!
The dough that I use for this recipe is my go-to sugar cookie recipe if I'm going to be using a cookie cutter. It holds its shape perfectly and doesn't spread in the oven, so the shape you cut out is the exact shape you'll get! You've seen me use it before with these sweet little deer. cookies.
By the way, here's the supplies you'll need to make these cookies like a pro!


Simple Valentine's Day Sugar Cookies
Ingredients
1½

sticks

unsalted butter

or ¾ cups butter - softened

1

cup

granulated sugar

2

eggs

1

tsp

vanilla

1

tsp

salt

2½

cups

all purpose flour

1

tsp

baking powder

Red food coloring

Red Chocolate Melts

I use Wilton brand

Valentine sprinkles
Instructions
In a large bowl, combine butter and sugar until creamy

Add in eggs, vanilla and food coloring and blend well

In a separate bowl. combine flour, salt and baking powder

Blend flour into sugar and butter mixture and beat with mixer until thick dough forms

Cover and refrigerate for at least 2 hours

Once dough is chilled, preheat oven to 350F

Clean off counter space or use a large cutting board and dust a little flour over surface

Using a rolling pin, smooth out dough into a thin layer and press the cookie cutter to form shapes

On a greased baking pan, cook cookies for exactly 8 minutes

Remove from oven and transfer to plate to finish cooling

Melt red chocolate chips in the microwave for 20 seconds at a time, stirring between microwave sessions until chocolate reaches desired consistency

Using a spoon, spread a small amount of chocolate across the cookie and pour sprinkles on top

Yields roughly 30-40 cookies, depending on cookie thickness
---
I purposely make the dough for this sugar cookie not as sweet as most other sugar cookie batters, simply because 10 times out of 10, I'm going to be adding some sort of sugary frosting or chocolate and sprinkles on top. No need to overdo it on the sweetness of the batter in my opinion. These little cookies come out perfectly every time!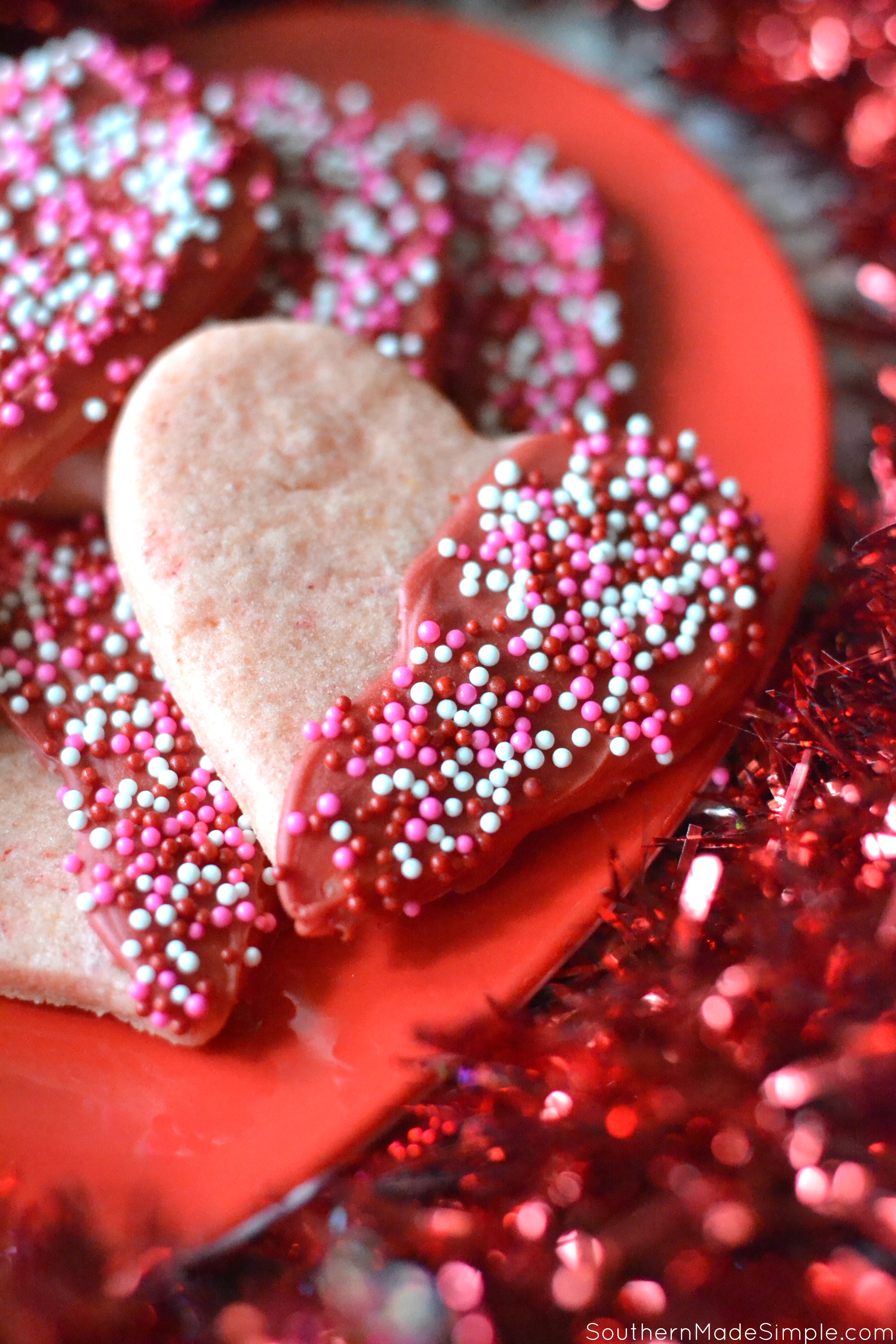 Do you love to celebrate Valentine's Day? How do you like to celebrate? What are your plans for this year? Leave a comment below and share the love!
If you love this recipe, you'll definitely want to check out these other fabulous Valentine's Day recipes found right here at Southern Made Simple!
Valentine's Day Snack Crafts for Kids | Healthy Valentine's Day Snacks for Kids | Wild Thing Chocolate Mousse | Valentine's Day Sugar Wafers | Strawberry Brownies | Chocolate Covered Cherry Pancakes | White Chocolate Dipped Strawberry Madeleines | Strawberry Milkshake Cookies