I've mentioned once or twice before that my family rarely buys ground hamburger meet. Because my husband is an avid hunter, we primarily eat venison instead of beef. Deer season just recently opened up here, and my husband has been in the woods every chance he gets hoping to snag a trophy and keep our family's freezer filled with enough meat to last us the year. I'm certain that I don't vocalize it nearly enough, but I'm so proud of my husband for being the amazing provider that he is.
To celebrate the opening of deer season this year, I decided to make my husband a special treat to come home to when he came out of the woods. I found this super cute little deer cookie cutter online and snatched it up just in time for opening weekend. I knew that making a batch of sugar cookies shaped like little deer would be just the thing to celebrate!
What really makes these cookies so wonderful is the dough. Friends, this is THE perfect sugar cookie dough recipe. At least, in my eyes it is. 🙂 The texture is so smooth, it's not too sticky, it's easy to roll out, and it bakes to perfection every time. The flavors are spot on – almost like those addicting little seasonal sugar cookies that Pillsbury pushes during every holiday.
After mixing up my dough and letting it chill in the fridge, I poured a little flour out on my counter and spread the dough out using a rolling pin. I went to town cutting out the little fawn shapes and spreading them out on a greased cookie sheet. (Note: You kind of have to be delicate with this cookie cutter as the legs are pretty thin and the dough shape can break easily!)

After the cookies baked in the oven and completely cooled down, I added a little gel icing to finish them up! Here's a free printable copy of my sugar cookie recipe. If you don't have a deer cookie cutter, you can still use this recipe with whatever shape of cookie you'd like!
Deer Cookies
Ingredients
1 1/2

sticks unsalted butter

or 3/4 cups butter - softened

1

cup

granulated sugar

2

eggs

1

tsp

vanilla

1

tsp

salt

2 1/2

cups

all purpose flour

1

tsp

baking powder
Instructions
In a large bowl, combine butter and sugar until creamy

Add in eggs and vanilla and blend well

In a separate bowl. combine flour, salt and baking powder

Blend flour into sugar and butter mixture and beat with mixer until thick dough forms

Cover and refrigerate for at least 2 hours

Once dough is chilled, preheat oven to 350F

Clean off counter space or use a large cutting board and dust a little flour over surface

Using a rolling pin, smooth out dough into a thin layer and press the cookie cutter to form shapes

On a greased baking pan, cook cookies for exactly 8 minutes

Remove from oven and transfer to plate to finish cooling

Frost as desired

Yields roughly 40-45 cookies
---
And just to make things extra fun, you can add a red nose and transform these fawn cookies into reindeer cookies for Christmas!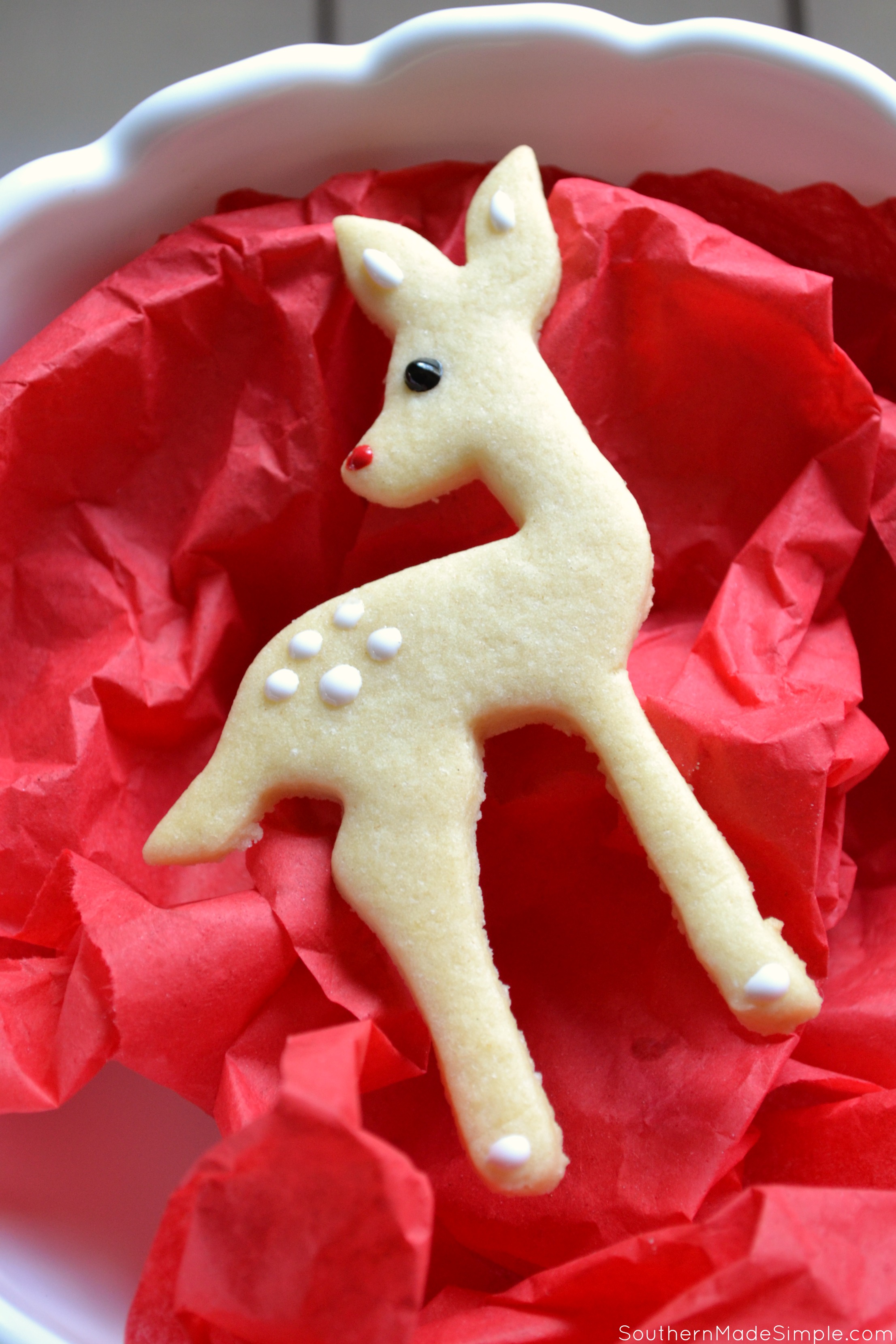 My husband was really excited to see all of the deer cookies that were made just for him when he came home. This recipe is really fun to get children involved with…especially if they'll be making these for Santa and his reindeer to nibble on at Christmas time! 😉
Do you have a fun or whimsical cookie that you like to make on special occasions? Do you have a deer hunter in your life that you'd love to make these for? Be a dear and leave a comment below! 😉