If you're looking for a cookie recipe that's as easy as can be and is overflowing with delicious flavor, you've come to the right place. I don't consider myself to be much of a baker, but cookies are definitely an exception. I absolutely love making cookies from scratch. I'd even venture to say that it's therapeutic for me to put my apron on and mix up a batch of cookie dough. However, sometimes I just don't have time to make something that requires a lot of ingredients, time and patience. Sometimes, I just need something quick and easy. That's where these sweet Strawberry Milkshake Cookies come in to play…and just in time for Valentine's Day! 😉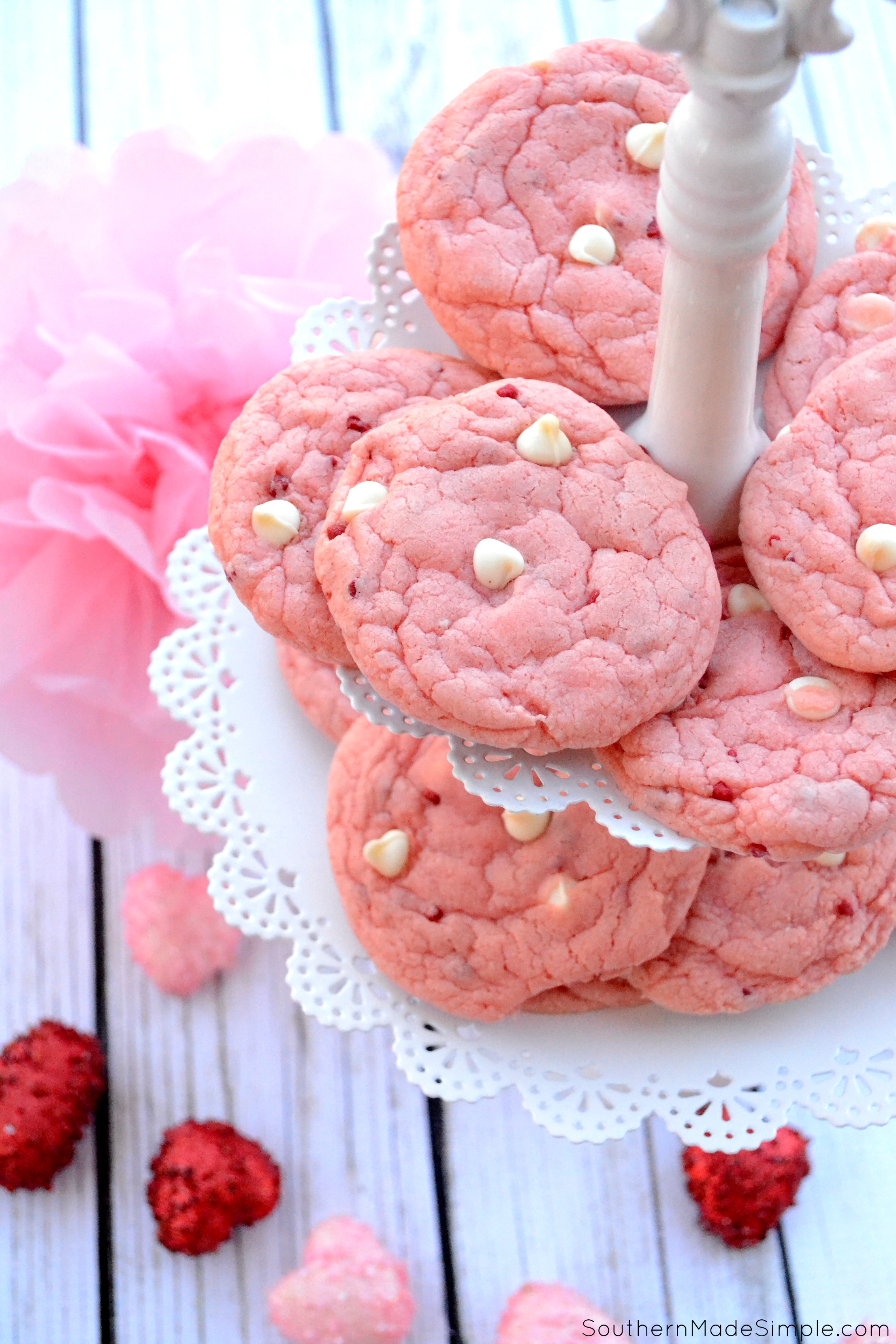 The first time I made these cookies, I felt like I was taking a bite of pure bliss. It was almost as if I were devouring a big strawberry milkshake from my favorite diner on the square downtown! With Valentine's Day right around the corner, I knew this would be the perfect time to share the recipe with y'all. I mean, nothing says "I love you" like a big plate full of freshly baked cookies, am I right?! 😉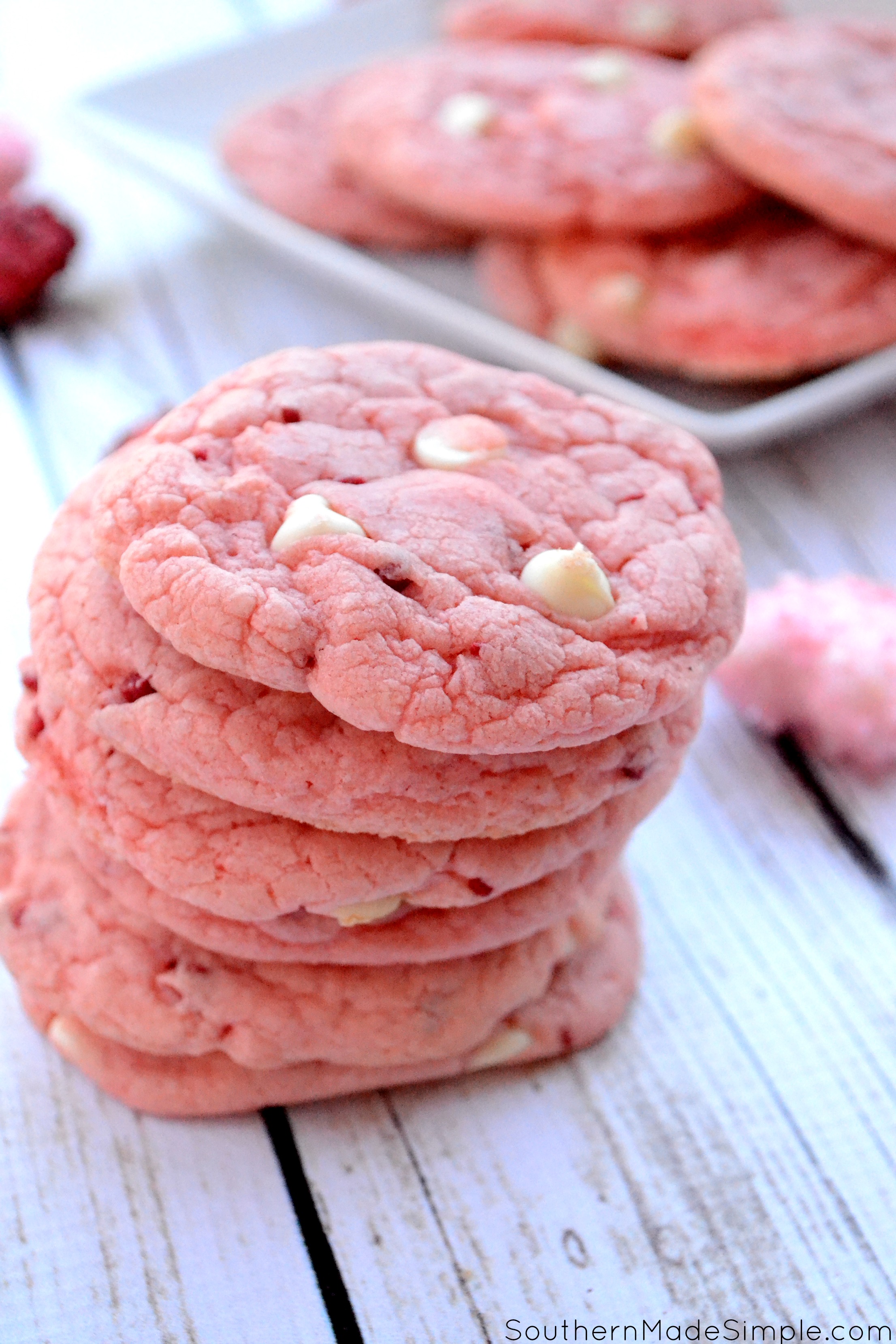 The secret ingredient in these cookies that makes them SO delicious (and so stinkin' simple) is strawberry cake mix. I like to use Duncan Hines Strawberry Supreme cake mix because it has tiny little chunks of dried strawberries inside, but any ol' brand of strawberry cake mix will do!
Here's a free printable version of the recipe with simple, step-by-step instructions on how to make them. Make sure you make an extra batch for your Valentine, because once you try one you're going to want to keep the whole batch for yourself! 😉
Strawberry Milkshake Cookies
Ingredients
1

Box Strawberry Cake Mix

2

eggs

1/3

cup

vegetable oil

1/2

tsp

vanilla extract

1

tsp

baking powder

1

tsp

corn starch

1

cup

white chocolate chips

more or less to taste
Instructions
Mix eggs, vanilla and oil in a small bowl and set aside

In a large bowl, combine cake mix, corn starch and baking powder

Pour egg mixture into cake mixture and combine until there are no cake mix lumps present. Dough will begin to thicken quickly

Add in chocolate chips

Optional: For best results, refrigerate dough for 1 hour

Preheat oven to 350 F

Line a baking sheet with parchment paper and spray lightly with non-stick cooking spray

Roll dough with your hands into a small ball and then lightly press to slightly flatten with your palms and place onto cookie sheet

Bake for 10 minutes

Remove from oven and transfer to a wire rack to finish cooling

Enjoy!
---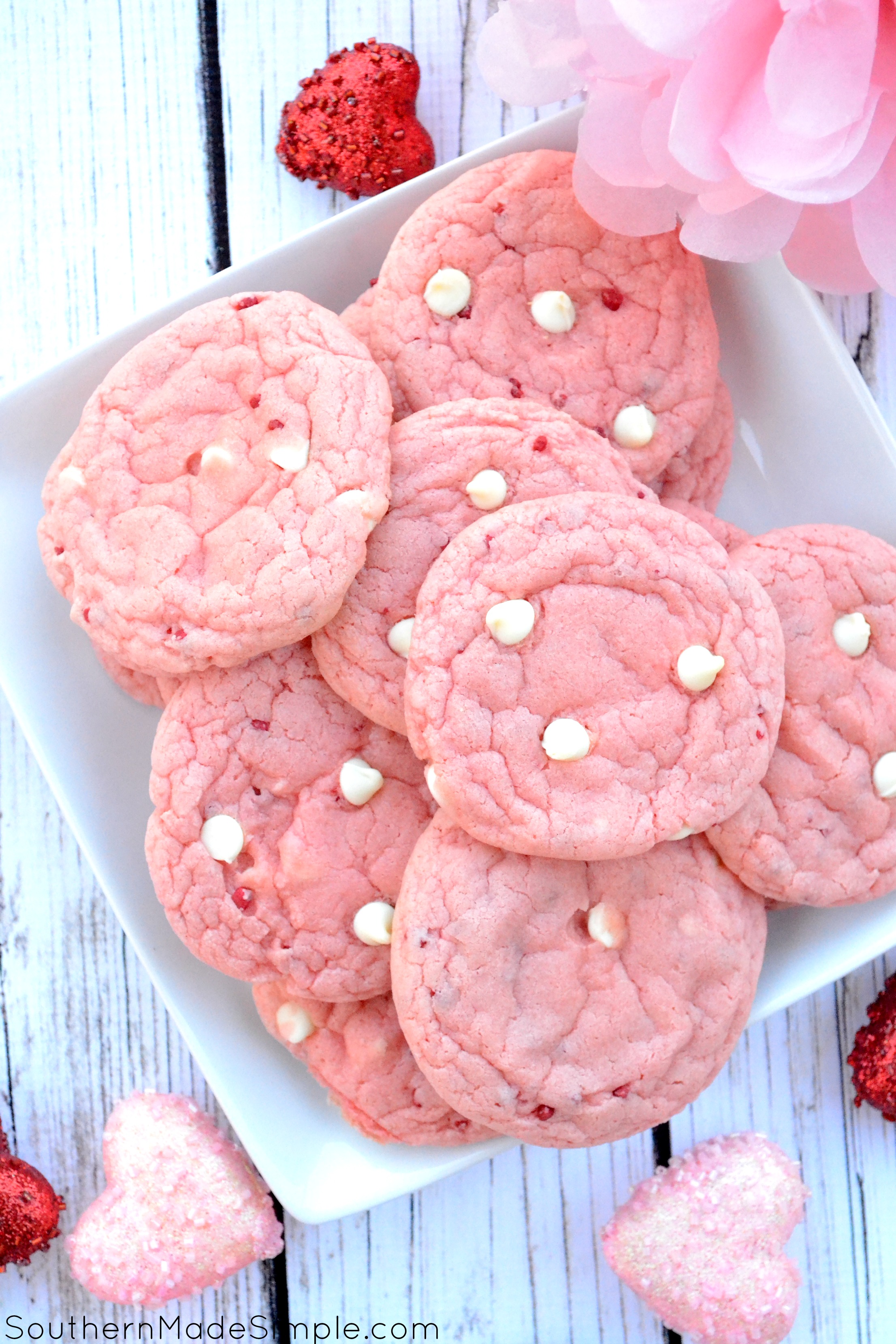 These cookies would be an awesome treat to share with your friends and family during Valentine's Day, or any time of the year! If you'll be making valentine's for a child's school class, these would be really fun to tie in a treat bag and attach a little hand made card to!
Click here for more Valentine Snack Ideas that are perfect for kids!
Do you have a quick and easy cookie recipe that you really love to make? Do you love to make special sweet treats for your loves for Valentine's Day? If so, share the love in a comment below! 😉