Let's talk a bit about Cajun food, shall we? Over the last few years, I've really taken a liking to Cajun inspired foods. The blends of spices and the deeply rooted heritage woven into the recipes marries together to make some pretty interesting foods, and I am a huge fan of the creole flavor goodness! As my interest in the cuisine has grown, I hasn't taken me long at all to realize that dirty rice is a staple dish in the Cajun culture, and it comes with good reason!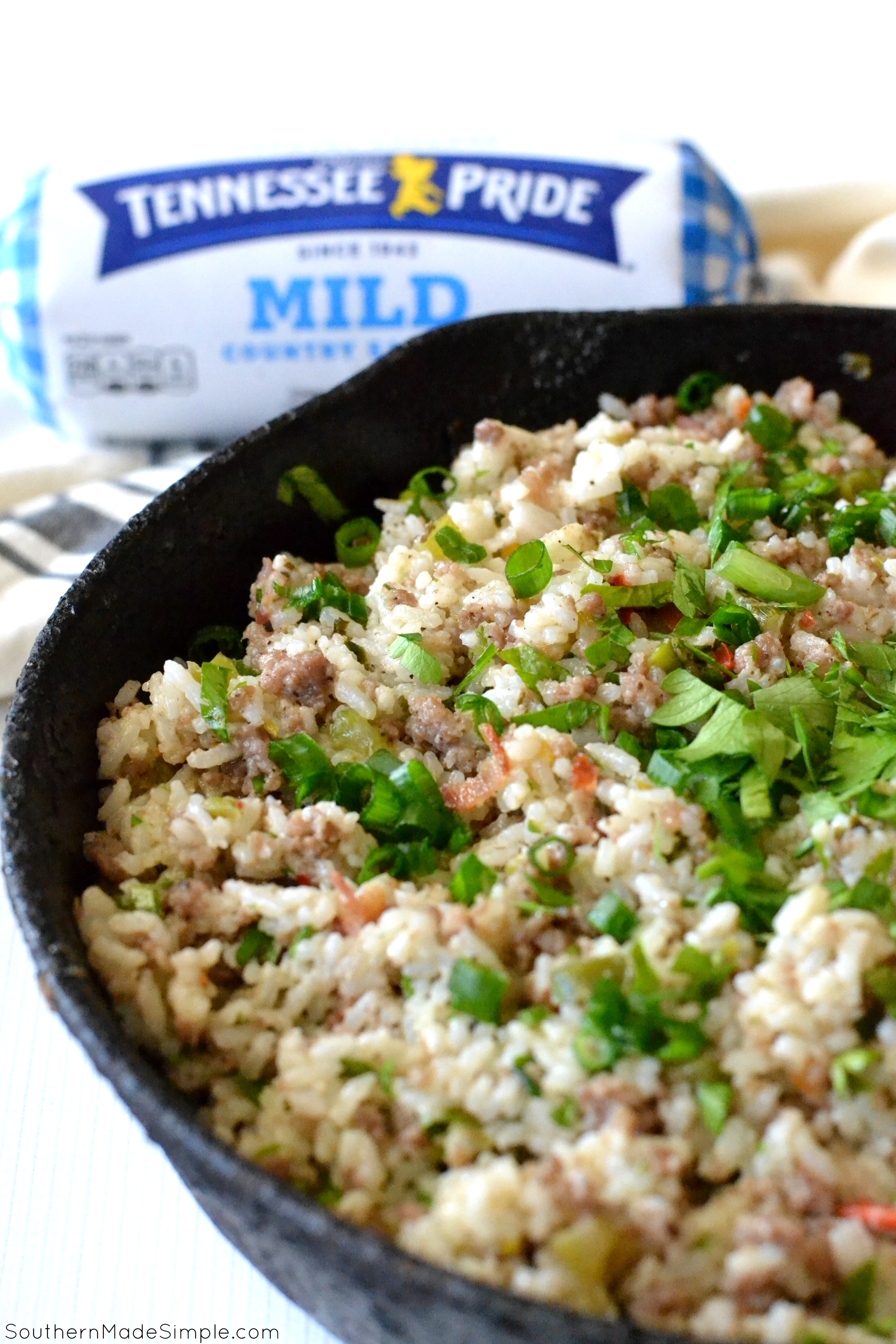 Before I get into the meat of this recipe, I'll shoot it to you straight. I don't have a Cajun bone in my body. I don't have a single root that runs down to the swamps of Louisiana in my blood line, and I have not been trained in the ways of Cajun cooking by a grandma who's been passing down her recipes in hopes to keep the family recipe alive for generations to come. (That would be awesome if that were the case, but it just isn't so!) Everything I've learned about Cajun cooking has come from practice and a little research along the way. While it seems that there are a million different ways to prepare dirty rice, I do believe I've perfected the recipe for my own family's taste, and I 100% believe you'd love it, too!
While dirty rice isn't particularly difficult to make, in many ways it is a labor of love. Sure, you can buy boxed mixes that cut down on the time and try to imitate the flavor profile of dirty rice, and they may do in a pinch, buy trust me when I say this: they just aren't the same as making it from scratch!


There are a handful of different fresh ingredients in dirty rice that need to be chopped, such as peppers, celery, onions, fresh bacon and herbs. These add a depth of flavor to the dish that is unmatched, so don't skimp on the good stuff! Dirty rice is a delicious side dish to serve any day of the week, and if I'm being completely honest here, I do believe I could eat a bowl of this stuff as a meal itself! I've even used it as a stuffing in an egg roll mix that is absolutely delicious. More on that to come!
Here's a free printable version of the recipe if you'd like to give it a try!
Cajun Dirty Rice
Ingredients
3

slices

bacon

cooked and chopped

1

cup

bell pepper and onion blend

chopped

½

cup

sweet onion

chopped

1

large celery stalk

chopped into small pieces

2

garlic cloves

minced

1

jalapeno pepper

seeded and finely chopped

1

lb

Odom's Tennessee Pride Mild Country Sausage

4

cups

long grain white rice

cooked and cooled

½

tsp

salt

¼

tsp

black pepper

2

tsp

creole seasoning

¼

cup

chopped green onions

¼

cup

fresh parsley

finely chopped
Instructions
In a large pot, cook rice according to package instructions. Allow to cool.

In a large skillet, cook bacon until done, but not overly crisp. Remove bacon from skillet and reserve drippings. Crumble bacon once cooled.

Add in chopped bell pepper, onion and celery and saute until tender.

Add garlic and jalapeno and cook for an additional minute.

Add in Odom's Tennessee Pride Mild Country Sausage and cook until no pink remains.

Stir in the cooked rice, salt, pepper and creole seasoning until well combined.

Add in reserved crumbled bacon, parsley and green onion.

Serve immediately and enjoy!
---
As I mentioned earlier, I recently toyed with using this dirty rice recipe as a filling inside of egg rolls. I'm SO glad I thought to give that a try, because it was recipe GOLD! I also made a little creole dipping sauce to pair with it that was quite amazing, if I do say so myself! You can find my recipe for Cajun Dirty Rice Egg Rolls with Creole Dipping Sauce here, or by clicking the photo below!
Are you a fan of Cajun cuisine? What are your go-to Cajun recipes that you love to make and eat? I'm all for trying out new recipes and cooking techniques, so please drop a comment below and share any recipes, tips and tricks you may have up your sleeve!