Happy Fall, y'all!
Okay, okay. I know it isn't Fall just yet. It's still 85+ degrees outside here in Alabama, but I can still dream about Fall and the beautiful cool weather, right? As I've mentioned before, Fall is my favorite season of all time. The local stores are already putting out Halloween and Fall decor, and I just can't help but get in the spirit!
Halloween is always such a fun time of year. My family doesn't actually celebrate Halloween, but we do participate in our church's annual Trunk or Treat festival where we always dress up in fun costumes. In general, I have no problem whatsoever with the commercialized version of Halloween. I mean, what's not to love about dressing up, eating candy and getting a little spooked here and there? I'm down! 😉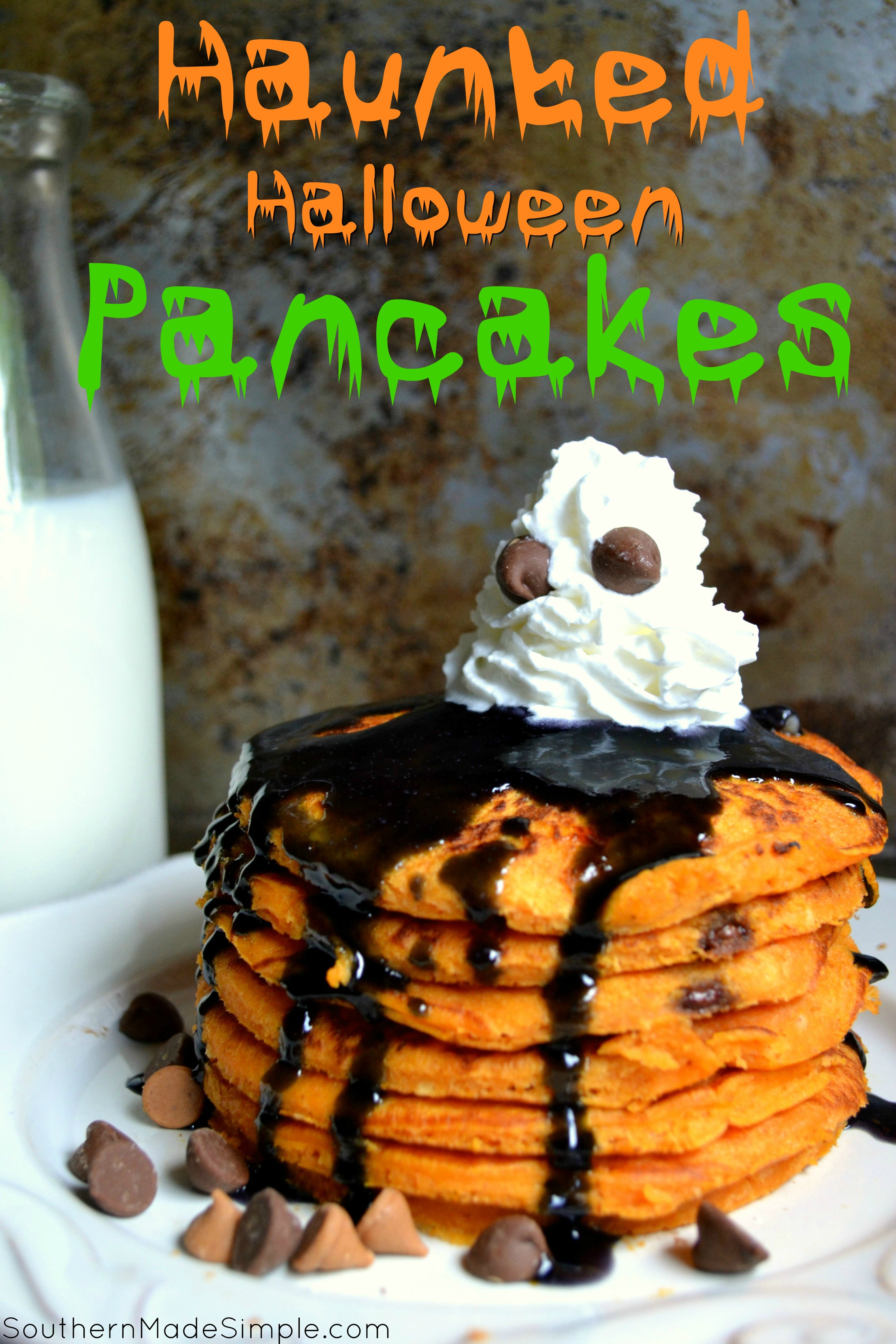 So since I've been feeling particularly spunky (and maybe even a little spooky, too) I decided to make a really fun breakfast treat to kick off the countdown to Halloween! These Haunted Halloween Pancakes are so simple to make, and they'll be a perfect treat if you're getting into the Halloween spirit, too!
To start out, you'll need a few ingredients that you probably already have in your pantry! I swear by Bisquick (and the generic brand, as you can see.) I thought about being all fancy and make my pancakes from scratch, but meh. Ain't no body got time for that in the mornings at my house! I also grabbed a can of pumpkin puree, cinnamon, food coloring, chocolate chips, sugar, 2 eggs and a cup of whole milk. Don't forget the syrup!
I combined the Bisquick, eggs, milk, cinnamon, pumpkin, sugar and food coloring (3 drops red, 5 drops yellow) into a mixing bowl and stirred the batter well until there were no lumps. I sprayed my favorite non-stick skillet with a smidge of non-stick cooking spray for good measure and turned the stove to medium heat. Once the skillet was ready to rock, I poured a little batter in and then sprinkled a few chocolate chips in, too.
I let it cook until I could see bubbles forming in the batter. Then I flipped it over and let it cook until done. This recipe made about 10 pancakes, so feel free to double or cut in half if 10 is too many for you. 🙂
I then poured my favorite syrup into a bowl and added some black food coloring to it to make the pancakes look extra creepy. I think it added a really nice touch! The best part was the Reddi Whip ghost with chocolate chip eyes I put on top. Mmmm!
Here's a free printable recipe for you to have. If you give this recipe a try, be sure to come back and leave a comment about how yours turned out!
Haunted Halloween Pancakes Recipe
Ingredients
2

Cups

All Purpose Biscuit Baking Mix

aka Bisquick

1/2

cup

canned pumpkin puree

1

cup

whole milk

2

eggs

2 1/2

Tbs

sugar

2-3

dashes of cinnamon

optional

Red & yellow food coloring

1-2

handfuls of semisweet chocolate morsels

Your favorite syrup

Black food coloring

Reddi Whip for topping
Instructions
In a large mixing bowl, combine all ingredients (except syrup, reddi whip and black food coloring) one at a time and beat until smooth. I used about 3 drops of red and 5 drops of yellow food coloring.

Spray skillet with nonstick cooking spray

Pour pancake batter onto skillet and allow to cook on one side for roughly 30-40 seconds (cook time depends on how hot your skillet is)

Add in a sprinkle of chocolate morsels while the pancakes are cooking

Flip pancake and cook on other side until done

For Syrup:

Pour your favorite syrup into a bowl and stir in a few drops of black food coloring. Pour over pancakes and top with Reddi whip
---
I stacked my pumpkin flavored pancakes sky high and dove right in. Man, they were SO good! I'll definitely be making these every year around Halloween for my daughter. She was a little too young to appreciate the whole Halloween theme to them this year, but she sure did love that creamy ghost on top! 😉
Do you love Fall as much as I do? Do you ever prepare fun themed dishes like this to help get you or your family in the seasonal spirit? Don't be bashful, leave a comment and share the haunted Halloween love below!