This shop has been compensated by Collective Bias, Inc. and The Coca-Cola Company. All opinions are mine alone. #CocaColaHolidaySpice #CollectiveBias
As we're winding up the final months of 2019, I can't help but think about how we're in the home stretch of wrapping up an entire decade. So much personal growth has happened in the last 10 years, including marrying my soulmate, starting a family and building our home. As I'm making preparations to celebrate the upcoming holidays, I've been feeling pretty sentimental about all of the good memories that I'll be sharing with my family when they gather around my table for Thanksgiving this year.
My kitchen table is almost like a sacred place in my home – especially during the holidays. Food is an international language that has a special way of bringing people together, and I love witnessing it happen in my home with all of the people that are dear to me. Creating seasonal tablescapes is an art that I love to practice, and while thoughtfully displaying each item on the table, I'm able to revisit and celebrate all of those fabulous big and micro-moments that have lead us up to a season of Thanksgiving.
Because I host my family for both holidays during this season, I planned out a tablescape that I could easily use for both the season of harvest and the winter. Creating a winter white harvest tablescape allows me to spend less time focusing on the smaller details of the holidays and more time experiencing the small moments that create big and lasting memories with my family.
As I gathered supplies to create my tablescape, I stumbled upon these new festive drinks from Coca-Cola® at Walmart! One thing I always make sure I have on hand is a variety of drinks for my drink station right next to my kitchen table. Coca-Cola® Cinnamon and Sprite® Winter Spiced Cranberry were the perfect addition to complement my winter white harvest tablescape and keep those smiles on my family's faces! Hospitality is always in style, and these pretty little cans tie in so well with my winter white harvest tablescape if I do say so myself! Make sure you're stocked up on your favorite beverages for the season by clicking the image below!
If you're looking to create a beautiful tablescape that is suitable for both fall and winter, using a white color palette is a great way to do it! Here's a few tips and steps to help you piece a beautiful tablescape together, just in time for the holidays!
Step 1: Decide on the theme/color
Having a theme to play off of when creating the tablescape allows things to look a bit more intentional and cohesive rather than thrown together. I chose a "Winter White Harvest" theme because white is a color that compliments nearly everything, so it's super easy to transition from season to season with it. Winter in general is associated with the color white, but the fall season also has a lot of beautiful white elements to it as well. White pumpkins, for example, are a great item to use in a winter white harvest tablescape. With many of the elements on this tablescape being white, it is easy to add pops of color such as red to create a more holiday-focused look.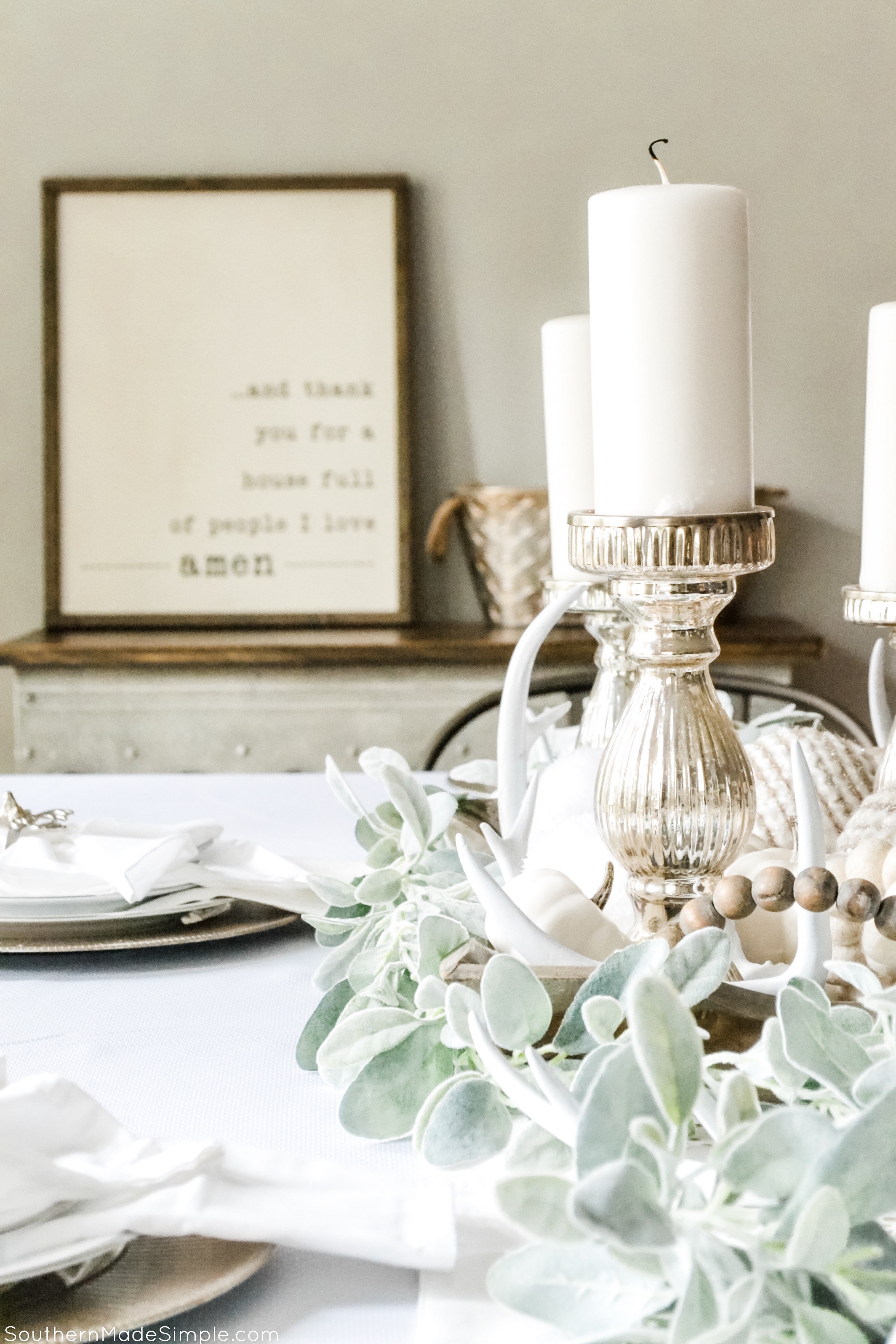 Step 2: Make a Space & Add a Base
Don't you just love how that rhymes? I get tickled by myself sometimes. I'm a blast to have around during the holidays honestly. Just ask my family! 😉 All kidding aside, it's important to make sure the space you're decorating is tidied up before you begin. Now is the time to decide if you will be using a tablecloth, runner, place mats, etc. in your tablescape. Since my farm table has a very dark tabletop, I decided to use a solid white tablecloth and a shorter off-white runner. The runner isn't completely necessary, but is has a few pops of color that compliment my plates that I wanted to shine through, so I rolled with it!
Step 3: Choose a Centerpiece:
When looking at an open table, it can easily seem a little bit intimidating knowing where to start. Truthfully, there is no wrong place to start, but I always prefer to start in the center and work my way out. I have a large serving tray that I frequently use as my centerpiece. It's large enough to hold several decorative items, and it helps frame those items so the eye naturally gravitates to them as the focal point of the table.
Step 4: Add Texture and Dimension
This is the fun part! You want your tablescape to have layers of texture and height so that it doesn't appear to be flat and unmemorable, but keep in mind that this is a place where people will be gathering, eating and having conversation, so you don't want to go overboard with the frills. I chose 3 candlesticks of different heights and arranged them in my serving tray. Florals are also great to use in a tablescape. Instead of flowers, I went for a bit of pale greenery and draped it around the tray and down the center of the table. To combine the fall and winter season, I chose white miniature pumpkins and an assortment of white Christmas ornaments to use as fillers. I also spray painted a few deer antlers and added them into the mix to give the overall feel a bit of an earthy tone. Deer season in Alabama begins in the fall and ends in the winter, so they're perfect for both seasons. They also tie into my napkin rings, which you'll see shortly!
Step 5: Set the Table
No matter if you have fine china or if you use paper or plastic plates, there are so many ways you can spruce up a place setting to give your table an extra pop of personality. Place mats and chargers are always great to use, and layering napkins and plates can give the setting an extra point on the fancy charts. If you have fabric napkins, do a quick search online to find an eye-catching way to display them on or beside your plate! Adding a napkin ring can also really make a great impression in a very simple way.
Step 6: Share a Taste of the Season
Creating a beautiful tablescape can only mean that the food to follow is going to be truly exceptional as well, so make sure you have drinks on hand to complement the season! I always look forward to this time of year when Coca-Cola® releases their limited time flavors. The bite of cinnamon in Coca-Cola® Cinnamon and the spike of Cranberry in Sprite® Winter Spiced Cranberry both create a refreshing flavor that I know my extended family will love. My immediate family does nothing but rave about it, so we're stocked and ready for company!
Hover over the image to shop and stock your drink station with Coca-Cola® Cinnamon and Sprite® Winter Spiced Cranberry just like I did!
And for an added touch of fun, break out the fancy glasses to serve your beverages in! My daughter loved that I added a few fresh cranberries in her Sprite® Winter Spiced Cranberry drink, and I think it made a lovely touch to the tablescape as well! You can find these new limited-time Coca-Cola® products at your local Walmart, available in 12 oz cans (12 packs) and in the 6 pack of mini cans.
How do you love to set the table during the fall and winter seasons? With the Thanksgiving holiday quickly approaching, I'd love to hear how you're setting the table this year! Finding ways to transition your table from one season to the next with ease is a great way to cut back on prep time and give you more time to celebrate the season with family.
Happy harvest, and here's to hoping your upcoming winter is beautifully white!