This shop has been compensated by Collective Bias, Inc. and its advertiser. All opinions are mine alone. #JackLinksDad #CollectiveBias
One of my favorite perks of living in the southern portion of Alabama is that the beautiful sandy white beaches aren't far away at all. We've gotten quite spoiled by the ability to make day trips down to the Gulf, and my husband's family loves to spend any free weekend they get fishing off of the state park pier. My husband and I used to fish together frequently before we had children, but now our time spent at the beach involves much more splashing in the waves than casting a reel. Fishing is still one of my husband's favorite pastimes, so we made sure during our vacation this past weekend that he was able to take the time to cast his reel and enjoy his time in the outdoors.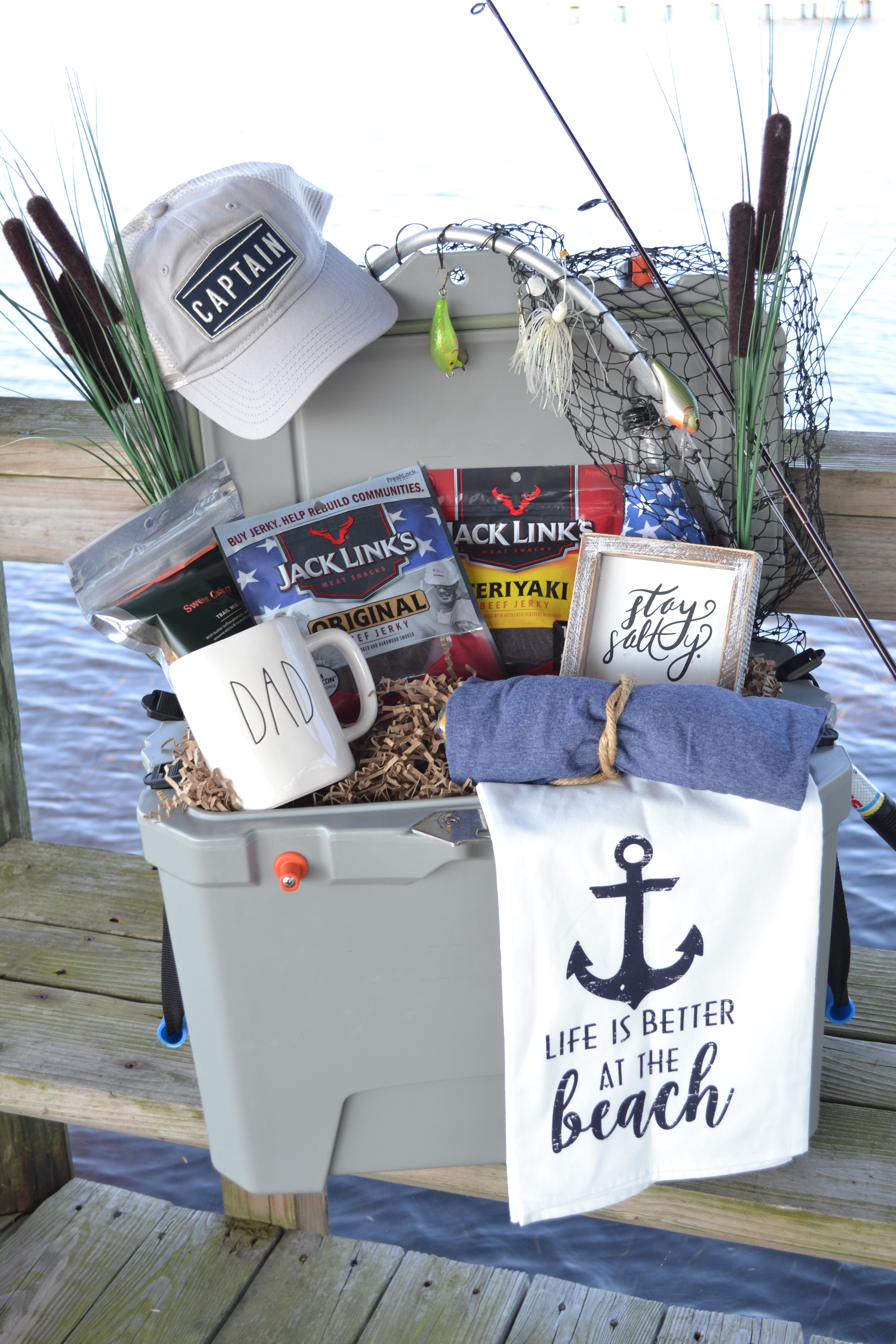 In fact, his Father's Day came a bit early when the girls and I surprised him with a special treat we put together just for him to enjoy while he spent the day fishing. I thought it would be fun to pick out a few fishing essentials, some of his favorite snacks and a few pieces of "Dad gear" to celebrate him and the important role he plays in our lives. We displayed our gift picks in a cooler that he can store his catch of the day in, and he was more than excited to see his favorite snack to enjoy on the pier – Jack Links® Beef Jerky displayed front and center!
His love for fishing has proven to be pretty contagious, as our oldest daughter learned how to reel in a fish after her Daddy took the time to take her fishing on the pier after a long afternoon of playing on the beach. She squealed with delight as she reeled in her catch, and it was such a sweet bonding moment to witness. She loved helping me pick out the items to put in her Daddy's fishing gift basket, and she made sure to pick out a few essentials for her, too!
We stocked up on these Father's Day gift essentials at our local Target, where we spotted the Jack Links Beef Jerky and a few of his other favorite snacks as well. When picking out snacks for a fisherman, it's important to choose things that won't spoil quickly as they will likely be out in the hot sun for most of the day. Jack Links Beef Jerky is my husband's #1 snack pick, as it's a good source of protein, made with 100% real beef and can easily be enjoyed anywhere on the go!

Other items included in the gift basket are a hat to keep his face shaded, his favorite beverage and a glass or bottle hugger to keep it cool,  a coffee mug (my husband is a big time coffee drinker,) a fishing net, lures, trail mix, a fishing shirt, and a cleaning towel. The possibilities are endless when it comes to preparing a fisherman's gift basket! Rods and reels, fishing line, bait, pliers, fillet knives, and sun screen are also a few great fishing essentials to include.
My husband enjoys his Jack Links Beef Jerky more than just at the pier during fishing trips. You can also find his hunting bag stocked with his favorite flavors during the fall months, and it's not uncommon to spot it sitting on his desk at work. I included a few different flavor varieties in his gift basket this year. He's a pretty big fan of the Original, Teriyaki and Peppered Beef flavors, but I think Original is his favorite!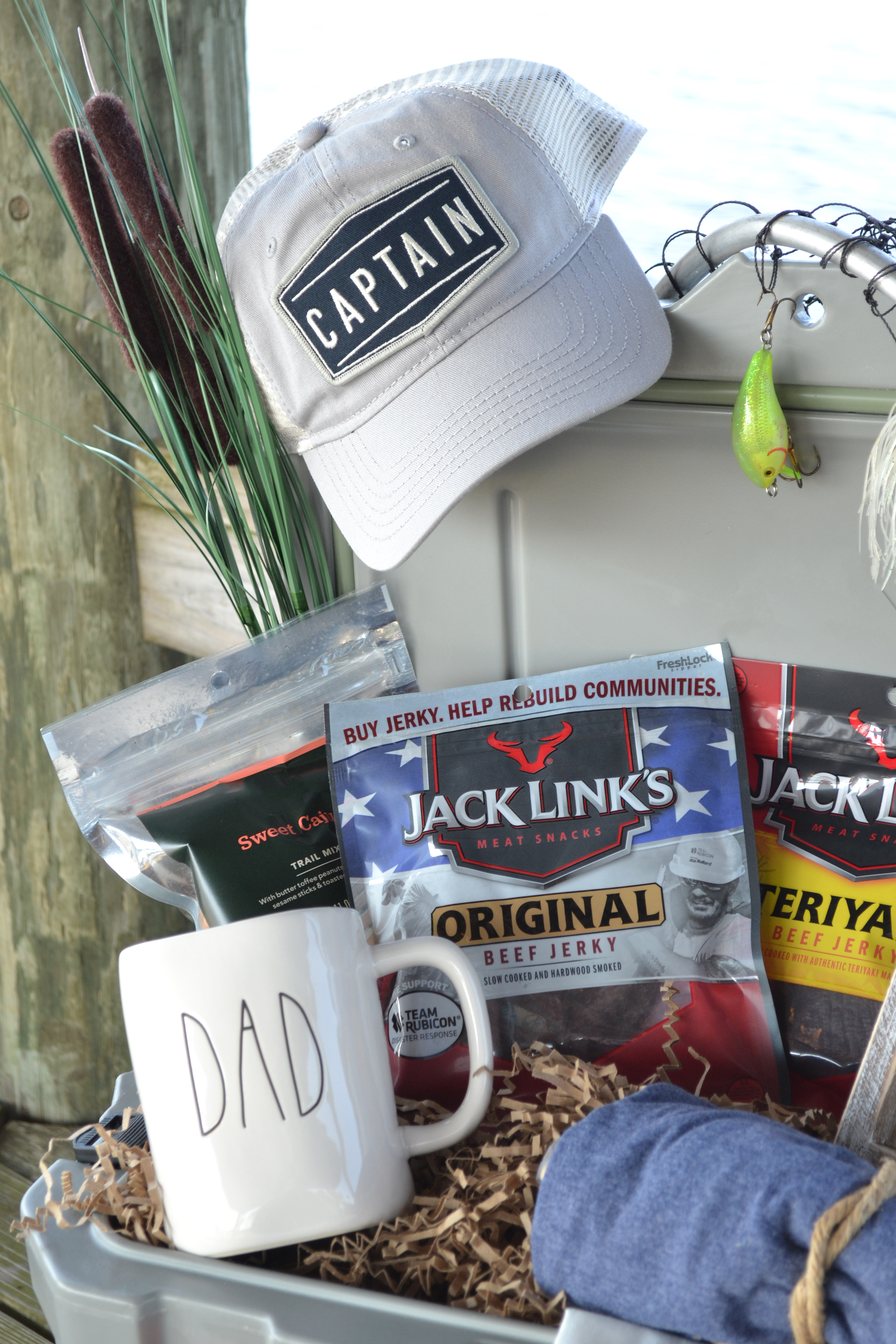 With Father's Day right around the corner, now is a perfect time to start stocking up on snacking essentials to share with the Dad in your life! Jack Links Beef Jerky is a perfect item to include in a gift basket, and you can even snag a pretty sweet deal on it at Target right now!
Save on Jack Links Beef Jerky at Target:
From 5/26-6/16, you can snag 10% off any size Jack Links product using this Target Cartwheel Offer!
Any time spent fishing is time well spent, and I love watching my husband enjoy doing what he loves in the outdoors. Putting together a special fishing themed gift basket for him was a joy for me and my daughters. If you'll be putting together a gift basket for a fisherman or outdoorsman for Father's Day this year, make sure you catch the sale happening right now at Target for Jack Links Beef Jerky! With a taste that good, it's easy to get hooked on!