Affiliate links may be included throughout this post at absolutely no cost to you. 
I don't mean to brag here, but yours truly just so happens to be a 4th grade Valentine card box decorator champion. That's right, y'all. I won the fourth grade contest for decorating a shoe box with glitter and cupcake liners to hold all of those little Valentine cards that all of the kids in class would deliver to each other during the Valentine's Day party. It was a pretty special moment (and sort of a big deal,) not gonna lie. 😉
I've always loved decorating for Valentine's Day. I loved taking the time to prepare my Valentine cards to pass out to everyone at school, and I especially loved receiving them! Sure, there were always the cool character ones with a sticker or tattoo that obviously came in a box from Walmart, but I always looked for the homemade ones. Those were always the most special to me!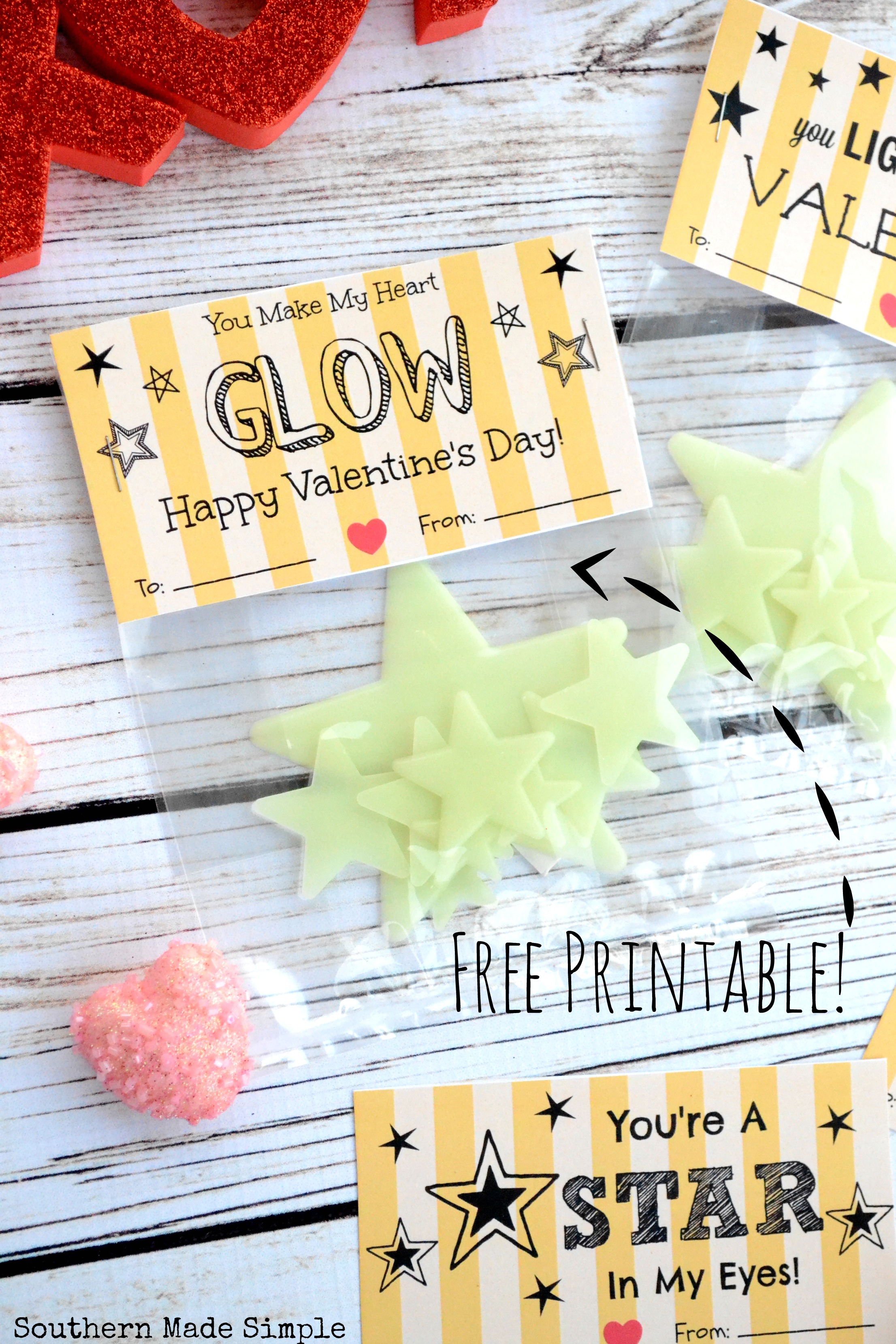 So as I was cleaning out one of my catch-all drawers earlier in the week (trying to get organized for the New Year) I found a couple packages of those glow-in-the-dark stars that I used to stick on my bedroom ceiling as a child. Since I knew my daughter is a little too young to enjoy them being on her ceiling, I immediately started brainstorming ways that I could still put them to good use without actually putting them on my ceiling.
I have seen people create some really sweet glow-in-the-dark Valentines before using glow sticks, so I thought why not use these cool glow stars to give to kids to stick on their ceiling at home? The glow-in-the-dark stars are relatively inexpensive (you can find them here and here) so if your kids wanted to package a few up for themselves to hand out to their class this year, go ahead and print out the free printable below that I've made to go with them! They're sure to get glowing remarks from all of the kids at school! 😉
*If you print out the free printable that I created, would you please be a dear and subscribe? I work hard to give you content at no cost to you, so following this blog would be greatly appreciated! 🙂
You will also need:
Glow-in-the-dark stars –  I recommend getting a few packages
Clear Plastic Bags  – You can also find these at the dollar store
I filled each bag with a small handful of stars, folded down the tops of the plastic bags and stapled the free printable to the top. Easy peasy!

And there you have it, folks! If your kiddos participate in a Valentine's Day party at school and need to bring something to pass out to everyone, skip the candy and pre-packaged Valentine cards and make these super cool (and crazy easy) glow-in-the-dark Valentine's! I guarantee they'll shine brighter than the rest! 😉
For fun Valentine's Day Snack Craft ideas, check out this post here!