This DIY Triple Chocolate Easter Bunny Dessert is the perfect treat to celebrate the spring season with. Just grab a spoon and bottoms up!
We're hopping right along into the spring season, and my heart has been thumping over all of the beautiful new green foliage, gorgeous pastel colored flowers and the brisk cool morning air. Spring has always felt so refreshing to me, and seeing what has withered away regain  new life and come into bloom is such a testament of the beauty of the season.
We built our home in a very wooded area, and each morning our yard comes to life with beautiful creatures and critters coming out to play in the blanket of morning dew on our lawn. My two girls have grown particularly fond of the wild rabbits we have that wrinkle their noses as they munch on the Bahia grass. We are big fans of the Easter bunny, and my daughters giggle with delight each time they see the store shelves flooded with those cuddly stuffed bunny rabbits and giant packs of pastel colored eggs.
Those funny little bunnies in our yard served as the inspiration for this fun triple chocolate Easter bunny dessert that we will be serving with our lunch after Easter services this year, and everything needed to make this little dessert come to life came from the dollar store!
Your local dollar store can be a gold mine when it comes to finding simple decor to set the table with, and in this particular case, even creating a delectable dessert to celebrate the season! I picked up a few packs of terracotta pots and painted them white using a food safe acrylic paint. I also found a pack of plastic plant labels and grass shaped cupcake liners to trim and use as the sprigs of grass in the pot. The dessert itself is very simple, and all of the ingredients can also be picked up from the dollar store. Here's what you'll need to get started:
Terracotta pots
1 box chocolate cake mix – prepared according to package instructions
1 package cream filled chocolate cookies
1 package chocolate pudding mix – prepared
1 package each jumbo and miniature marshmallows
1 small tube vanilla frosting
Pink food gel or edible ink marker to make the feet
Before you begin assembling the desserts, make sure your chocolate cake is cooked and cooled and your pudding is prepared. The first layer of the dessert is made of crushed up cookies. I found that leaving one cookie whole in the bottom and adding 2 crushed cookies on top of it was plenty. The whole cookie blocks the hole in the bottom of the terracotta pot so that none of the dessert falls out of the bottom.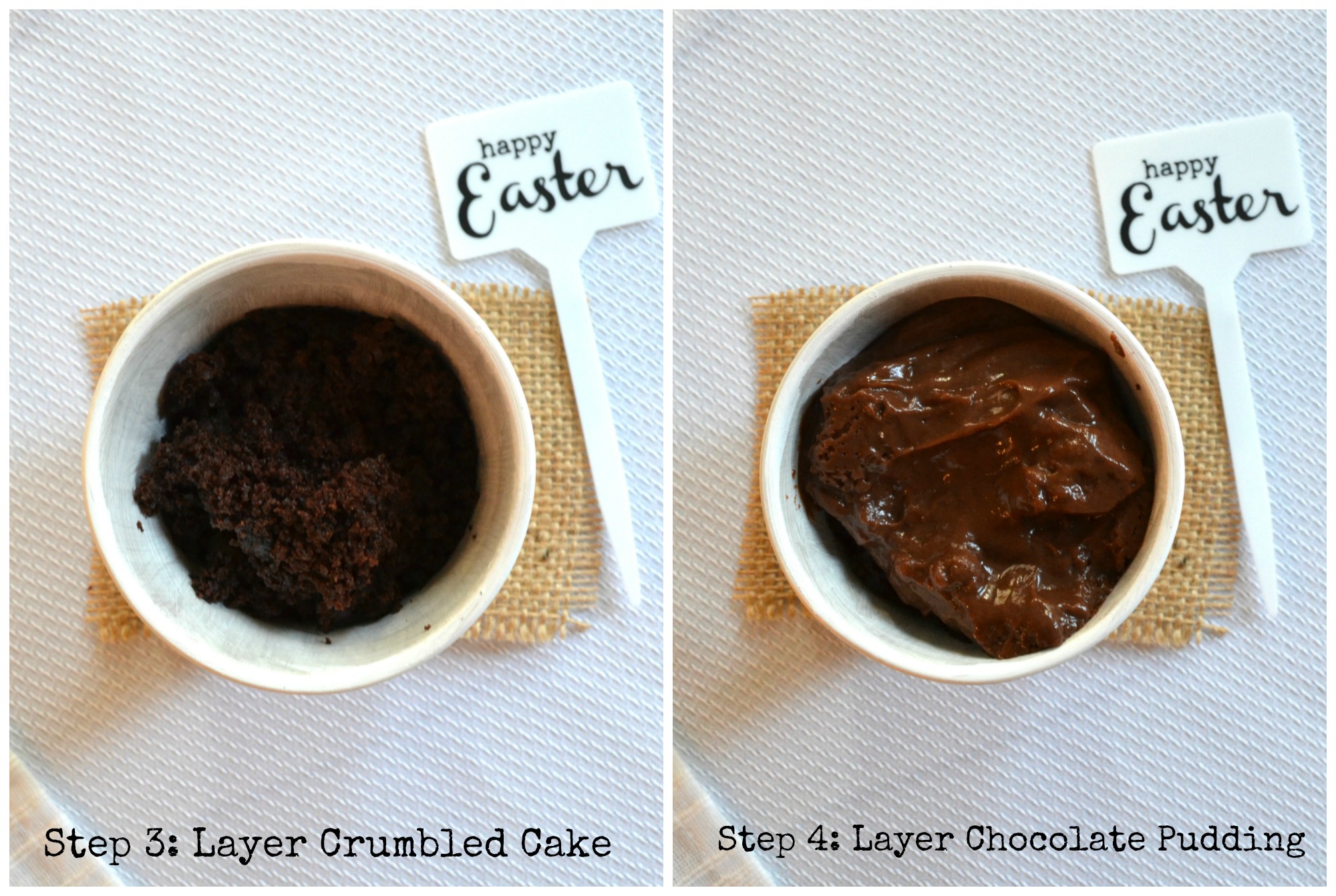 Add a few spoonfuls of crumbled chocolate cake, followed by a layer of chocolate pudding and top with a final layer of chocolate cake.

Next, add 1 jumbo marshmallow in the center. Cut 1 more jumbo marshmallow in half and add a paw print to each one. Place each paw underneath the jumbo marshmallow. Add a small amount of vanilla frosting to one miniature marshmallow and secure it to the top of the jumbo marshmallow to act as a cotton tail. Finally, add a few sprigs of paper grass or a little sign if desired!
DIY Triple Chocolate Easter Bunny Dessert
Ingredients
1

box chocolate cake mix

prepared according to package instructions and crumbled

1

box chocolate pudding

prepared according to package instructions

1

package cream filled chocolate cookies

crumbled

Jumbo and miniature marshmallows

1

pink food grade edible ink marker

Vanilla frosting
Instructions
Layer crumbled cookies into the bottom of each terracotta pot (tip: add a whole cookie to the bottom first to cover the bottom hole so crumbs don't fall out)

Layer a small handful of crumbled chocolate cake mix

Layer 2-3 heaping spoonfuls of chocolate pudding

Layer more crumbled chocolate cake mix to act as the "top soil"

Add 1 jumbo marshmallow to the center of each pot

Cut 1 jumbo marshmallow in half and draw feet onto the smooth sides and place beneath jumbo marshmallow

Dip the end of 1 miniature marshmallow into vanilla frosting and attach to jumbo marshmallow to act as tail

Garnish with additional decorations such as sprigs of fake grass or plastic gardening picks

Enjoy! (Leftovers should be refrigerated)
---
This dessert is perfect for little hands to help create, and it makes for a perfect chocolaty treat to share during Easter celebrations at church, school or as a special dessert any day of the week. This curious little bunny definitely has the right idea when it comes to digging head first into a pot overflowing with chocolate goodness. If you're looking for a fun way to celebrate the Easter season with a sweet little treat, grab your spoon and bottoms up!
If you loved this post, be sure to check out these other great Easter finds right here on Southern Made Simple!
Easter Bunny Peanut Butter Cheese Ball | Healthy Easter Snacks for Kids | Easter Snack Crafts for Kids | Easy Easter Bird Nests | DIY Burlap Bunny Utensil Holders