I've mentioned a few times in previous posts about this fabulous little grocery store that I have nearby that always has an amazing deal on produce. They're really good to slash their prices on the produce that needs to move out very quickly because it's approaching it's expiration date, and they almost always mark everything down to 99 cents for a large bundle. It's a crazy good deal if you anticipate cooking with them pretty quickly, or taking the produce home and freezing it for later use. (For example, I got a 5 lb bag of organic carrots and a bag of key limes for 99 cents once. It was a total score!)
When I went earlier last week, I found myself staring at a bin full of beautiful apples packaged in 5lb bags, all marked down to 99 cents. I seriously had to fight the urge to buy all of them! Because, really, I can't eat that many. I had to get really honest with myself in order to talk my mind out of it!

I did walk away with one bag of apples, and I knew they'd be perfect for incorporate into my Thanksgiving menu somehow. You may have already seen the recipe I recently posted for Brown Sugar Pecan & Cinnamon Apple Stuffed Sweet Potatoes – that was my very first creation with these sweet, juicy apples. But I decided that I wanted to make things a little bit sweeter, so I thought I'd try my hand at making a super moist and scrumptious fresh apple cake!
This is a pretty straightforward kind-of-cake. It's super easy to throw together as a treat for your family or to take to a potluck. It's even a great choice to slice and serve at a bake sale!
The batter for this mix is REALLY thick, so please be careful when using a hand mixer. I always use my mixer up until a certain point, and then I start mixing it all together with my hands for good measure. Here's a free printable copy of my recipe if you'd like to give it a try!
Fresh Apple & Brown Sugar Cake
Ingredients
3

large apples

peeled and chopped

1 1/4

cup

vegetable oil

1 1/2

cups

white granulated sugar

1/2

cup

brown sugar

packed

2

eggs - room temp

2

tsp

vanilla extract

1 1/2

tsp

baking soda

3

cups

all purpose flour

1

tsp

salt

1

tsp

cinnamon

1

tsp

allspice
Instructions
Thoroughly spray a 10 inch bundt pan with non-stick cooking spray

Preheat oven to 325 F

Using an electric mixer, beat together oil and sugars

Add in eggs and vanilla extract

Slowly add in flour, baking soda, salt and spices, followed by the apple slices. Batter will become VERY thick - If you feel that the dough is too thick for your mixer to handle, use a spoon or your hands to continue mixing in the flour

Pour batter into bundt pan and cook for 60-65 minutes, or until toothpick inserted in the middle comes out clean

Allow to cool completely in the bundt pan before turning pan over on top of a plate to remove cake. The cake should slip out with little effort to remove it once it's cooled

Slice and enjoy!
---
 I baked one of these cakes and took it over to my mother's house for our Thanksgiving dinner. This was the first time my family had ever tried my recipe, and it got raving reviews from them! I made sure I wrapped up a few slices for each member of my family to keep so they could enjoy after the meal was over. This cake is truly finger lickin' good!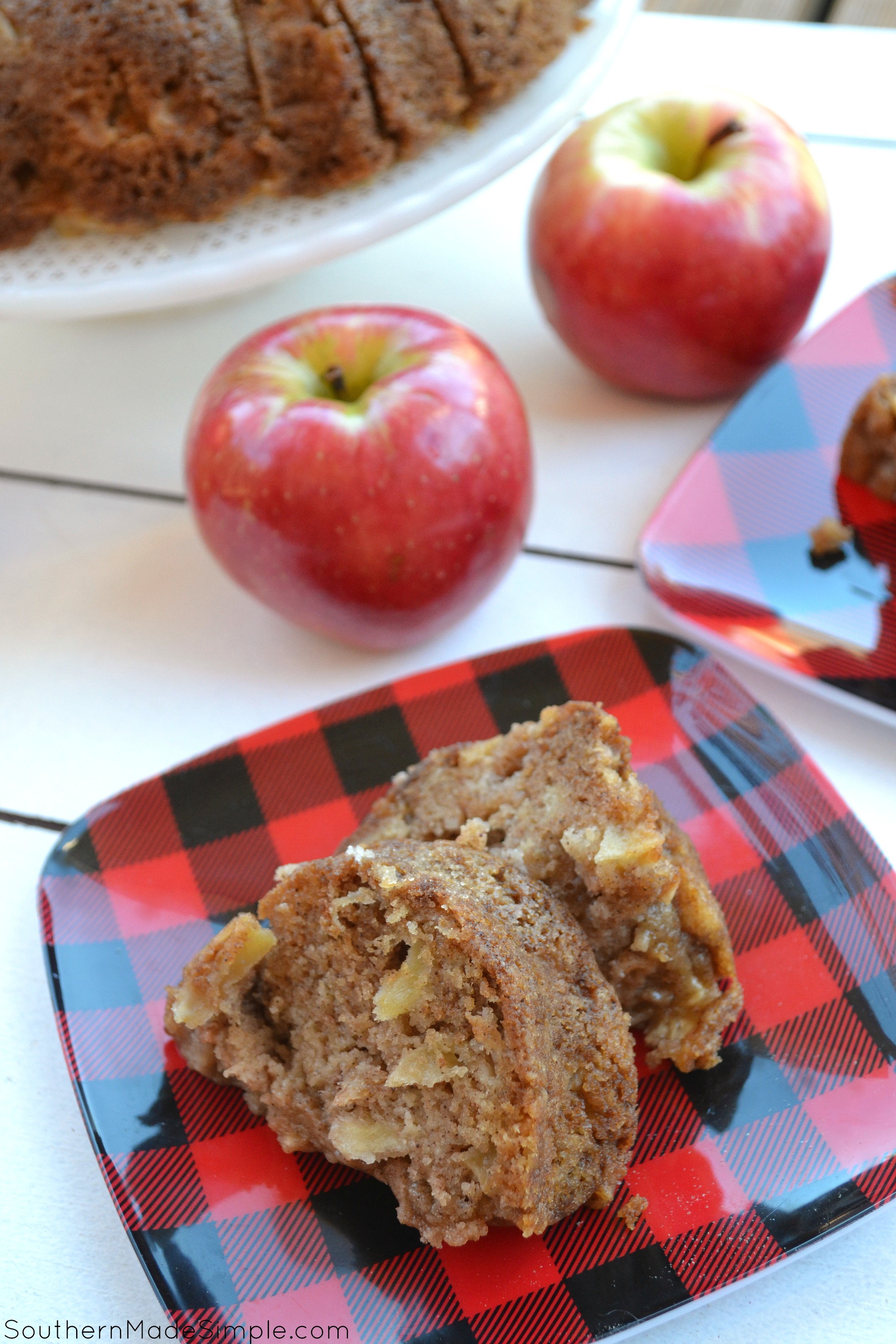 Do you have a favorite recipe that uses fresh ingredients like apples? Do you have a favorite cake recipe that makes for a perfect Fall dessert? If so, I'd certainly love to hear all about it!
If you love this recipe, you'll definitely want to give these other recipes a try: Grandmama's Glazed Lemon Cakes, Mandarin Orange Upside Down Cake, Pumpkin Custard Pie, and Southern Fried Fig Pies