No matter where you are in the world, there's always that one thing that immediately takes you right back home. One of the most beautiful things about the United States is that each and every state has something unique that sets it apart from the rest. I pride myself on having roots planted deep within the Alabama clay, and I love to celebrate my Southern heritage because it's a building block in the foundation of who I am (and this very blog, too!)
Out-of-staters may think of many different things when they think of Alabama (football, accents, farm land, etc.) but many people don't know about the history of one little gem and how it completely turned this state around and revived it just a century ago: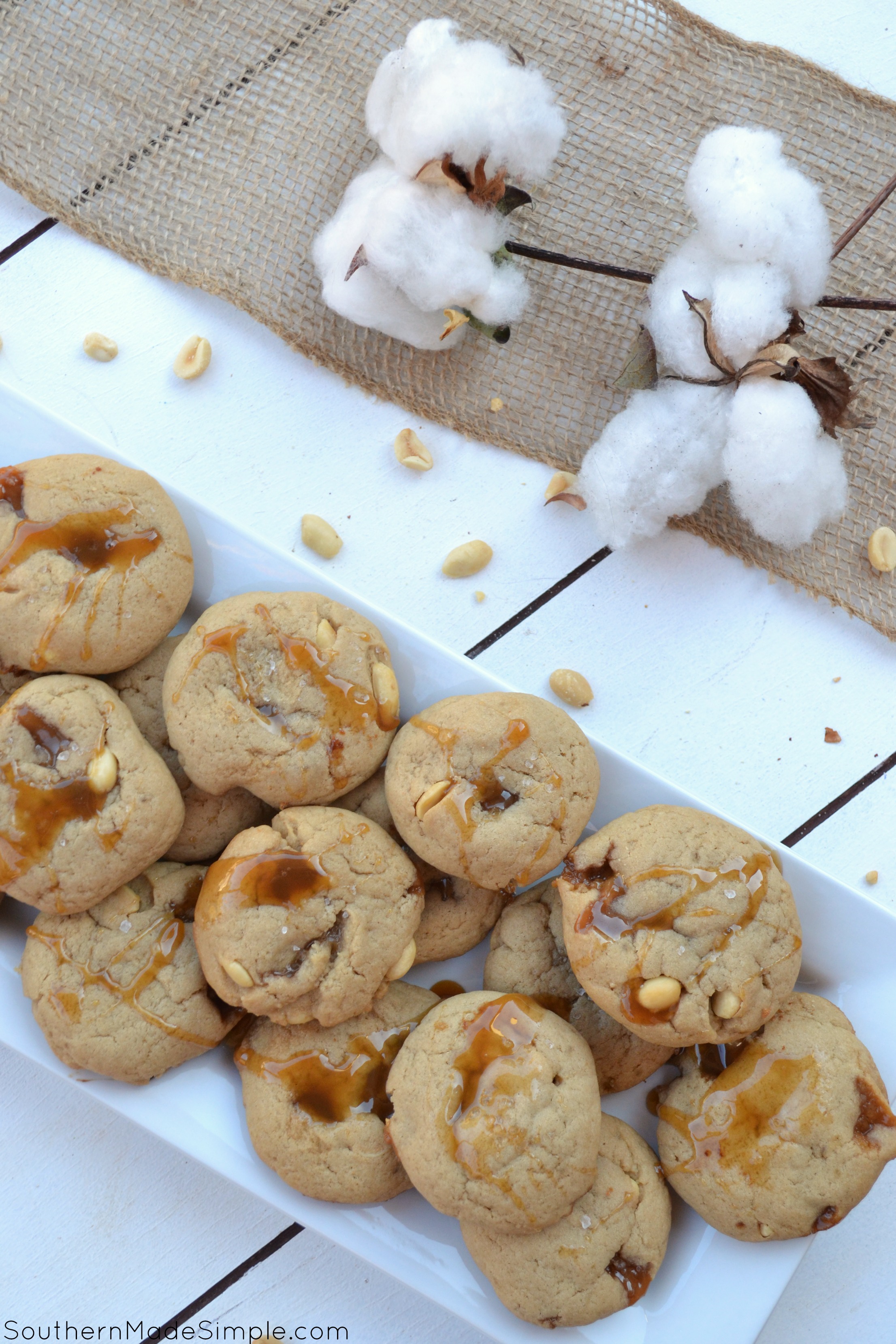 I grew up in the Wiregrass region of Alabama located in the southeast corner of the state, also known as The Peanut Capital of the World. Currently, 1/4 of the US peanut crop is harvested within this small region, and it has been the backbone of commerce in the area since the early 1910's.
It wasn't always that way, though. What makes the tie between Alabama and peanut farming interesting is that peanuts were planted out of desperation after a boll weevil infestation devastated all of the cotton crops in the area, forcing farmers to turn to other means to provide for their families. The peanut crops proved to be one of the best things to ever happen to this area, bringing financial gain to the area in numerous ways. (Fun Fact: My hometown has a statue dedicated to the Boll Weevil as a tribute to forcing farmers to turn from cotton to peanuts. It's the only statue dedicated to a bug in the world!)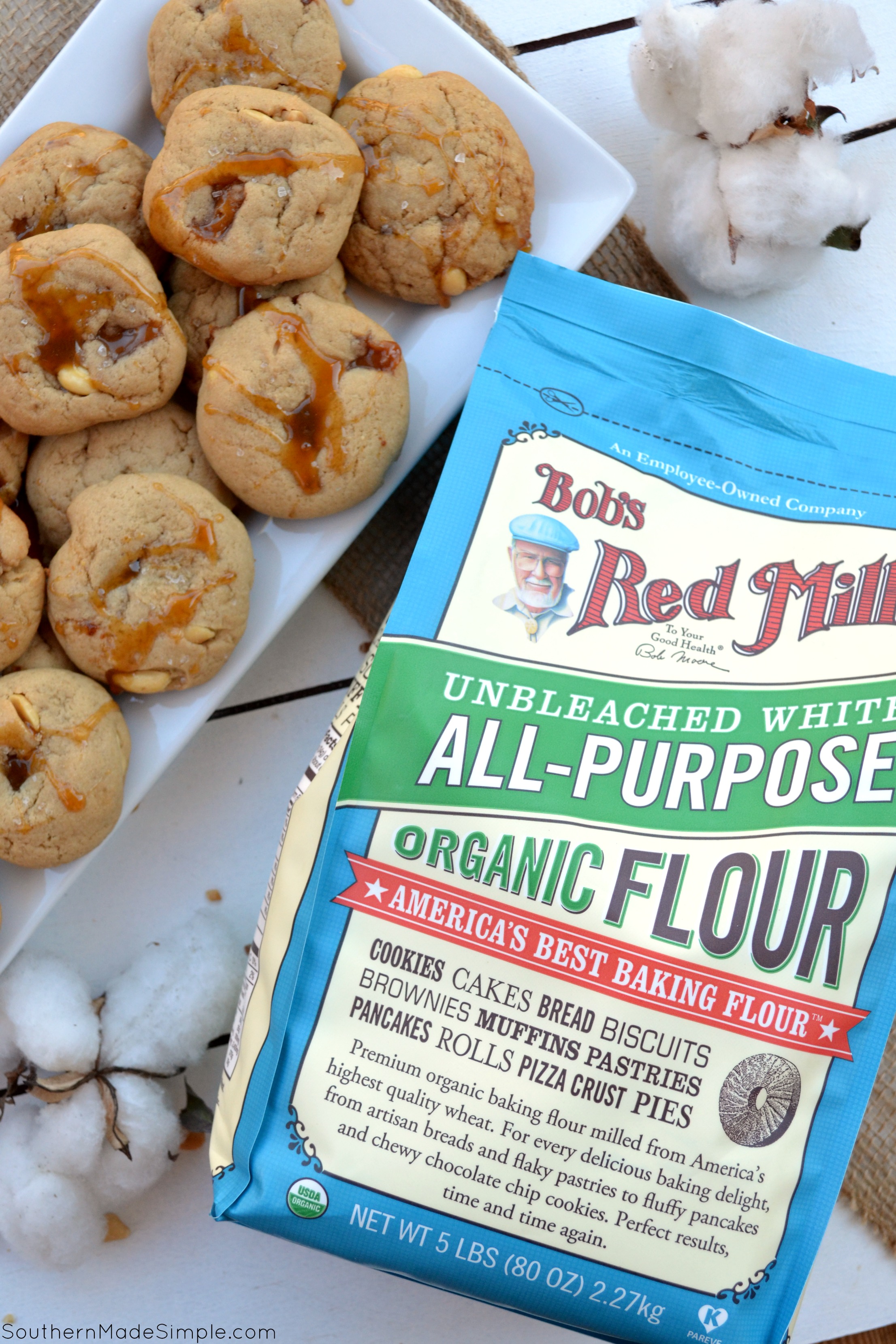 So as a sweet and delicious way to pay tribute to my home state, I decided to pull out my beloved Bob's Red Mill All Purpose Flour and do a little cookie baking just in time for the holidays. Bob's Red Mill flours are my not-so-secret weapon in my baking arsenal. It's hands down my favorite flour to bake with, and the quality is simply unmatched!
Bob's Red Mill is currently celebrating cookie lovers from coast to coast by gathering 50 bloggers from 50 states to share a recipe that symbolizes their home state. It's a privilege and an honor to participate in such a fabulous cookie round up, and I wasted no time planning out my recipe! I absolutely wanted to make sure I paid tribute to the peanut in my recipe, as I come from a family of peanut farmers that runs several generations deep.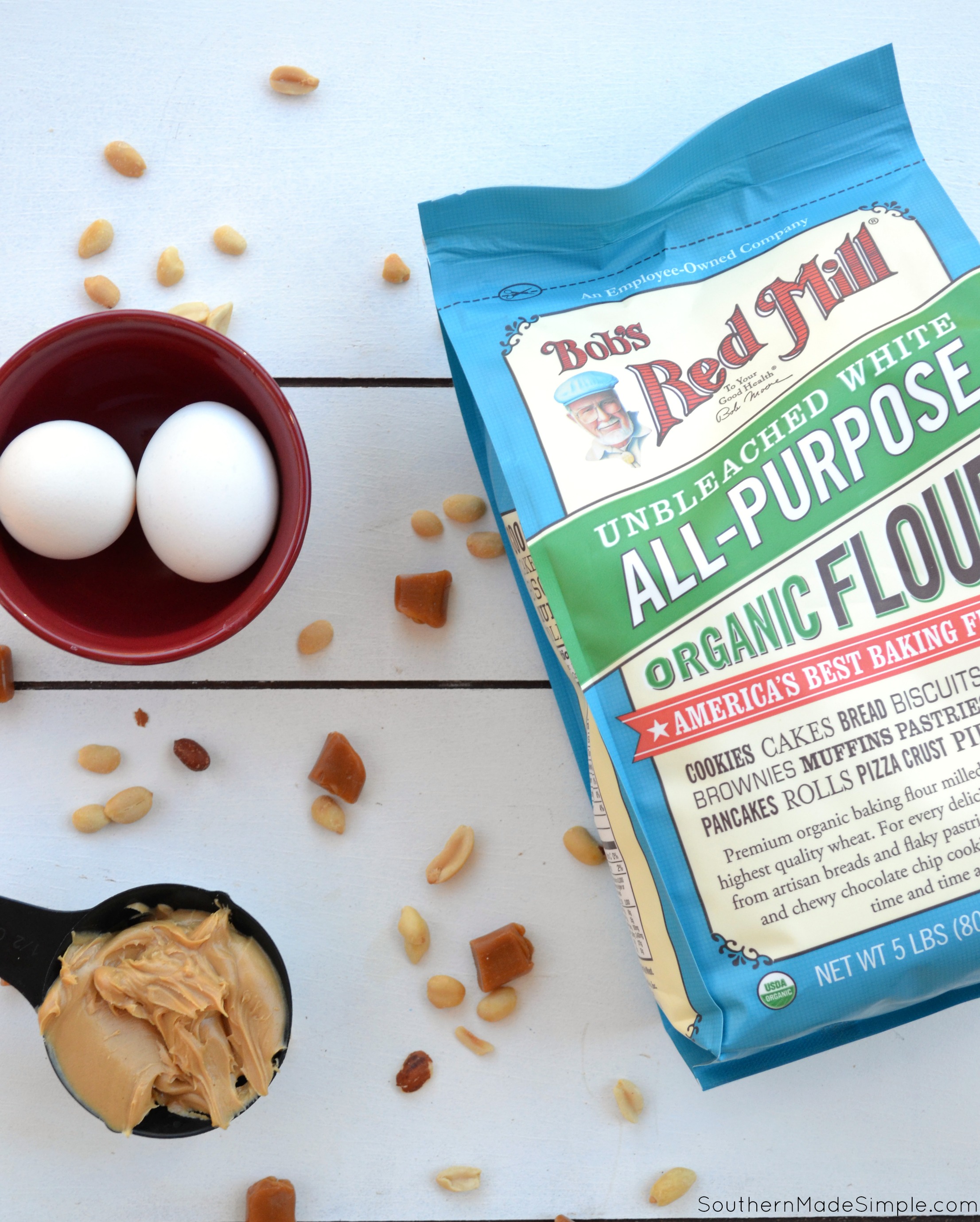 I can think of few things more delicious than a warm batch of freshly baked peanut butter cookies. Many credit George Washington Carver (an Alabama native) as being the "inventor" of modern day peanut butter. He was a scientist who studied the peanut plant and came up with numerous uses for peanuts that have changed society is really big ways! Next to the peanut crop, he's a true Alabama treasure in my eyes!
So I did a little mixing and combining of a few of my favorite flavors and came up with a real treat that has sweet home Alabama written ALL over it! Peanuts may be king here, but these Salted Caramel Peanut Butter Cookies are certainly a treat of royal standards!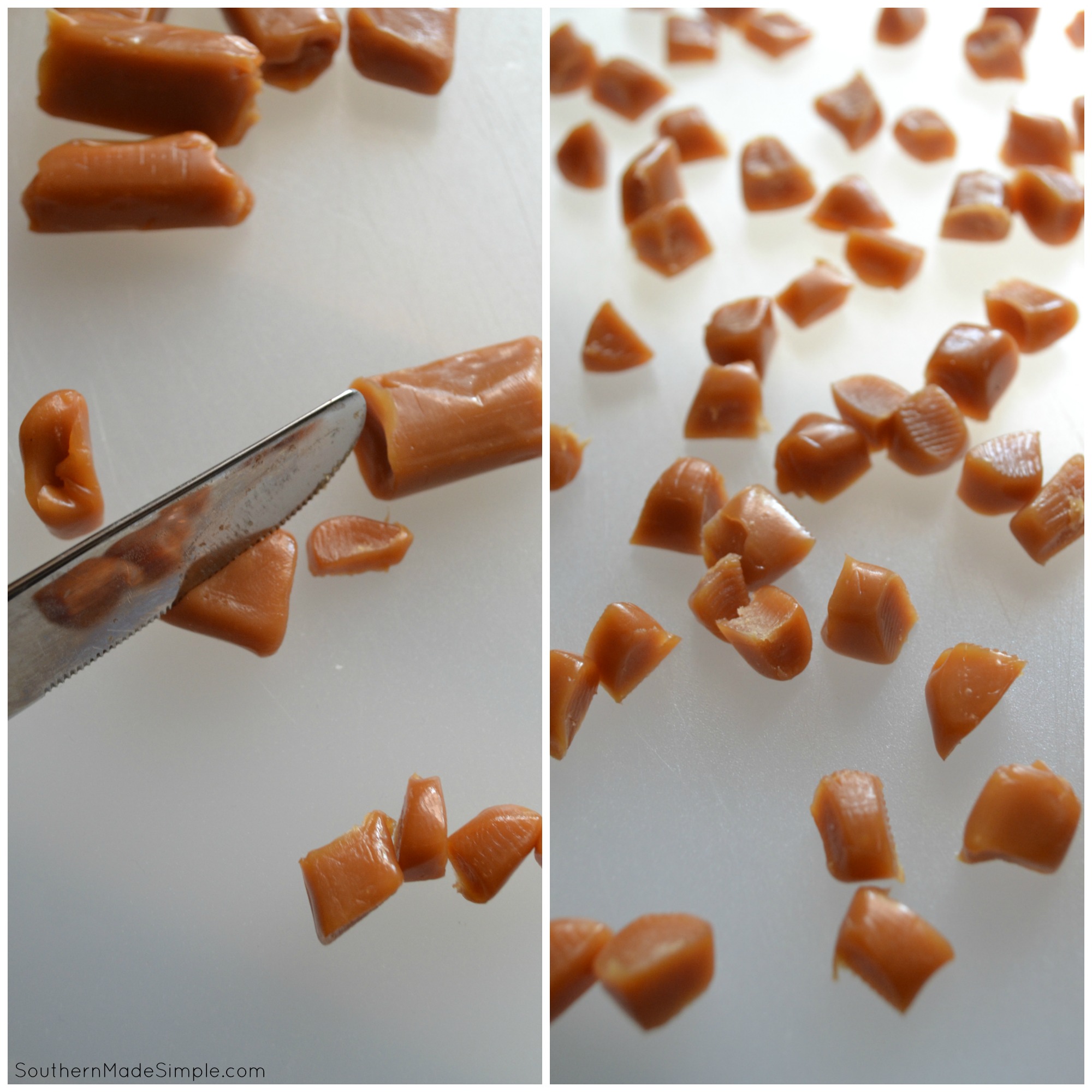 Before I started baking away, I reached into my pantry for a bag of soft and chewy caramel candies. I used about 15 or so pieces of candy, and I cut each one into small pieces. Biting into little pieces of gooey caramel in these cookies is like biting into a tiny piece of heaven! I grabbed my favorite mixing bowl and combined butter, eggs, white and brown sugar, peanut butter, a little vanilla, peanut halves and then the caramel pieces, immediately followed by the flour, corn starch and baking soda. I rolled a spoonful of dough into a ball, making sure no pieces of caramel were showing. I lightly pressed each ball with my palms to flatten them a bit, and them sprinkled a smidge of coarse sea salt on each one.
It's important to make sure no caramel is showing because it will ooze out of the cookies when baking. If you find that the cookies ooze a lot of caramel out when baking, just remove them from the pan with a spatula and allow to cool on a wire rack. Any caramel that oozes out and hardens should break off easily if removed from the pan promptly. I baked the cookies at 375 F for 10-12 minutes until they were perfectly golden brown!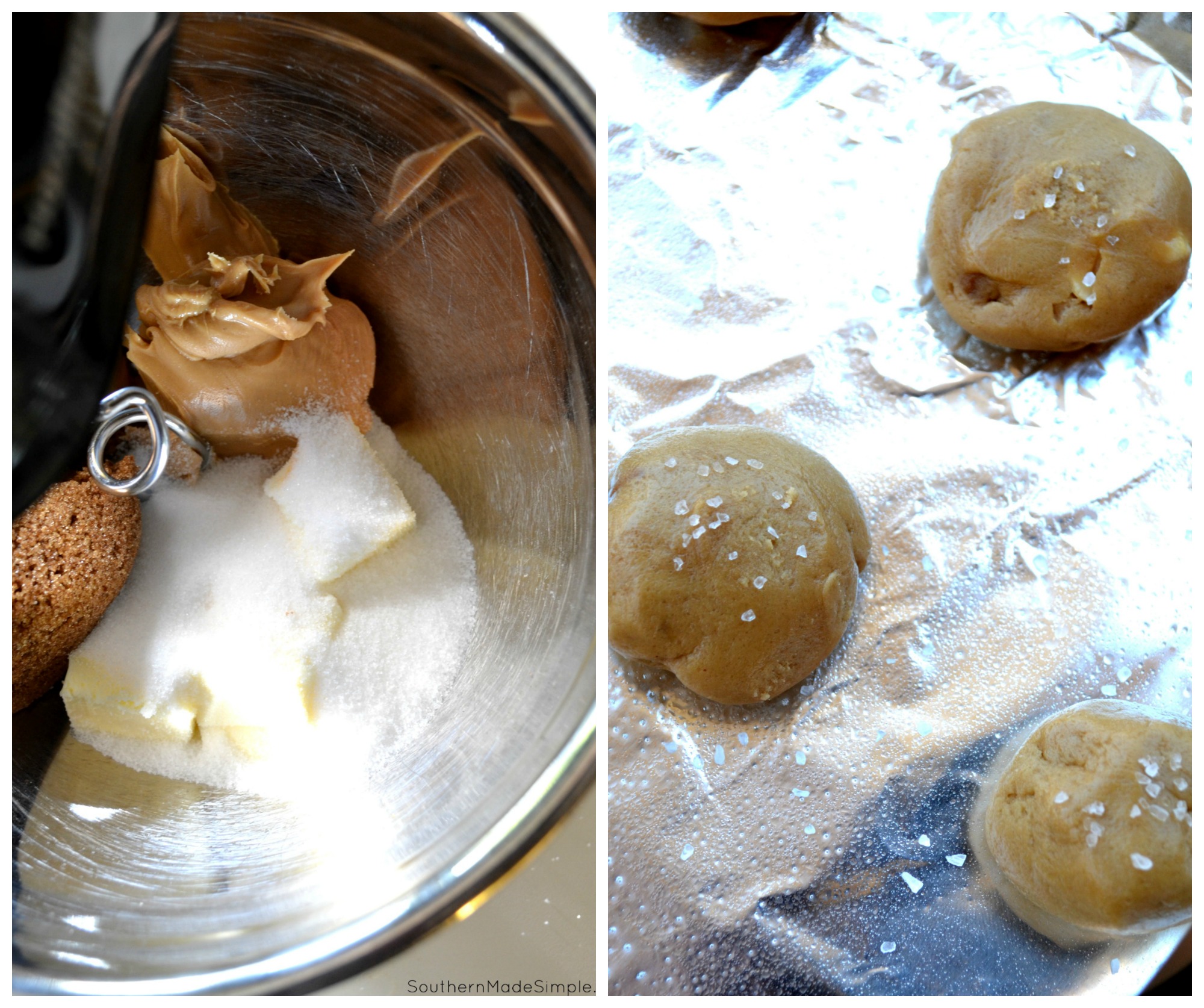 Salted Caramel Peanut Butter Cookies
Ingredients
1/2

cup

butter - room temp

1/2

cup

peanut butter

1

cup

brown sugar

1/2

cup

white granulated sugar

2

eggs - room temp

1

tsp

vanilla extract

1/2

tsp

baking soda

1

tsp

corn starch

2 1/2

cups

Bob's Red Mill All Purpose Flour

10-15

soft caramel candies - chopped into small pieces

1/2

cup

salted peanut halves

A sprinkle of course sea salt for each cookie

Caramel topping for adding an extra drizzle

optional
Instructions
Preheat oven to 375 F

Using a stand mixer, cream together the butter, peanut butter and sugars

While mixing, add in eggs one at a time.

Add in vanilla, baking soda and corn starch

Add in caramel pieces and peanut halves

Slowly add in Bob's Red Mill flour - making sure it gets fully incorporated into the dough

Scoop a spoon full of dough into your hands and roll into a ball - making sure no caramel pieces are visible. You can gently flatten the dough a little with your palm if you like a flatter cookie

Place each ball on a foil lined greased cookie sheet and sprinkle with just a pinch of sea salt

Bake for 10-12 minutes (Note: Caramel WILL ooze out - don't be alarmed)

Allow to cool on pan for no longer than a minute or two before transferring to a wire rack to finish cooling (Any excess caramel that oozed out should easily break off at this time)

Serve with a glass of milk and enjoy!
---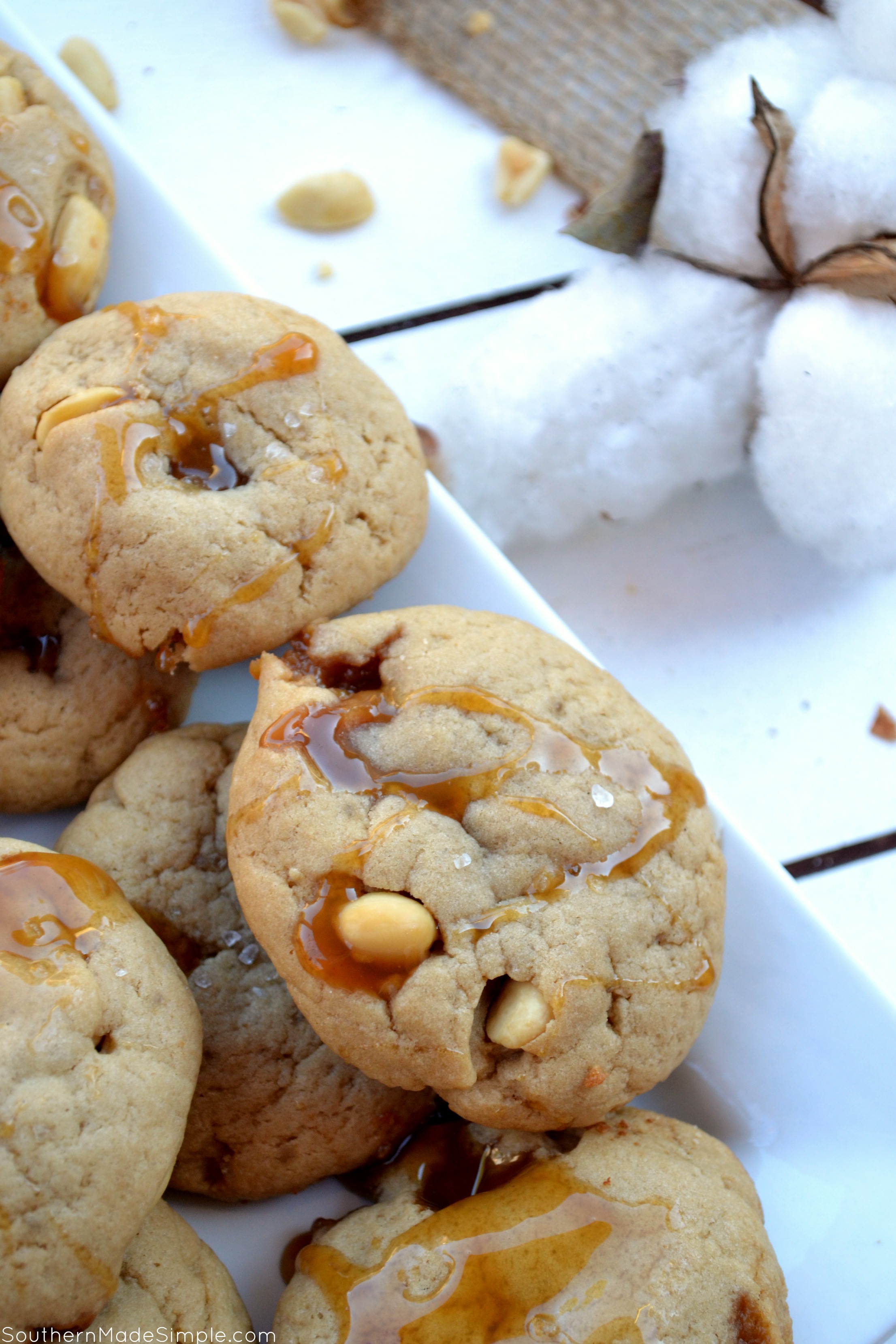 As I mentioned earlier, Bob's Red Mill All Purpose Flour is my secret weapon that makes these cookies really shine. It's only made with whole and high quality ingredients, and it's not enriched with any additives. It's used my professional bakers to create light and airy baked goods, but it's versatile enough to use for any and all of your baking needs!
I also love to keep Bob's Red Mill Gluten Free 1-to-1 baking flour on hand to use in cookies, cakes and brownies when I'm baking for friends and family members that try to keep their diets gluten free. It creates perfectly golden brown and chewy cookies every time!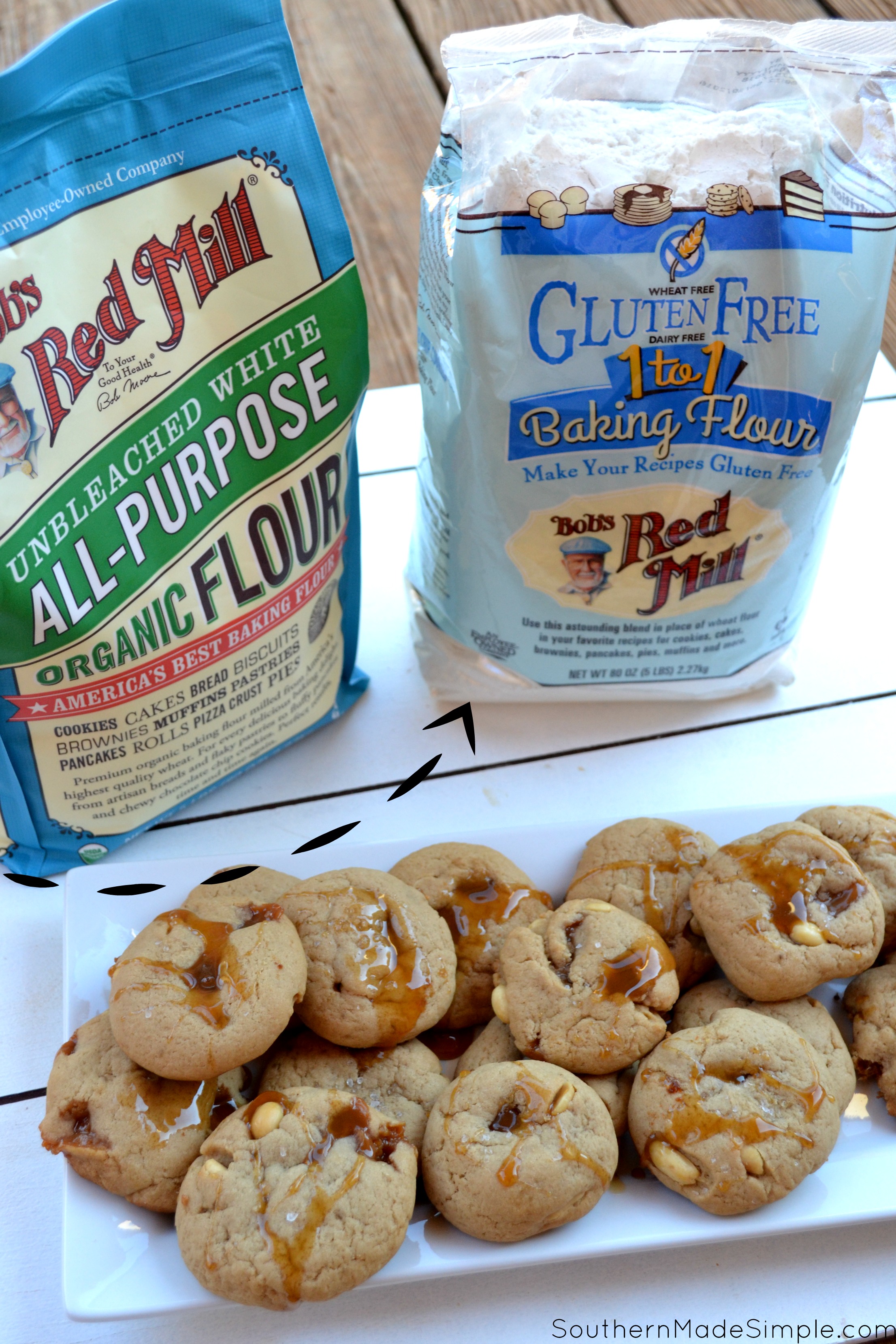 These cookies have the perfect amount of crunch, while still remaining soft and chewy. Biting into the chunks of peanuts while savoring the sweet peanut butter flavor instantly takes me back to my hometown, where the smell of peanuts being processed at the old peanut mill fills the town and always brings a smile to my face. The sea salt combined with the caramel really takes the cookies over the top!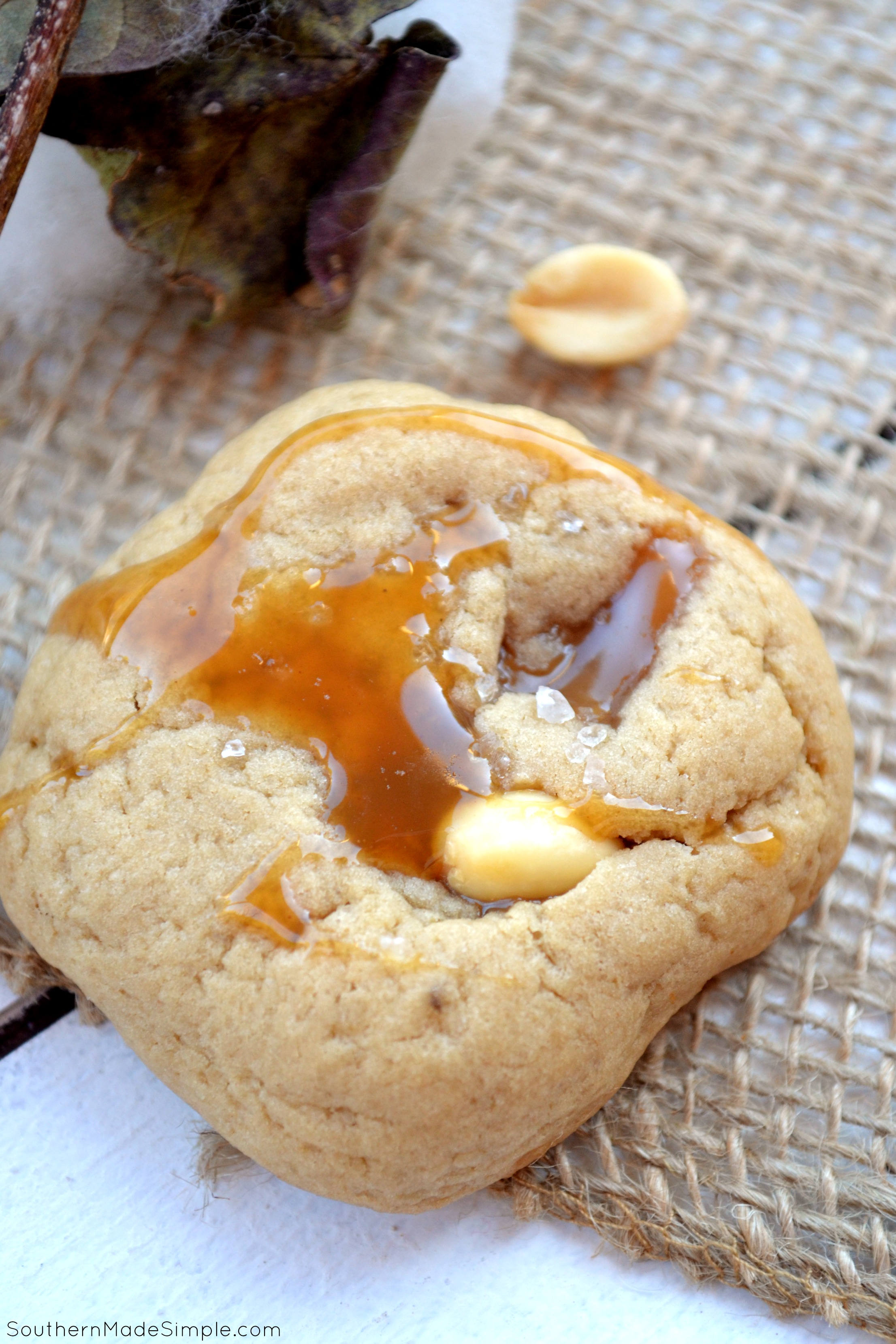 Do you have a specific food that makes you think of your home state? What cookie represents your state in the United States of Cookies roundup? There's lots of gorgeous cookie recipes featured from all 50 states, and I can't wait to fill my cookie jar with a sample from each region in the United States!
If you'll be doing some special holiday baking this season, or if you're itching to try these delicious Salted Caramel Peanut Butter cookies, make sure you take these money saving coupons with you during your next grocery store shopping trip so you can pick up a few packages of Bob's Red Mill Flour to stock your pantry with!
I was selected for this opportunity as a member of Clever and the content and opinions expressed here are all my own.