We're in our first week back to school here in my neck of the woods. For some reason, I've always felt like the return to school means the end of summer, which really isn't true at all. I mean, it's HOT outside until October here, so it certainly feels like summer for the majority of the year! But to help me fight that "summer's over" feeling, I try to cling to my favorite summer time treats for as long as I can.
Without question, my favorite thing about summer is heading down to the gulf and and breathing in that sweet salty air. I live close enough to the beach that it's totally feasible to take a day trip down, so getting to do that every now and then really puts a pep in my step. Sure I enjoy the ocean, the fishing and the scenery, but what I REALLY love is the cuisine.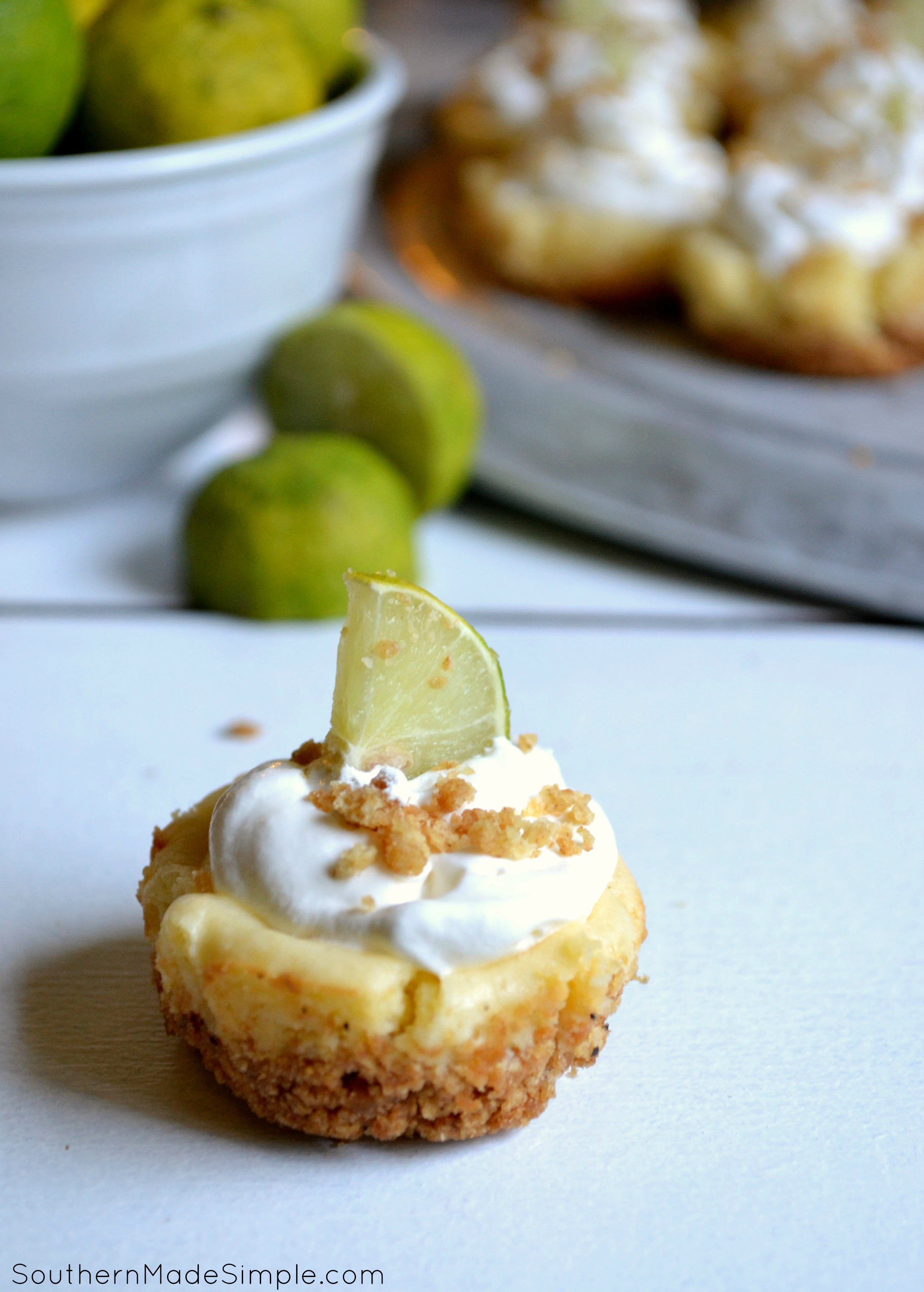 And friends, let me be perfectly clear. There's nothing in this world that's as sweet as eating a slice of homemade key lime pie on a hot summer day. Nothing like it, y'all. It's ah-mazing!
So imagine the absolute JOY I found when I walked into my local grocery store to find a huge bag of beautiful key limes marked down to just 99 cents! I mean, how could I possibly pass that up?! I've always wanted to take a stab at making a key lime pie from scratch using real key limes, but they can often be hard to find, and they're always on the expensive end. My grocery store is so good about dramatically marking down prices on fresh produce that they need to sell to make room for the new.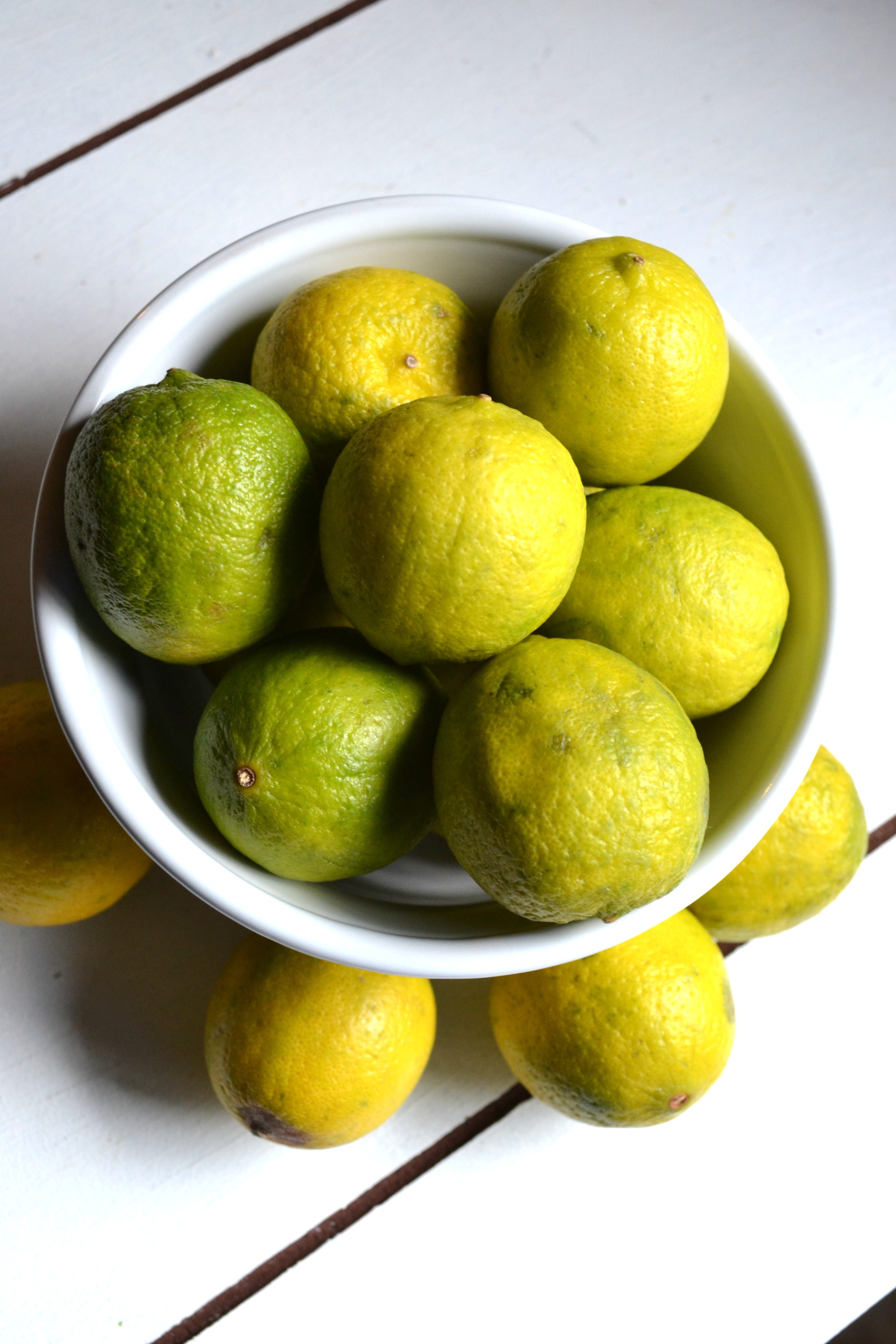 The key limes were previously priced at $5.99 a bag, and they had a ton of life left in them. I knew right then and there exactly what I'd be doing this weekend! But instead of making a full pie, I thought I'd come up with a fun little spin on the classic version and create these Mini Key Lime Pie Bites!
So I got out my juicer and grater and went to work. I very lightly grated just a few of the key limes to get about 1 tsp worth of zest. I then juiced enough limes to make about 3 Tbs worth of juice. 
Next, I opened up a package of honey graham crackers and chopped them up very fine. I added in a little melted butter and gave it a good stir to create a crust. I sprayed my mini muffin tin with non-stick cooking spray, preheated the oven to 350 F and then poured about a spoonful of the crumbs into each compartment, pressing each one firm with my fingers. I placed the "crusts" in the oven and let them bake for 8-9 minutes so they'd firm up a little.
While those were baking, I went ahead and started making the filling. I took a package of softened cream cheese, an egg, brown and white sugar, the key lime juice and zest and a smidge of vanilla and beat it until smooth with a hand mixer. 
Once the crusts came out of the oven and had cooled slightly, I poured about a tablespoon full of batter on top of each crust and then baked them again for about 20-23 minutes. Once they were done, I allowed them to briefly cool and then took a butter knife around the circumference of each little pie to make sure they weren't sticking.
Once they were removed from the muffin tin and completely cooled, I garnished each one with a little cool whip, some extra graham cracker crumbs and a slice of fresh key lime.
Here's a free printable copy of the recipe for you to try. If you give this recipe a try, please come back and leave a comment sharing how yours turned out!
Mini Key Lime Pie Bites
Ingredients
1

cup

crushed graham cracker crumbs

I used honey graham crackers

1 8

oz

package cream cheese

softened

3

Tbs

butter

melted

1/2

cup

sugar

3

Tbs

key lime juice

I used real key limes

1

tsp

key lime zest

1

egg

1/2

tsp

vanilla extract

1/2

container cool whip or Redi Whip

sliced key limes + extra cracker crumbs to garnish

optional
Instructions
Preheat oven to 325 F

Spray a 24 count mini muffin tin thoroughly with non-stick cooking spray

In a mixing bowl, combine crushed graham crackers and melted butter and stir

Scoop a small spoonful of crumbs into each muffin tin, pressing down until firm with your fingers

Bake for 8-9 minutes

In a separate bow, beat cream cheese, egg, sugar, key lime juice + zest and vanilla with a mixer until well combined

Fill the remainder of the muffin tins with cream cheese mixture and bake for 20-23 minutes

Remove from oven and carefully run a butter knife around the edges of each pie so that they do not stick

Remove from muffin tin and allow to cool

Top each key lime pie with cool whip, graham cracker crumbs and a lime slice and serve chilled

Enjoy!
---
I actually doubled this recipe to make a large batch and took it to a recent event at my church.  The Mini Key Lime Pie Bites were a hit! I'll definitely be making these more often so I can savor the flavors of summer for as long as I can. I'll also be scoping out the produce section of my grocery store on the regular to see what other delicious fruits and veggies I can snag at a bargain!
Are you a key lime pie fan? What is your favorite summer time treat to enjoy? Leave a comment and share!
If you like this recipe, be sure to check out these other great recipes found right here on Southern Made Simple! Bomb-tastic Blackberry Brownies, Grandmama's Glazed Lemon Cakes, Lemon Poppyseed Summer Squash Bread