I love a good upside down cake. I'm pretty certain that for the past 5 or 6 years I have requested a pineapple upside down cake for my birthday. Any time you can combine real fruit with the sweetness of a cake, you know you've got a winning recipe. Plus, with fruit being a key ingredient, it's basically like you're eating something healthy! Am I right?! (I kid, of course.)
I had never really thought about adding other types of fruit to an upside down cake. I mean, pineapple upside down cake is already so perfect in my eyes, why mess with it? It wasn't until I was thumbing through my great grandmother's recipe book that I realized you totally could use other fruits in this type of recipe! (I know it seems like a no-brainer that you could substitute the pineapple, but I seriously had never thought to do that!)
I've shared one of my favorite recipes from my Grandmama with you before. Remember these incredible lemon cakes? If you haven't made those yet, then bless your heart because you're sure missing out! I already knew that anything that came out of her cookbook would be delicious, so when I saw her recipe for a Mandarin Orange Upside Down Cake, I knew I had to get to work so my taste buds wouldn't be deprived any longer.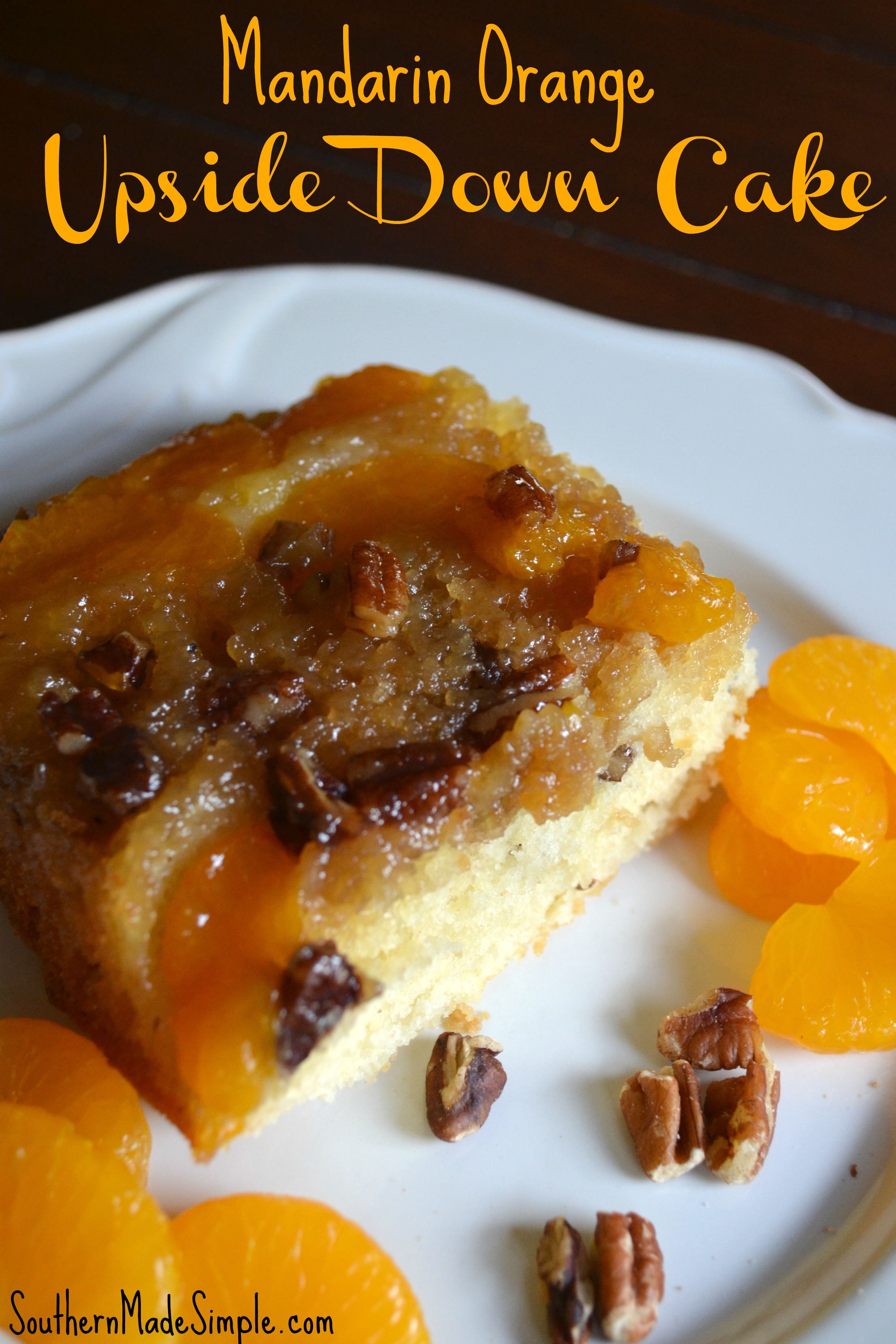 I'll be sharing her actual recipe below, but I'll also be sharing a really simple and easy way to lighten up the recipe using greek yogurt and applesauce, which is what I chose to do. (I also omitted the coconut because I just can't when it comes to coconut. Love the flavor, hate the texture!) Although my lightened-up version of the cake came out fabulously, I really encourage you to try it just like Grandmama makes it!
Mandarin Orange Upside Down Cake -Recipe
Ingredients
1

stick butter

1

cup

brown sugar - packed

1/2

cup

shredded coconut

optional

1

tsp

vanilla

1 15

oz

can mandarin oranges

drained

1

box yellow or white supermoist cake mix

2

handfuls of chopped pecans
Instructions
Preheat oven to 350 degrees F.

In a 9x13 baking dish, slice butter into squares and spread throughout pan.

Melt butter until entire bottom of baking dish is covered.

Pour brown sugar into bottom of pan and spread around.

Spread mandarin oranges into bottom of pan.

Toss in coconut and 1 handful of chopped pecans.

In a large bowl, mix cake mix according to instructions, adding in vanilla when mixing.

Add in additional chopped pecans.

Pour cake batter over oranges in pan and bake for 35 minutes or until cake is done all the way through.

Immediately flip cake over onto a serving dish or a piece of aluminum foil.

Enjoy!
---
To lighten this recipe up a bit:
Usually the package of cake mix will require you to add eggs and either oil or butter to make the batter. I replaced the oil/butter with 1/2 cup low fat Greek yogurt and 1/2 cup unsweetened applesauce. It came out a tad bit drier than a traditional upside down cake, but by no means was it too dry to be enjoyed. I think it came out amazing!
Have you ever heard of using mandarin oranges in place of pineapple? What are some other upside down cake recipes have you heard of? I'm thinking peaches would be great!