We're currently in the heart of deer season here in south Alabama, and my husband has been in the woods quite a bit lately trying to make sure our freezer is stocked with venison to last us a full year until next year's deer season begins. These venison sausage balls are a quick, simple, no-fuss and no-fail appetizer that I love to whip up any ol' time, but especially on game days when college football is on the big screen.
These sausage balls only call for a handful of ingredients, and they take about 15 minutes to cook all the way through in the oven. My husband loves to eat them by themselves, but I personally love to dip them in a little bit of pepper jelly or drizzle a smidge of syrup over them to give them a bite of sweetness. If I'm lucky and there's any leftovers the next morning, I love to pop them in the microwave and have them for breakfast!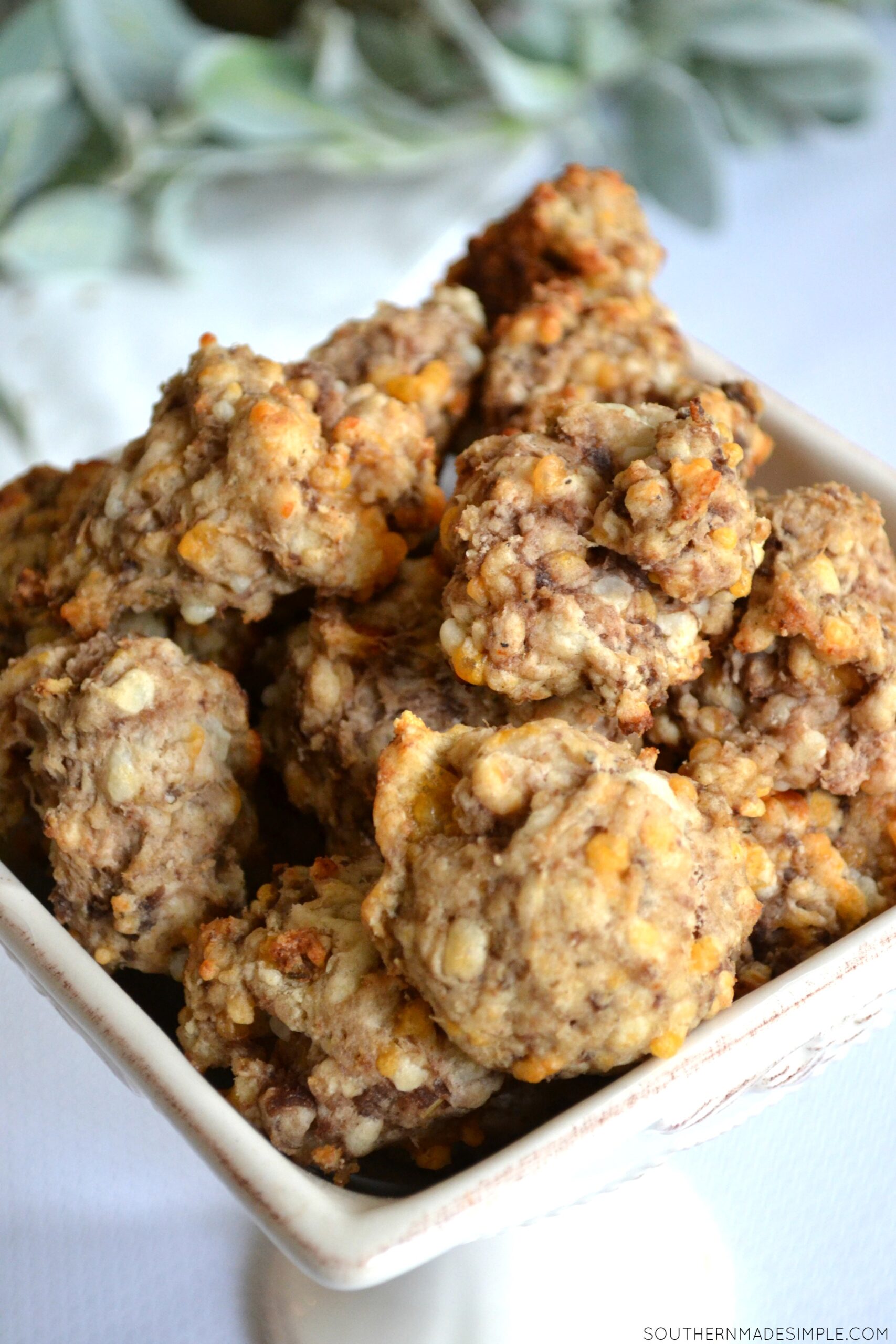 While this recipe calls for ground venison sausage, you can easily adapt this recipe to use pork sausage. If you want to spice things up a tad, spring for a spicy sausage blend instead of using mild! I use a combination of shredded cheddar and shredded mozzarella in the mixture because I believe the mozzarella adds in a little extra moisture to keep them from feeling dry. You can experiment with different cheeses if you so choose, and even add in a little creole or cayenne pepper to give them so extra flavor!
To make sure my sausage balls are even in size so they will all cook evenly, I love to use a click-release cookie scoop and plop them right on top of the baking sheet without getting my hands dirty. If you happen to have any leftovers, just store them in an airtight container in the fridge. They'll keep for 4-5 days, but they've certainly never lasted that long in my household!
Here's a free printable copy of the recipe if you'd like to give it a try!
Ingredients
3

cups

Bisquik baking mix

1

lb

ground venison or ground pork sausage

1

cup

shredded cheddar cheese

1

cup

shredded mozzarella cheese

1

Tbsp

Worcestershire Sauce

2/3

cup

whole milk
Instructions
Using a stand mixer, combine all ingredients and blend until well combined

Use a cookie scoop or your hands to roll out dough into ping-pong sized balls and place on a greased baking sheet
---
Looking for more great venison recipes? Check out these recipes found right here on Southern Made Simple!
Venison Meatloaf | Grilled BBQ Bacon Venison Burgers | Venison Country Fried Steak | Bacon Wrapped Venison Tenderloin | Venison Pot Roast | Venison Taco Bites
And while you're at it, check out this roundup of other amazing venison recipes!
Do you have a favorite venison recipe you'd love to share? Or maybe a favorite game day (or any day) appetizer that's your go-to this time of year? What would you pair with these venison sausage balls? Leave a comment below and share the love!