When you think about your favorite comfort foods, what comes to your mind? A lot of people love a creamy bowl of mashed potatoes, or even a cheesy pile of homemade macaroni and cheese. Maybe it's something as simple as a grilled cheese sandwich! I'll admit that I have a pretty extensive list of comfort foods, but one of my favorites that makes the tippy top of the list is Country Fried Steak.
Country fried steak goes by many different names. Some call it "chicken fried steak," while others call it "cube steak." There may be a few differences in the three, but if you ask me it's all basically the same tasty goodness! Most people make it with beef round steak, but my family is all about the venison. My mother in law recently taught me how to cook this dish, and I'm pretty darn certain that she makes it better than anyone on the entire planet. Aside from her wonderful cooking skills, her secret to making perfect country fried steak is in one seemingly unusual little tool. So grab a cold bottle of Coca Cola and sit a spell. You're gonna wanna read this one! 😉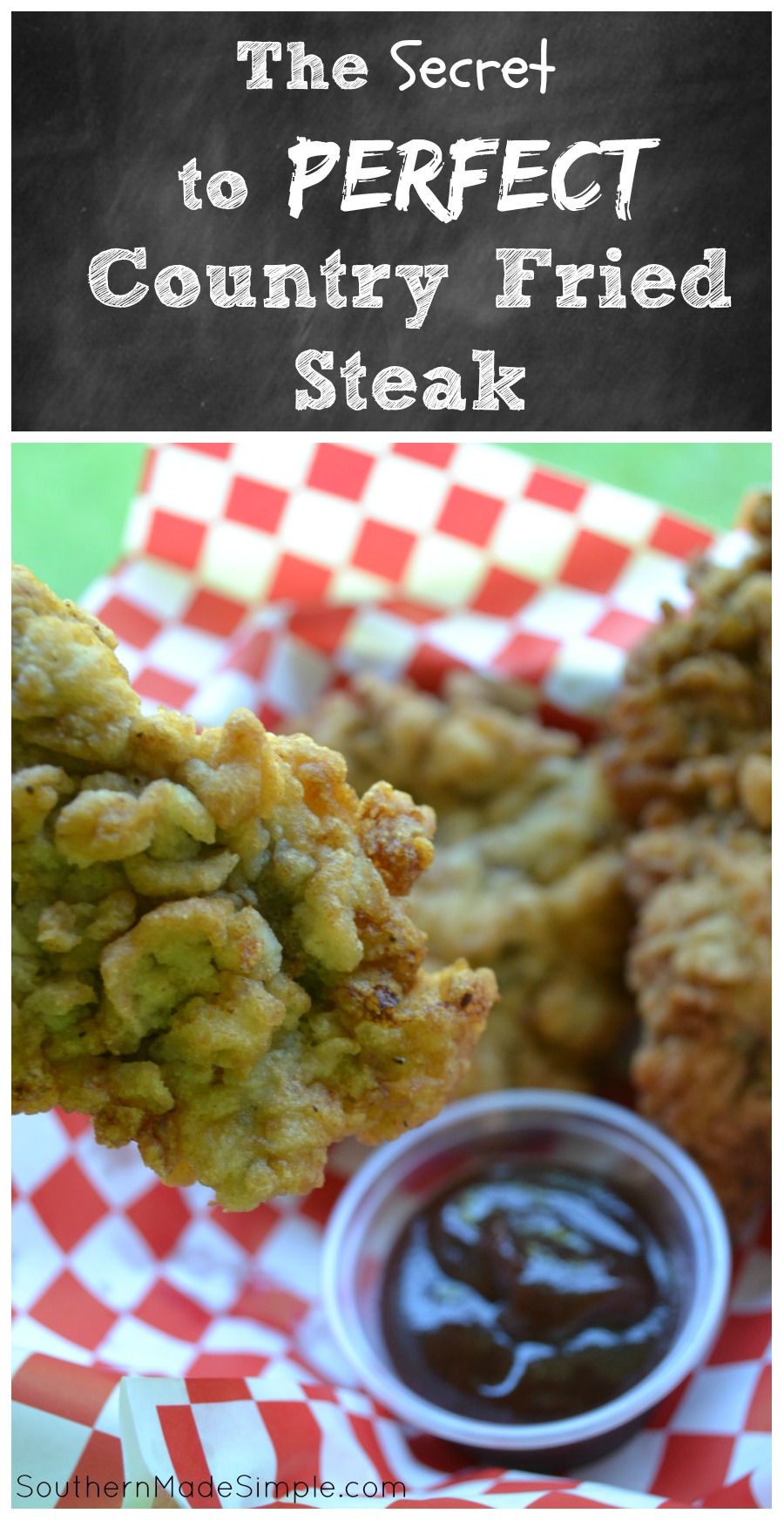 As I mentioned earlier, we prepare this dish using venison. However, most people use beef. You can use whatever tickles your fancy!
Because we use venison, we like to let the meat soak for an hour or so in a salt water mixture. This primarily aides in tenderizing the meat, but it also helps rid some of the game-y taste out of the deer meat. This step is completely optional, so if you're in a hurry to prepare dinner you can certainly skip over this step.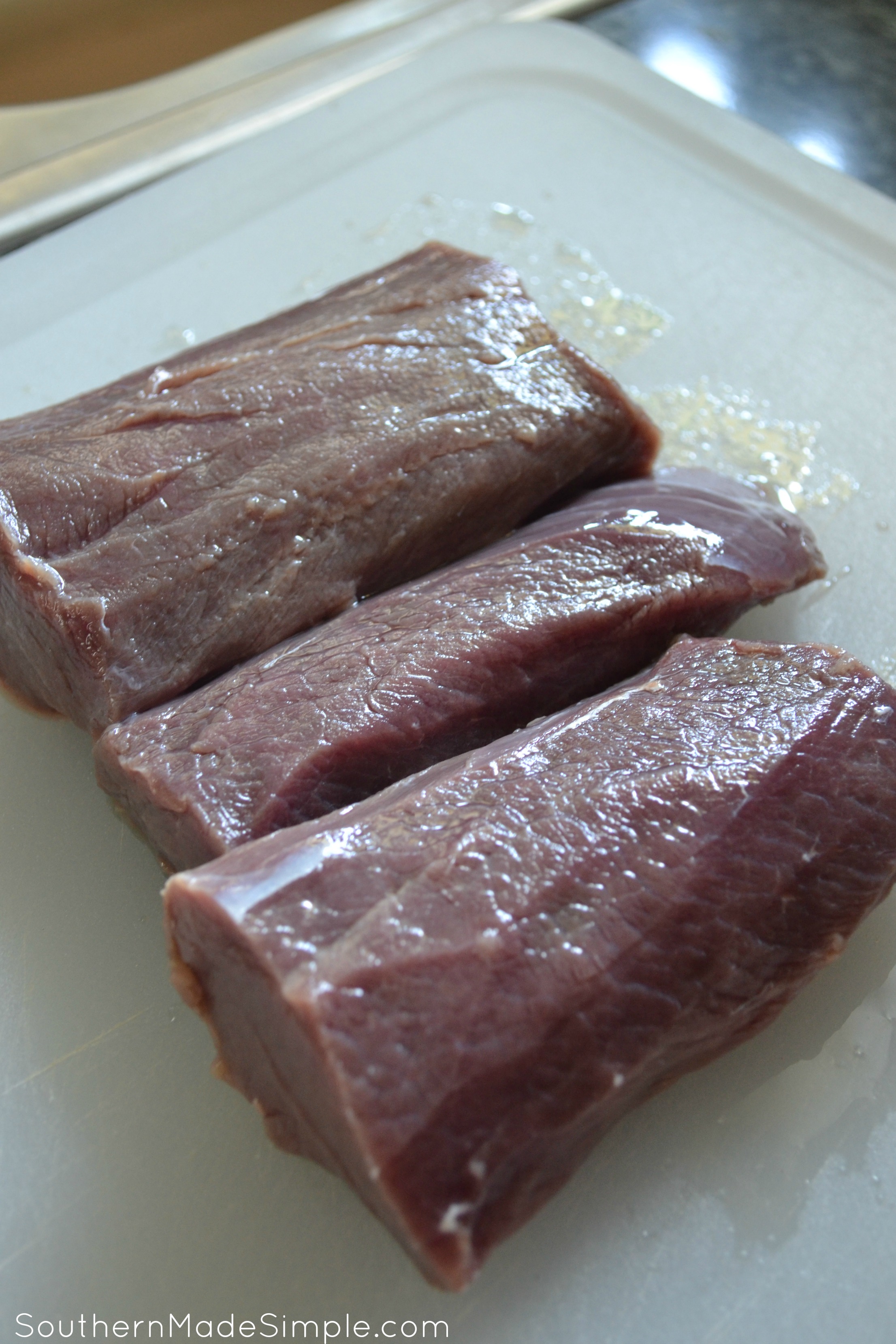 After the initial soak, we rinsed the meat and sliced it into 1/2 inch thick strips.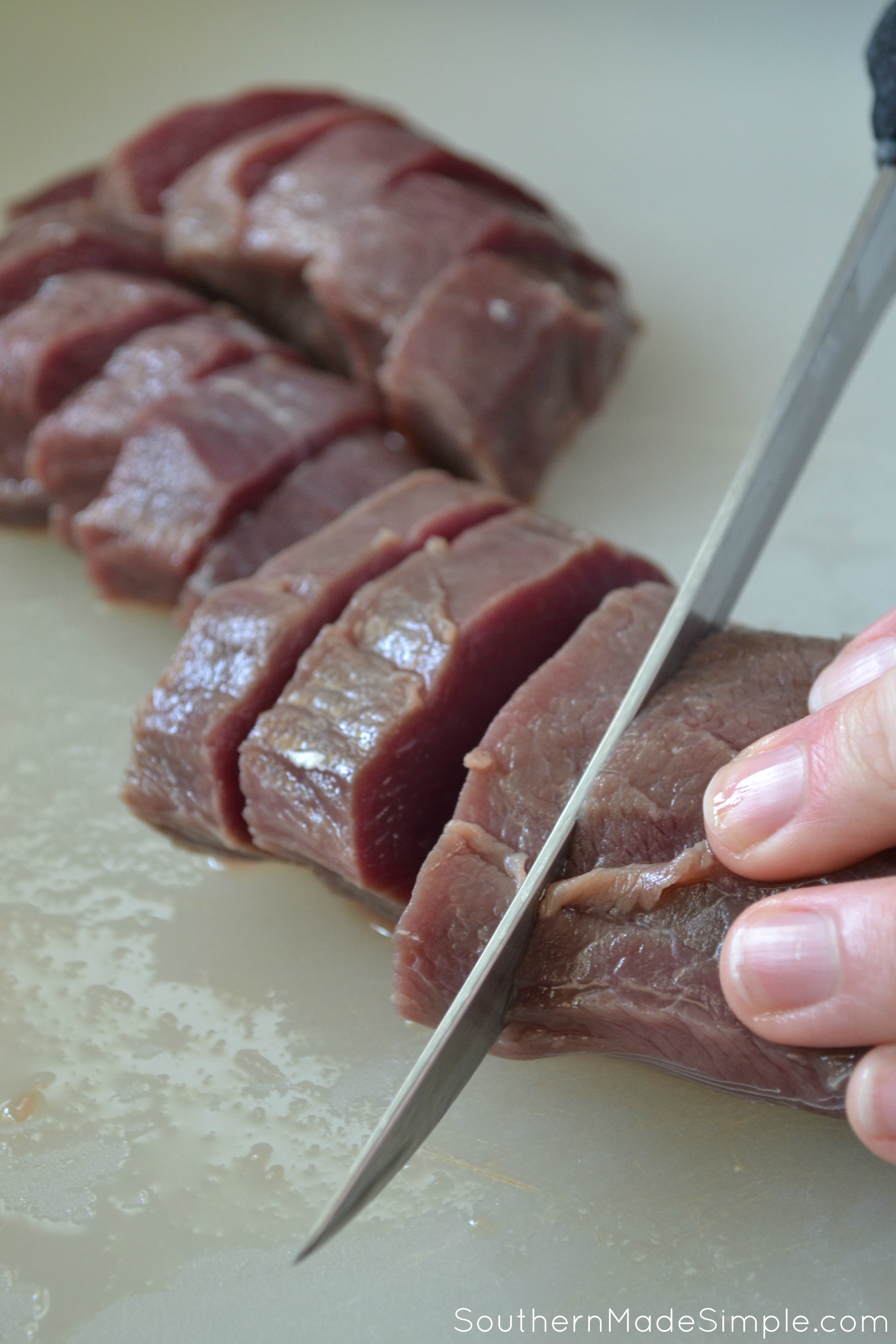 Now for the most important part of the recipe! Remember that bottle of Coca Cola I told you to grab? It was with good reason, because you're going to need it! You're going to use the mouth of a glass bottle (Coca Cola bottles work great) to tenderize the meat. You can use a meat mallet or other tenderizing tools, but hear me when I say this: It just ain't the same!
I don't know if the circular shape has anything to do with it, but there's just something different about how the meat tenderizes when you use a Coca Cola bottle. This is the secret weapon in creating the perfect batch of country fried steak…trust me!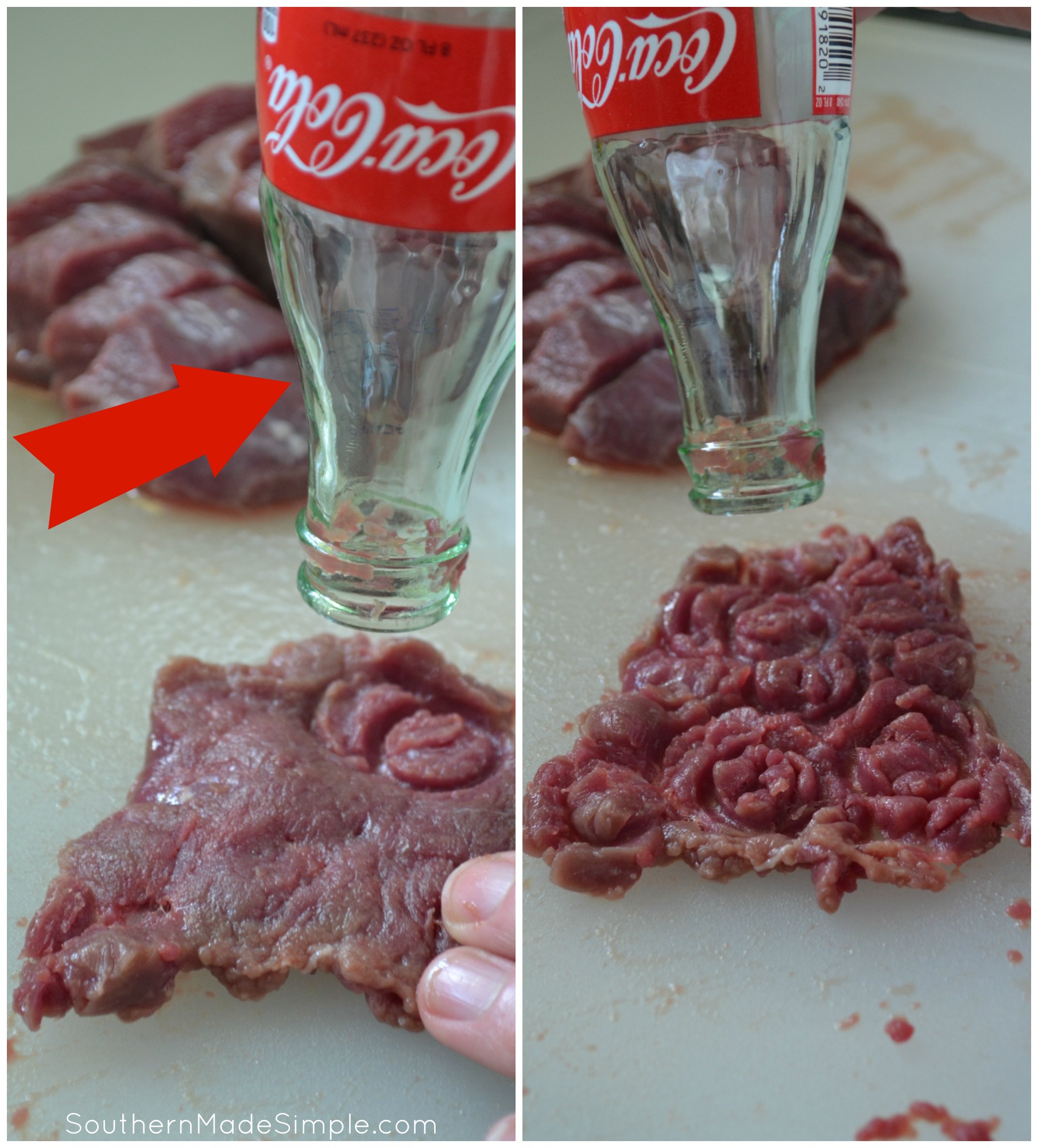 After you tenderize each strip of meat, place it in a large bowl and allow it to soak for roughly 5 minutes in Worcestershire sauce. You'll want enough to coat the meat, but it shouldn't completely cover it. You can see in the photo below how much we used.
While the meat is soaking, you're going to want to prepare the egg wash and the flour for coating. In a large bowl, mix 2 cups all purpose flour, 2 tsp salt, 2 tsp pepper and 2 tsp garlic powder. In a separate large bowl, combine 1 cup buttermilk and one egg. We used a deep fryer to prepare our steaks, but you can also use a stove top skillet. If you're using a deep fryer, go ahead and preheat it to 360 F.
Taking one strip of meat at a time, dip it in the milk mixture. Make sure you're coating the entire strip of meat. Next you'll dip the egg-coated strip in the flour mixture. If you like things extra crispy like I do, repeat this process once more. Once the grease is at the proper temperature, place the meat in the fryer and allow to cook for roughly 1 minute, or until batter is golden brown. You'll also want to turn the strips over at least once during their fry time. Remember, the meat has been pressed really thin, so it cooks super fast!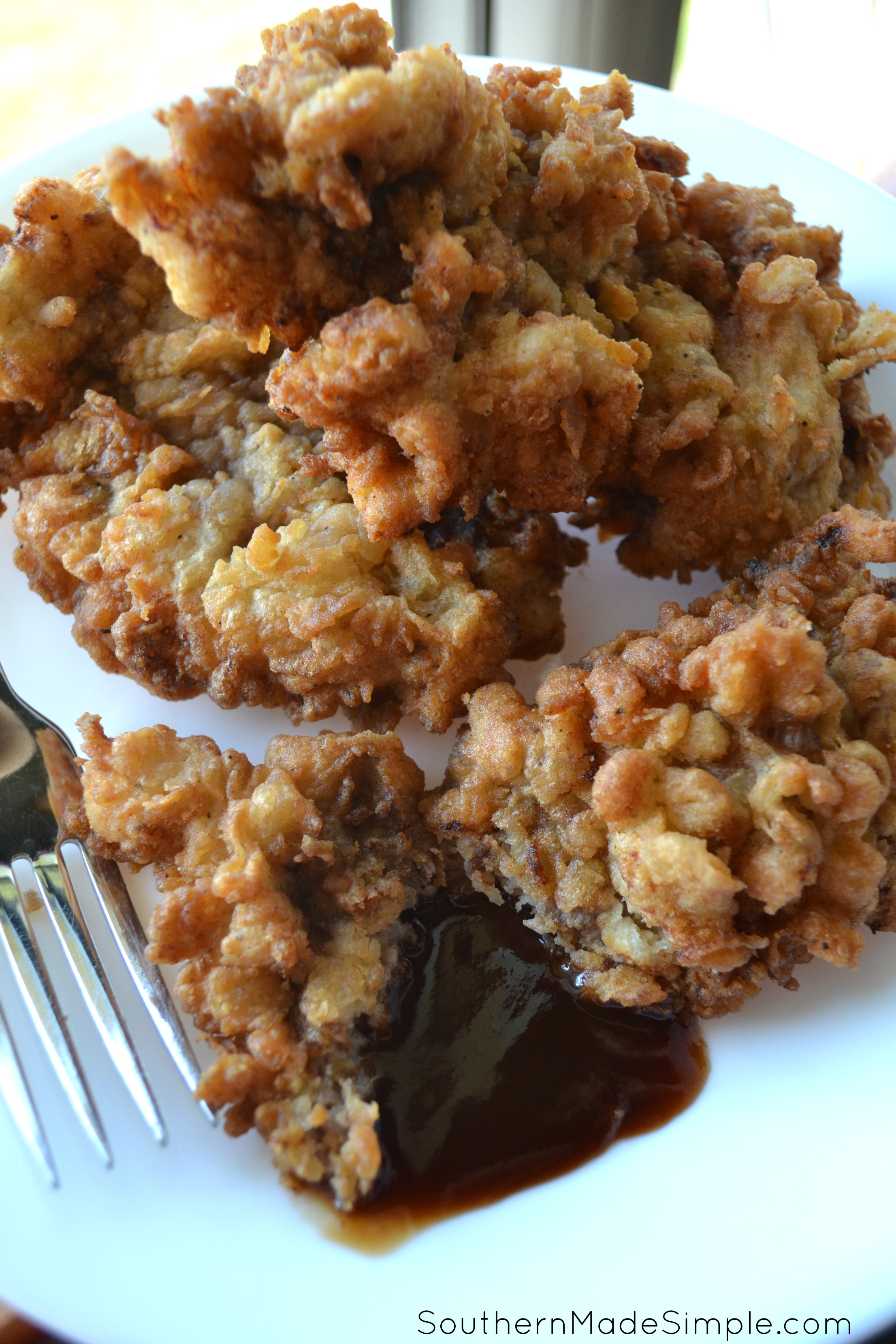 Here's a free printable version of the recipe. Make sure you print it out and save it with your favorite recipes!
The Secret to the BEST Country Fried Steak: Venison Edition
Ingredients
2

lbs

venison backstrap OR beef round steak

Worcestershire sauce

1

cup

buttermilk

1

egg

2

cups

self rising flour

2

tsp

salt

2

tsp

pepper

2

tsp

garlic powder
Instructions
(Optional)Allow meat to soak in canning salt water for 20 minutes - 1 hour and rinse - This just helps in the tenderizing process

Preheat deep fryer to 360 F

On a cutting board or plate, slice meat into 1/2 inch strips

Using a glass Coke bottle, tenderize the meat by beating it using the mouth side of the bottle (see photo)

Soak meat in Worcestershire sauce for 5 minutes (use enough to coat the meat)

In a large bowl, combine flour, salt, pepper and garlic powder - set aside

In another large bowl, combine buttermilk and egg

One strip at a time, dip the meat into the milk mixture, followed by the flour mixture. Be sure to coat all areas of the meat. For crispier results, repeat this step once more.

Once the fryer is completely heated, cook meat for roughly 1 minute or until batter turns golden brown - turning over once during the fry time

Serve immediately - Enjoy!
Notes
If you don't have a glass bottle, you can use a meat mallet, HOWEVER I highly encourage the glass bottle. It's the secret weapon of this whole recipe, and you definitely won't be disappointed!
---
Once the meat is finished cooking, serve immediately. I love to dip my steak (and basically everything else) in Country Bob's All Purpose Sauce. Definitely stop by the sauce aisle at your local grocery store and see if they have any! I love it so much, I served it with BBQ at my own wedding! 😉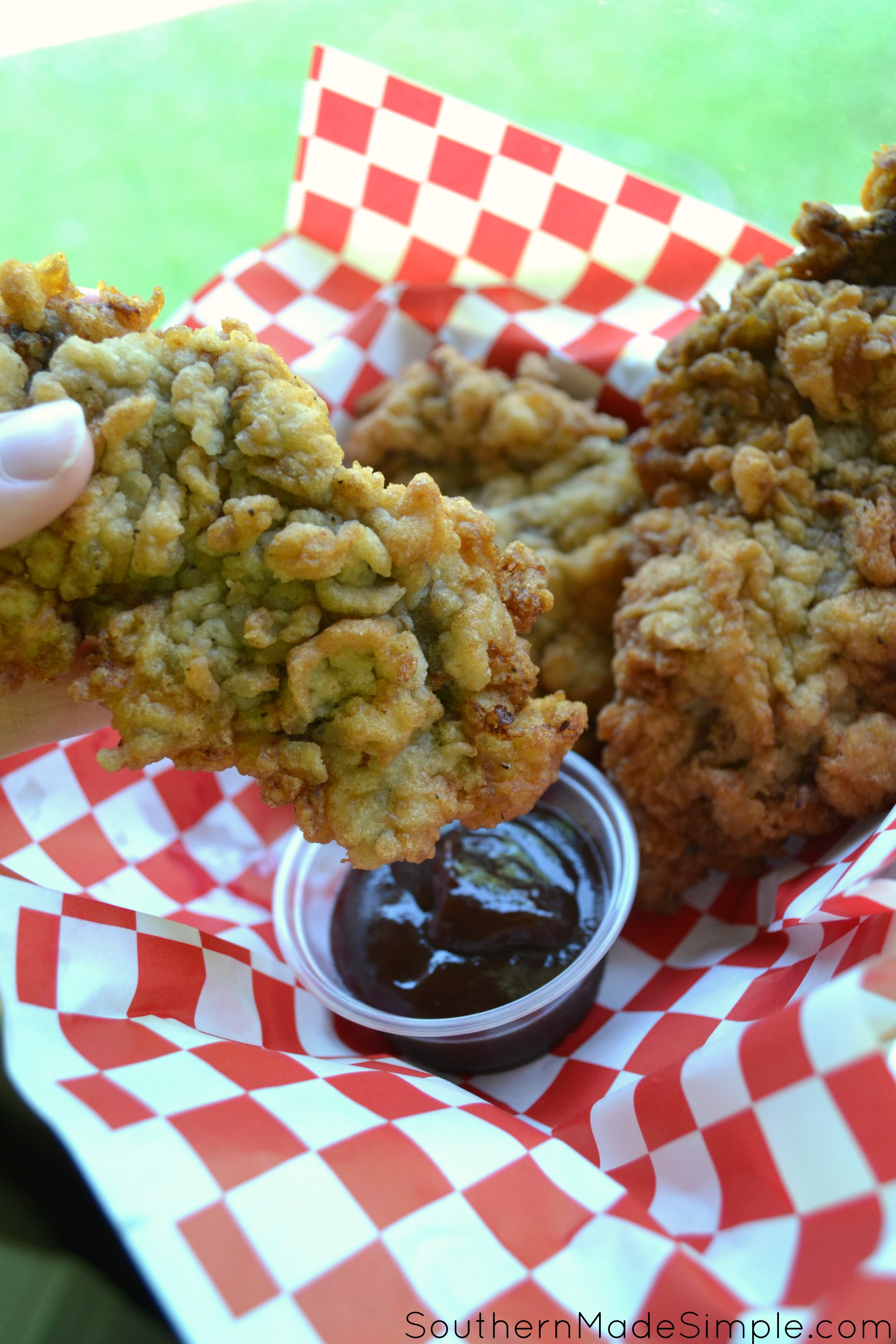 That's it, y'all! It's pretty simple to make, and boy is it delicious! Trust me on the Coca Cola bottle. When you go to the store this week to pick up the ingredients, don't forget to stop by the drink aisle and pick up a pack of glass bottle cokes! It sure would be good to wash down your country fried steak with a glass of Coke, wouldn't it? 😉
Are you a country fried steak fan like me? Have you ever heard of tenderizing meat with a Coca Cola bottle before? If you have any other kitchen hacks like this one, I'd love to hear about them! Leave a comment below and share what you know!