I remember very vividly the times I'd visit my Memaw during the summer months of my childhood. I can still picture all of the snacks and mason jars she had stacked up in her pantry, and how she'd always leave her tomatoes sitting in the window sill for the sun to shine on. She'd always fix me snacks while we watched The Price is Right together, and then I'd go outside to play while she caught up on her "stories" – aka soap operas.
The summer months were the very best, though, because that meant one thing in particular: Fresh canned pickles and jams. And my Memaw could make some of the very best – no doubt about it!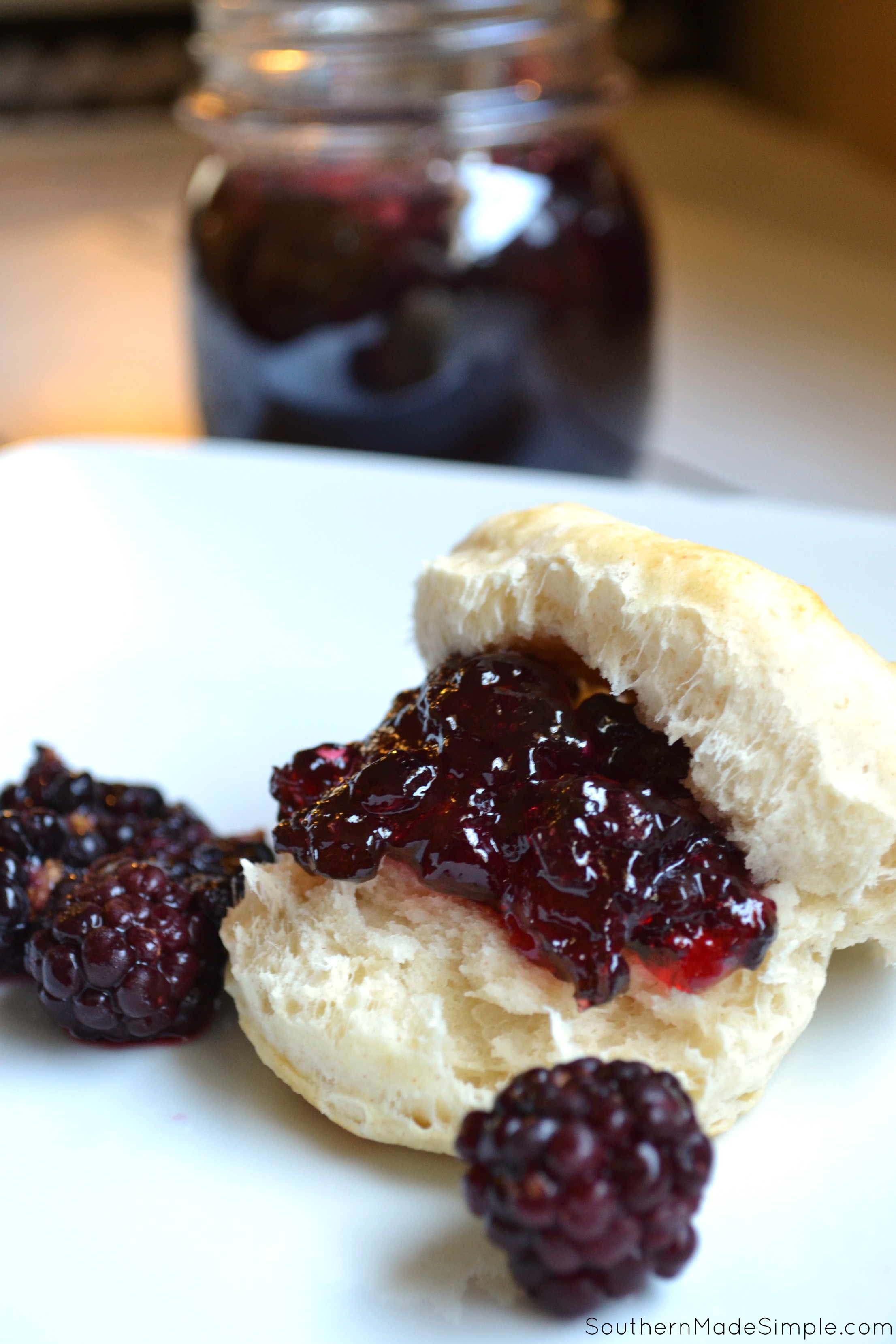 She made the most delicious strawberry and fig preserves in the whole wide world, and I've always admired her jam making abilities. Every time I start to make a batch of jelly or jam for my family, I always think about her. While I never knew her to make a batch of pepper jelly, I bet she could've made a mighty fine helpin' of it!
I've yet to take a stab at her strawberry and fig preserves (that's next on my agenda,) but I did recently make a batch of Blackberry Jalapeno Pepper Jelly that takes me right back to my days of eating jam at Memaw's house. It's so amazingly good that I just HAD to share it with you!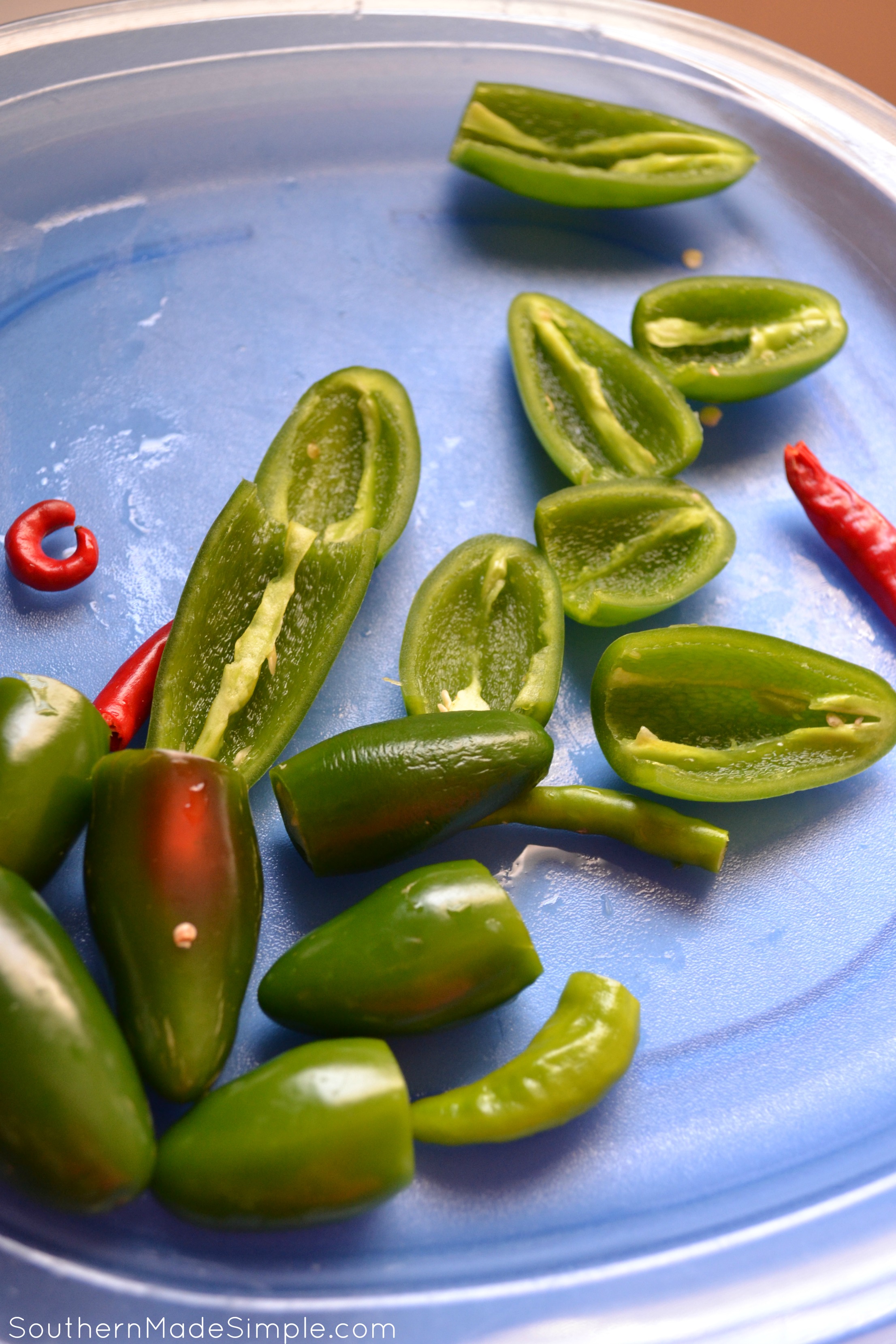 The garden that we planted this summer has mostly dried up, but we still had a few jalapenos producing on some of our plants. They were a little on the small side, but I knew they'd still do the trick. I even had 3 tiny little dragon cayennes that had turned bright red on the vine, and I certainly didn't want them to go to waste!
I removed the stems and most of the seeds. Even though the peppers were small, I could tell as soon as I cut one open that they were going to be HOT! Just the way we like it, though. 😉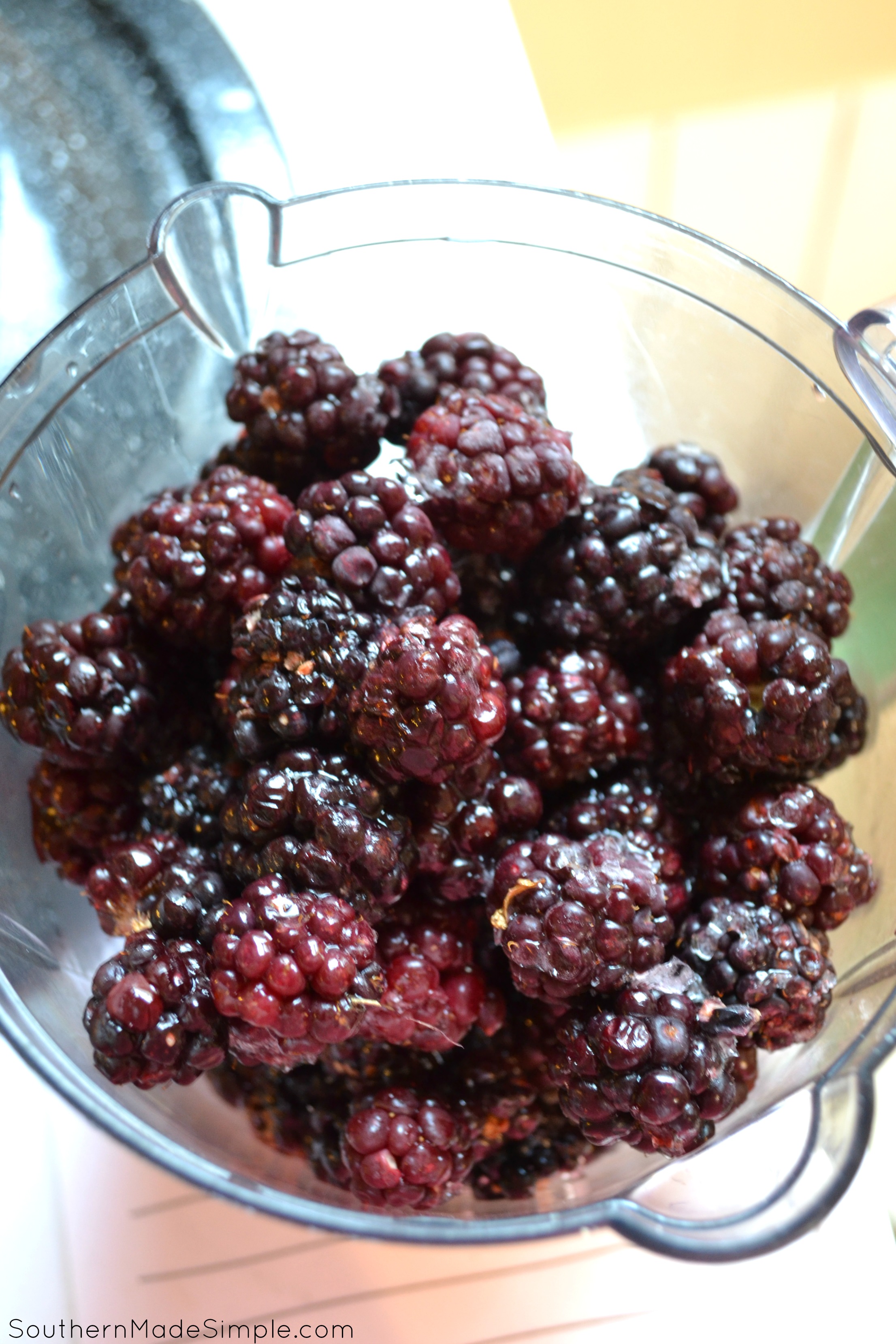 I pulled some blackberries out of my freezer that I stored away earlier in the summer. I let them mostly thaw out and tossed them in the blender with a little lemon juice. I blended the berries until they turned into a really thick pulp, like pictured below.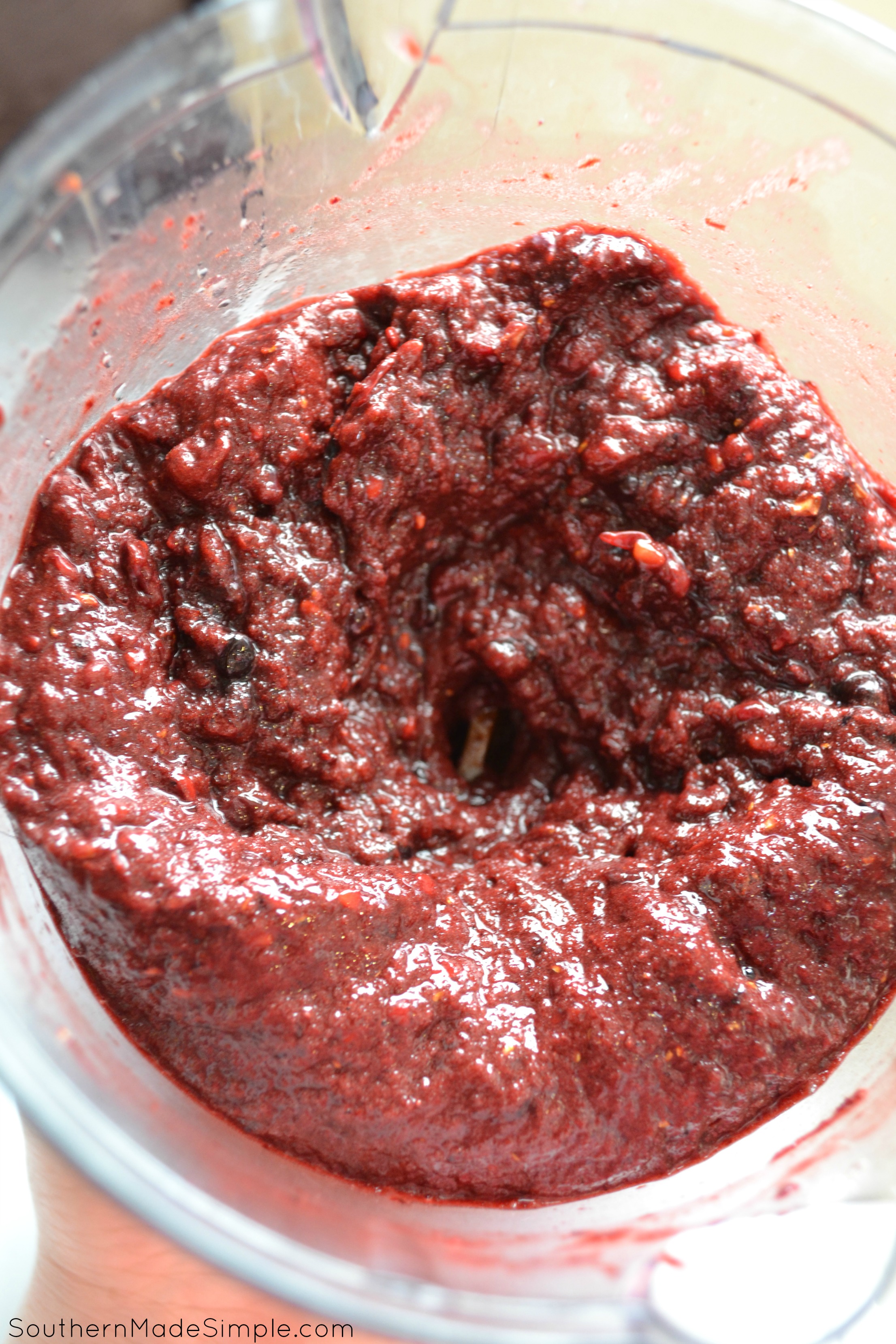 I broke out my trusty ol' canning kit and filled up the pot with water and set it to boil to prep the canning jars. In a separate pot, I brought some sugar, apple cider vinegar and the peppers to a boil and cooked for 2-3 minutes. Using a fine mesh strainer, I poured the blackberry pulp into the pot and gave it a good stir before adding in the pectin. You really have to stir and mash the pulp in the strainer thoroughly to make sure you get all of the juice out. The strainer catches all of those pesky little blackberry seeds from getting into the jelly.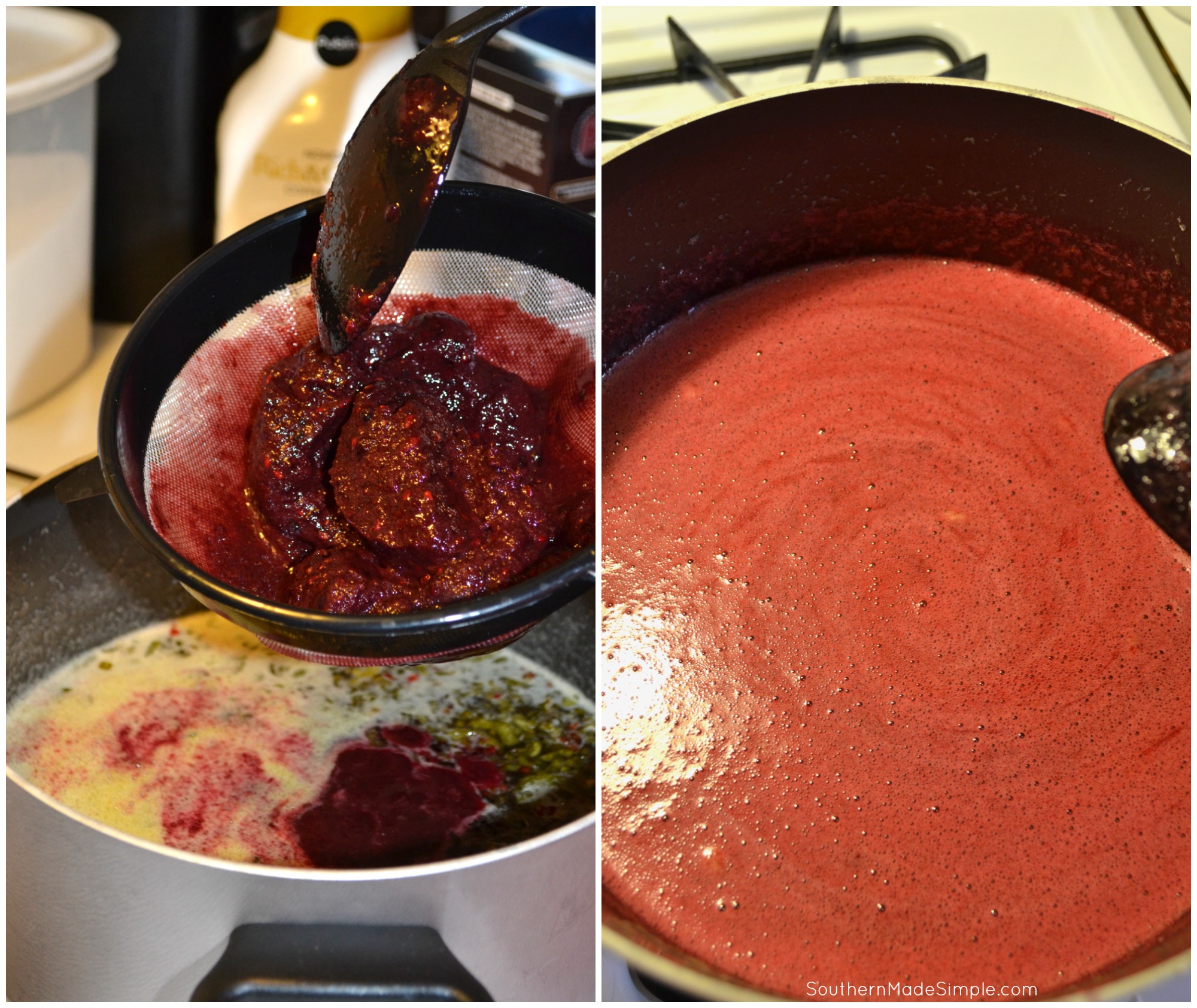 I allowed the jelly mix to boil for a few more minutes before removing the jars from the canner and pouring the jelly in. Once each jar was filled with jelly, I placed them back in the canning pot and boiled them for approximately 10 minutes.  I then removed the jars from the pot and sat them on a kitchen towel on the counter and let them sit until each one sealed properly.
Here's a free printable version of the recipe for you to try. If you decide to make a batch, please come back and tell me how it turned out! 🙂
Blackberry Jalapeno Pepper Jelly
Ingredients
2

cups

blackberries

fresh or frozen

2

packets of liquid pectin

most boxes come with 2 pouches inside - be sure to check!

1 1/2

cup

apple cider vinegar

6 1/2

cups

sugar

6-7

jalapenos - seeded

2

Tbs

lemon juice
Instructions
Thoroughly wash mason or canning jars and lids and allow to heat in oven or in hot water inside a large canning pot

Remove stems and seeds from jalapenos. (I recommend wearing latex gloves while handling hot peppers)

Using a knife or herb sheers, finely dice jalapenos and place into a bowl

In a small blender or food processor, blend 2 cups blackberries and 2 Tbs lemon juice until it creates a very thick pulp

In a large/deep pot, bring apple cider vinegar, sugar and jalapenos to a rolling boil

Reduce heat and pour blackberry mixture into pot using a fine mesh strainer. You'll have to stir, smash and press the pulp well to make sure you get all of the juice out!

Add in pectin and allow to boil for an additional 3-4 minutes

Remove from heat and allow to cool for 2-3 minutes - skim off foam from top of jelly

Remove jars and lids from oven or from hot water and dry thoroughly

Pour jelly into hot jars and place lids on top

Process jars in a hot water canner for 10 minutes

Remove jars from canner and allow them to sit untouched on the counter until all lids properly seal

(Makes 8 jelly-sized jars)
---
This jelly is ah-mazing on top of a warm buttered biscuit, and it even makes a mean peanut butter and jelly sandwich! Have you ever had a spicy PB&J? You should try it! 😉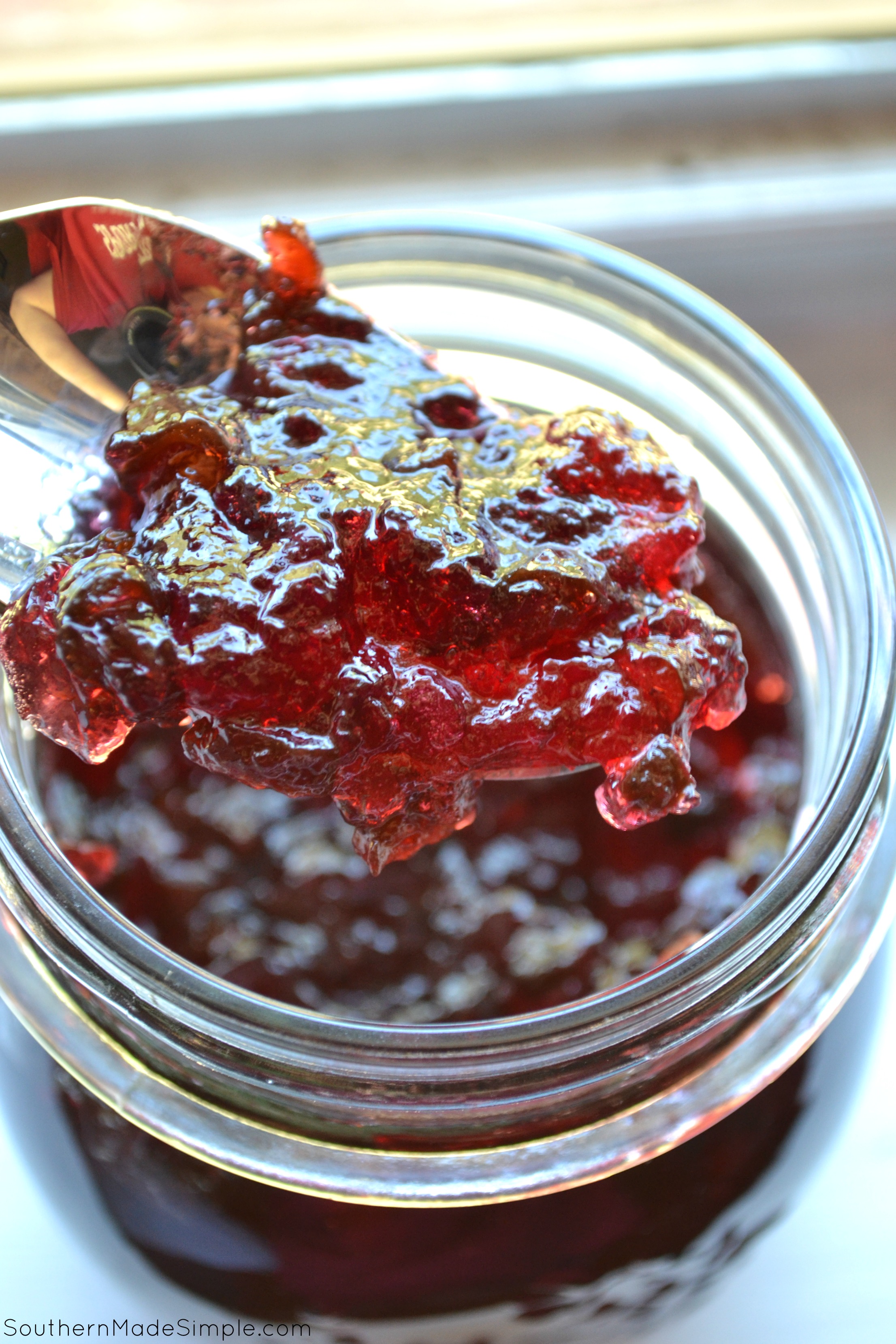 I packaged up a few of the jars and sold them in a fundraiser that my church was doing. I created a cute little printable tag to hang from each one that you can have for free! If you'll be making a batch of this delicious jelly to share with others, you'll want to be sure to click the link below to print as many as you need! (Christmas is coming up, and this pepper jelly would make a fabulous gift!)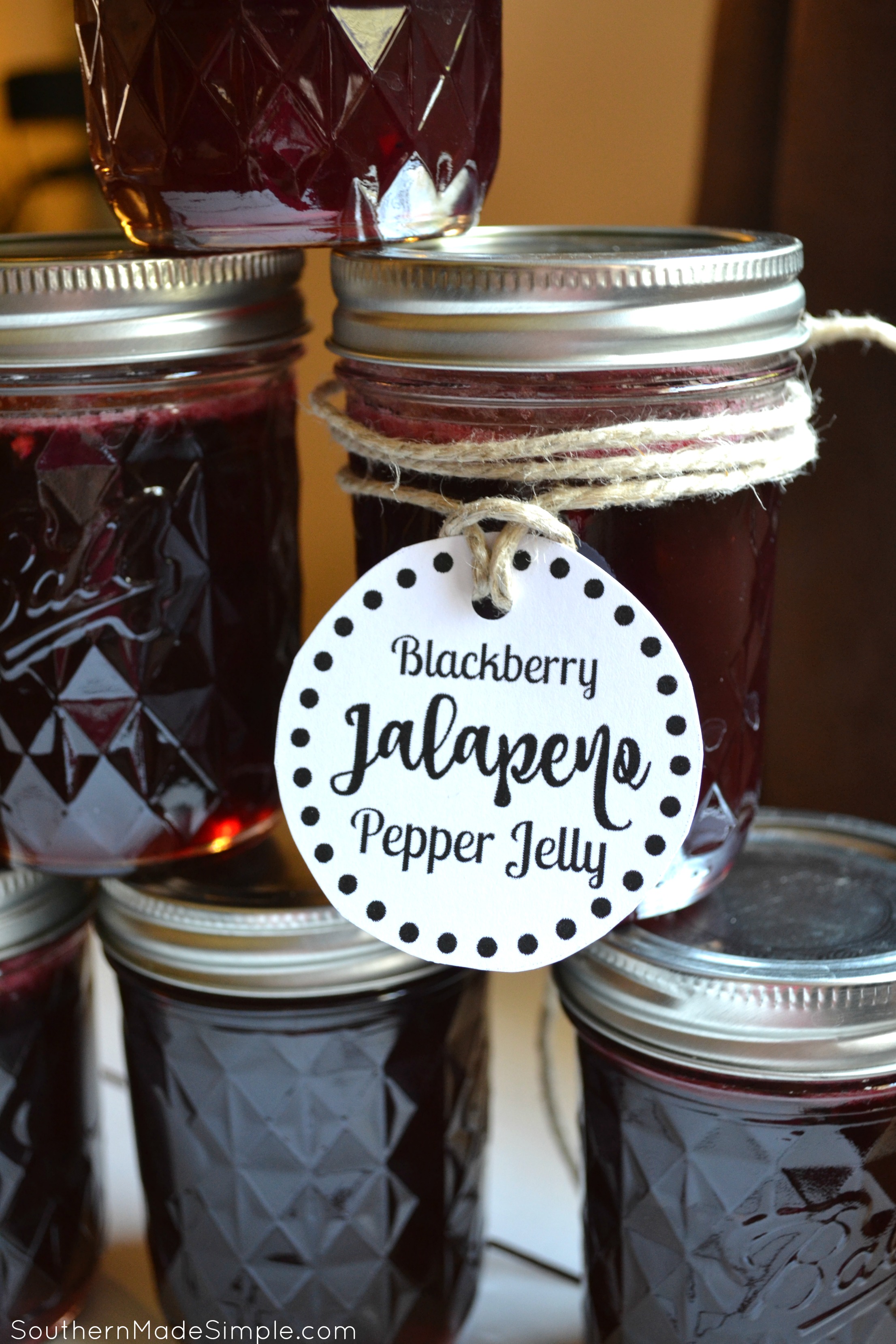 Have you ever tried pepper jelly? Do you think you'd like it extra spicy, or a little more mild? Do you have any canning tips you'd like to share? Leave a comment below and let's chat!