This recipe for bacon wrapped venison tenderloin is easy to make, delicious and incredibly juicy and tender. If you're a fan of venison, this recipe will definitely earn a spot on your favorites list!
Deer season is very quickly approaching, and pretty soon my husband will be disappearing into the woods to hunt with his eye on the prize of bringing home a few deer throughout the season to help us keep our freezer filled with different cuts of meat. It's very rare for us to buy very much meat at the grocery store. My husband and his father kill, clean and package all of the meat we need for the entire year, and it is such a blessing!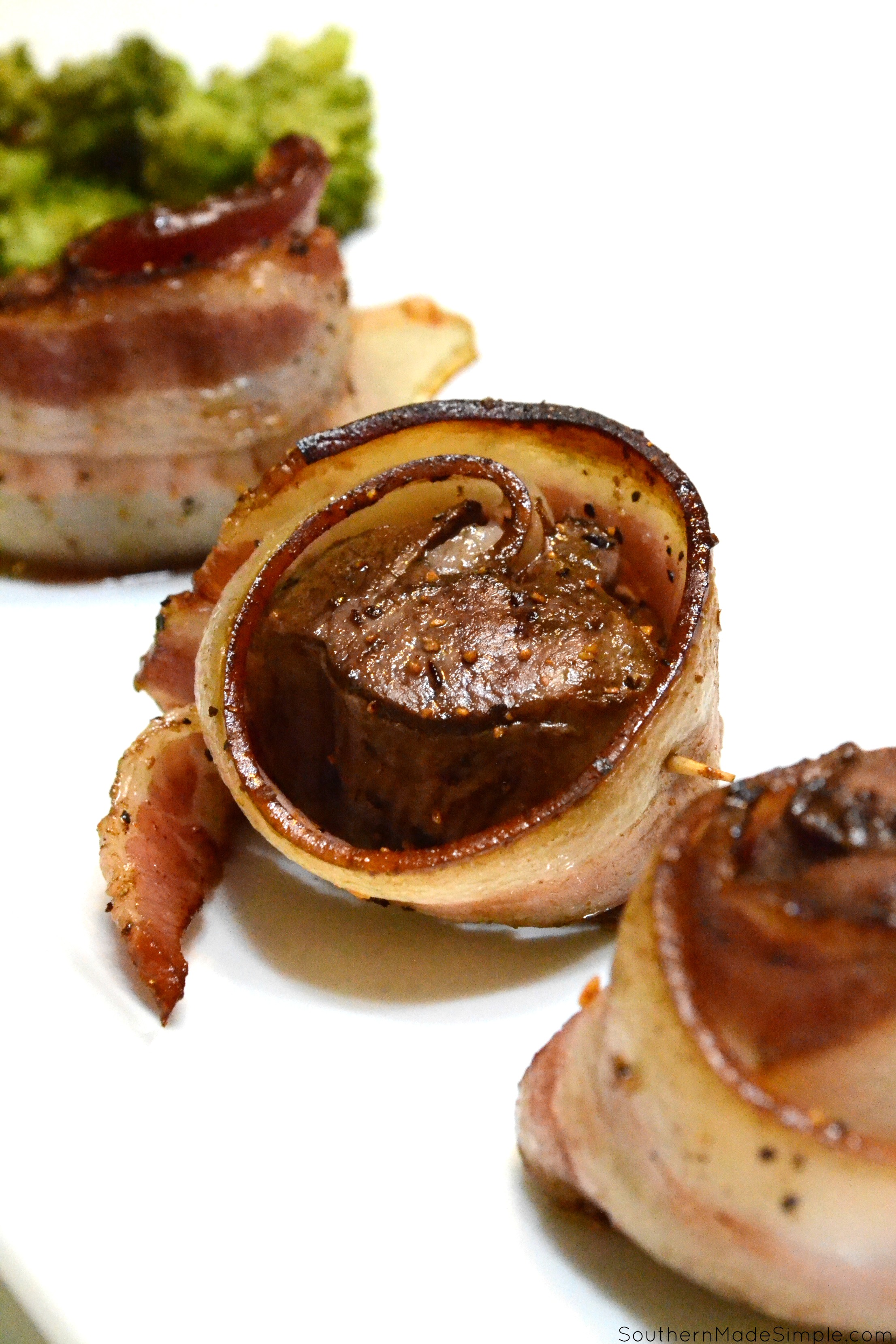 Since Hurricane Irma just passed through my neck of the woods yesterday, my husband got to stay home from work and spend a lazy rainy day with us cooped up in the house. I can't remember the last time we were able to do something like that together, and I enjoyed every minute of it! I especially enjoyed the fact that he decided he was going to be the one to cook supper last night, and I knew right off the bat that he'd be making one of his specialties: Bacon Wrapped Venison Tenderloin
This dish can be made in the oven or on the grill, but since it was pouring buckets outside all day yesterday, we couldn't bring out the grill to cook it. It's just as tasty when made in the oven, though! Our hands-down favorite dry rub to use on our venison is McCormick Grill Mates Spicy Montreal Steak Seasoning, which can be found at Walmart or on Amazon. You can certainly use whatever you prefer, but if you haven't given that rub a try, I highly recommend it!
Bacon Wrapped Venison Tenderloin
Ingredients
2

whole venison tenderloins

cut into 1 inch wide pieces and butterflied

1/4

cup

Worcestershire sauce

Bacon

2

Tbs

McCormick Grill Mates Spicy Montreal Steak Seasoning

or your favorite dry steak rub
Instructions
Preheat oven to 400 F

Cut venison into 1 inch white pieces and butterfly

Wrap 1 whole piece of bacon and insert a toothpick to hold the bacon in place

Place into a casserole dish or another oven safe dish with tall sides

Pour Worcestershire sauce over meat and sprinkle seasoning over meat

For best results, allow to marinate in refrigerator for at least 30 minutes (optional)

Bake for 10 minutes, remove from oven and flip each piece over

Bake for an additional 5 minutes then set oven to broil for another 5 minutes to crisp the bacon

Serve immediately and enjoy!
---
Allowing the meat to marinate with the Worcestershire sauce and seasoning is the key to helping get rid of the gamy taste that venison can have. Marinading with Worcestershire sauce can be a delicate dance, though, because too much of it can make the meat too salty. I recommend allowing the meat to sit in the marinade for about 30 minutes before throwing in the oven or on the grill. I also recommend getting a quality cut of bacon, too. Never skimp on the bacon! 😉
Looking for other venison recipes to try? You'll love these!
Venison Meatloaf| Venison Country Fried Steak| Venison & Link Sausage Chili| Venison Taco Bites