These Soft & Chewy White Chocolate Cranberry Cookies are a perfect holiday treat to indulge in! Grab a cup of coffee or a tall glass of milk and enjoy!
I need y'all to hear me on this. Clean out your ears real good and make sure you're listening very closely, because what I'm about to say is very serious. It is absolutely no exaggeration, and while I understand that it is a bold statement, it's wholeheartedly true.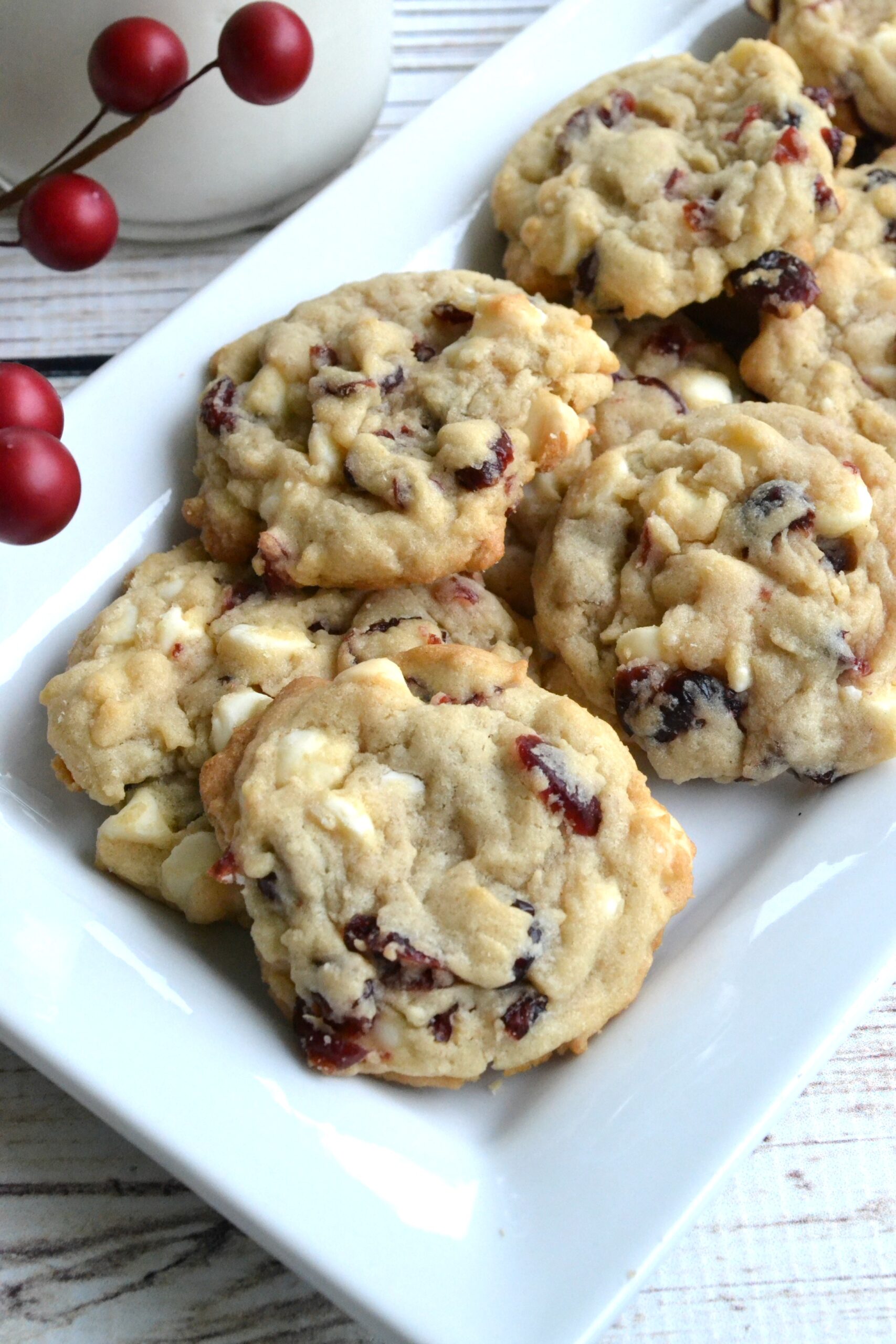 I've had a lot of cookies during my time here on Earth. Soft batch, fudgy, cakey, some with nuts, some with various types of chocolate chips. I've loved nearly every cookie I've tried. Some tries were just likes and not loves, but for the most part I'm a cookie-kinda-girl and I've never been mad at a cookie. I even like the super cheap ultra-manufactured nothing-special cookies. You know, those butter cookies you had every year at VBS as a kid that you stuck your finger through the middle and wore like they were edible rings? I love those, too. They've got a special place in my heart.
But these? These cookies are my favorite cookies in the entire world. Granted, I know I've never tried every cookie in the world, but at this point I don't feel like I need to. I've found true love, and it's baked right into these Soft & Chewy White Chocolate Cranberry Cookies. 
I can't put my finger precisely on it – maybe it's the copious amounts of butter, or the richness of the brown sugar. Maybe it's the fact that these cookies are perfectly chewy and soft, but sturdy enough to dunk in your morning coffee or glass of milk without it crumbling straight to the bottom of your glass. Or perhaps it's the bits of tart cranberry tucked inside coupled with the sweetness of those white chocolate morsels. Whatever it is, the world needs more of it. Especially in this dumpster-fire of a year 2020.
If you'll be doing a little holiday baking this year, this recipe is a must-try. I promise you. Bake some for you, bake some for your neighbors down the street, or make them as a treat for your family for getting through an incredibly tough year. Honestly, just bake them because it's a random Tuesday. You don't need a reason!
Here's a free printable copy of my recipe if you'd like to give it a try!
Soft & Chewy White Chocolate Cranberry Cookies
Ingredients
2

cups

all purpose flour

3/4

cup

salted butter

room temperature

1/2

cup

sugar

1/2

cup

brown sugar

1

egg

1

tsp

baking soda

2

tsp

corn starch

1/4

tsp

salt

1

Tbs

vanilla flavoring

1

cup

dried sweetened cranberries

1

cup

white chocolate chips
Instructions
In a large mixing bowl using a hand or stand mixer, combine butter, white sugar and brown sugar.

Add in vanilla and egg and mix until incorporated.

Slowly add in flour, corn starch, baking soda and salt and mix until a soft, thick dough forms.

Add in dried cranberries and white chocolate chips and stir until just combined.

Refrigerate for 1 hour or longer. (Don't skip this step!)

Preheat oven to 350 F and spray a baking sheet with non-stick cooking spray or use a non-stick silicone baking mat

Once dough is thoroughly chilled, roll or scoop into 2 inch balls and place about an inch or more apart on the cookie sheet

Bake for 10-11 minutes. *Cookies will appear undercooked when first removed from the oven. Do not cook any longer - the cookies will continue to set while left to cool on the cookie sheet.

Allow to cool at least 10 minutes before serving. Enjoy!
---
If you like this recipe, be sure to check out these other great cookie recipes found right here on Southern Made Simple!
Strawberry Milkshake Cookies | Salted Caramel Peanut Butter Cookies | Molasses Cookies | Banana Nut Cranberry Cookies | Red Velvet Crinkle Cookies | Cool Whip Cookies | Hot Chocolate Marshmallow Cookies | Chocolate Covered Cherry Cookies | Cookies for Santa