Someone may crinkle their nose up at me for saying this, but boxed cake mix is a magical thing. I wish I could've been a fly on the wall when they first rolled out on the shelves many years ago. They changed the game in some really big ways, cutting cook time dramatically for women putting together desserts for their families to enjoy. Aside from making a cake, there's a million + 1 things you can make with a cake mix – like these Red Velvet Christmas Crinkle Cookies, for example!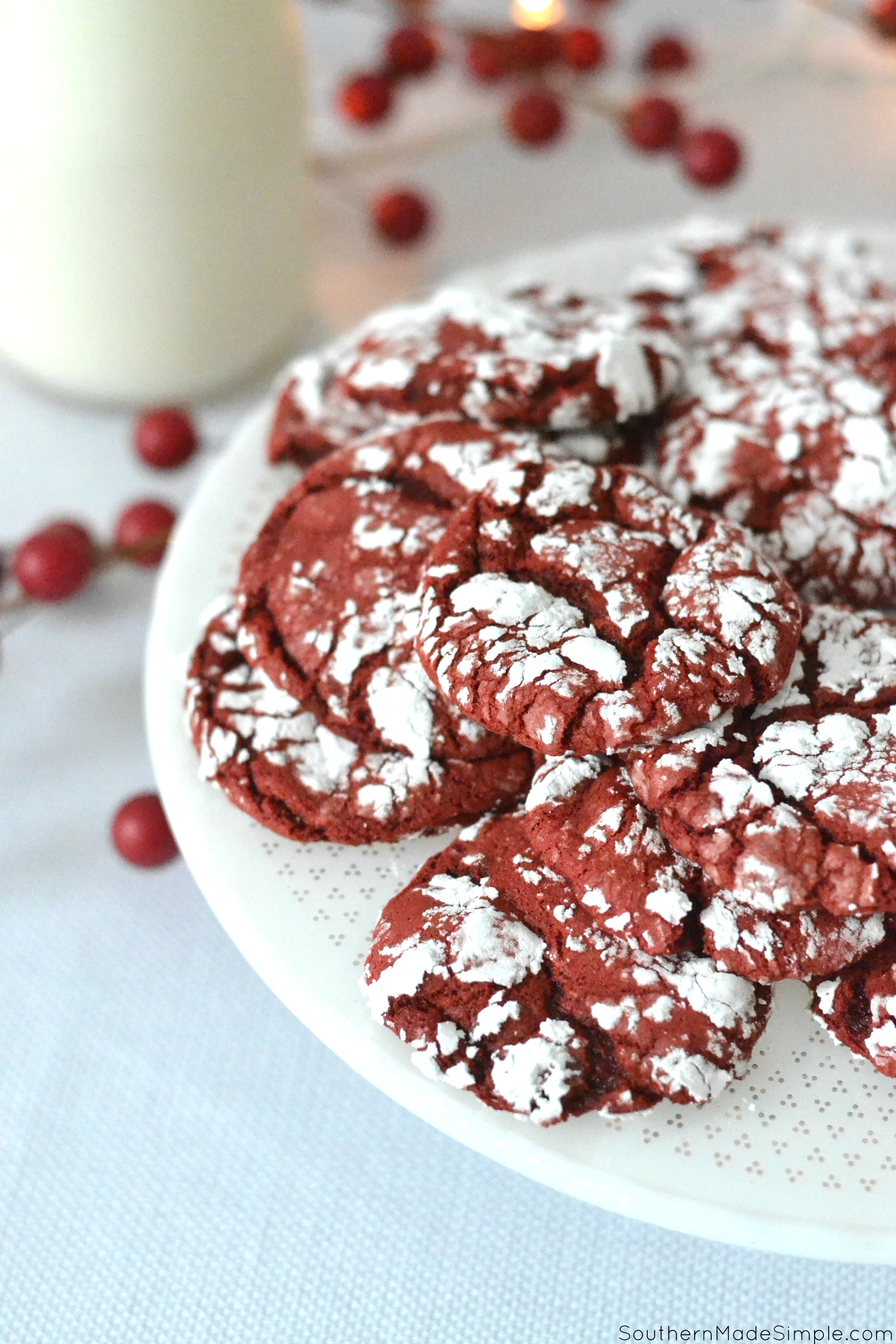 Just like there's a million ways to use a boxed cake mix, there's also a million ways to make a classic crinkle cookie. These Red Velvet Christmas Crinkle Cookies come together with just 3 ingredients, and they're the perfect cookie to make in a jiffy! They're my go-to when I need to make something sort-of on the fly, or if I'm short on staple ingredients and need to make a quick dessert. You can make them with pretty much any flavor cake mix, too! When the Christmas parties start rolling around, this is a recipe I reach for frequently. It's a simple, no-frills recipe, but they sure are pretty to look at, and tasty, too!
Here's a free printable copy of the recipe if you'd like to give it a try!
Red Velvet Christmas Crinkle Cookies
Ingredients
1

box

red velvet cake mix

2

eggs

room temperature

1/3

cup

oil

Powdered sugar

for rolling
Instructions
In a large mixing bowl, stir together the cake mix, eggs and oil until well combined.

Chill the dough for at least 1 hour. Dough will be very sticky, so the longer it chills, the easier it will be to handle when rolling

Preheat oven to 350 F

Remove from refrigerator and roll into 1 inch balls and roll around in powdered sugar until completely coated

Place onto cookie sheet and bake for 9-11 minutes

Cookies will appear to be undercooked when taken out of oven - this is normal! Allow to cool briefly on the hot pan, then transfer to finish cooling on a wire rack. Center will continue cooking, but will maintain a nice fudgy center

Enjoy!
---
I've always been fond of crinkle cookies because the powdered sugar reminds me so much of freshly fallen snow. I'm not entirely too familiar with what freshly fallen snow looks like, as it hardly ever snows here, but these cookies take me straight to a winter wonderland in my mind!
If you like this recipe, you'll love these Easy Cool Whip Cookies, which can also be made with red velvet cake mix!
Looking for more Christmas Dessert ideas? Check out this roundup of 25 Edible Christmas Snacks for Kids!
What's your favorite quick and easy dessert to make during the holidays? Leave a comment below and share the love!