These Soft Batch Candy Corn Cookies are a perfect fall treat to make, bake and enjoy! Just grab a glass of milk and you're set!
I try my hardest not to binge eat all of the delicious seasonal candies that come out during the holidays, but sometimes I just can't help myself. For me, I'll forever be devoted to my two loves: Cadbury Cream Eggs at Easter and candy corn during Halloween. I've been known to hoard them both in my pantry and nibble on them all throughout the year (because, ya know, I don't want to forget what they taste like!) 😉
So as I was at my local Dollar General store the other day, I noticed a bag of brightly colored candy corn glistening in the corner of my eye. It was basically begging to be picked up, so into my basket it went!
My original thought was to save them until Halloween, but ain't nobody got time for that. I wanted to eat them now! I decided to get a little creative, though, and try incorporating them into my baking. I've had candy corn on top of cupcakes before, but I've never actually seen them cooked inside something.
So after two test batches, I perfected the most delicious chewy candy corn cookies in the history of the world (totally a bold statement…but I'm sticking to it!) 😉
Here's a free printable copy of my recipe for your to try. If you're a candy corn connoisseur like myself, you need this recipe in your life!
Soft & Chewy Candy Corn Cookies
Ingredients
2

cups

all purpose flour

3/4

cup

room temp butter

1/2

cup

sugar

1/2

cup

brown sugar

1

egg

1

tsp

baking soda

1/4

tsp

salt

2

tsp

corn starch

1

Tbs

vanilla flavoring

1

cup

candy corn
Instructions
In a large bowl, combine butter, sugar and brown sugar with a hand mixer until mixture is light and fluffy

Add in vanilla and egg and blend

Slowly add in flour, corn starch, baking soda and salt and mix until a soft, thick dough forms

Add in candy corn and stir gently

Refrigerate for 1 hour or longer (prevents cookies from spreading when baking)

Preheat oven to 350 F and spray a cookie sheet with non-stick cooking spray

Using your hands, roll a heaping tablespoon of the dough into small balls and place about an inch or more apart from each other

*IMPORTANT- Make sure when forming each ball that there is not a piece of candy corn visible on the underside or the side of each ball (Candy corn showing on the top is fine). Any contact the candy corn has with the baking sheet will result in a puddle of baked liquid candy corn under each cookie. Covering any visible candy corn with a pinch of dough should help*

Bake for 8-10 minutes

*Note - cookies may appear under cooked when first removed from oven. Do NOT cook any longer - the cookies will continue to set while left to cool on the cookie sheet

Allow to cool at least 10 minutes before serving
---
You know what these cookies remind me of? Those sinfully delicious soft and chewy cookies that you get with your combo meal at Subway restaurants. You know, the amazingly yummy macadamia nut ones and the cranberry and white chocolate ones? The consistency of these cookies is JUST like those! (If you don't know what I'm talking about, you might want to consider having Subway for supper tonight!) Y'all, these are that good! And eating a handful of these will a tall glass of milk? Have mercy!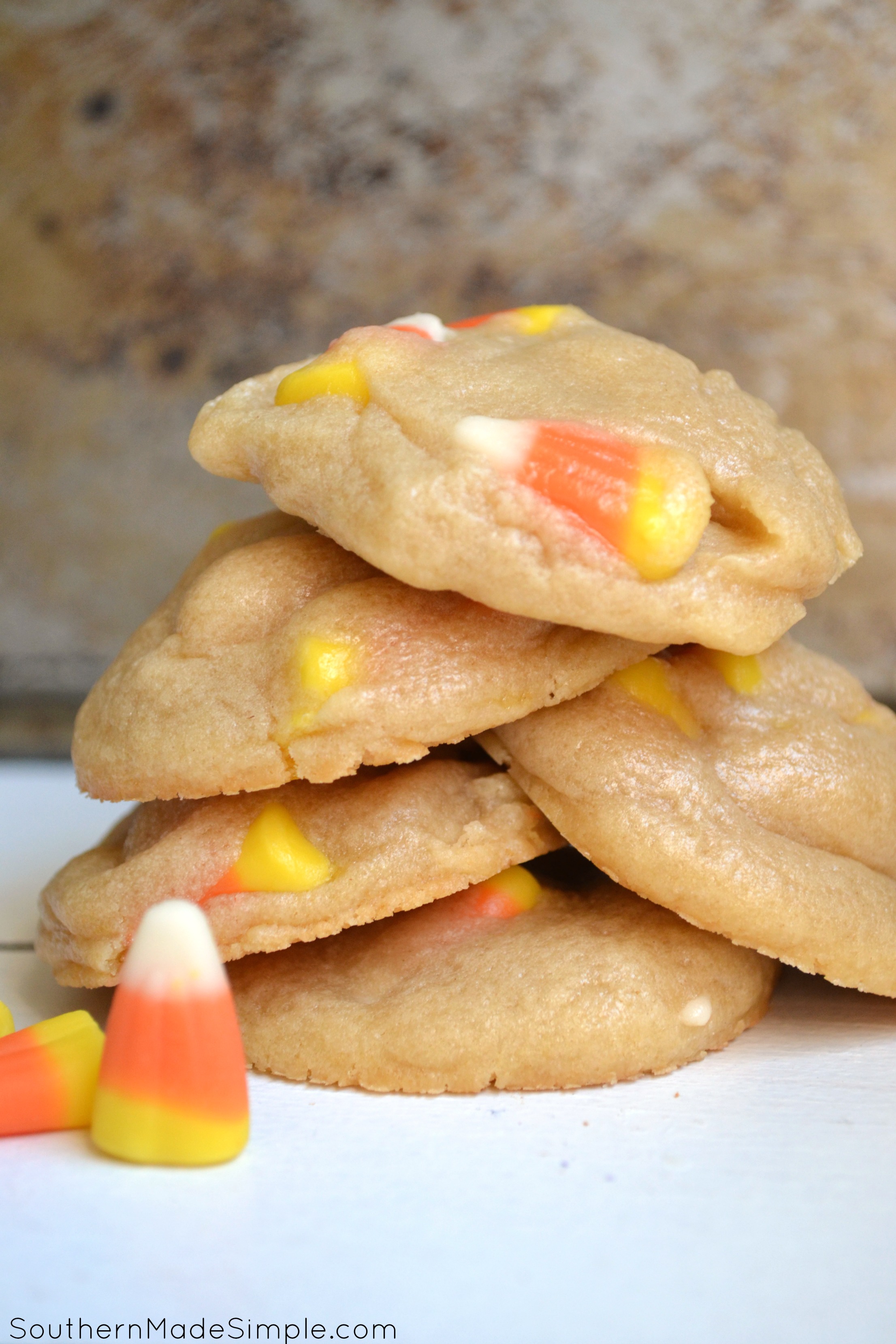 If you like these fun treats, you'll LOVE these other fun Halloween snacks found right here on Southern Made Simple!
Double Chocolate Peanut Butter Rice Krispie Treats | The Ultimate Halloween Charcuterie Board | Sweet & Salty Halloween Cookies | Haunted Halloween Pancakes | Halloween Deep Dish Skillet Cookie | Mummy Treats | Halloween Sugar Wafers | Freaky Frankenstein Oreo Pops
Are you a crazy about candy corn? Do you have a hard time saying no to seasonal candies – espcially at Halloween time? Maybe you've used those candies in a creative way that you'd like to share? Leave a comment below and share what you've got! 🙂