SOUTHERN MADE SIMPLE IS A PART OF SEVERAL AFFILIATE ADVERTISING PROGRAMS. THIS MEANS THAT IF YOU CLICK AND/OR MAKE A PURCHASE THROUGH CERTAIN LINKS ON THIS SITE, I MAY MAKE A COMMISSION FROM THAT CLICK AND/OR PURCHASE. ALTHOUGH I PARTICIPATE IN THESE PROGRAMS AND HAVE SPONSORED POSTS, ALL OPINIONS ARE MY OWN.
Spring has officially sprung in my neck of the woods! The azalea bushes are blooming, the birds are chirping, and I'm on the hunt for ALL things shabby chic and Springy! Naturally, the first place I (always) hit up to find my home decor is my beloved Amazon (where all of my 2-day shipping dreams come true!) 😉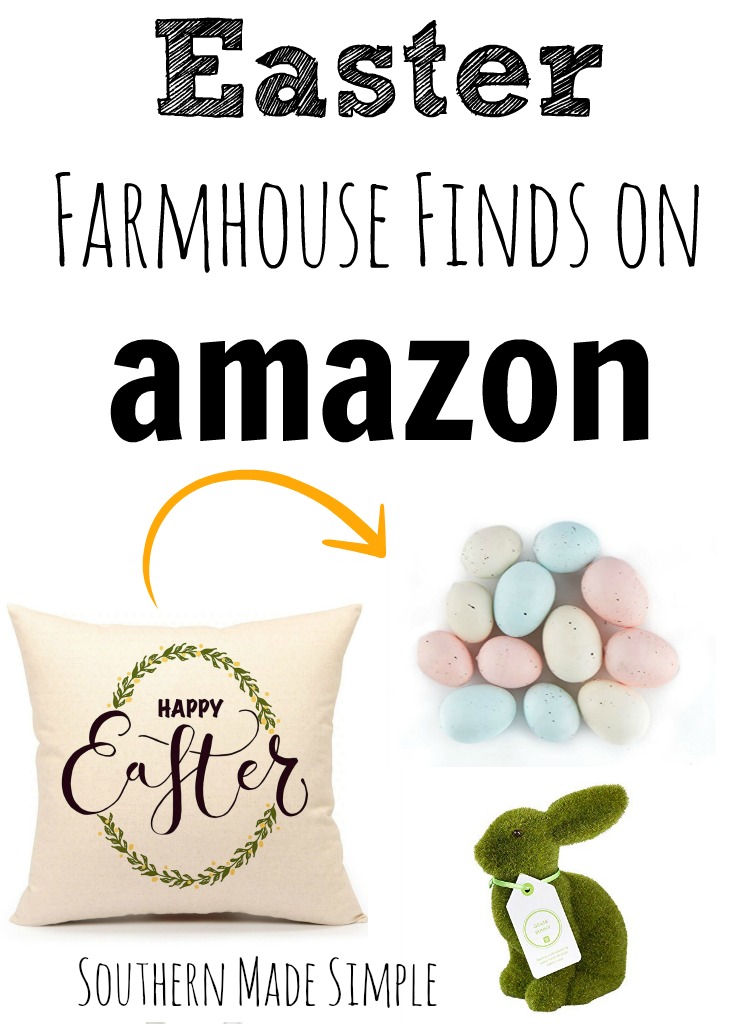 I came across some super cute stuff, and I just had to share it with y'all! If you're on the market for other fun Farmhouse finds, here's a list of direct links to take you to my other Farmhouse roundups. "Hoppy" shopping!
Farmhouse Finds for the Kitchen | Farmhouse Finds for the Bathroom | Farmhouse Office Decor | Farmhouse Nursery Decor | Farmhouse Pillows | 30 Farmhouse Gifts under $30 | Host an Outdoor Farmhouse Party | Fall Farmhouse Finds | Valentine's Day Farmhouse Style | Farmhouse Light Fixtures
Rustic Standing Bunny Tabletop Decor – I just love this little guy! You can purchase this bunny table topper in 3 different bow colors. It's fluffy cotton tail takes it over the top for me!
Happy Easter Y'all Handmade Sign – Y'all know I'm all about adding a little Southern charm into my decor, and I love this rustic handmade sign because it does just that! I love finding treasures from the handmade section of Amazon, because I know I'm supporting someone who brings in extra income through their creative projects!
Easter Wreath Pillow – I love changing out pillow covers on the pillows on my living room couch to match the seasons. It's such an affordable way to add a pop of style to a room without having to buy (and store) an entire pillow somewhere. I love the look of this one with the beautiful laurel wreath around it! If you need a pillow insert to fit this pillow, I've already gotcha covered!
Faux Flocked Lavender – Adding a pop of pretty pastel purple to your spring decor is the way to go! I love the look of lavender stems displayed in a white ceramic jug (pictured below for your convenience!) 😉
Ceramic Pitcher Vase – This one is really a win/win, because it's not season specific. You can add seasonal flowers to this pitcher vase ALL year long! Tulips would also be gorgeous in this vase for Easter!
Miniature Foam Carrots – I love the pop of color that these cute little mini carrots give! They're be adorable scattered around a tablescape or even hung from an Easter tree!
Bronze-look Welcome Rabbit Sign – There's just something about this bronzed bunny that makes me fall in love! I'd be so cute sitting in a flower pot right outside your entrance door, or even on a table top in your foyer!
Standing Pedestal Bunny Plate – If you're hosting an Easter gathering at your house, this is the perfect way to serve your guests some fun bunny snacks!
Hipster Bunny Pillow Cover – I mean, does this pillow really even need a caption? It's probably the cutest thing I've seen all day, and it's hopping into my shopping cart right this second! (Don't forget the pillow insert!)
Happy Easter Neutral Pillow Cover – Another really cute pillow cover option! I love the burlap-look to this one!
Bunny Wall Hook – What a fun and unconventional way to spruce up your spring decor! You can hang signs, towels, planters, garland, and so much more with these sweet bunny hooks!
Burlap Easter Bunny Bunting Banner – Speaking of hanging garland, this bunting banner would be so perfect hanging from a mantle (or from anywhere for that matter!)
Wooden Monogram Bunny Door Hanger – Y'all know how I feel about monograms! I love this sweet  little monogrammed bunny door hanger. There's several letters to choose from, too!
Ceramic Easter Bunny Honey Pot – I don't know what it is about this bunny honey pot, but I absolutely must have it. I've never seen anything like it, honestly! What a fun way to drizzle a little sweetness over your pancakes or muffins on Easter morning!
Some Bunny Loves You Dish Towel – I own several dish towels from the Primitives by Kathy collection on Amazon, and they do not disappoint! It's such an effortless way to add a seasonal flare to your kitchen decor!
Spotted Pastel Artificial Easter Eggs – Must. buy. ALL. the. pastel. spotted. eggs!! I've got a few little metal wire egg baskets that these would be perfect in! They would also be beautiful in a little faux nest, which you can find on Amazon or at a craft store.
Wall Hanging Bunny Wreath – This bunny can "hang" out with me any day! It can be used indoors or outdoors and can even be spruced up with extra trimmings if you'd like! I love the simple look of this wreath so much. It seems like so many Easter wreaths are just overflowing with extra stuff, so the simplicity of this one is calling my name!
Single Stem Artificial Tulips – Single stem tulips are my jam, y'all! They're so so pretty! I love the pink ones the best! This set has good reviews and is priced perfectly. You can get them in a few different color options, too!
Happy Bunny White Ceramic Vase – If you're going to buy tulips, you might as well put them in a white ceramic bunny vase, am I right?! I'm crazy about this one, guys!
Set of 2 Moss & Burlap Easter Baskets – The mossy look is really popular this season. I thought these moss and burlap decorative baskets were really sweet, and they'd be so cute with those pastel colored eggs or a stuffed bunny peaking out of one!
Ceramic Easter Bunny Snack Tray – Want to be the hostess with the mostess this Spring? You need this bunny snack tray. Simple as that!
Cast Iron Bunny Door Wedge – I currently have a stuffed owl with a missing beak being used as a doorstop in one of my rooms (don't judge,) and I'll be swapping it would with this MUCH cuter little bunny door wedge!
Burlap Easter Table Runner – There's just something about burlap and bunnies that makes my heart go pitter patter! How gorgeous would this be on a kitchen or dining room table?!
Easter Bunny Metal Hanging Sign – Here's another really cute and fun Easter sign to being in the season! It comes in two different options, but the carrot one pictured above is my fave!
Mossy Bunny Figurine – This little guy has been going in and out of stock on Amazon, so you better hop on it if you want it! It took a while for the moss look to grow on me (no pun intended,) but I've really come to like it, and I think this little fella is really cute!
Rae Dunn Happy Easter Bunny Plate Set – Okay, y'all. If you know Rae Dunn, you know it's a real challlenge to find some of her pieces…especially on Amazon. I was really hesitant to list this in this roundup because I'm 100% certain it's going to go in and out of stock like crazy, but I thought I'd share it in case you get lucky and it's in stock. I LOVE LOVE LOVE these bunny ear plates from her collection, don't you?! Might want to snag them before the next person gets to them and they're all gone!
FOR MORE EASTER RELATED IDEAS, CHECK OUT THE POSTS LISTED BELOW!