Southern Made Simple is a part of several affiliate advertising programs. Affiliate links are included throughout this post. Although I participate in these programs and have sponsored content, all opinions are my own.
I recently discovered the show Fixer Upper on HGTV. I know it's been around for a while, but here lately it's been unusual for me to stray away from my beloved Food Network. But y'all, I'm OBSESSED with this show! The hosts (Chip and Joanna Gaines) are entertaining, brilliantly creative, and incredibly adorable. I've had a running joke going on with my husband that if Miss Kay from Duck Dynasty and Joanna Gaines from Fixer Upper were blended into one woman, she would be my spirit animal. I may not be selling you on it, but really. You should watch it.
Anyway, Joanna Gaines is known for her obsession with ship-lap and all things "farmhouse" inspired. Farmhouse decor has a very charming, rustic and earthy character to it. It's gorgeous. It's amazing. It's everything I want my dream home to look like. It's all over the magazine covers at the store, and it's flying off the shelves in stores nation wide. It's the it-thing, and I'm jumping on the train!
I'm slowly working towards a goal of farmhousing my home. (I know that's not a word, but it is now!) I figured I'd start small and begin with the bathroom. Since it's not always super convenient for me to get out of the house and go to town, I decided to see what Amazon had to offer to help me complete my look. Hello, 2 day shipping! I was really pleased with what I found, so I thought I'd share it with y'all!
By the way, if you don't have Amazon prime, I can hook you up with a free trial!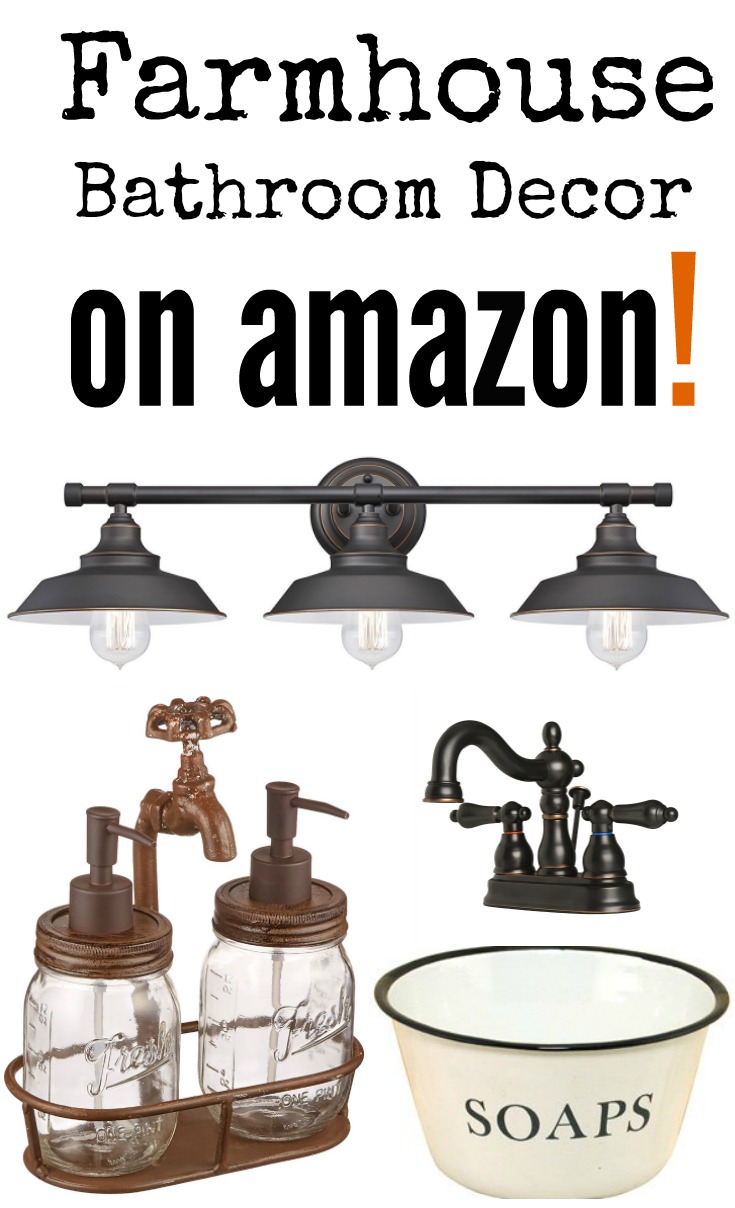 While you're at it, check out these other fabulous roundup posts to help you get your farmhouse fix! 😉
Farmhouse Finds for the Kitchen | Farmhouse Finds for the Bathroom | Farmhouse Office Decor | Farmhouse Nursery Decor | Farmhouse Pillows | 30 Farmhouse Gifts under $30 | Host an Outdoor Farmhouse Party | Fall Farmhouse Finds | Valentine's Day Farmhouse Style | Farmhouse Light Fixtures | Easter Farmhouse Finds | Farmhouse Seating on Amazon | Farmhouse Finds for the Laundry Room 


Oil Rubbed Bronze Lavatory Faucet – One of the best ways to update your bathroom and give it that fresh, farmhouse feel is to change out your faucets and replace them with this gorgeous oil-rubbed bronze finish look. The dark color really pops against a clean, white sink,! It's a really inexpensive update, too, at just under $70!
Rustic Inspired Wood & Metal Towel Rack –  I'm crazy about the modern industrial look blended in with the rustic look. This towel rack is a perfect blend of the two with it's industrial metal bar!
Oil Rubbed Bronze Light Fixture with Metal Shades –  Just like updating your faucets, updating the light fixture in your bathroom is another dramatic way to increase the value of your space and give it a nice, new feel. I love the metal shades hovering over each bulb – that look is very popular right now! For more ideas on farmhouse-style lighting, visit my post here: Farmhouse Light Fixtures on Amazon
Decorative Farmhouse Style Trash Can – If it's going to be on display in a highly trafficked area of your home, it might as well be pretty to look at, right? Why not have a super cute little trash can to spruce up the bathroom, am I right?!
Vintage Inspired Soap Advertisement –  There's something so charming about vintage advertisements. I this this sign would make a nice, subtle statement in a farmhouse inspired bath or wash room. It's priced under $12 bucks, and I think that's a total steal!
Handmade Wash, Soak and Relax Distressed Signs – How gorgeous are these handmade distressed signs? They'd be SO beautiful hanging on the wall in a bathroom. Talk about a statement piece!

Chicken Wire Toilet Paper Holder Isn't this just the cutest? I've been seeing a lot of chicken wire being creatively used in home decor, and I've really grown to love the look! This toilet paper holder is priced at under $15, and I think that's a great deal!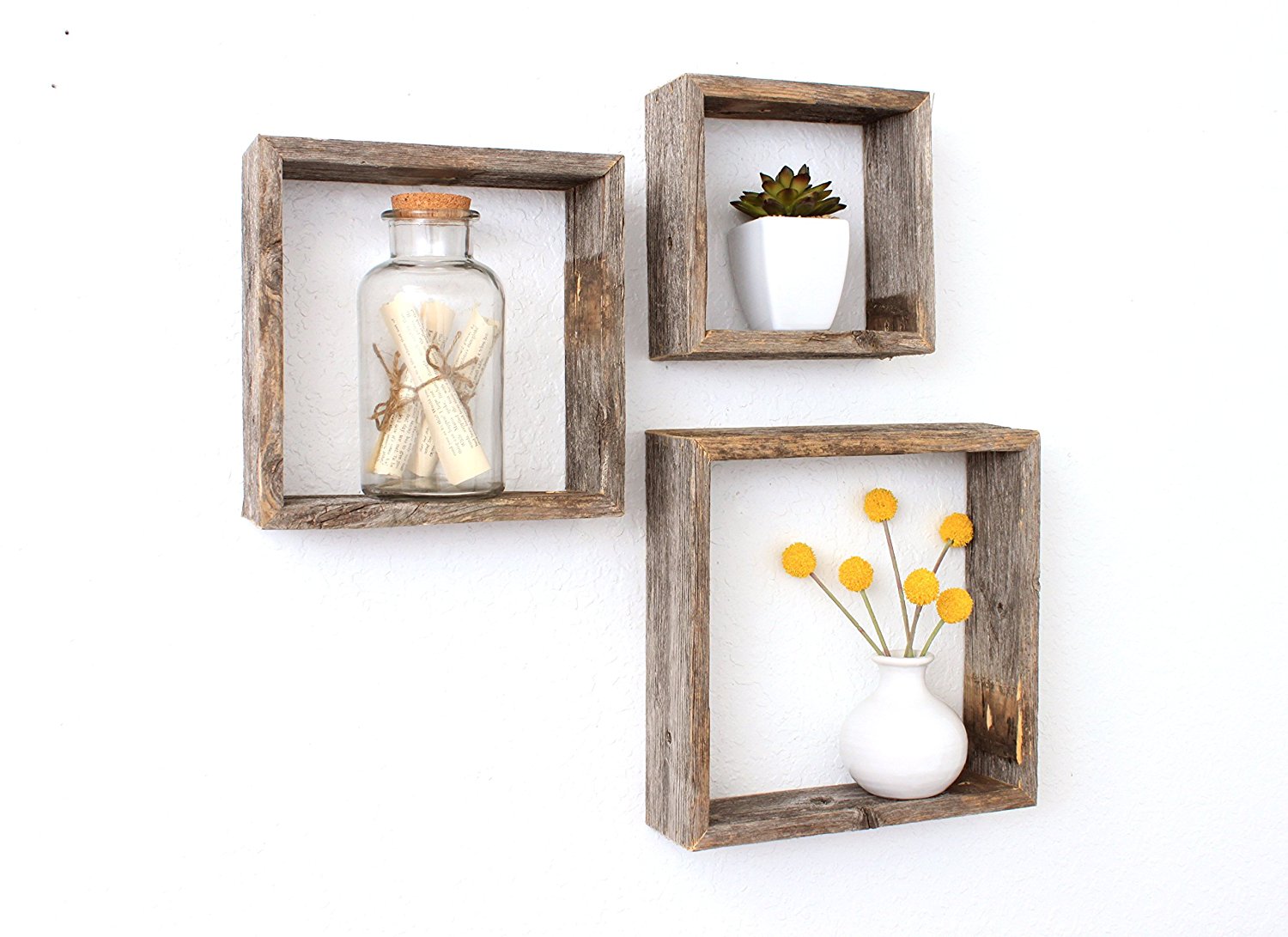 Reclaimed Woods Floating Shelves – Give your wall space a little extra oomph with these gorgeous reclaimed wood floating shelves! They're the perfect place to add a pop of color to your decor, or to place your extra soaps and lotions for guests!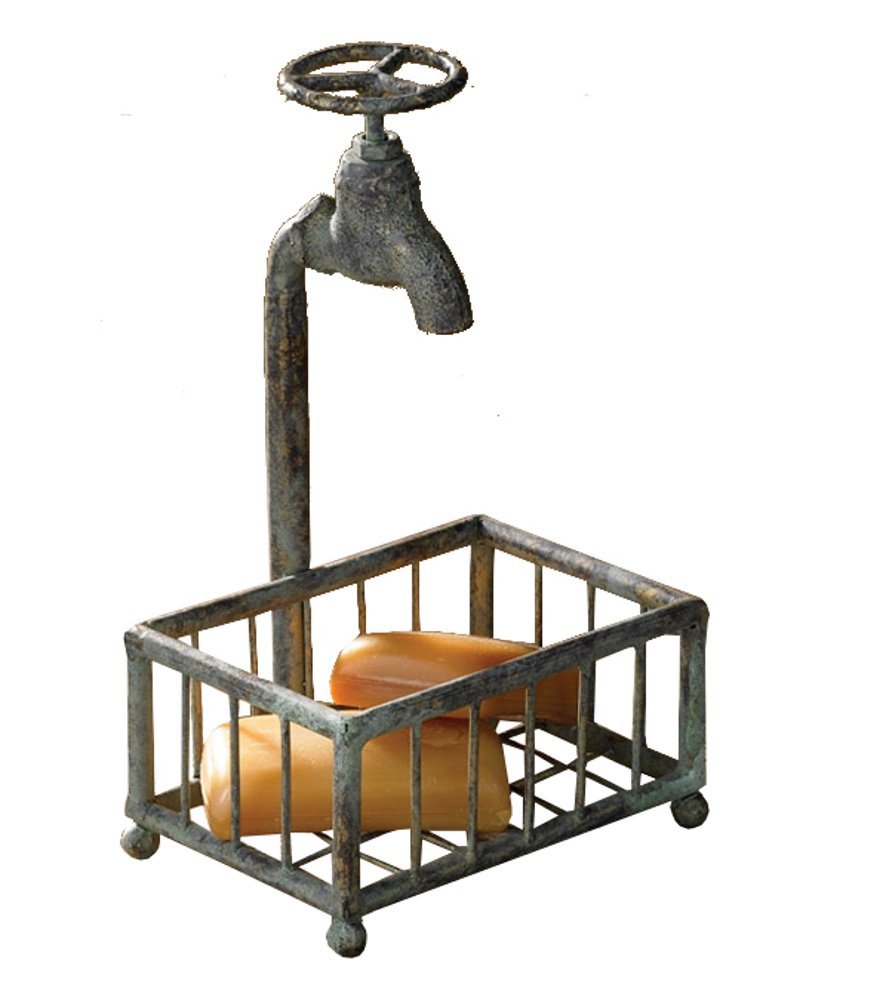 Rustic Faucet Soap Caddy –  Instead of hiding those bars of soap, bring them out and make them part of the decor! I love how this soap holder blends a country chic and industrial look all into one. This is priced at just under $20!
Mason Jar Soap Dispensers + Caddy – Aren't these SO cute?! Mason jars are so versatile, and they're so easy to decorate with. I especially love the little caddy these jars come in! They're priced nicely at just $29!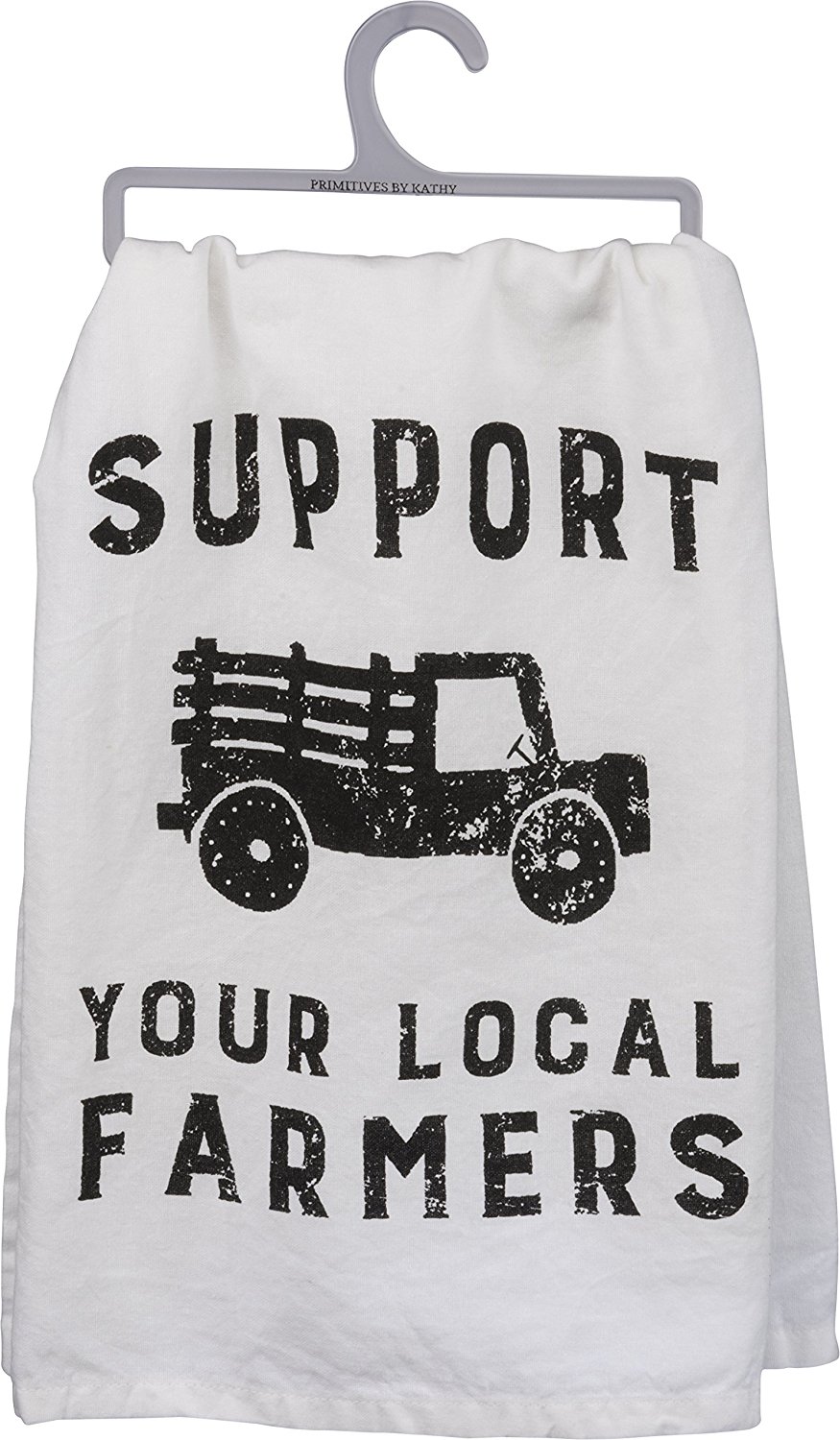 Support Local Flour Sack Hand Towel –  Give your hands something pretty to dry on with this adorable support local hand towel!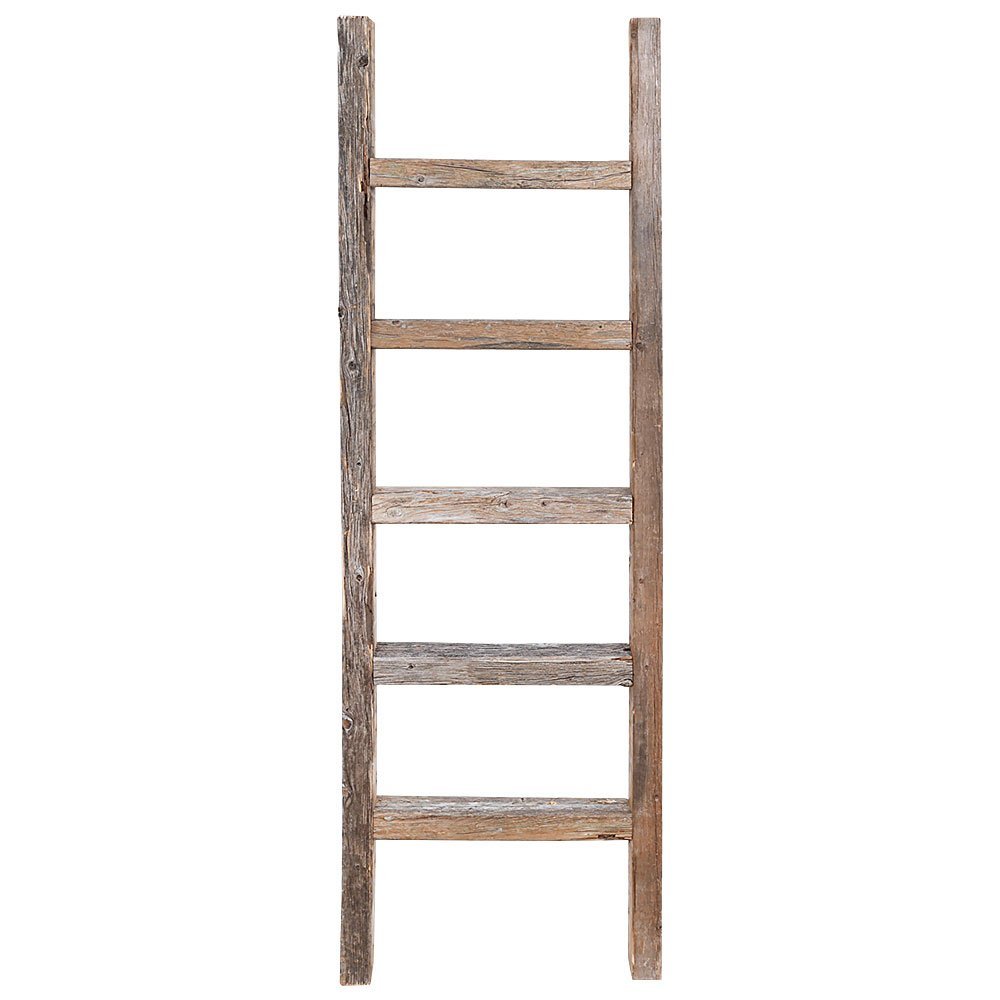 Rustic Reclaimed Wood Decorative Ladder – I adore the look of this reclaimed ladder! It would be perfect to use in the bathroom to hang towels over. This one comes it at around $30!
Set of 4 Seagrass Baskets – Everyone needs a place to store their bathroom necessities! Add a little farmhouse flare to your bathroom storage with these adorable seagrass baskets! You can choose from different sizes depending on your space and storage needs. They're nicely priced to boot!
Wood & Metal Hanging Hooks – Looking for a less traditional way to hang your towels? This wooden and metal hanging rack is a great way to make a statement! It's priced really great at just $15!
Reclaimed Barnwood Mirror –  Instead of a traditional bathroom mirror, think along the lines of a framed rustic mirror like this one. I think they really add a nice touch to a bathroom's decor! This mirror is priced at under $85 dollars, making it an affordable addition or upgrade for your space!
Sea Grass Area Rug –  Every bathroom needs a rug, and the natural sea grass basket weave of this beautifully neutral rug gives me all the feels! It's a great way to add a rustic and natural tone to your bathroom decor. You can choose from several different sizes, depending on your needs!
Wash Your Hands Typography Sign – The vintage press feel of this sign goes perfectly with the modern farmhouse style of decor! I love the simple little reminder is gives to wash your hands every day. So cute!
French-Country Inspired Decorative Toilette Sign –  I love the idea of sneaking this little sign into the decor of a bathroom. It adds a subtle feminine touch and looks really sophisticated. If you have a water closet separate from the rest of the bathroom, this would also be a really cute touch to add to the door. For less than to bucks, you can add this piece to your bathroom collection!
Antiqued Toilet Paper Patent Print – How cool is this find? I think it'd be really neat framed in a shabby-chic picture frame hanging on the wall in the bathroom. I'm particularly fond of it because it proves to the world that the toilet paper does, in fact, roll over and not under! 😉
French Country Inspired Plant or Toiletry Holder –   I think it's really great to add a little pop of greenery to every room in the house. It gives it that desired fresh and earthy feel. It's perfect for planting succulents and it's shaped like a bathtub, so obviously it would be perfect for a bathroom! This piece is right around $12 – score!
Mini Faux Potted Succulents – As I just mentioned, having a little greenery throughout the house is a great way to brighten up any space and give it some life! My guest bathroom has no window to give natural light, so having a pop of color is much needed. Succulents are really popular right now, and I really loved the size of these! (Bonus points for them being artificial. Even thought succulents are hard to kill, I bet I could with very little effort!)
Distressed Wooden Storage Boxes –   This is probably my favorite storage bin I've seen in a while. How beautiful are these boxes? I can see these being used as a decorative way to store toilet paper, or you could put folded towels in them. The chalkboard feature is a nice little bonus – you can personalize your look however you'd like! These bins come in a set of 2 and are priced at just $36!
Apothecary Jars – Don't hide those cotton balls and mini soaps any more! Put them on display in these gorgeous and inexpensive apothecary jars! They're a great way to fancy up a space!
White Chippy Enamel Soap Dish – There's just something about these vintage-looking little dishes that makes me so happy! This is a great place to put those pretty little decorative soaps for your guests in!
Galvanized Metal Tier Tray – If you have ample counter space in your bathroom, consider a tiered storage tray to put your bathroom pretties on! This piece would also be gorgeous in a kitchen, too!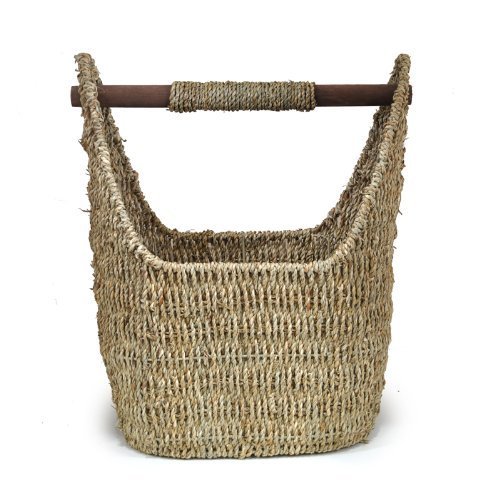 Sea Grass Toilet Paper/ Magazine Holder  – You can never ever go wrong with adding a sea grass basket into your home decor. They're classic and timeless, and a great place to store those extra rolls of toilet paper or reading materials!
Country Chic Bathroom Storage Organizer Bin – Tidy up your space by giving all of your counter top toiletries and necessities a cute space of their own! I really love the look of this little organizer, and it comes in a "soaps" variety, too!
Wooden Pallet Art – I love the combination of rustic textile with elegant script writing. I think it adds a touch of charm like few other things can! This particular pallet sign really caught my eye, and would be a lovely addition to a wall that needs a little bit of love in a bathroom!
Today is a Good Day Framed Sign – What's not to love about this classic saying that was recently made famous by none other than the Farmhouse queen herself, Joanna Gaines! She has used home decor with this saying multiple times in her hit TV series Fixer Upper, and now it's become a popular sentiment in homes across the nation! This framed sign is the perfect sizes to adorn a bathroom wall!
Now that I've got a solid list of some affordable farmhouse finds, I'm ready to get started! I also am so pumped that all of this stuff is Amazon Prime eligible – meaning it will show up at my house in jut TWO days! Woo hoo!
Do you love the farmhouse look? Are you familiar with the show Fixer Upper staring Chip and Joanna Gaines? Leave a comment below and let's chat!