Ladies and gentlemen, get ready to start those engines! Racing season is upon us, so it's definitely time to throw your snack-time game into 4-wheel drive. Whether you prefer something a little savory or you like to burn a little rubber and bring the heat, making a pit-stop for this dish will leave all the racing fans in your life cheering for more!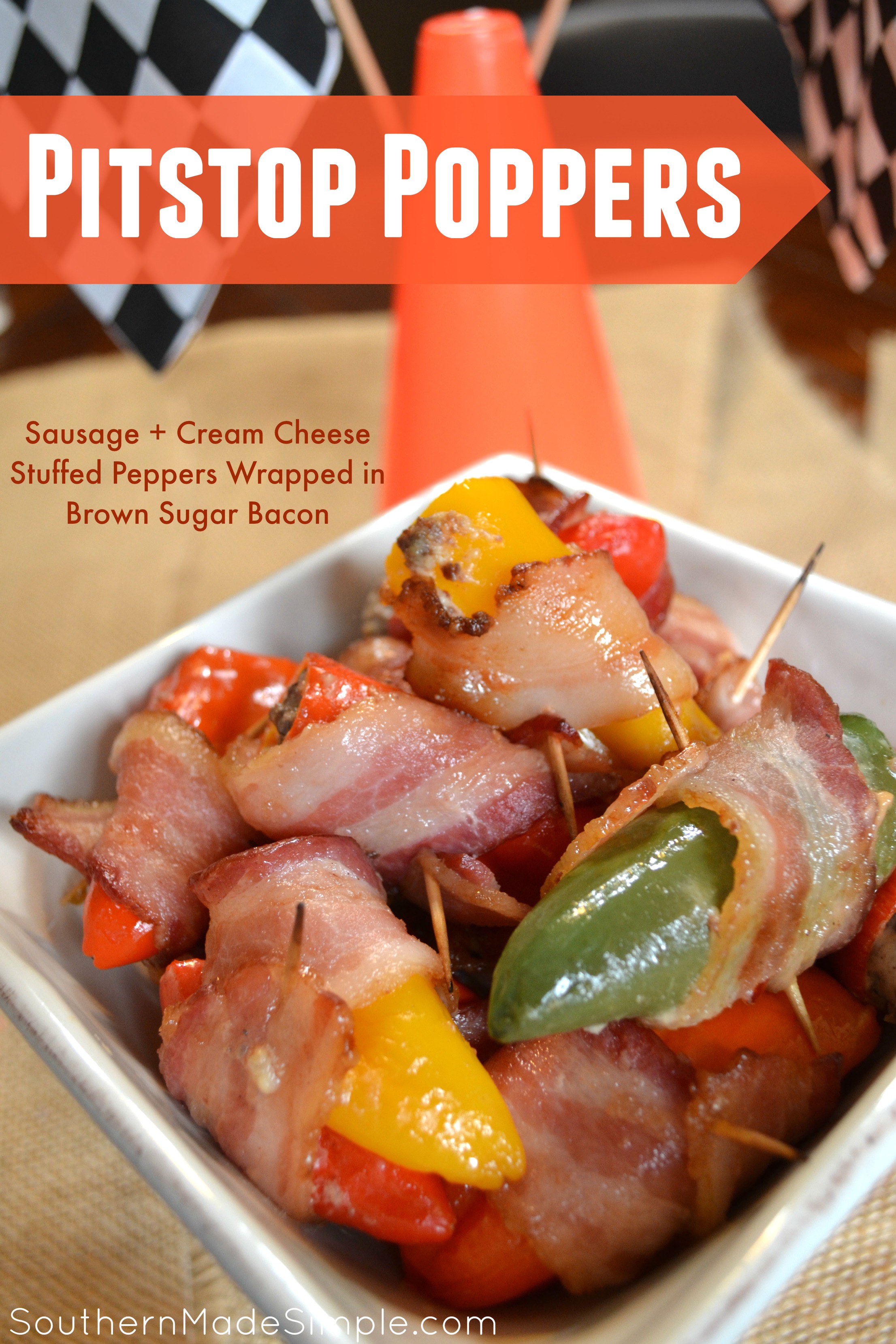 With the Duck Commander 500 quickly approaching on April 9th, my husband and I knew we wanted to be snacking like champions with one of our very favorite race-day snacks: Pitstop Poppers.
To make sure I had everything I needed to make our favorite pit-stop snack, I headed straight to Walmart to stock up on a few fresh ingredients and other things. I picked up a pack of sweet peppers and some jalapenos from the produce section. Aren't they just gorgeous? Also, how cool is it that the peppers are red, yellow and green?? They're just like a traffic light or racing flags! I told you these were the perfect race day snack! 😉
Here's a complete list of all ingredients you'll need to make this dish:
Ingredients:
1 bag of mixed sweet peppers (ours contained roughly 20 peppers)
1 handful of fresh jalapeno peppers (optional)
1 8 oz package of cream cheese, softened
1 lb uncooked sausage
1 package uncooked bacon
1/2 stick butter
1/2 cup brown sugar
toothpicks
Once you gather all of your ingredients, it's time to get started! The prep work takes the most time, but I guarantee that your first bite of these savory pepper poppers will make you feel like doing donuts down to victory lane!
First you'll want to scramble your sausage over medium heat until cooked all the way through. Make sure you drain all excess grease off of the meat. Next, combine cooked sausage and cream cheese in a large bowl. (See picture above for reference).
The next three steps involve assembling the peppers:
Step 1:
Thoroughly wash the peppers and pat dry. Remove the tops of each pepper using a knife. Remove the insides of each pepper, being sure to empty out ALL seeds. Tip: Once you hollow the pepper, rinse out the inside with cold water to make sure all seeds are definitely out.
Step 2:
Using a dull knife, scoop the cream cheese and sausage mixture into each pepper. Using a knife will help press the mixture into the pepper better than using a spoon since the peppers are so small.
Step 3:
Open up the package of bacon. Before completely removing the bacon from the package, cut the strips in half using a sharp knife. (You can cut each strip of bacon in half individually if you want, but this makes things go by so much faster!)
Wrap the bacon halves around each pepper and secure with a toothpick. Line a baking sheet with foil and place peppers onto sheet. Preheat oven to 450F.
In a small sauce pan, melt butter completely and add brown sugar. Stir constantly to prevent scorching. Once the butter/sugar form rolling bubbles, remove from heat and pour over peppers. Top with additional brown sugar if desired.
Cook peppers for roughly 10-15 minutes. Bump the oven up to broil and allow to cook for another 5-10 minutes, or until bacon is cooked thoroughly to your liking.
Allow to cool for a few minutes, then dive in!
My husband and I are going to be cheering loudly during the Duck Commander 500 from our own personal grandstands watching Ty Dillon in the Nexium Car and his crew hopefully bring in a victory. He'll also be driving an Advil sponsored car later in the year, so keep an eye out for him!
What is your favorite race-day snack? Does frequent heartburn keep you from enjoying your favorite foods? If you'll be tuning in to the Duck Commander 500 on April 9th, drop a comment and tell me what you'll be fixing and who you'll be cheering for!