Old fashioned egg salad isn't for everyone. I totally get that. For me, egg salad falls into my "trust issues" category when it comes to food. I love egg salad, but I don't love everyone's egg salad. I've been to too many potlucks where I bit into a tiny triangular egg salad sandwich, only to find that whoever made it put something crunchy in it, like raw onions. The audacity.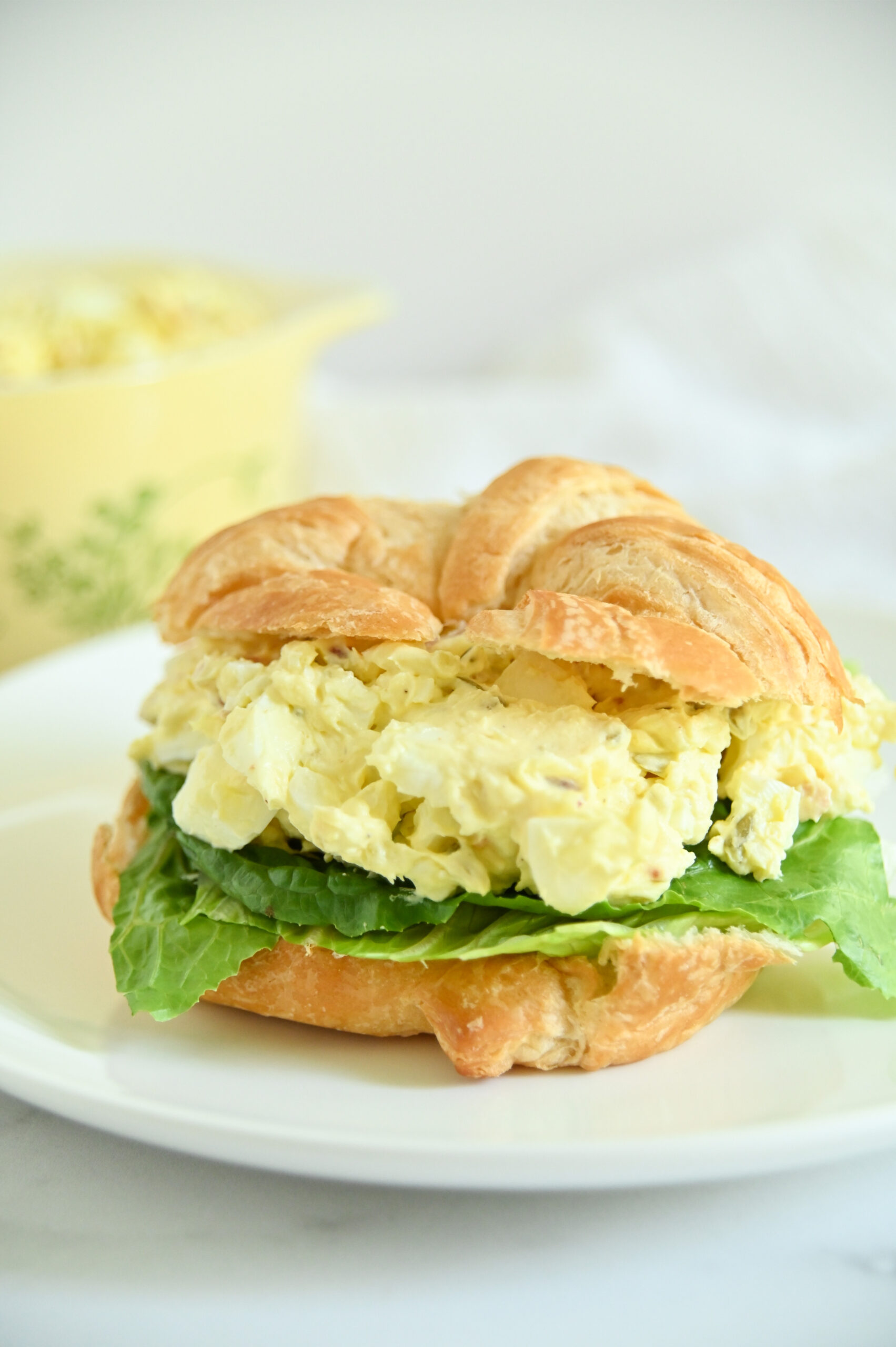 I'm teasing, of course. I know the way that I prefer my egg salad is not the same way that others might prefer it, but this particular post is to tell you about my absolute favorite way to eat egg salad, as it may be a little unconventional to some. If you want a sure fire way to hit a home run with your egg salad, you'll need two things:
Cream cheese + Bacon
Real bacon. Not those artificial bacon bits. You'll start with boiling your eggs, peeling and then separating the yolks from the whites. While the eggs are boiling, go ahead and get your bacon cooking. You'll want to make sure when cooking your bacon that you don't cook it to a crisp. You want the bacon to still be a little soft. It's all fun and games until someone breaks a tooth hitting a piece of overcooked bacon in their egg salad. To quickly chop the bacon, I turn to these trusty herb shears to get the job done. If you don't have a pair of herb shears in your kitchen, I highly recommend them!
Using a hand or a stand mixer, combine cooked egg yolks, softened cream cheese and softened butter until smooth. Next, add in mayonnaise, sweet relish and a little salt and pepper to taste. Next, fold in the bacon pieces and diced egg whites. Cover and chill for about an hour before serving. Here's a free printable copy of my recipe if you'd like to give it a try!
(Note: This recipe is doubled to feed a larger crowd. Feel free to reduce the ingredients as you see fit.)
Cream Cheese and Bacon Egg Salad
Ingredients
1

dozen

hard boiled eggs

peeled

1

8oz

package cream cheese

softened

4

Tbs

salted butter

softened

6-8

slices

bacon

cooked until just slightly crispy and chopped into small pieces

4

Tbs

mayonnaise

3

tsp

sweet pickle relish

more or less to taste

salt & pepper to taste
Instructions
After your eggs are boiled and peeled, slice each egg in half and place the yolks inside a large mixing bowl. Dice the egg whites and set aside.

Using a stand or a hand mixer, combine egg yolks, cream cheese and butter together until smooth.

Fold in remaining ingredients, making sure egg whites are folded in last.

Cover in an air tight container and refrigerate before serving

Serve on your choice of bread or crackers and enjoy!
Notes
This recipe is intended to feed several, so feel free to cut the recipe in half if you're just making enough for a few!
---
My favorite way to eat this Cream Cheese and Bacon Egg Salad is on a fresh croissant from the grocery store bakery. You can usually find them fresh daily in 4-6 count packs. I also like to add a little lettuce to mine. Sometimes, though, I just prefer it with club or Ritz crackers. You can't go wrong either way!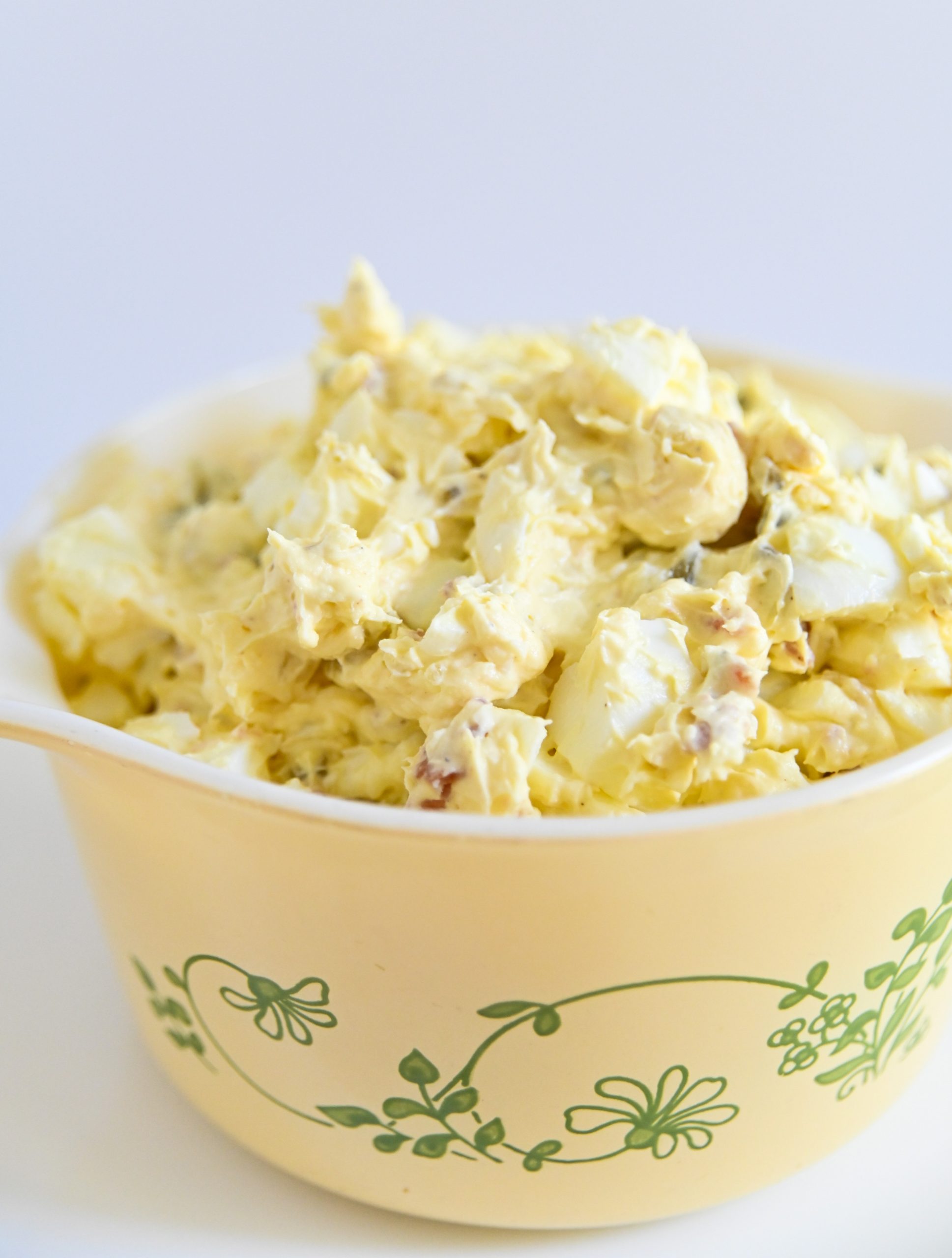 Are you a fan of egg salad? (And completely out of curiosity – do you like onions in it? No shame, no shame!) If you've never tried egg salad with cream cheese and real bacon pieces in it, definitely give this Cream Cheese and Bacon Egg Salad a try! It's a staple in my house during the summer months when sandwiches are on our lunch menu nearly every day!
Want to serve egg salad in a fun way? Add it along with a variety of different crackers to a summer charcuterie board, just like this one!