This post was sponsored by Blue Diamond® as part of an Influencer Activation and all opinions expressed in my post are my own.
Have you ever made a charcuterie board before? I've officially declared this summer as the summer of charcuterie lunches in our house. They're incredibly easy to make, they don't require you to heat up your oven, and there's always a little something for everyone to nibble on. Charcuterie boards are simply a serving tray that is typically filled with meats, fruit, nuts, cheeses and crackers. I love them because they're very low-key, but also beautifully inviting and filled with lots of yummy snacks that I can't keep my hands off of!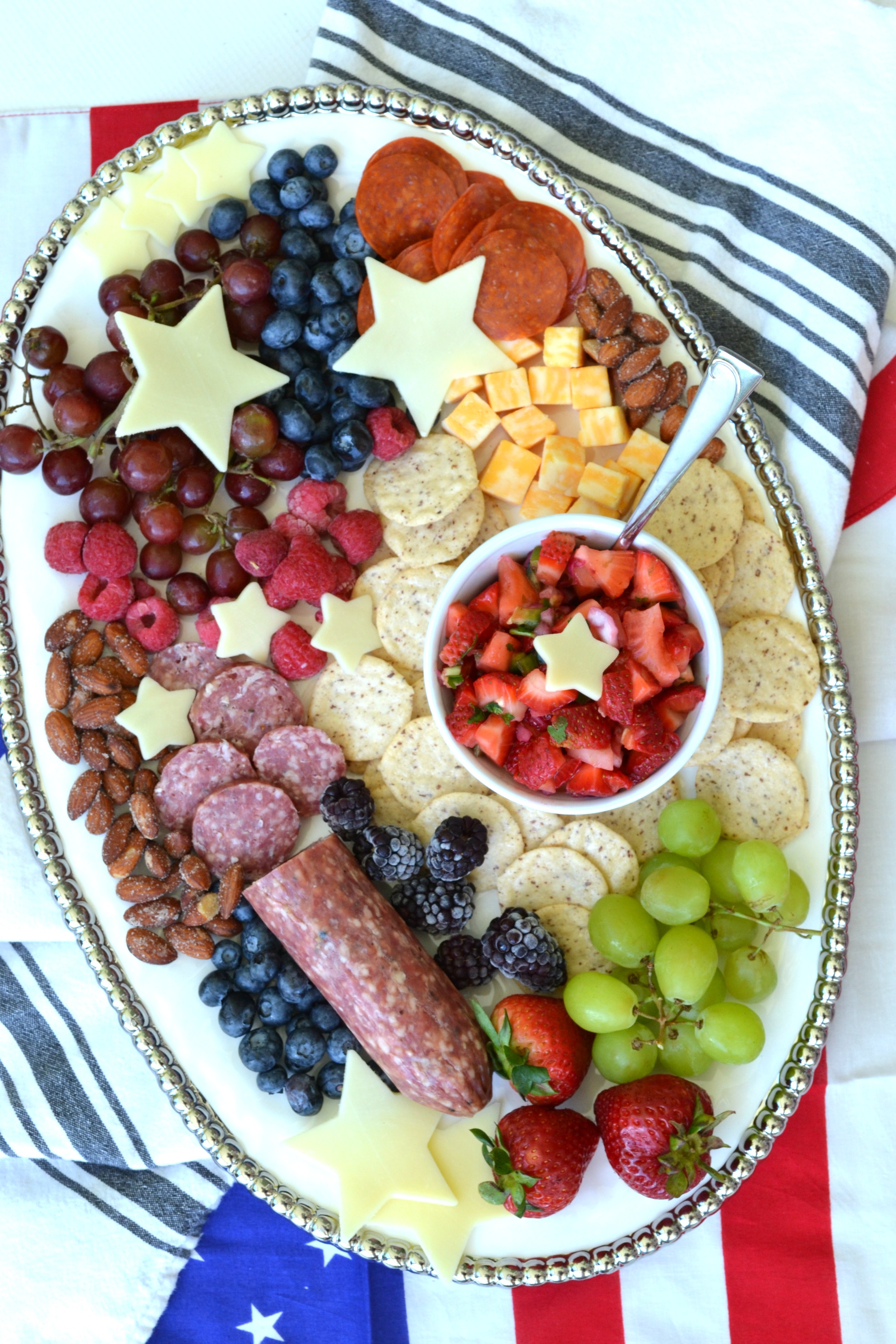 I love shopping local for fresh produce and supporting farmers in our nearby communities by purchasing their fruits and vegetables. I recently visited our farmers market and stocked up on home grown strawberries and blueberries that sparked the inspiration behind this charcuterie board that we enjoyed during the 4th of July weekend!
I roughly chopped up the fresh strawberries and paired it with some cilantro picked from our own garden, plus a few other key ingredients to help give it a bit of a "spice." Pairing this Strawberry Jalapeno Salsa with the other items on the cheese board was definitely a winning move with my family members, and it quickly became the first thing to vanish off of the board!
During a recent shopping trip at Walmart, I picked up a box of Blue Diamond Nut-Thins Original Almond and Nut-Thins Hint of Sea Salt to serve with the fruit, cheese and strawberry salsa. Choosing a good cracker or chip to go along with your charcuterie boards is a key element to making a quality board, and I've been crazy over these crackers since my very first bite!
I love Nut-Thins because they're made with no artificial flavors or colors, are wheat and gluten free, and are made with real California almonds. I have quite a few friends who are follow a gluten free diet, so making sure I have snack options that are suitable for their diet is very important to me. Plus, they contain only 130 calories per serving, so it's a snack I can feel good about! They're a perfect match for my strawberry jalapeno salsa, too. You can snag the recipe below!
Strawberry Jalapeno Salsa
Ingredients
2

cups

fresh strawberries

chopped (frozen strawberries will not work for this recipe)

1

medium sized jalapeno

seeded and finely diced

1

lime

zested and juiced

¼

red onion

finely diced

1

small handful fresh cilantro

chopped

1

box Blue Diamond Nut-Thins
Instructions
Combine all ingredients and serve Nut-Thins crackers. Enjoy!
---
To make things a little extra festive, I used a star shaped cookie cutter and made stars out of sliced provolone. This is a really fun hack to make a charcuterie board fit with nearly any party theme imaginable! If you've never made a charcuterie board before, my best advice is to start off simple. Have a variety of cheeses, fruits, meat, nuts and crackers to serve with. Play around with the colors and textures of the items to make a fun presentation. There's really no wrong way to do it!
Sweepstakes Alert:
Right now, you can enter for your chance to win $100,000 and other prizes throughout this summer through the Nut-Thins 2 Win Sweepstakes! Click the banner image below to learn more!
Sweepstakes will run from June 3rd, 2019 – August 31st, 2019. Disclosure: For official rules, visit NutThins2Win.com
If you're a fan of quick and simple lunch fixes like this, make sure you head out to your local Walmart and pick up a few essentials to get your cheese board started! Another rule of thumb is to never compromise when it comes to snacking. Blue Diamond Nut-Thins always satisfy our snack cravings with their wide range of cracker flavors, and they're certainly a must-have on your summer time charcuterie board!
What kind of snacks do you like to pair on your charcuterie boards? Leave a comment below and share the love! While you're at it, make sure you enter above for your chance to win $100,000!