These squash & cheddar hush puppies are a fun twist on the classic southern dish, and they're a great way to use up fresh summer squash growing in the garden! Affiliate links may be included throughout this post at absolutely no cost to you.
The squash in my garden have finally started to produce at a steady rate, and it's been such a welcomed site! This is the first year my husband and I started a garden completely from seed, and it felt like an eternity watching and waiting for tiny plants shoot up from the ground and grow to the point of producing fruit. 
Even though the waiting is hard, I think I may prefer growing from seed from now on. I feel much more of a connection to my garden this year than I ever have before, and the feeling of accomplishment has been so satisfying. Now that I'm bringing in squash from the garden every day, I'm committed to creating and sharing some of my all time favorite squash (and zucchini) recipes with you, since squash is in season and many of you are on the hunt with something new to do with summer squash, too!
If you've been following along for a while, you know I love a good old church cookbook. This recipe for Squash & Cheddar Hush Puppies is inspired by a recipe I found in an old local church cook book, with a few tweaks I made to make it fit my cooking style more. Hush puppies are a classic southern dish, and adding in the shredded squash is a really nice twist! The key to making perfect hush puppies is making sure the batter is nice and thick. When you scoop out a spoonful, it should be stiff enough to hold its shape without movement.
Tip: If you want your hush puppies perfectly round and even in size, you NEED a trigger releasing cooking scoop. I cannot recommend using one highly enough! Using a deep fryer instead of a skillet is also the best way to keep the hush puppies round in shape instead of flattening out into a fritter.
Cooking hush puppies to perfection every time can be a bit of a challenge, as it really depends on the size of your hush puppies. As with most things that are being fried, I recommend doing a "test" hush puppy first to fry and then cut into to make sure the dough is cooked all the way through. That way you can easily adjust your cook time to make sure all hush puppies will cook to golden perfection!
Here's a free printable copy of my recipe if you'd like to give it a try:
Squash & Cheddar Hush Puppies
Ingredients
Vegetable oil for frying

1

cup

self-rising cornmeal

1/4

cup

self-rising flour

2

tsp

creole seasoning

I use Tony's

1

cup

grated yellow squash

1

egg

beaten

1/2

cup

shredded cheddar cheese

1/3

cup

buttermilk
Instructions
Heat oil in deep fryer to 375 F

In a large mixing bowl. combine cornmeal, flour, and creole seasoning.

Add in squash, cheese and egg and stir until well combined

Add in enough buttermilk to make the batter good and stiff - about 1/3 cup should do it.

The batter should hold its shape when scooped out with a spoon.

Drop heaping teaspoonfuls into hot grease and cook until golden brown - about 2-2 1/2 minutes depending on size

Cut open first hush puppy after frying to make sure they're done all the way through. Cooking times always vary with hush puppies because of size differences.

Lay on a paper towel to absorb excess grease after frying

Serve hot - enjoy!
Notes
I recommend using a deep fryer for making hush puppies.
I also recommend scooping out the batter using a cookie scoop to ensure all hush puppies are roughly the same size.
Diced onions are also great in this recipe! I sometimes add about 1/2 cup finely diced yellow onion into the batter before frying.
---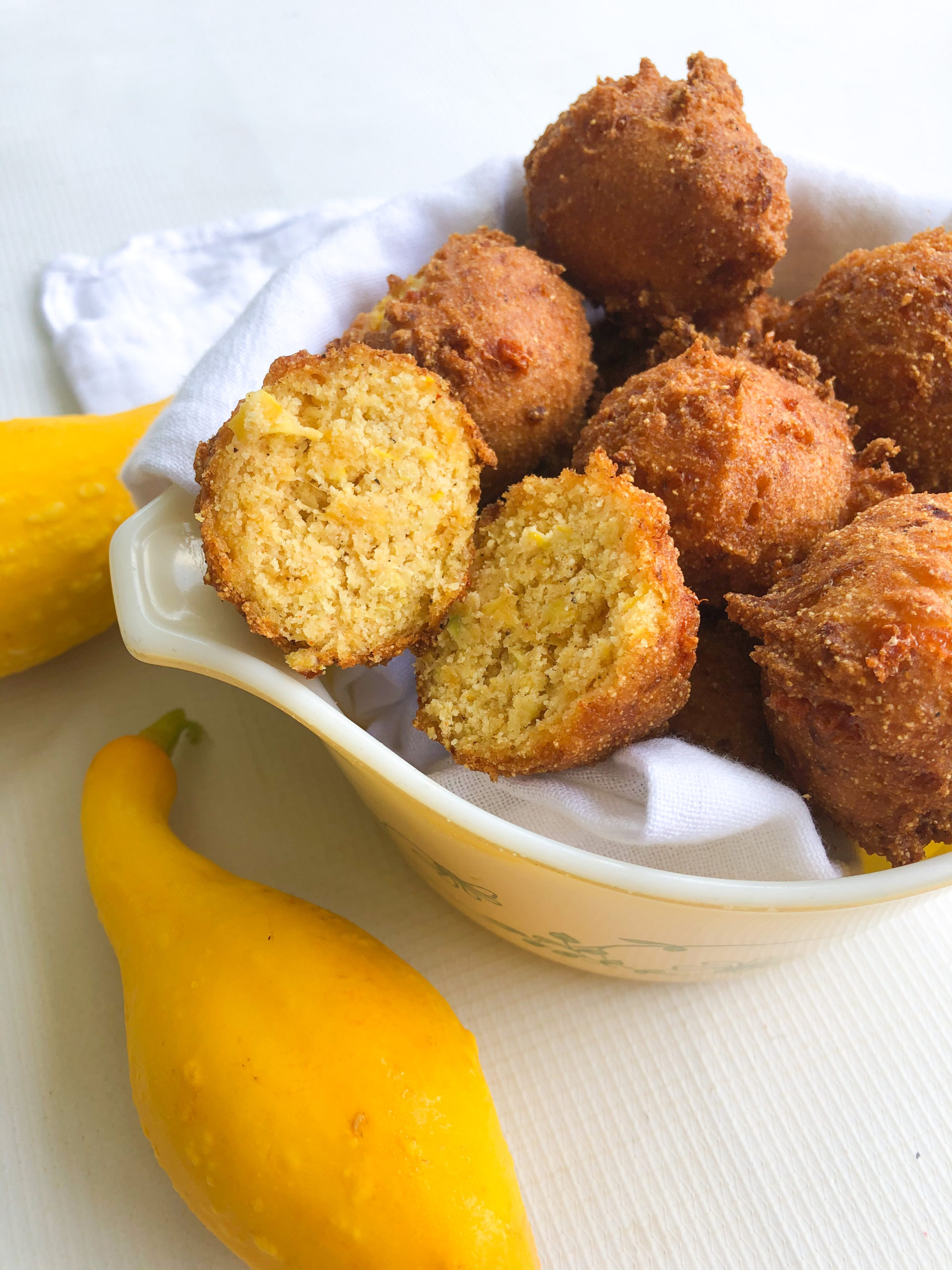 If you like this recipe, be sure to check out these other great recipes found right here on Southern Made Simple!
Squash and Zucchini Stuffing Casserole | Squash Fritters | Squash and Onions | Lemon Poppy Seed Summer Squash Bread  
Note: You can also freeze squash easily if needed!