This recipe for Lemon Poppy Seed Summer Squash Bread is a wonderful way to use up fresh summer squash straight from the garden! Shred it, bake it, slice is up and serve with a pad of butter on a hot summer day for a refreshing treat!
During the summer time, there is always an abundance of fresh produce filling people's gardens and the shelves of local farmer's markets. It's one of my very favorite things about summer! My husband and I have a very small garden growing in our back yard. This year we planted yellow squash, zucchini, egg plant, tomatoes, an array of peppers and fresh basil. I enjoy incorporating those fresh elements into my cooking, but by mid-summer I'm always looking for something a tad bit different to do with them.
I'm no stranger to making a loaf of zucchini bread, but this time I decided to mix things up a little bit. Zucchini and yellow squash are very similar in taste and texture in my opinion, so it's not uncommon for people to use them interchangeably in their recipes – hence the creation of this beautiful Lemon Poppy Seed Summer Squash Bread!
By the way, this is a FANTASTIC way to sneak in veggies into a picky eater's diet. I promise you, you won't even know the squash is in there. Seriously, it's amazing! First, you'll want to grate two cups worth of squash and squeeze out most of the excess water. Did you know that zucchini and squash are comprised of 95% water? I didn't, but I definitely believe it!
Next you'll want to gather all of your baking ingredients, plus two large bowls and two loaf pans. This recipe will yield two loaves, so you can either freeze one loaf or cut the recipe in half if you feel like 2 is too many for your family. We usually have no problem going through 2 loaves within a few days, but this time I opted to freeze one loaf so we can enjoy it later.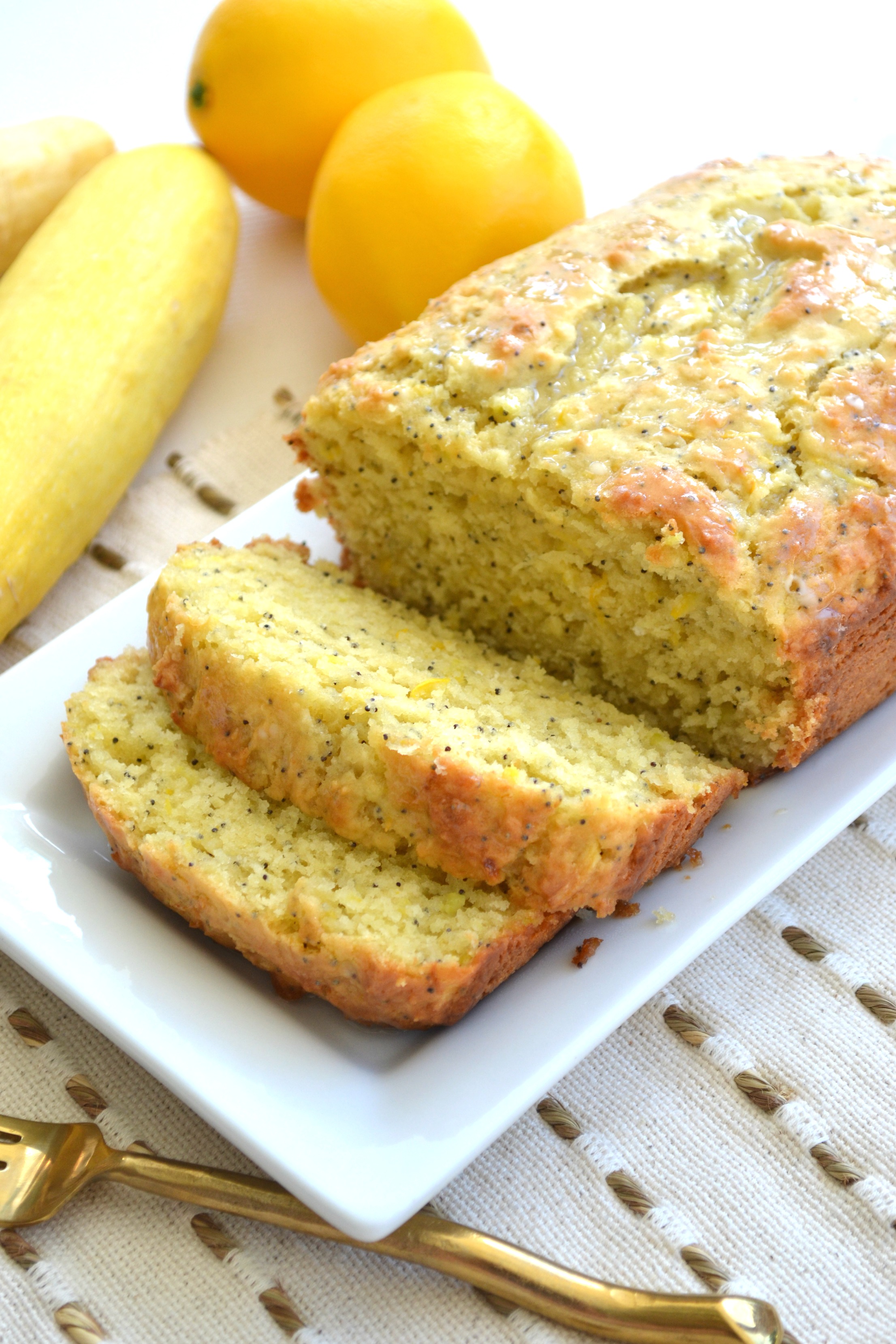 Here's a printable copy of the recipe, including all of the remaining ingredients you'll need to make this dish:
Glazed Lemon Poppy Seed Summer Squash Bread
Ingredients
2

cups

shredded yellow squash

can also use zucchini

4

cups

all purpose flour

1 1/2

cup

sugar

1 1/2

tsp

baking soda

1

tsp

baking powder

4

eggs

1

cup

vegetable oil

1

cup

Greek yogurt

can sub with sour cream

4

tbs

lemon juice

1

tsp

lemon extract

1

package lemon flavored instant pudding mix

1/4

cup

poppy seeds
Instructions
Grate squash into a bowl until you have 2 cups worth. Squeeze out any extra water from the squash.

Preheat oven to 350F. Spray 2 medium loaf pans with non-stick cooking spray.

In a large bowl, mix together flour, baking powder, baking soda, stevia/sugar and pudding mix.

In a separate bowl, blend together eggs, vegetable oil, yogurt, lemon juice & extract.

Slowly fold in shredded squash and poppy seeds until well combined.

Evenly distribute the batter into the two greased loaf pans and bake for 45-50 minutes, or until completely done in the center. Allow to cool completely before adding optional glaze.
Notes
For Glaze:
1/2 cup powdered sugar
3-4 Tbs lemon juice
---
The lemon juice and pudding mix give this bread the perfect pop of lemon without it being too tart, and the squash helped keep the bread nice and moist.
My 1 year old shared a slice of this bread with me for breakfast this morning and she loved it! She actually likes squash as it is, but we all know toddlers are prone to change their minds about things like that all the time. If she ever decides she doesn't like squash, I'll just whip up another batch of this Lemon Poppy Seed Summer Squash Bread and she won't even know it's in there. Win/win!
What are some other ways you like to cook with fresh summer ingredients? Do you have a fun way of hiding veggies into your meals without them being detected? Perhaps you have a delicious squash recipe you'd like to share with me! I'm always looking for something new to try, so leave a comment below and share your thoughts!
Looking for recipes similar to this one? Try my Mema's recipe for traditional Lemon Poppy Seed Bread here!