The summer months are filled with fresh produce such as squash and zucchini. This recipe combines the two in a simple, cheesy and delicious Squash and Zucchini Stuffing Casserole that comes together in no time at all!
I love a good "shortcut" recipe. Shortcut recipes are recipes that utilize the conveniences of prepackaged and preseasoned foods such as stuffing mix, cake mix, etc. to help save time and maximize flavor in the kitchen. I always keep a box of cornbread or chicken flavored stuffing mix on hand in my pantry. It's my not-so-secret ingredient in my fool proof venison meatloaf that gets rave reviews every time it's served! In this recipe, it contains all the seasonings you need to make this casserole flavorful without measuring out anything else. It's easy peasy and a great way to serve up yellow squash and zucchini!
In the past I've traditionally made this as just a squash stuffing casserole, but this time I had a few tiny squash and zucchini lingering around that needed to be used, so I combined them in this recipe and it worked beautifully. It's important to slice your squash relatively thin (about 1/4 inch thick or less) to ensure that it cooks all the way through. I also prefer to finely dice my onion in my Ninja food chopper.  My food chopper is used almost daily in my kitchen, and it does an excellent job of getting the onions to a nice and fine consistency. 
This squash and zucchini stuffing casserole is a summertime favorite around here, and I love how easy it is to simply throw together and pop in the oven! Here's a free printable copy of the recipe if you'd like to give it a try:
Squash Stuffing Casserole
Ingredients
6

cups

yellow squash and/or zucchini

sliced - 1/4 inch thick or less

1

box cornbread flavored stuffing mix

I use Stove Top brand

1

small onion

peeled and very finely diced

1

can

cream of mushroom soup

1

cup

sour cream

1

cup

cheddar cheese

shredded
Instructions
Preheat oven to 350 F

In a large sauce pan, add squash and zucchini with enough water to cover the top of them and bring to a boil on medium-low heat

Cover pan with lid and boil until just tender - about 6 minutes

Drain well and set squash aside

In a large bowl, combine boxed stuffing mix, finely diced onion, cream of mushroom soup and sour cream and stir well

Add squash and zucchini into stuffing mixture and stir

Grease an 8x11 casserole dish and pour mixture inside, topping with cheddar cheese

Bake for 25-30 minutes, or until thoroughly heated throughout

Enjoy!
Notes
If you aren't able to finely dice your onion, you can slice it into bigger slivers and add it to your boiling squash and zucchini to cook thoroughly before baking.
---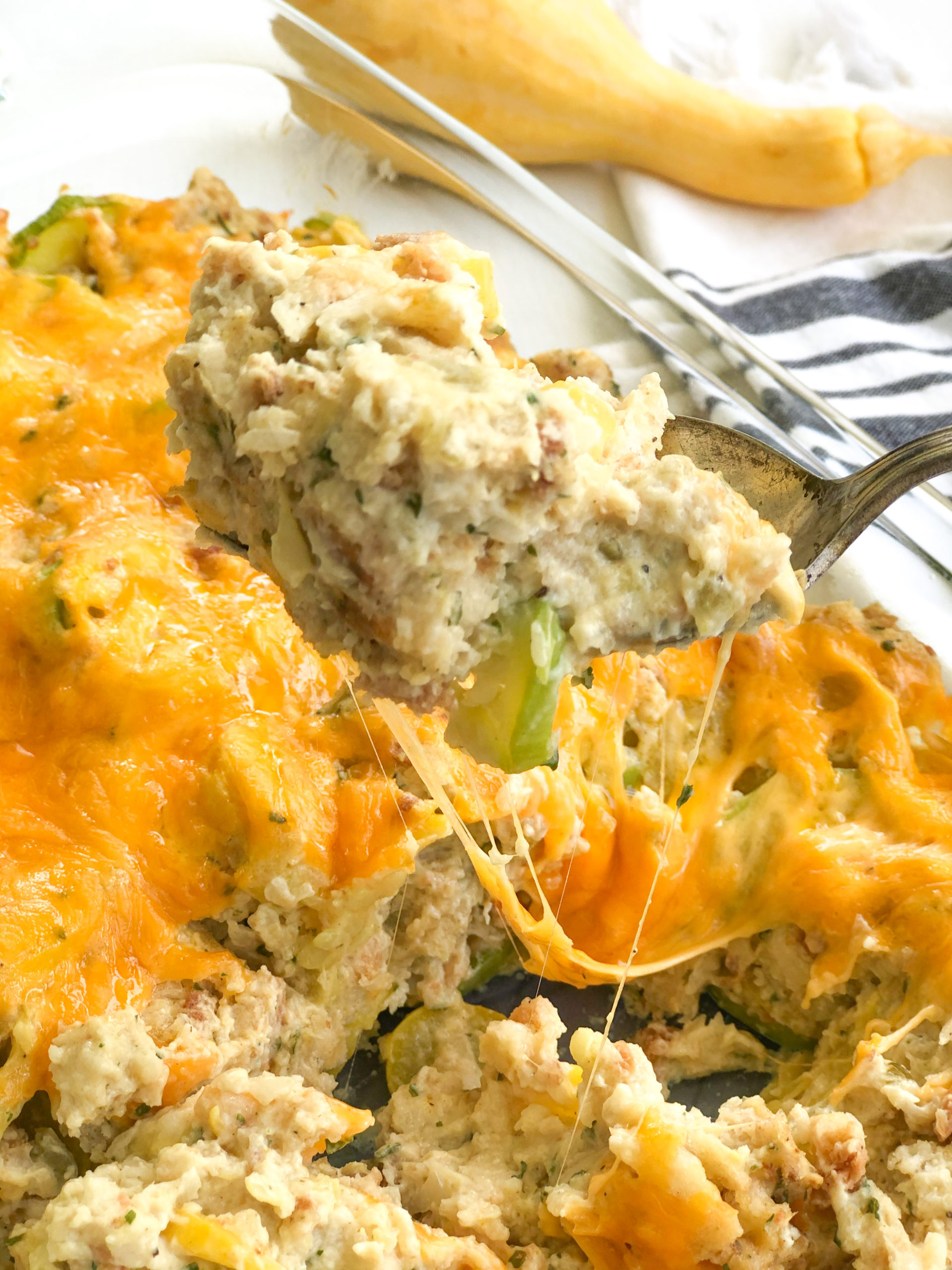 Looking for more zucchini and squash recipes? Be sure to check out these great recipes found right here on Southern Made Simple!
Note: You can also freeze squash or zucchini easily if needed!
Zucchini Fritters | Yellow Squash Fritters | Squash & Onions | Lemon Poppy Seed Summer Squash Bread | Taco Stuffed Squash Boats | Zucchini & Feta Cheese Fritters | Cheesy Italian Zucchini Boats