This is a sponsored post written by me on behalf of Sargento® for IZEA Worldwide. All opinions are 100% mine.
As far as food goes, there are few things more comforting to me than a fresh, homemade pizza loaded with your favorite toppings. When my husband and I were in college, we both worked together at a pizza chain to help pay for our engagement rings and wedding expenses. I didn't work there long enough to move on to the "make line" where we actually got to assemble the pizzas for customers, but I did learn a few techniques about what goes into making a pizza really great. My husband, on the other hand, stayed until he graduated from college. He became an assistant manager and was a boss at making the best pizza and calzones I do believe I've ever tasted. Aside from the heart that goes into making a pizza from scratch, the one ingredient that ties it all together and makes it so comforting is definitely the cheese – no doubt about it!
When my husband was working at the pizza chain, he was taught to load each pizza down with mozzarella cheese. There's no sense in being stingy with the best pizza topping ever created! And as he helped me prepare supper last night, he put his pizza making skills to play as we covered our homemade pizza with Sargento Mozzarella & Provolone Shredded cheese! We both shared a laugh at how we used to snack on shredded cheese all the time when we worked at the pizza joint, and we each had to grab a handful of cheese to munch on while we assembled our supper, just like old times!
Pizza is great for so many reasons, but one of the best reasons is that you can customize them any ol' way that you like! Last night's dinner was particularly inspired by a recipe I found on Sargento's website – a BLT pizza! I thought that was a fabulous idea, as I'm always down for a good BLT! (Fun fact – I craved tomatoes like crazy during my recent pregnancy, and throughout my entire second trimester I always kept BLT ingredients on hand so I could whip one up any time a craving came on!) On his way home from work yesterday, my husband stopped by Publix and picked up all of the ingredients needed to make the pizza, including the most important ingredient – Sargento® Shreds! Shreds are shredded fresh off blocks of real, natural cheese. It's the perfect ingredient to use in dishes to share with friends and family!
This pizza recipe is super simple and not overloaded with crazy or complicated ingredients. Just a handful of simple ingredients really make the flavor profile of this pizza come to life! We decided to add a kick to it by incorporating a little heat into the recipe, and it was divine! My husband wasted no time in forming the dough to fit the pizza pan so we could pop our pizza in the oven. Our tummies were growling with excitement to get to take the first bite! One thing we learned at that pizza shop years ago is to always "dock" the pizza dough before adding ingredients on top. Back then we used a special tool to help puncture tiny holes all throughout the dough to prevent air bubbles to form while the pizza is baking, but using a fork works just the same!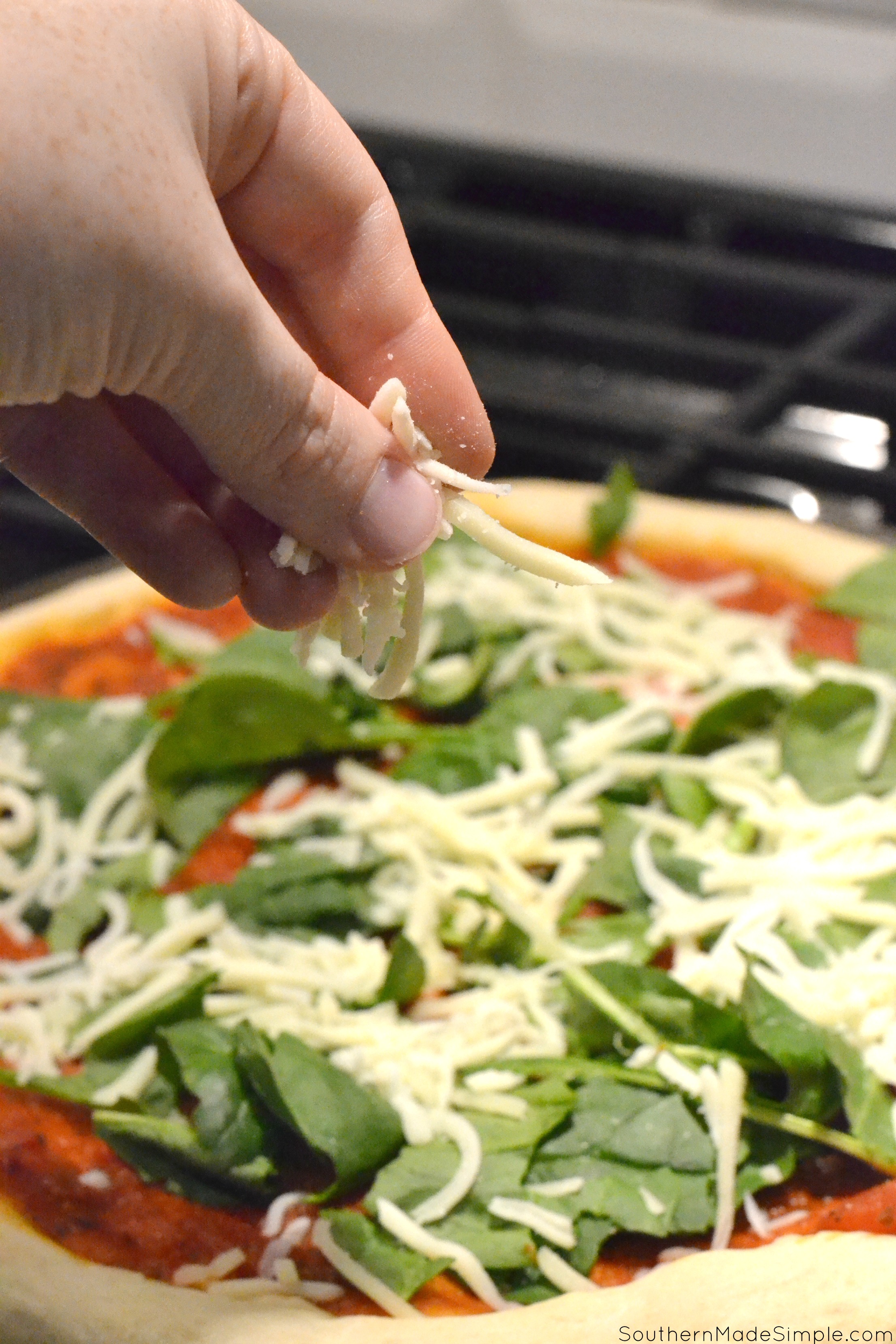 After spreading and docking the dough, we added a layer of tomato and basil pizza sauce and let it bake for 10 minutes. Then we added a bed of fresh spinach, a generous helping of Sargento Mozzarella & Provalone, a few handfuls of freshly cooked and chopped bacon, followed by another heap of shredded cheese on top. We popped it back into the oven for about 10 more minutes until is reached pizza perfection!
Here's a free printable version of the recipe if you'd like to give it a try!
BLT Pizza with Sargento Shreds
Ingredients
1

lb

uncooked pizza dough

6

strips thick cup bacon

1

cup

tomato and basil pasta sauce

1

cup

loosely packed fresh spinach

2

cups

Sargento Shredded Mozzarella & Provolone Cheese

divided

1/2

cup

cherry tomatoes

cut in half

1

small handful of fresh basil leaves

chopped

1

tsp

sriracha sauce

more or less to taste

1

tsp

red pepper flakes

optional

salt and pepper

to taste
Instructions
Preheat oven to 400 F

Cook bacon in a skillet or in oven until only slightly crispy (you want to be able to chop the bacon without it crumbling)

Spray a large pizza pan with non-stick cooking spray. Form pizza dough to fit pan, rolling the ends inward to create outer crust.

Using a fork, make several indentions in the dough to prevent it from bubbling up when cooking

In a medium bowl, combine pasta sauce and sriracha sauce

Spread sauce evenly over pizza and bake for 10 minutes

Remove from oven and add layer of spinach, half of the cheese, chopped bacon and remaining half of cheese

Bake for an additional 10 minutes

Remove from oven and add cherry tomatoes, salt, pepper, red pepper flakes and fresh basil

Serve immediately and enjoy!
---
When the pizza came out of the oven, we topped it with fresh halved cherry tomatoes and a handful of fresh basil leaves to tie the BLT and pizza flavors all together. I added a little salt & pepper on top, just like I do every time I make a BLT sandwich! Alternatively, you can add the cherry tomatoes to the pizza before baking to let them cook down just a bit, but I loved biting into their juicy freshness with each bite of pizza I took!
It's always a good time in our household when pizza is on the menu, and my husband and I always enjoy reminiscing about our old pizza-shop days. Comfort foods like this always have a special way of bring people closet together, and this BLT pizza made with Sargento Shreds was filling our bellies with all the goodness, and bringing a ton of smiles to the dinner table, too!
What makes the top of your comfort food list? Do you love to make homemade pizzas with your family? What recipe would you like to try using Sargento Shreds? I'm always looking for a new cheesy recipe to try, so leave a comment below and share the love! And before you head out to your local Publix, grab this coupon for $1 off 2 Sargento Shreds Coupon to save a little on your grocery bill!