This shop has been compensated by Collective Bias, Inc. and its advertiser. All opinions are mine alone. #GetJohnsonsBaby #ChooseGentle #CollectiveBias
At 11 weeks postpartum, I'm finally starting to get really comfortable with adjusting to life with a toddler and a newborn under my wing. Balancing life with two little ones has come with it's share of challenges, but one thing that has kept my husband and I mostly sane is maintaining solid routines with our two girls.
While establishing these new routines with our girls (and particularly our newborn,) we quickly discovered that some things that once worked wonders when our oldest was a newborn don't necessarily work so well with our newest bundle of joy. Products and parental techniques we swore by 3 years ago don't mesh as well with our little one in the here and now, and quite frankly it's thrown us for a bit of a loop when trying to figure out what's going to work for us.
Amazingly, the nap and bedtime routine that we established years ago with our oldest has proven to be nearly bulletproof with our second child, and we attribute that to these 3 tried & true techniques that have allowed us to snuggle more and stress less when it's time for our little one to go to bed!
Step 1: Bath Time with JOHNSON'S®
Stepping into parenthood for the first time can be totally overwhelming. It seems like there are a million different articles floating around out there that say this is good for your baby and that isn't. Parents are bombarded with opinions and "rules" from other parents about choosing products for their newborn, and it doesn't take long before worry starts to creep in and cause a big commotion in how you shop and care for your little one.
When I was pregnant with my oldest, I felt so much pressure to choose the "right" products before she arrived that I started creating spreadsheets that weighed out the pros, cons, review ratings and ingredient lists. It was crazy! For some reason, though, I felt pressured by society to go to that level of extreme for fear I would somehow harm my baby if I didn't sort through everything with a fine-tooth comb.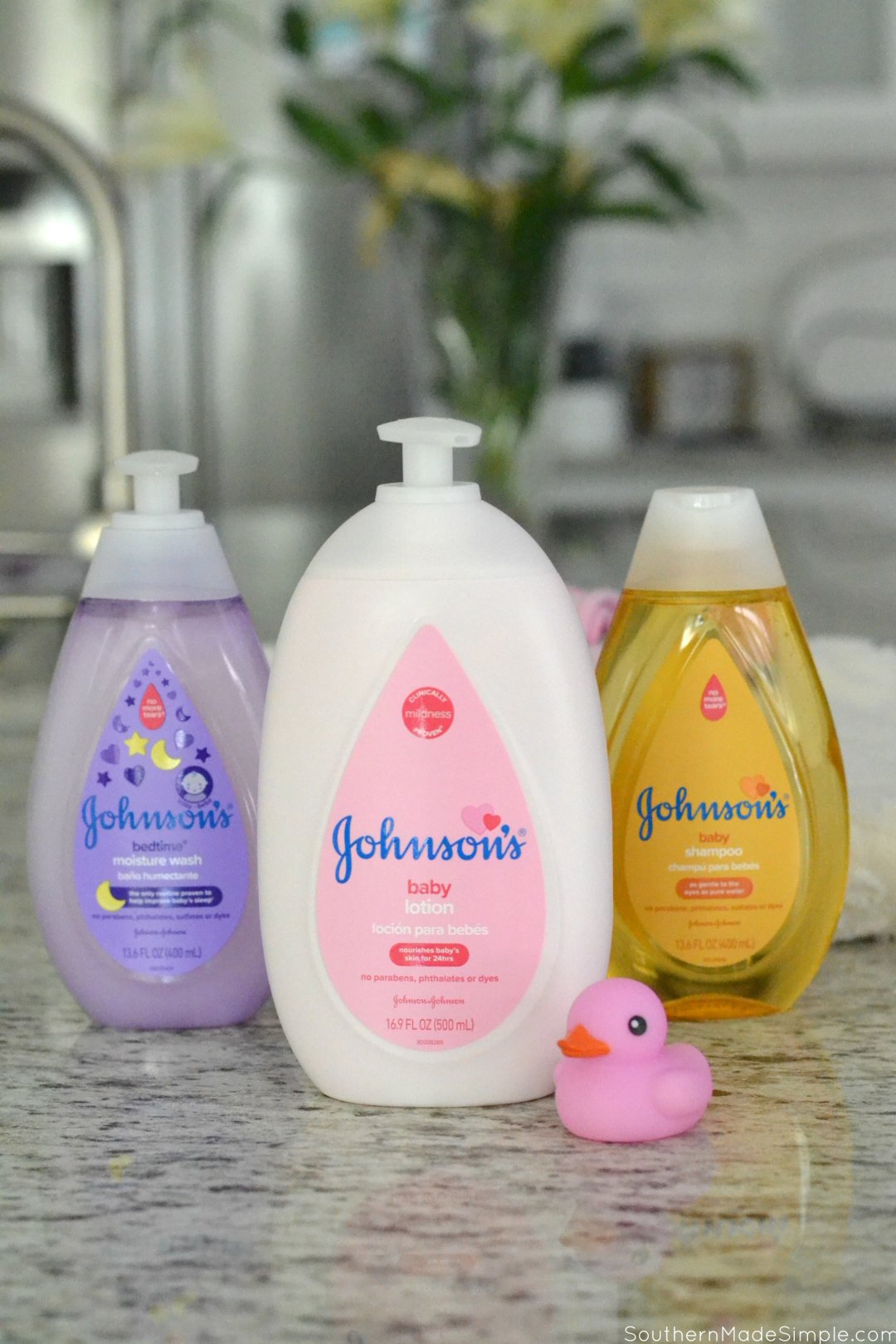 (Hover over the image above to find more info about these products and how to purchase them at Target!)
This time around, the choice for what to use on our baby during bath time was very, very simple. JOHNSON'S® products have been around for years and have stood the test of time with parents as being a top choice to use when it comes to their little ones, but did you know that they've recently reformulated their products to make them even better?
JOHNSON'S® never stops raising the bar when it comes to what's best for baby, and their unwavering commitment to safety and innovation is the foundation of everything they do. That's why their products now contain NO parabens, NO phthlates, and are hypoallergenic! In fact, their products are now created with 50% fewer ingredients, are free of dyes and sulfates, and are more naturally derived. Knowing a product is going to be gentle on my baby's skin is a top priority for me, and I can rest knowing that to choose JOHNSON'S® is to choose gentle!
During my most recent shopping trip at Target, I was delighted to see the newly reformulated products on display at the front of the baby care aisle. I noticed that they've added more easy-to-use pumps on many of their products, which makes life so much easier when you're hands are full while tending to a baby! During bath time in our house, we like to use JOSHNON'S® Gold Shampoo and JOHNSON'S® Bedtime Wash. I love that classic smell that they have and the gentle clean they give, and I have much more peace of mind knowing now these products are even gentler!
Step 2: Gentle Massage
After bath time, we dry off with a soft, fluffy towel and wrap our little one up in her baby bathrobe. We spend a few minutes with her to get her nice and relaxed before giving her a gentle massage using JOHNSON'S® Pink Lotion. We start with her legs and work our way up until she starts to get a little bit sleepy-eyed. I love this formula because it doesn't leave a greasy residue and smells absolutely heavenly! (Hello, new baby smell!)
Step 3: Swaddle
Once we've gotten her relaxed and calm, we lay out a swaddle blanket to wrap her up in. Newborns spend their whole life in the womb cramped up with their arms in front of them, so it' natural for them to flail their arms around and keep them up tight close to their face for a while after they're born. The swaddle helps bring their arms back to a normal resting place so that they don't accidentally scratch their face or wake themselves up with their arm movements. A swaddle resembles the comfort and close quarters of a womb, and we found that both our girl slept much more soundly when wrapped up.
By keeping steady with the routine of a JOHNSON'S® bath, gentle massage and swaddle, our nap and sleep schedule runs much more smoothly, and I spend far less time worrying about the products that I use on my baby these days. I find so much peace knowing that as long as I'm using JOHNSON'S® on my baby, she's in great hands!
Do you have a tried and true routine that you've established with your little ones that helps them sleep better during nap or bedtime? Have you entrusted JOHNSON'S® with your bundle of joy like we have? If so, leave a comment below and share the love! Don't forget to head down the baby aisle next time you're at Target to check out the new & improved JOHNSON'S® products, and rest assured that when you choose JOHNSON'S®, you're choosing gentle!