These 20 Healthy Halloween Snacks for Kids are a fun way to add a bite of nutrition to your Halloween season!
Yesterday I shared an alarming statistic in my Healthy Halloween Smoothie Roundup about the amount of candy Americans buy each year for Halloween. Even though Halloween is a celebration of all things scary, the commercial side is all about the sweets! Now I'm not going to act like I'm not of fan of sugary confections, but I do try my best to ensure that there is a healthy balance of sweet foods as well as health-conscious options in my family's diet – especially during this time of year.

Even though my toddler likes to give me a run for my money when it comes to finding foods she'll eat these days, she LOVES to help me cook and get creative in the kitchen, and any opportunity I can find to spend time with her doing something we both love, I jump on it! I've searched the internet high a low this week trying to find some cute and creative snacks that would be perfect for her to help me make that ditch the sugar and focus on more wholesome options. These are just a few of my favorite finds, and they're all put together by some pretty fabulous bloggers! Make sure you give them a visit and show them some love, too!
Pumpkin Cheese Spirals – C'est Maman qui l'a fait (scroll to bottom for instructions in English)
Scary Berry Cats and Bats – California Giant Berry Farms
Frankenstein Kiwis – Two Healthy Kitchens
Frozen Boo-nana Pops – Skinny Taste
Fruity Candy Corn Pops with Poisonberry Dipping Sauce – Feasting on Fruit
Spider Web Eggs – Martha Stewart
Halloween Fruit Kabobs – Katarina's Paperie
Vegan Boo Berry Bats – Bitter Sweet Blog
Witch's Broom Sticks – Mom Foodie
Pumpkin Patch Fruit Cups – Kid Friendly Things to Do
Silly Apple Bites – Fork and Beans
Pumpkin Snack Veggie Tray – I Heart Nap Time
Monster Eye Deviled Eggs – Tee Pee Girl
Savory Owl Snacks – Parents.com
Boo Berry Snack Balls – Real Mom Nutrition
Ghostly Hard Boiled Eggs – Kid Friendly Things to Do
Monster Spinach Ice Cream – Chocolate and Carrots 
If you like this collection of Healthy Halloween Snacks, you'll definitely want to check out these Healthy Halloween Smoothies for kids, too!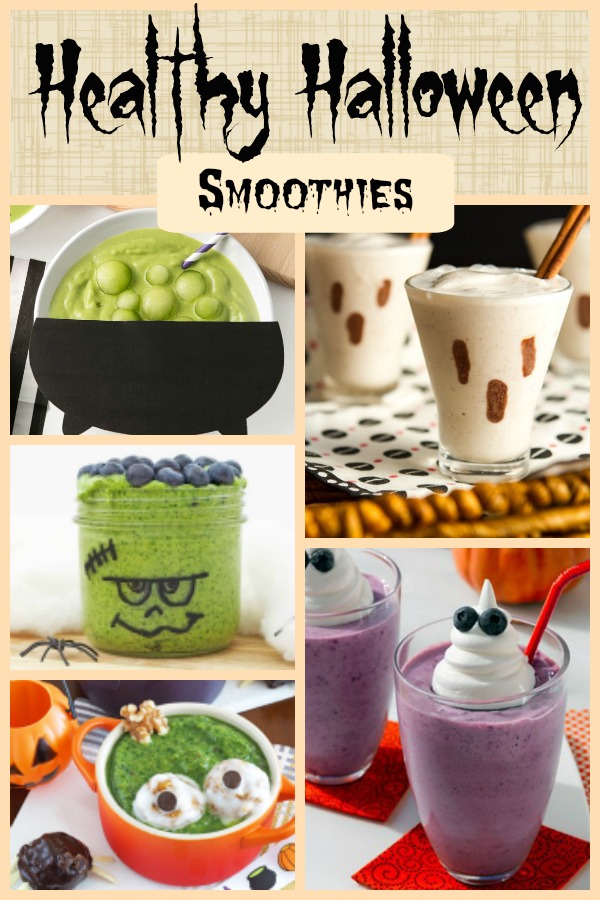 Do you limit the candy intake at your house during Halloween? Do you have another fun idea for Healthy Halloween Snacks for kids? Which one listed above is your favorite? Leave a comment below and share the love!