I absolutely love a plump juicy tomato. There was a time in my life when I wasn't a huge fan of them (unless it was in salsa and maybe a small sliver on a burger), but I credit my husband for getting me to eat them more frequently over the past few years. We planted a few tomato plants in our garden this year and we've been fortunate enough to have several produce. In fact, they're producing a little bit faster than I can eat them!
Earlier this week my grandmother sent me home with a sack full of beautiful tomatoes. I had a few already sitting in my window that really needed to be eaten, but you just don't turn down fresh tomatoes! So I decided to "put them up" as we say in the South. I really wasn't interested in canning them, so I went the easy route and prepared them for the freezer.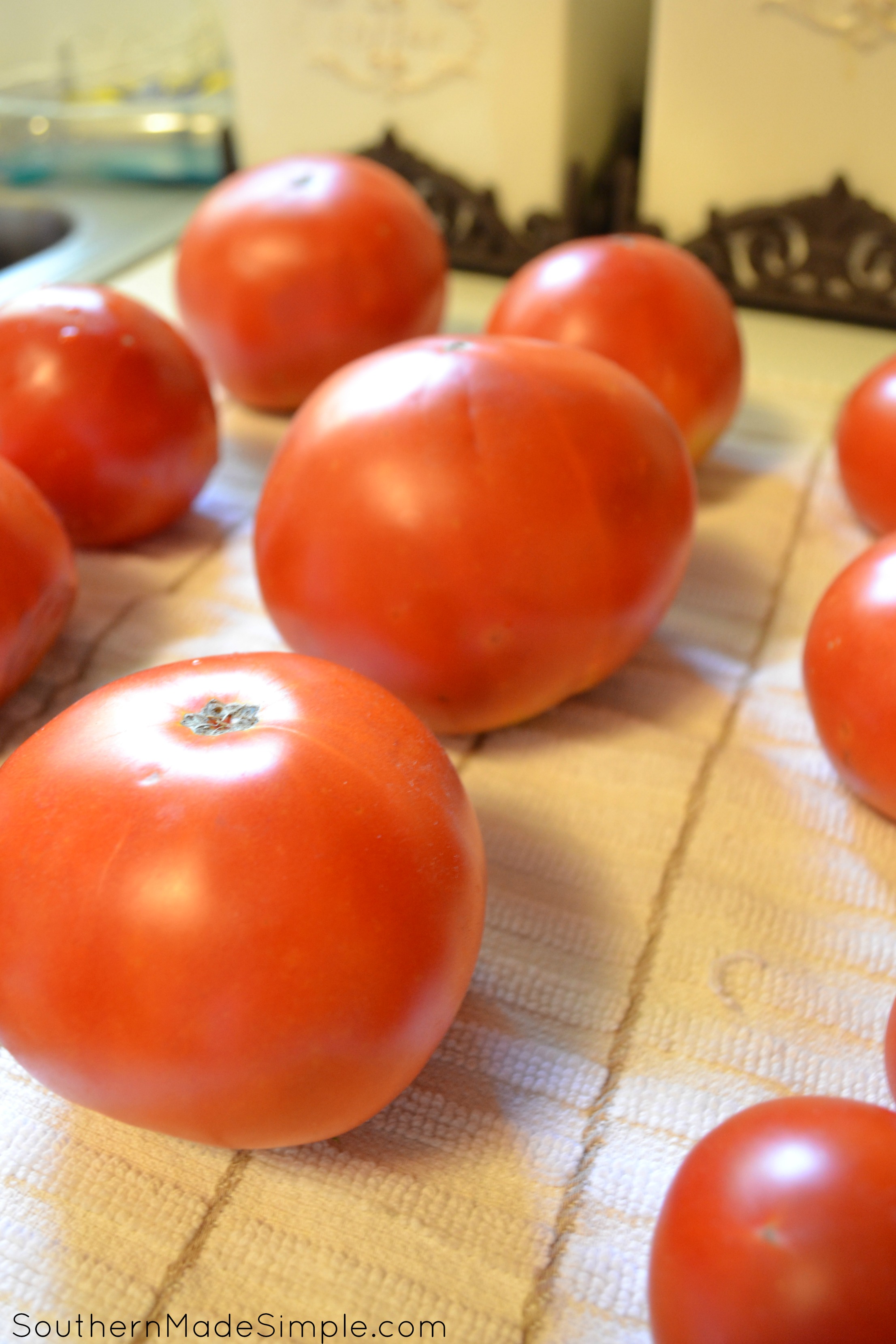 I love being able to pull out a bag of summer-time tomatoes from the freezer in the dead of winter (or any time of year). They make the soups and chili that like to make during the colder months truly scrumptious. MUCH better than any ol' can of tomatoes would do! And that's exactly what I like to do with them!  I like to go ahead and dice them when I freeze them, but you can certainly freeze them whole if you'd like.
Sometimes people think that prepping veggies to put away in the freezer is too time consuming or difficult, but it's truly neither of those things! In fact, I'll show you just how easy it can be. Are you ready? Here we go!
First, get out a large pot and fill it with water. Let it sit on the stove until it comes to a rolling boil. While you're waiting on that, go ahead and pull out a couple of freezer bags and write the date on them. I used quart sized and pre-measured each bag to have roughly 2 cups of tomatoes each. I did it this way because that's about how much I add to my favorite soup and chili recipes. You can divide your tomatoes however you'd like!
Once the water is boiling, set each tomato down into the water and allow it to boil for roughly 2 minutes, or until the skins start to crack. (See picture below)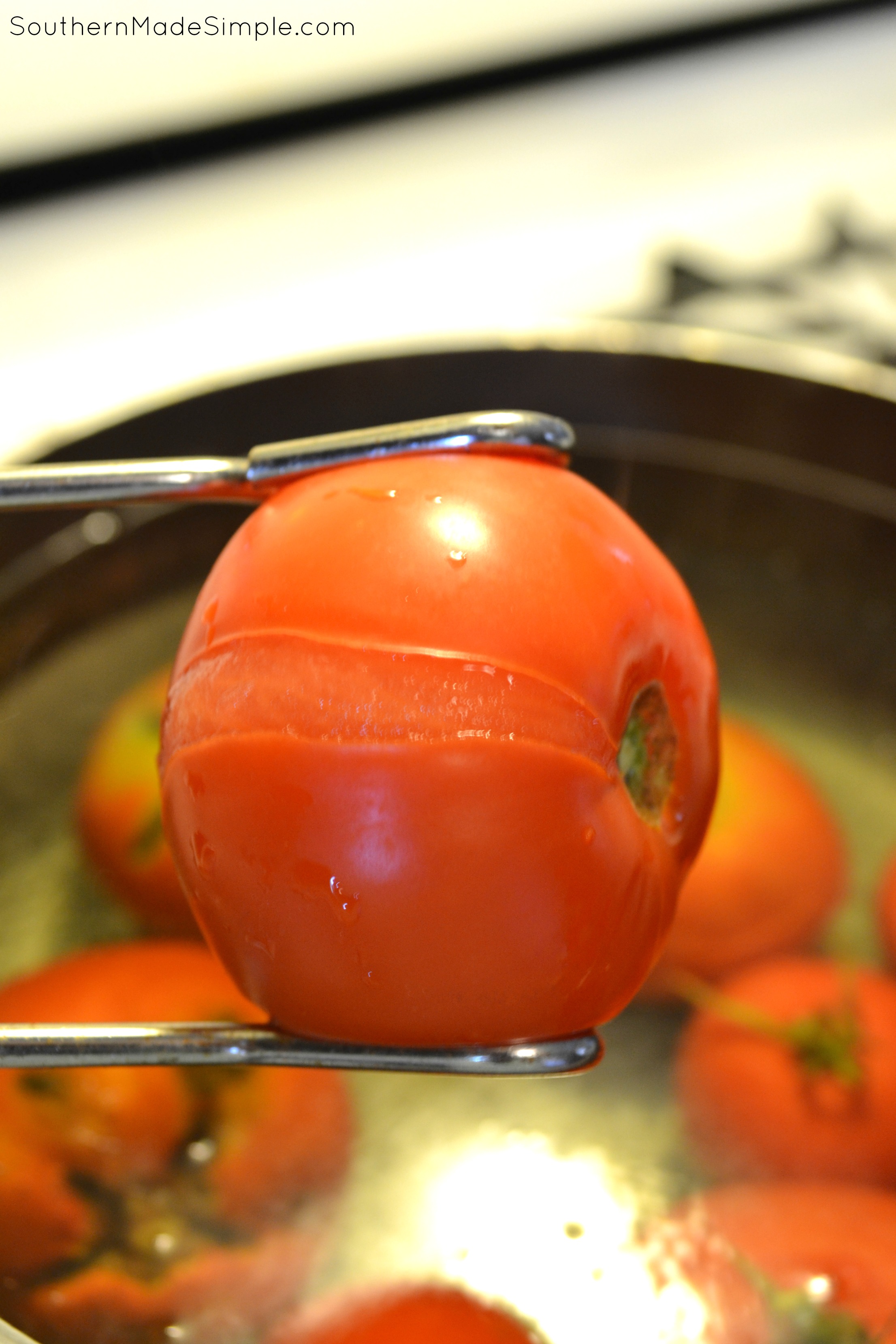 Once they've cracked, remove them from the water with a pair of tongs and set them on a kitchen towel to cool. You'll want to give them about 20-30 minutes to fully cool before the next step. While you're waiting on them to cool, go ahead and grab a small bowl and a large bowl.
Once the tomatoes have cooled enough to handle, peel the skins off of each tomato over the small bowl. The bowl will catch the skins and any juice that starts running out of the tomato. Once they're peeled, place them in a large bowl.
(Note: If you're not in a big hurry, you may want to consider sitting the peeled tomatoes on a baking sheet and placing them in the freezer for about an hour to firm up before cutting. Doing this will prevent them from losing a ton of juice when you start to chop them. However, this step is not completely necessary, just a lot less messy!

Using a knife, chop each tomato carefully into the desired size and put into a bowl with a spout (I used a measuring cup). Once you have enough tomatoes to put into the bag, pour off some of the loose juice that collected in the bowl and dump tomatoes in the freezer bag. Try to squeeze out any excess air and lay flat to freeze so they take up less space and will thaw quicker.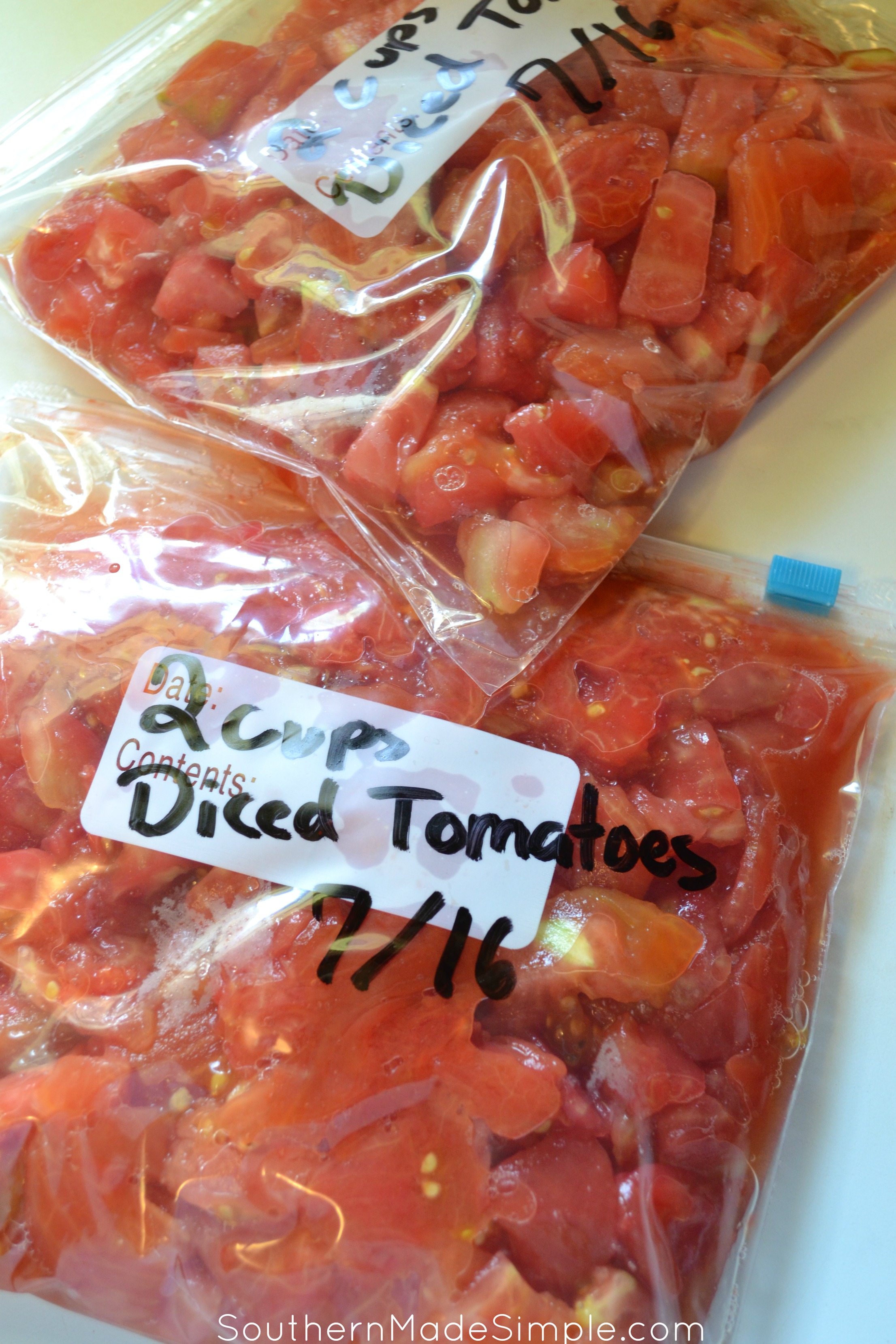 And that's it, y'all! See how easy that was? No need to ever let another tomato over ripen or go to waste. Just complete the steps above and freeze those tomatoes so you can enjoy them all year long!
Do you love tomatoes as much as I do? What is your favorite way to eat them? Do you have a special recipe that calls for diced tomatoes? I'd love to hear all about it!
Do you have a bumper crop of fresh squash or carrots you need to put up as well? I've got two more tutorials that might help you out!