This shop has been compensated by Collective Bias, Inc. and its advertiser. All opinions are mine alone. #UncleBens #FlavorInfusions #CollectiveBias
Now that summer is in full swing, my daughter and I have been a pair of busy bees attending all of the fun children's events that have been taking place in the area. Just the other day I had to grab my calendar and schedule all of the activities taking place because it had gotten to where I couldn't keep track of it anymore! On top of all of our weekly outings, I decided to enroll her in a baby gymnastics class that meets once a week. I feel so lucky to live in an area that has put such a big focus on children's learning and physical activity. Living in a very rural part of the state, all of these free public events are a rare treat that are really making our summer extra special!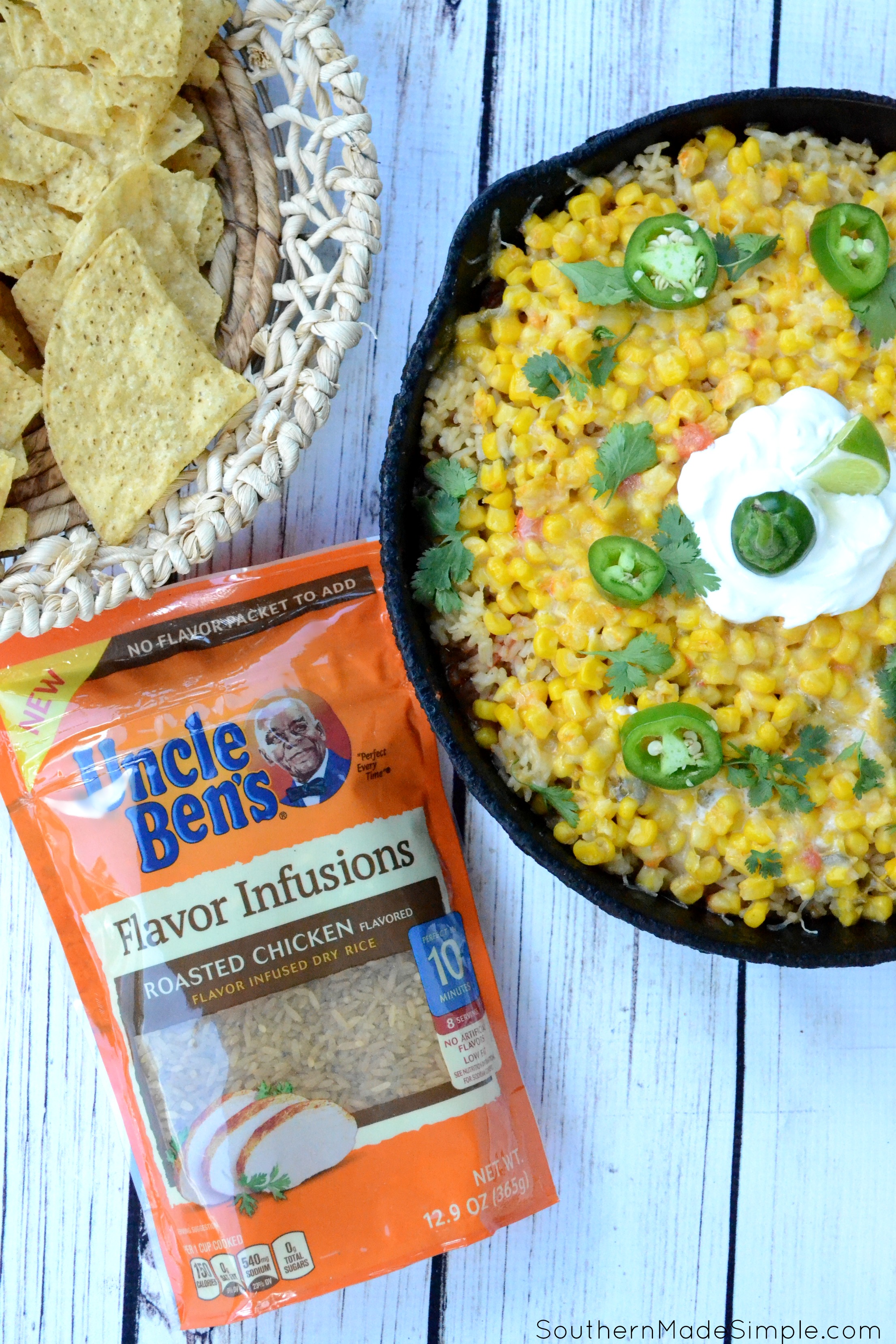 And because of all of the fun we've been having this summer; it has taken us away from the house and my normal work routine. For a while I had been in the habit of planning out our weekly meals, but now I find myself scrambling in the afternoons to find something that is quick, easy and delicious without the fuss of dirtying up extra dishes and lots of extra prep work.
When we've had an extra long day and time gets away from me, I love to pull out my recipe binder and flip to my collection of stove top meals that can be put together in a jiffy. Earlier this week I had a serious craving for a cheesy chicken burrito, but I knew I didn't have the time or energy to prepare them for dinner. That's where my Cheesy Chicken and Rice Burrito Dip came in to save the day!
Aside from being a quick and easy dinner that's ready in less than 30 minutes, this dish is bursting with some seriously delicious flavors thanks to my latest obsession and not-so secret weapon that I now keep stocked in my weeknight dinner arsenal:  Uncle Ben's® Flavor Infusions. This handy dandy creation takes the hassle out of making perfectly seasoned meals and requires no special sauces or flavoring packets to achieve the perfect taste! Uncle Ben's® Flavor Infusions is the only rice that's ready in just 10 minutes and has natural herbs and spices infused into each grain. Just pour into your pot, boil according to the package instructions and voila!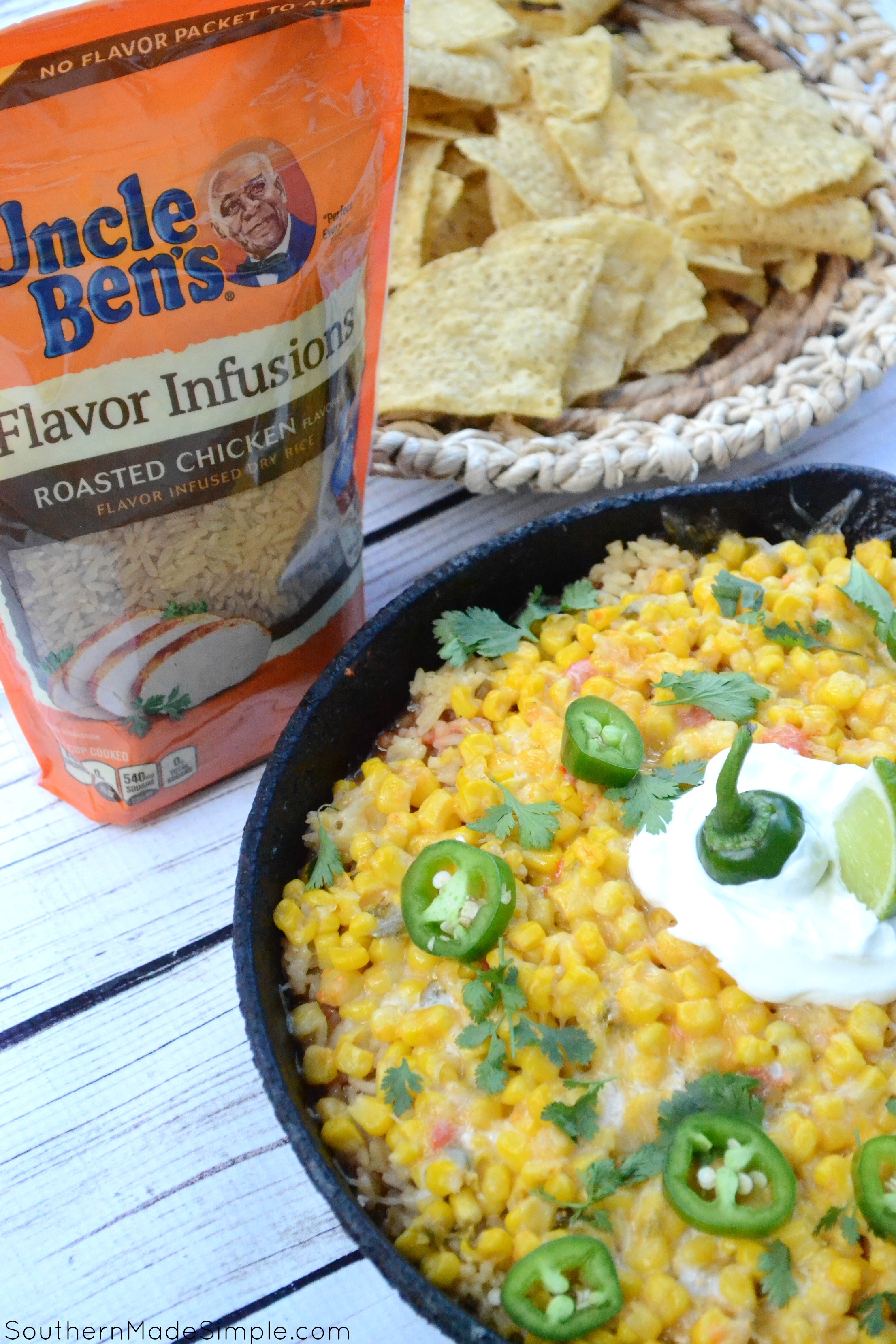 While Uncle Ben's® Flavor Infusions make a pretty amazing side dish, it REALLY adds something extra special when you utilize it as part of the main meal. To make my Cheesy Chicken and Rice Burrito Dip, all you need is a package of your favorite flavor of Uncle Ben's® Flavor Infusions rice and a few canned goods that you probably already have stashed away in your pantry!
During my most recent trip to Walmart, I made a pit stop down the rice aisle to stock up on a few flavors of Uncle Ben's® Flavor Infusions, plus a few of the other ingredients I knew I'd need. You can find the new Uncle Ben's® Flavor Infusions in the following flavors:
Uncle Ben's® Flavor Infusions Chicken and Herb
Uncle Ben's® Flavor Infusions Garlic and Butter
Uncle Ben's® Flavor Infusions Roasted Chicken
Uncle Ben's® Flavor Infusions Spanish Style
Uncle Ben's® Flavor Infusions Parmesan & Butter
For this recipe, I used Uncle Ben's® Flavor Infusions Roasted Chicken, although I think many of the available flavors would be absolutely delicious in it!
To whip up your own batch of Cheesy Chicken and Rice Burrito Dip, first pour out two serving sizes of Uncle Ben's® Flavor Infusions Roasted Chicken and prepare on the stove according to the package instructions. While the rice is cooking, go ahead and get out the remaining ingredients and have them ready.
Once the rice is done, transfer it to a bowl and spray your skillet with non-stick cooking spray. Add a can of refried beans and spread evenly throughout the bottom of the pan. Next, pour about half of the bowl of rice over the beans, followed by a layer of shredded cheese.
Open up a can shredded chicken and pour over the layer of cheese. Cooked rotisserie chicken is also a really tasty option! You can of course prepare your chicken however you'd like, but I chose canned chicken to keep this recipe super quick and simple.
Then pour a layer of salsa over the chicken, followed by the remainder of the rice, a layer of Mexican corn and one final layer of cheese. Cover the skillet with a lid and cook on the stove top on medium-low heat, just long enough to make the cheese nice and melty and the dish completely warmed all throughout. Alternatively, you can also pop the skillet in the oven to warm as long as you use an oven safe skillet. I served my dip with a dollop of sour cream, fresh cilantro and a smidge of lime juice to make it really feel like a true Mexican fiesta dip! This dip is best served with tortilla chips, but would also be great on crackers or pita bread!
Here's a free printable copy of the recipe if you'd like to give it a try!
Cheesy Chicken & Rice Burrito Dip
Ingredients
1

cup

Uncle Ben's® Flavor Infusions Roasted Chicken

prepared according to package instructions

1

can re-fried Beans

1

cup

shredded cheese

I used a Mexican blend - divided

1 12.5

oz

can of shredded chicken

1 1/2

cup

salsa

1

can corn

drained (I used a Mexican style corn blend)

Optional:

Sour cream

topping

Fresh jalapenos

topping

Fresh cilantro

topping

Tortilla Chips
Instructions
Prepare Uncle Ben's® Flavor Infusions Roasted Chicken according to package instructions, set aside

Spray a large skillet with non-stick cooking spray

Spread 1 can of re-fried beans evenly across the bottom of the skillet

Pour about half of the cooked rice over the re-fried beans

Spread 1/2 cup of shredded cheese over rice

Spread 1 can of shredded chicken evenly over cheese

Top chicken with 1 1/2 cup salsa (your favorite kind)

Add remaining rice on top of salsa

Drain 1 can of corn and pour over salsa

Top with remaining cheese and cover the dish

Heat on the stove on medium-low heat long enough for the cheese to melt and for the entire dish to be heated throughout

Optional: Add your favorite toppings and serve with tortilla chips
---
This dip is the perfect dish to take to a party or to share with your family for a weeknight meal. It's easily reheated, can be customized to include any of your favorite ingredients, and the leftovers are even better the next day! Uncle Ben's® Flavor Infusions contain no artificial flavors or preservatives, and just one bag is enough to feed an entire family! Each bag contains 8 servings, but it's resealable so you can prepare as much or as little as you'd like at one time. Talk about convenient!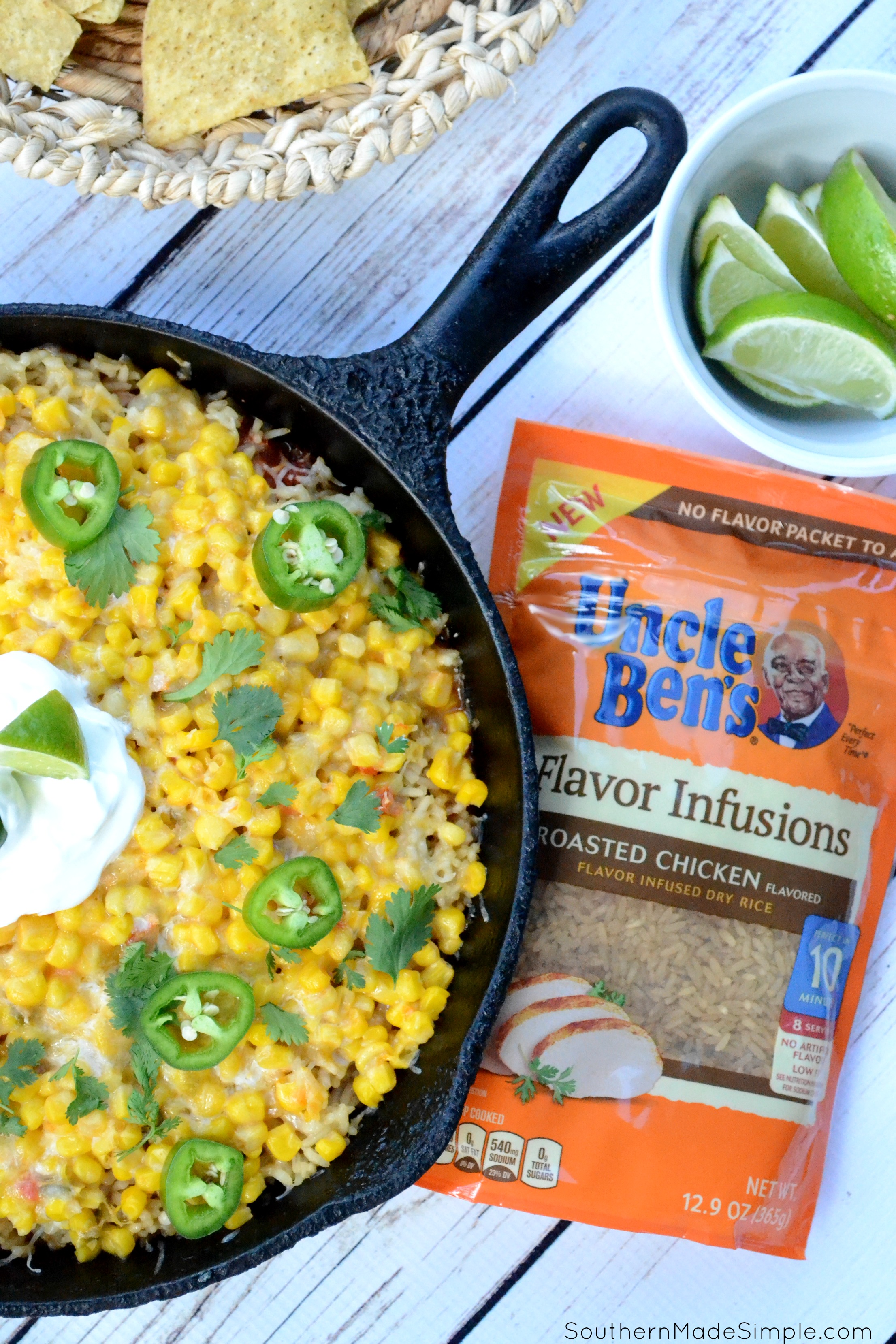 If you're in need of a one pan stove top solution for dinner that's packed with some seriously awesome flavors, give this cheesy chicken and rice burrito dip a try!
Do you have any go-to recipes that you like to pull out when life gets a little busy and you're crunched for time? Do you have a yummy recipe that calls for rice that would be extra delicious using Uncle Ben's® Flavor Infusions? Leave a comment below and share the love!
Looking for more recipes and dinner inspiration? Click here for the latest recipe ideas from Uncle Ben's® Flavor Infusions!