I'm just gonna be real with y'all for just a minute here. I have no idea how to handle cold weather. I don't like it. My body does not adapt. I cannot compute. My bones lock up and my mind cannot even process how to handle snow. That may sound insane (and a little petty) to many of you that are from an area where snow is pretty common, but in my neck of the woods snow is super rare. In fact, it seems like the whole state of Alabama just shuts down when the weather forecast even hints at the possibility of snow.
Don't get me wrong, though. I do like cooler weather. I don't mind breaking out a light jacket to go outside and I definitely enjoy it not being humid outside, but the frigid coldness that we've experienced this weekend is pretty close to miserable to me. The only plus side to cold weather in my opinion is getting to curl up on the couch with a blanket and a big bowl of warm chili or soup. Food is definitely one of my primary love languages, and my Venison Sausage Chili speaks directly to my heart and warms it right up!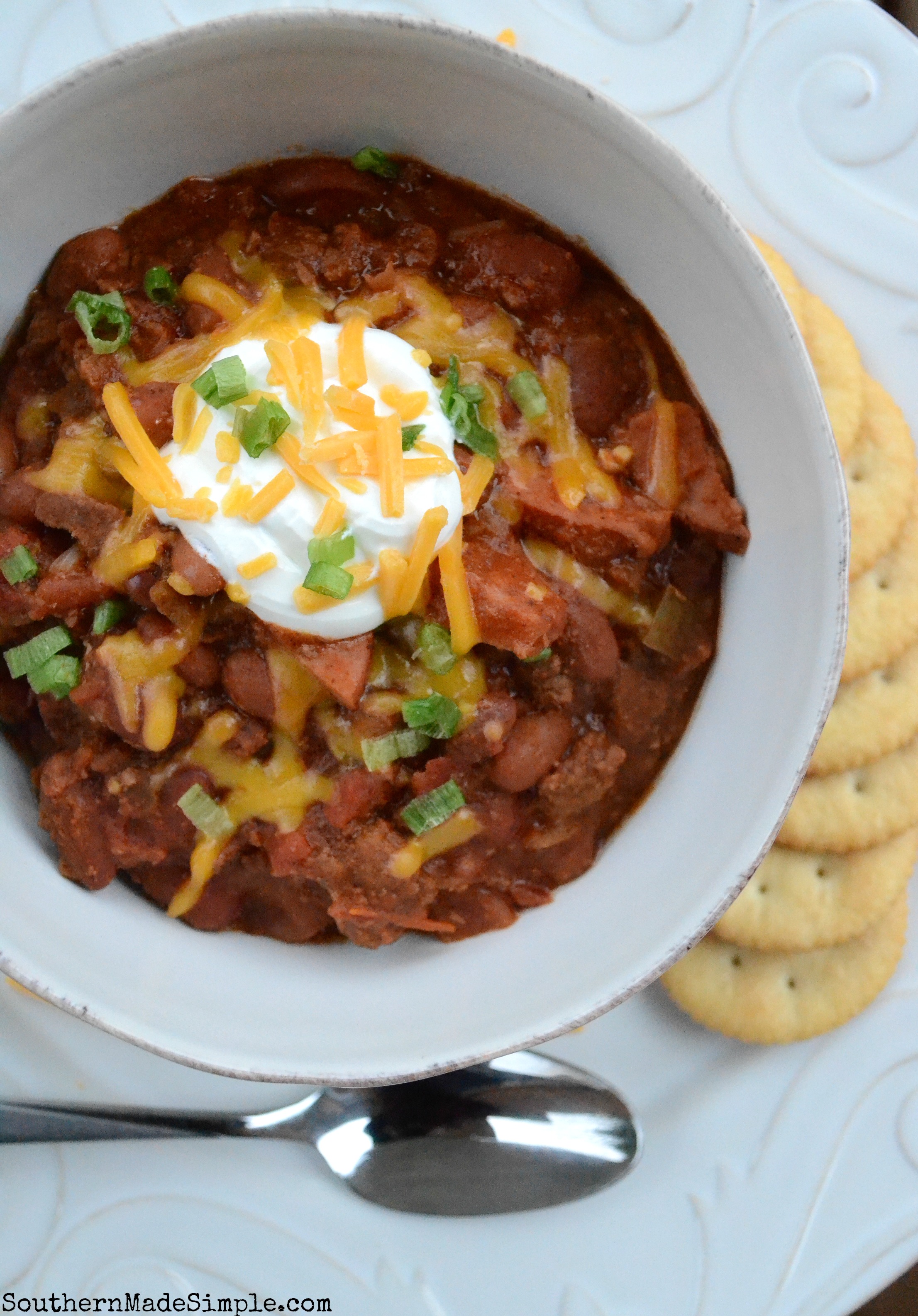 My husband is a rock star and keeps our freezer stocked with venison meat all year, so venison is basically always on the menu! I love cooking with ground venison especially because it's really no different from using ground beef. There's nothing that has to be done differently to it to prepare it, and it's actually much leaner and healthier than beef. I like to add a little Worcestershire sauce to it when cooking it to help eliminate any gamy taste that it might have. It's just heavenly in a dish like chili, because all of the flavors of the seasoning, beans and other ingredients simmer together and make a big bowl of deliciousness!
If venison isn't your thing, you an always sub in ground beef instead of the deer meet. Here's a free printable copy of my recipe if you'd like to give it a try!
Venison and Sausage Chili
Ingredients
1

lb

ground venison meat

1/2

lb

Conecuh sausage - chopped into small rounds or pieces

2

Tbs

Worcestershire Sauce

1 14

oz

can pinto beans

drained and rinsed

1 14

oz

can red kidney beans

drained and rinsed

1 14

oz

can chili beans

drained and rinsed

1 15

oz

can diced tomatoes

1 10

oz

can Rotel

or tomatoes with green chilies

1

small sweet onion

peeled and diced

1

medium green bell pepper

seeded and diced

2

Tbs

minced garlic

1

packet mild chili seasoning
Instructions
In a large pot over high heat, scramble venison mean until done. Add in pinto, chili and kidney beans, tomatoes and Rotel and stir

In a separate pot add sausage and allow to sizzle for just a few minutes, or long enough to gather a little grease in the pan. Transfer sausage to pot with the venison meat, but reserve the grease drippings

Add garlic, onions and bell pepper into pot with sausage grease and cook for a few minutes until onions and bell peppers reach your desired texture

Pour onions and bell pepper into pot with remaining ingredients and add in 1 packet of chili seasoning and stir

Bring pot to a boil and stir

Reduce heat and allow to simmer for 30 minutes

Serve with sour cream, shredded cheese, and chopped green onions (if desired)

Enjoy!
---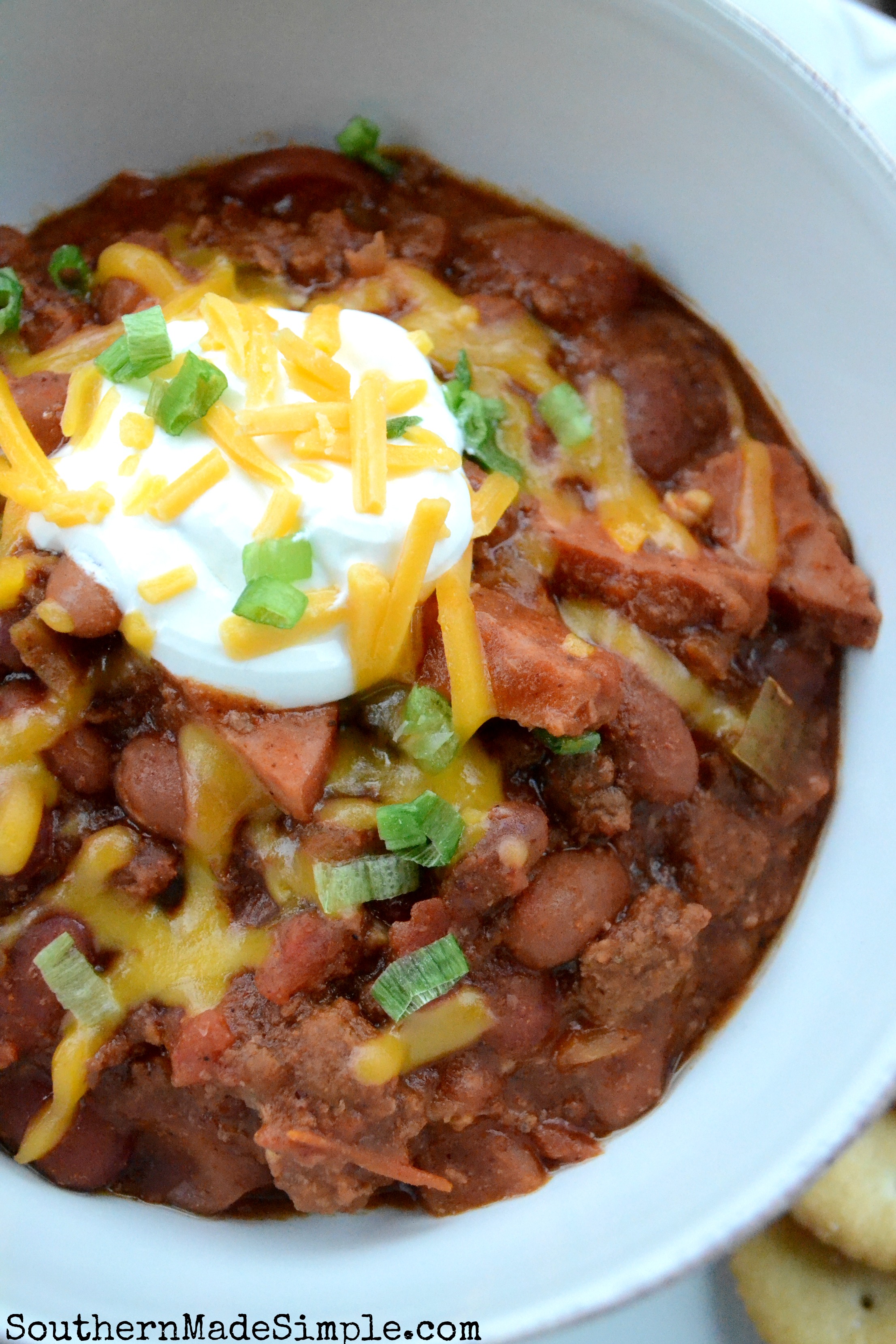 If you're sitting at home wondering how on earth you're going to survive through this cold winter season like I am, whip you up a batch of this delicious chili to help you get your gears moving again and enjoy the small perks of the season…like filling your tummy with a bowl full of warm chili! 🙂
Looking for more delicious venison recipes? I happen to have a few! Give these a try: