Last week I made these absolutely divine mini taco bites using filo cups. I had actually never used filo cups before, but after spotting them in the freezer section at my local grocery store, I thought I'd give them a try! I was originally attracted to them by the idea that you can use them for pretty much anything. You can make desserts, appetizers, or even a meal out of them if you really wanted to! They're golden, flaky and oh so tasty!
I picked up two packages, one for the taco bites and the other to use for anything that popped into my mind. I was baking in my kitchen one afternoon and noticed that the recipe I was using called for only half a brick of cream cheese. I had already let the cream cheese soften, so I needed to come up with another use for the cream cheese soon.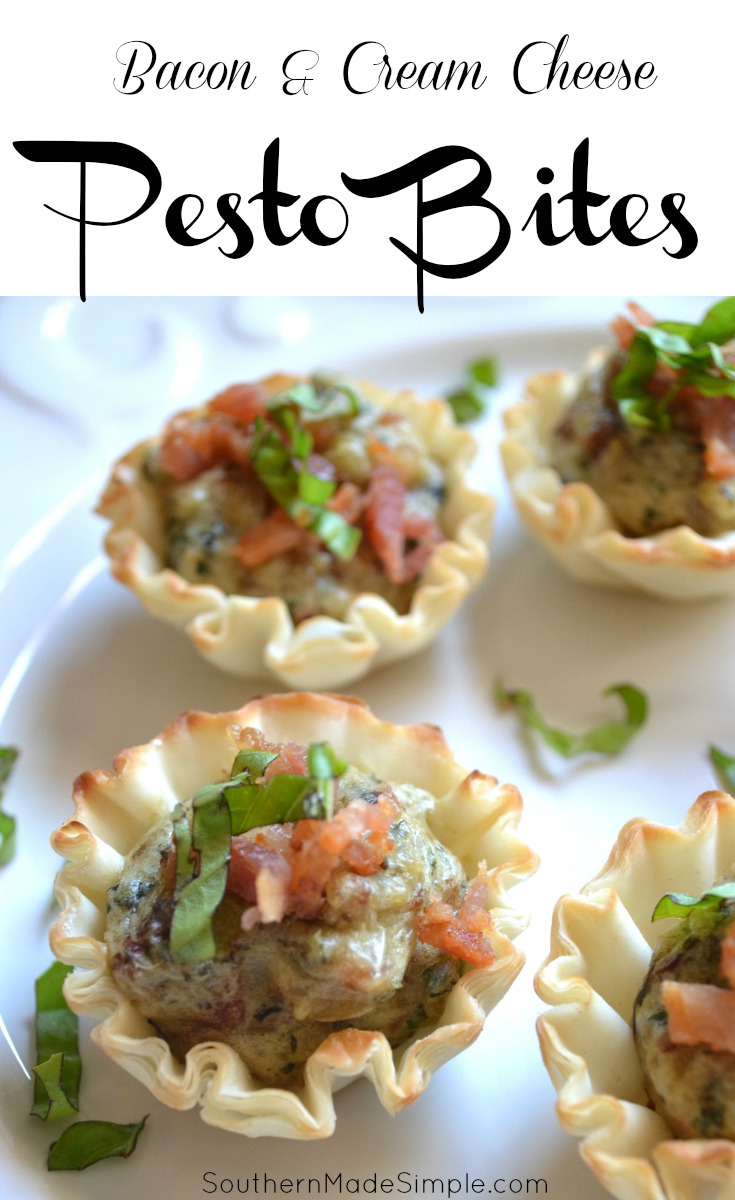 I took a peek inside my fridge to see what I could add to make something great. I pulled out my jar of homemade pesto and some bacon. Really, I think both of those things go well with most things, so I knew they'd probably be great mixed together with the cream cheese. I got down my favorite mixing bowl and started mixing everything together. After my first taste, I decided the filling would be great inside the extra filo cups I had bought.
Bacon and Cream Cheese Pesto Bites
Ingredients
1/2

brick

or 4 oz cream cheese, softened

1/2

cup

pesto

see recipe in post if making your own

5-6

slices

bacon

cooked and chopped

1

tbs

sugar

1 15

count package of frozen pre-made filo cups

You can also make your own

Fresh basil for garnish

optional
Instructions
Preheat oven to 350 F

Cook bacon slices according to package. You want the bacon to be soft and not crisp.

Dice bacon with a knife (I used herb sheers. Reserve some bacon for garnish.

In a large bowl, combine cream cheese, sugar, pesto and bacon. Mix well.

Fill each filo cup with mixture and place on baking sheet.

Cook for 10 minutes or until mixture is hot and filo cups are crisp.

Garnish with additional bacon and basil if desired.

Enjoy!
Notes
You can easily double this recipe to feed a larger crowd
---
So I filled each cup, popped them in the oven for 10 minutes, and out came these delicious bacon and cream cheese pesto bites!
I wound up eating them with some fresh vegetables for supper that night with my husband, but I think they'd be more suitable as a super simple appetizer to take to a gathering or to serve at a party. The recipe doubles easily, so make as many as you'd like!
Do you ever cook using filo cups? If so, what sort of things do you like to put inside them? I'd love to learn how to make them from scratch one day. I definitely see myself making them a staple item in my cooking!