Sugar roasted pecans are just like candy, only way better. Hold on to this recipe. It's a keeper!
Because we live roughly 3 hours from the gulf coast, we make fairly frequent trips down to the beach for quick little getaway vacations. My oldest daughter loves to go because of the waves, my husband loves to go because of the pier, but my favorite part of going to the beach? Well, you'll probably get a kick out of this one. The sun, surf and sand are all well and good, but when it comes to heading down to the beach, I've got my eyes on one prize and one prize only:
Buc-ee's Sugar Roasted Pecans
Now I'm sure you're probably asking yourself a few things here. Who is Buc-ee? Where do you get his pecans? Are they really better than the beach itself? Those are all fair questions. Let me fill you in:
Buc-ee the bever is brand new to the state of Alabama, and quite frankly I think he should become our new state mascot. Buc-ee's is a mega gas station franchise that originated in Texas that is unlike anything I've ever seen. They say everything is bigger in Texas, and judging by the size of this particular 200 gas-pump tourist attraction located in Robertsdale, AL headed towards the beach, I'd certainly say they're telling no lies. If you were to take a Cracker Barrel, Golden Corral and the nicest, biggest and cleanest gas station you've ever seen and merge them together, you'd have a Buc-ee's.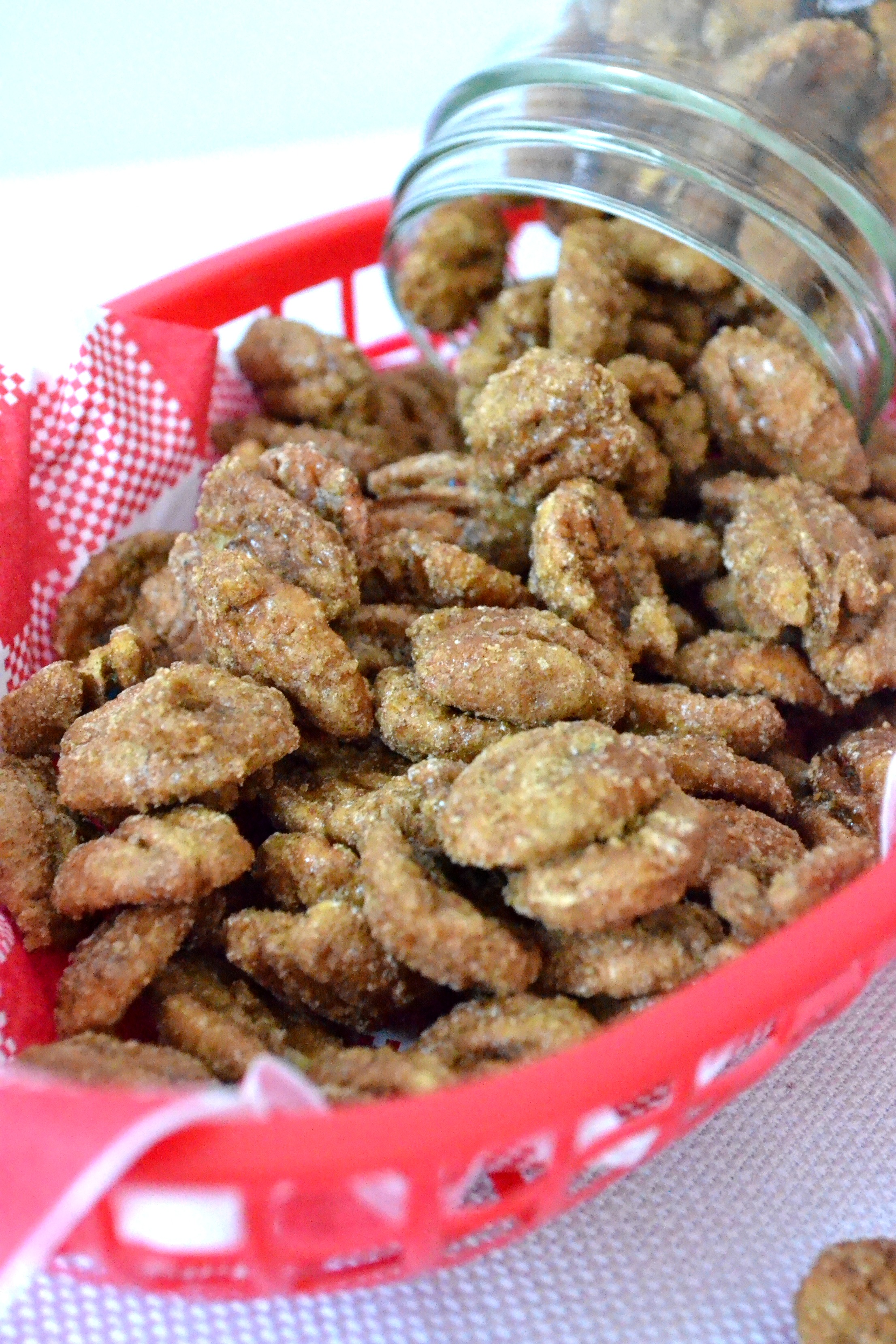 But the best part about this must-stop station is none other than their golden sugar roasted pecans. You think a hot Krispy Kreme donut is good? Wait until you try these pecans when they pull them out of the oven. Have mercy on my soul, y'all! We have to stop on the way down to the beach and on the way back home every single time we go, and it very quickly became my favorite part of the whole entire trip!
Their pecans sparked the inspiration for me to attempt to recreate their sugar roasted pecan recipe. I didn't hit it on the head, but I'd definitely say that I'm in the ballpark. These are just like candy and are totally addicting! Here's my recipe if you'd like to give it a try:
Sugar Roasted Pecans
Ingredients
1

lb

pecan halves

1

egg white

4

tsp

water

1

Tbs

vanilla butter nut extract

1

cup

white granulated sugar

2

tsp

cinnamon

3/4

tsp

salt
Instructions
Preheat the oven to 250 F

Line baking sheet with parchment paper

Using a mixer, beat egg white until frothy. Add in water and extract and continue mixing

Stir in cinnamon, salt and sugar

Add in pecans and coat with egg mixture completely using a large spoon

Spread the pecans onto the baking sheet and bake for 1 hour, being sure to stir every 15 minutes

Enjoy!
---
If you're planning a road trip this summer, mix up a batch of these pecans and toss them in a Ziploc bag to take on the road with you. They'd be amazing mixed into a homemade trail mix, too!
Do you have a favorite pit-stop location that you love to stop at on your way to and from your vacation destinations? Have you ever visited a Buc-ee's gas station before? Leave a comment and share the love below!
Looking for more pecan goodness? Check out my recipe for Mini Pecan Pie Trifles!