This shop has been compensated by Collective Bias, Inc. and its advertiser. All opinions are mine alone. #SKSHarvest #SeasonalSolutions #CollectiveBias
We've been enjoying some gloriously comfortable temperatures in my area this past week, and it's been such a welcomed change from our otherwise uncomfortably humid and sultry temps we typically experience during this time of year. With the promise of fall swaying in the breeze, it's no secret that my mind has been operating on all-things-autumn since the moment the daily high dropped down into the 80's. It doesn't take much for me to get excited, y'all. Break out the boots and sweaters, because I'm ready to fall in love with fall all over again!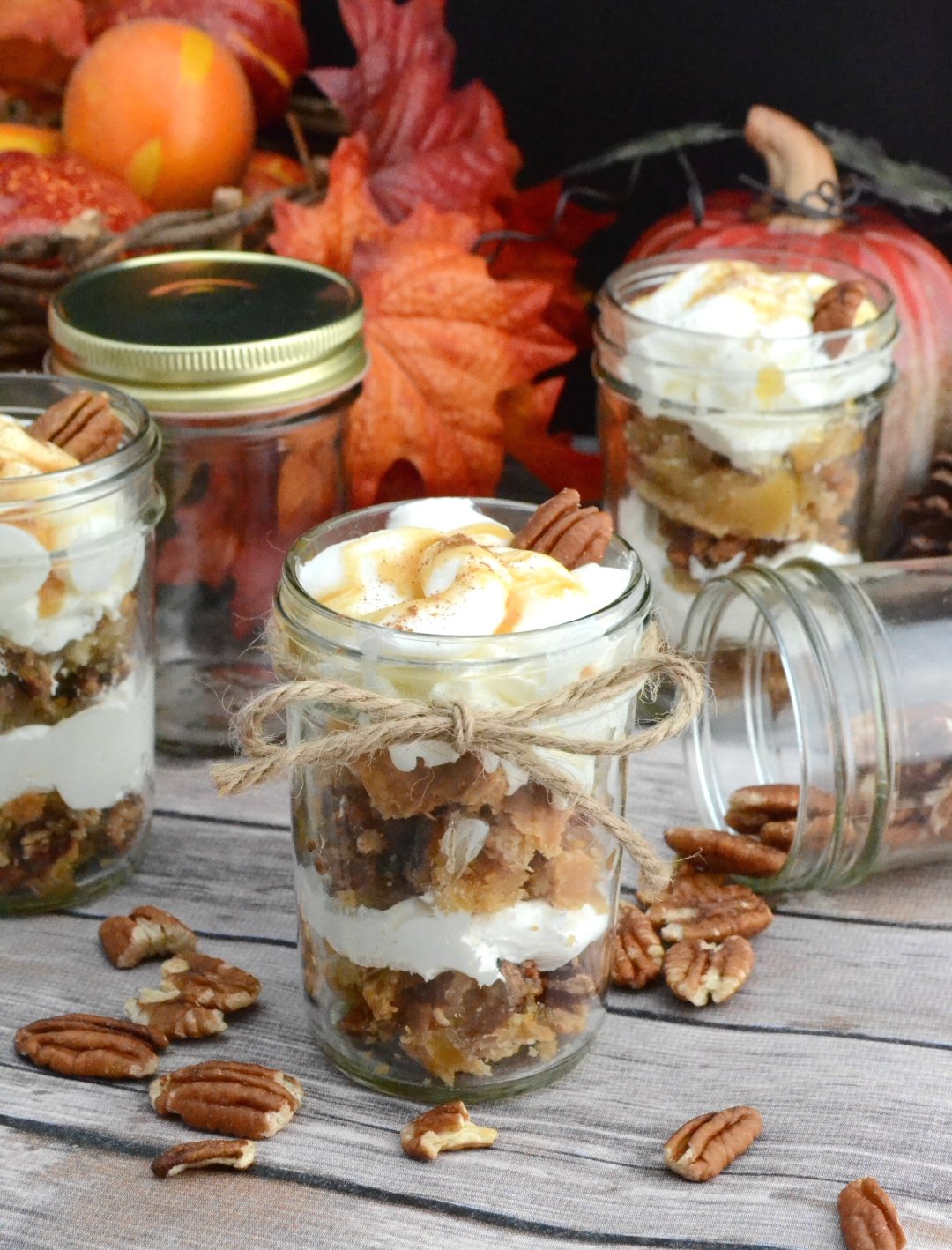 Hover over this image to shop the jars I used!
And while I've been occupied with visions of pumpkin spice recipes dancing in my head, my southern roots don't let me easily forget what dish is the real MVP is when it comes to celebrating the fall season and being the life of a party.  Friends, if you don't already know this simple truth, go ahead and grab a pen and write this one down:
It's not a party 'til someone brings a pecan pie.
Sure, I'm pretty partial to my pumpkin recipes, but there's always beauty in going back to the basics. If you're looking for a special treat to serve to a crowd that perfectly embodies the fall season, you'll never go wrong with good ol' fashioned pecan pie. And you can take that to the bank!
And just when I thought I couldn't think of many things more glorious than a slice of gooey pecan pie on a plate, I decided to switch things up just a tad and give pecan pie a little bit of a face lift. My Mini Pecan Pie Trifles are a fun twist on this classic southern dish, and making them is as easy as 1-2-3!
First, you'll need to grab a few simple ingredients to make a traditional pecan pie. If you want to get a little fancy-pants with this step and make a pie crust from scratch, by all means go for it! For me, I prefer to keep things a little more simple and stick with the basics. There's no shame in my store-bought-crust game! 😉

Using a hand mixer, I combined a little bit of flour and sugar with two beaten eggs. Next I added in some corn syrup, melted butter, vanilla and salt and continued to blend together for about 2-3 more minutes. I poured the creamy mixture into the pie crust and sprinkled about 2 cups worth of chopped pecans over the top of the pie and baked in the oven until it reached pecan pie perfection.
(See the full recipe and cooking instructions below.)
After removing the pecan pie from the oven, allow it to sit and cool to room temperature before constructing the trifles. Combine hot pie with layers of whipped cream will make the cream melt faster than a popsicle in the middle of July!
Here's a free printable copy of the recipe if you'd like to give it a try!
Mini Pecan Pie Trifles
Ingredients
2

cups

chopped pecans

1 9

inch

frozen pie shell

4

Tbs

all purpose flour

1

cup

sugar

2

eggs

beaten

1

cup

corn syrup

1/8

tsp

salt

1

tsp

vanilla

2

Tbs

butter

melted

1

container frozen whipped cream

slightly thawed
Instructions
Preheat oven to 400 F

In a large bowl, combine flour and sugar

Add in beaten eggs, corn syrup, melted butter, vanilla and salt and beat with a hand mixer for 2-3 minutes

Pour mixture into unbaked pie shell and sprinkle top with chopped pecans

Bake for 15 minutes at 400 F

Reduce heat to 350 F and bake for an additional 35-40 minutes, or until set

Allow to cool and cut into pie slices, then cut each slice into small pieces

Spoon a few chopped pieces of cooked pie into the bottom of each jelly jar, followed by a layer of whipped cream

Repeat layering process until jar is filled

Top with caramel or homemade pecan praline sauce and garnish with extra pecans

Serve immediately
---
It's been a growing trend over the last few years (especially at parties and weddings) to serve desserts inside pretty little jars and glasses. Quite frankly, I'm crazy about this idea! I love being able to walk around with my dessert in my hand and never worry about dropping the food off of my plate. Plus, creating mini trifles using small jars makes the dish look extra nice!
To make these Mini Pecan Pie Trifles, I sought out the best jelly jars around to proudly display my pecan pie goodness. A few weeks ago I hopped online and visited SKS-Bottle.com to stock up on an assortment of jars to use for various recipes and other needs.
SKS Bottle and Packaging offers over 6,000 containers and closures available online with a variety of stock like I've never seen before. They offer glass containers, plastic container, metal and cardboard containers, and even caps and closures to fit whatever you've got! I particularly love that most of their glass jars are made right here in the United States and are 100% recyclable.  Navigating their website is next to effortless, and in no time at all I found exactly what I was looking for!
I chose the SKS Clear Glass Jelly Jars with Gold Metal Plastisol Lined Caps. They are sold in a case of 12, available with 70G Gold Metal Plastisol-Lined Caps and are perfect if you're making jams, jellies, sauces, etc. In my case, I really loved them because there is no imprinted writing on the outside of the glass to distract from the contents inside. I really wanted something that would allow you to perfectly see the yummy layers of my pecan pie trifles!
Once my SKS Clear Glass Jelly Jars were lined up, I simply spooned a small amount of pecan pie into the bottom of the jar, followed by a layer of chilled whipped cream. I repeated this step a couple of time until the jars were filled. I topped with extra cream and a drizzle of sauce (pecan praline sauce or a simple caramel sauce will do the trick!) I garnished with extra pecans and my Mini Pecan Pie Trifles were ready to serve!
Do you have a favorite southern classic dish that always gets you excited about the arrival of fall? Have you hopped on board with the trend of serving deserts inside mini jars? If so, make sure you head over to SKS-Bottle.com to stock up on the perfect jars and containers you need to make life a little bit sweeter!