This recipe for cinnamon stewed apples is one of my favorite comfort foods of all time. With a scoop of ice cream on top, you're in for a real treat!
It may still be 95 degrees outside here in Alabama, but make no mistake about it, there's a nip in the air! Truthfully,  all I mean by that is that the humidity has just slacked off a good bit and it doesn't feel like a sauna outside, but I'm pretty sure most of us Alabamians would probably classify that as a nip! 😉
And when I feel Fall in the air, I waste no time getting in the Falliday spirit! One of my favorite ways to jump into the season is to fill my home with the aroma of all of those glorious cinnamon-y spices, and it's a total bonus if those smells just so happen to be coming from my kitchen!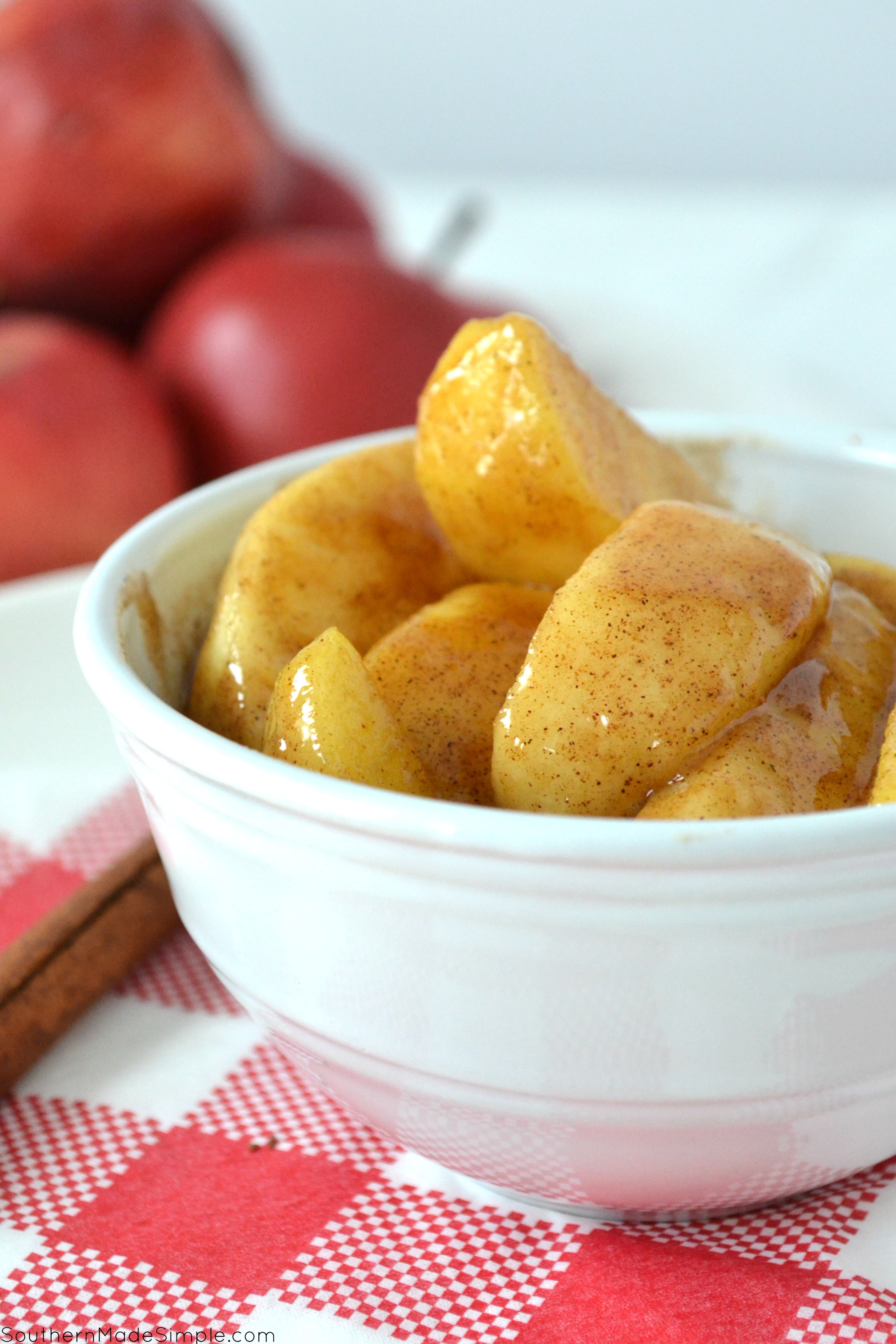 One of my favorite Autumn-inspired dishes is cinnamon stewed apples. It's simple, delicious, and BOY does it make your house smell amazing when it's simmering in the pot!
One of my favorite grocery stores was recently cleaning out their produce section and was marking down produce that they needed to move out quickly. I stumbled upon a bag of mixed apples marked down to just 99 cents, and I knew right away that stewed apples were definitely happening as soon as I got home!
Once I unloaded the groceries and put the baby down for a nap, I washed and peeled 3 of the apples.  I got out my handy dandy apple slicer and had the apples chopped and ready to stew in seconds!
Next, I got out my favorite skillet and thew in the apple slices with a little dab of butter. I cooked the apples on medium-high heat for about 5 minutes until they were nice and tender.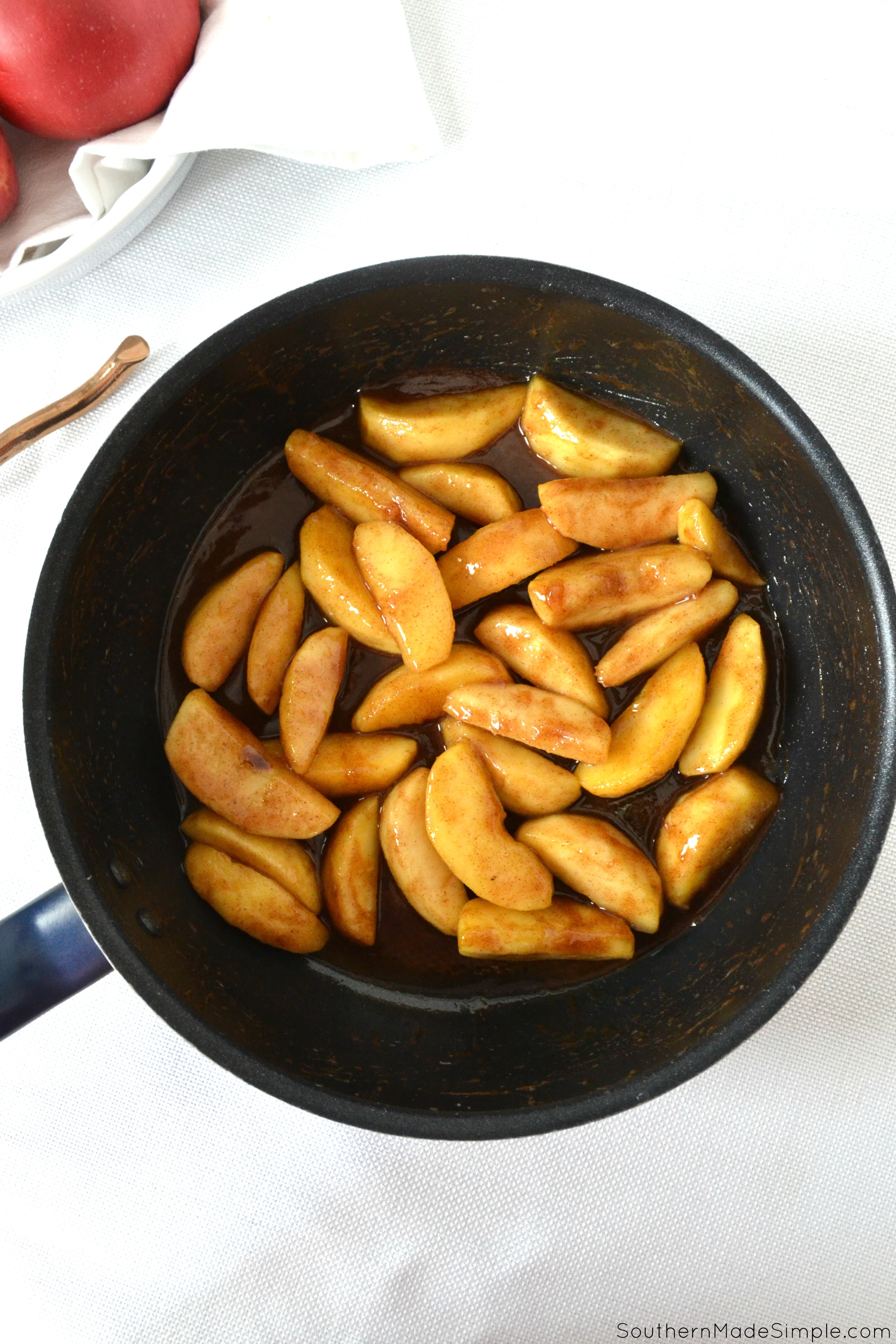 Once the apples were done, I removed from heat and added in flour, sugar, all spice and cinnamon. I gave it a good stir and let it sit for a few minutes, just enough to get that beautiful, thick and delicious glaze over them!
By the way, here's a free printable version of my recipe for you to try! If you decide to give this recipe a go, I'd love to hear about how it turned out!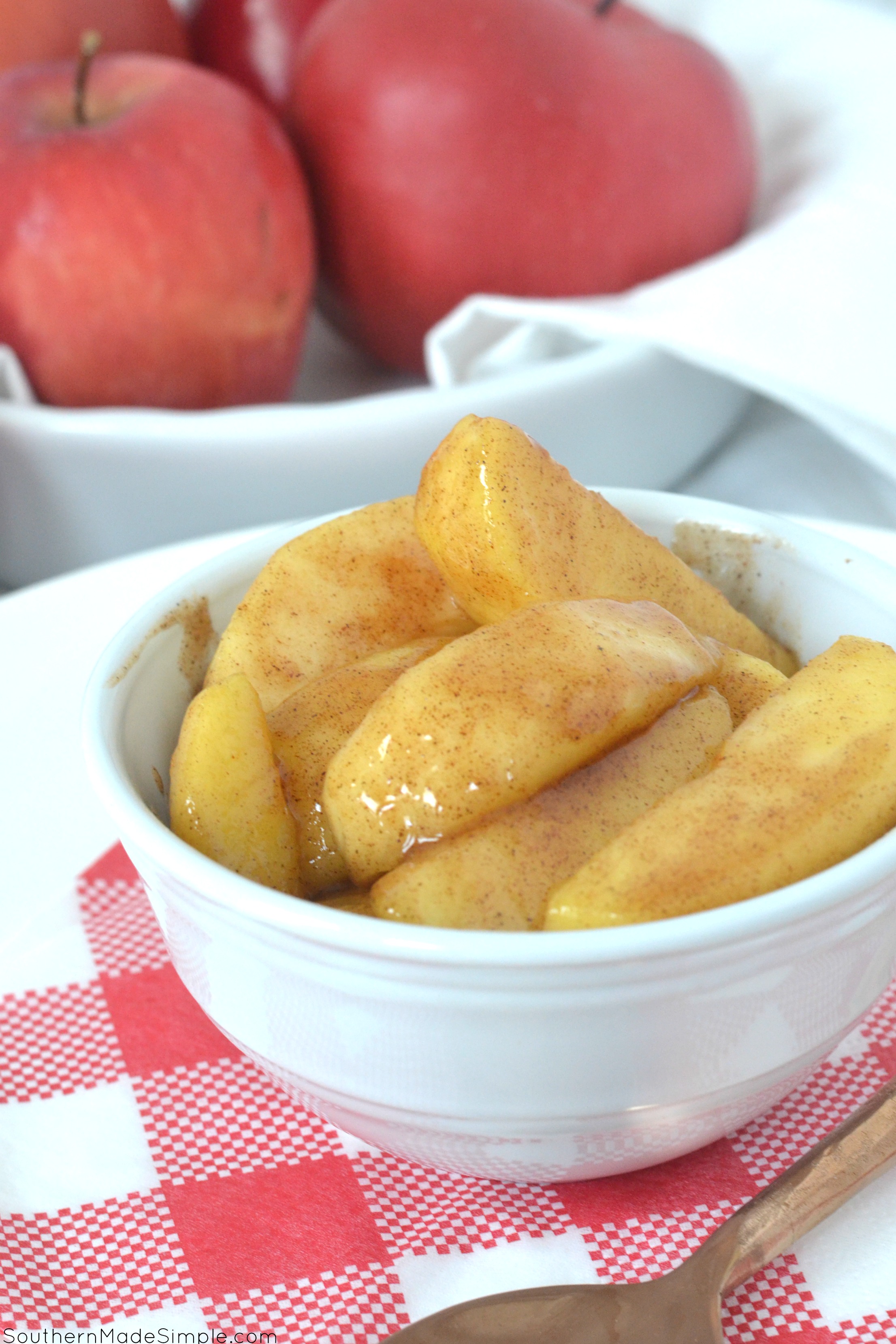 Stewed Apples
Ingredients
3

Apples - peeled

cored and sliced

3

Tbs

butter

1

Tbs

flour

1

tsp

cinnamon

1/4

tsp

allspice

1/4

cup

sugar
Instructions
Peel, core and slice apples.

In a large skillet, melt butter and toss in apples. Allow to cook on high for roughly 5 minutes until apples are tender but not mushy. Stir frequently while cooking.

Remove from heat and add in flour, cinnamon, allspice and sugar and stir until well combined. As the apples cool, a thick glaze will form.

Serve immediately while warm - best over vanilla ice cream!
---
This quick and simple stewed apple recipe is the perfect leap into the Fall season, and it's an amazing side dish to serve with a meal OR you can eat it as dessert with a side of ice cream!
Do you have a favorite recipe that helps you get into the Fall spirit? If so, I'd love to hear about it! Drop a comment below and share your ideas!