This shop has been compensated by Collective Bias, Inc. and its advertiser. All opinions are mine alone. #CreateWithOil #CollectiveBias
What's the first thing that comes to your mind when you think of summer foods? Do you think about ice cold sweets such as ice pops or ice cream? Maybe your mind takes you all the way back to your childhood years when you spent time at the county fair with your friends and dived in to a pile of fried corn dogs and funnel cakes! When I think of my summertime favorites, I always think about the fresh produce that grows in abundance right here in my home state – and all of the many ways you can take those fruits and veggies and turn them into something so sweet and tasty, you'll have the whole neighborhood coming over to your house to eat!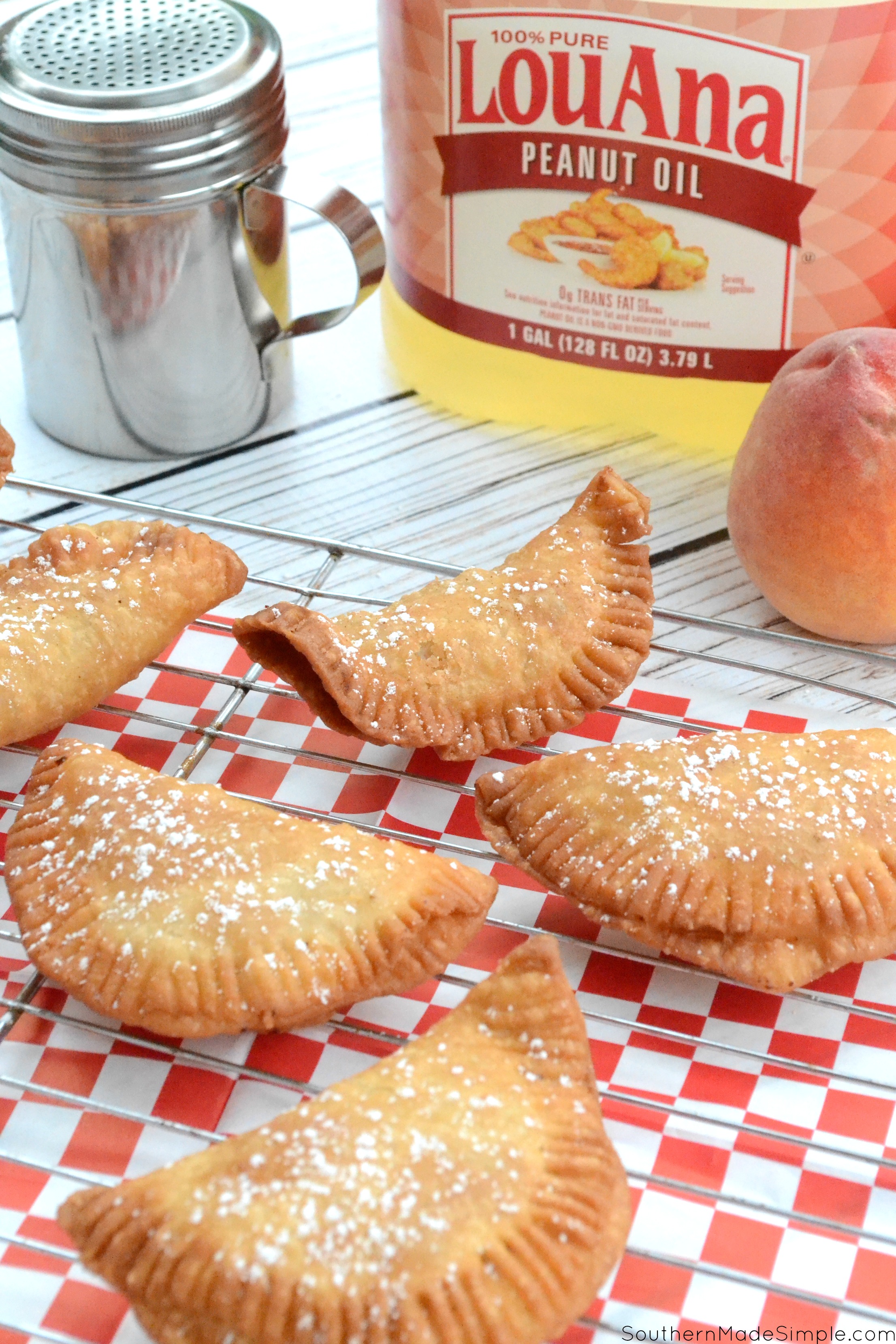 Perhaps the most popular fruit grown here in the south is the juicy, plump and delicious peach. The state of Georgia is especially known for their peaches, but there are many parts of Alabama that grow a mean peach as well. In fact, I've got a peach tree right in my own back yard! Our peach tree typically starts producing peaches in late June and July. If you ask me, it's just not summer until you sink your teeth into a big juicy peach and let the juices run down your hands! (But watch out for that peach pit…it'll get ya if you're not careful!) 😉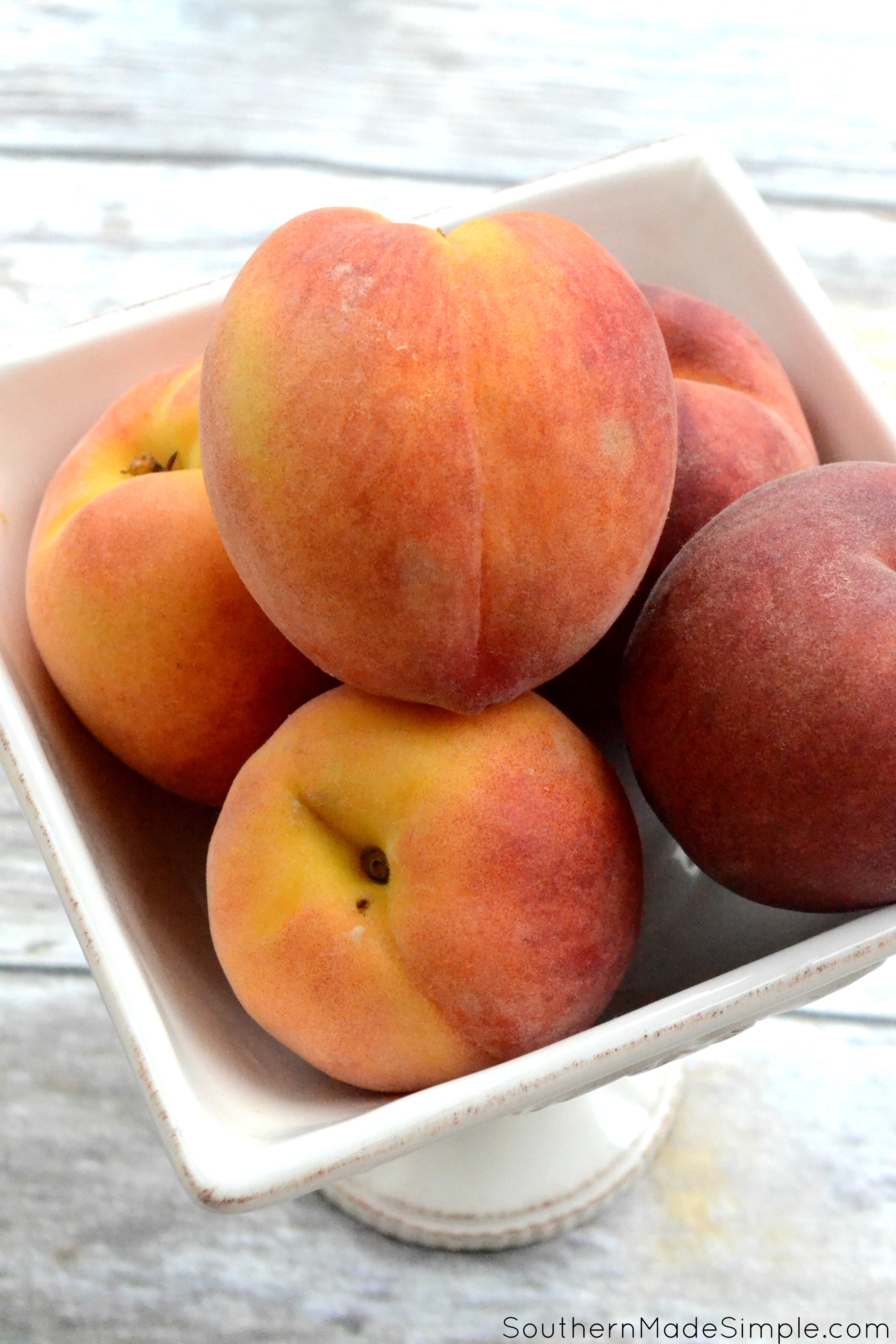 Even though peaches are the perfect summertime treat all on their own, there's just nothing in this whole entire world like biting into a homemade Southern Fried Peach Hand Pie filled with that beautifully golden flaky crust and cinnamon-sugared peaches that ooze our of the middle when you take your first bite. Hand pies are an old-school southern-style  pastry made by rolling out dough into a circle, filling it with your favorite sweet or savory filling before crimping the edges together to form a sort-of large dumpling. Hand pies are always fried to a crispy golden perfection and topped with either a sprinkle of powdered sugar or a sweet glaze on top.
Making the perfect hand pie can be achieved in several different ways. Some people use biscuit dough, while others use a pie crust. Some people make them using pre-made refrigerated doughs, while others swear by making their own dough from scratch. While it may be debatable on which dough makes the best hand pies, there's one universal truth I've come to find on which ingredient always makes the hand pie truly spectacular:
LouAna Peanut Oil
When it comes to frying your favorite summertime foods, reaching for a bottle of LouAna Peanut Oil is definitely the key to making sure your food will reach crispy and crunchy perfection every time! I prefer peanut oil to traditional cooking oils because it has a high smoke point, which creates a surface seal that will lock in the food's natural moisture. LouAna is the only brand of cooking oils with an extensive range of high products to really take your food over the top. You can find LouAna cooking oils in multiple varieties, including vegetable, peanut, coconut and avocado oil varities – and no matter which you choose, you can be certain that LouAna is always the start of something good!
During my most recent shopping trip at Publix, I made sure to stock up on LouAna Peanut Oil so I could fry up a batch of my Southern Fried Peach Hand Pies for my family to enjoy. You can find it on the oil/shortening aisle! (Here's a coupon so you can pick up a bottle for yourself!)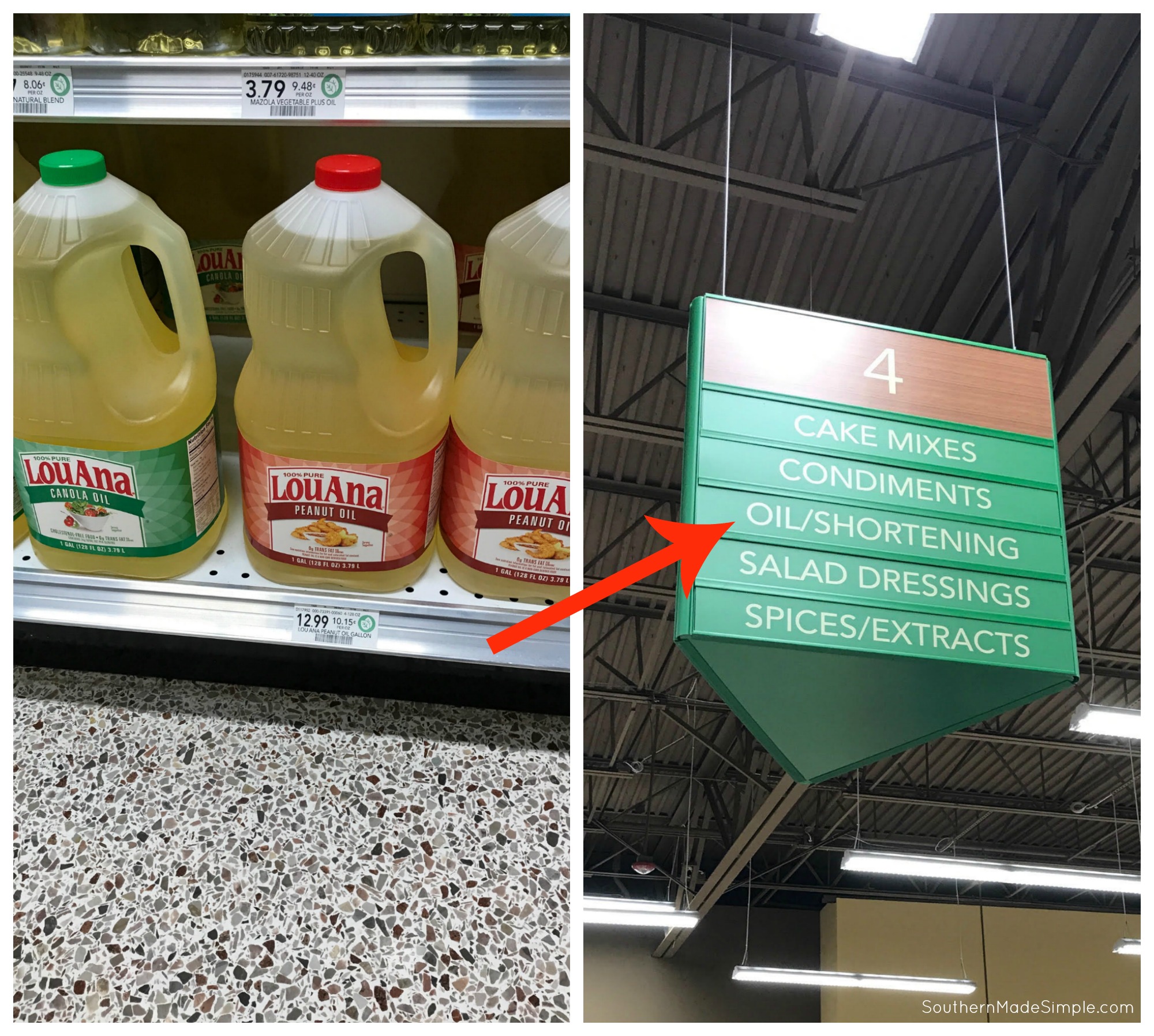 While I was there I also picked up a few other ingredients to make the hand pies, including a flaky refrigerated pie crust and a few fresh peaches. You can scroll down to find a complete shopping list and recipe card!
To prepare the peach hand pies, you'll first want to take 3 large peaches and remove the skin. Slice each peach into small sections and place in a skillet, along with a little butter, granulated sugar, brown sugar, cinnamon and nutmeg. Stew the peaches for about 12-14 minutes. While the peaches are cooking, go ahead and set out your pie crust and let it soften on the counter for about 15 minutes.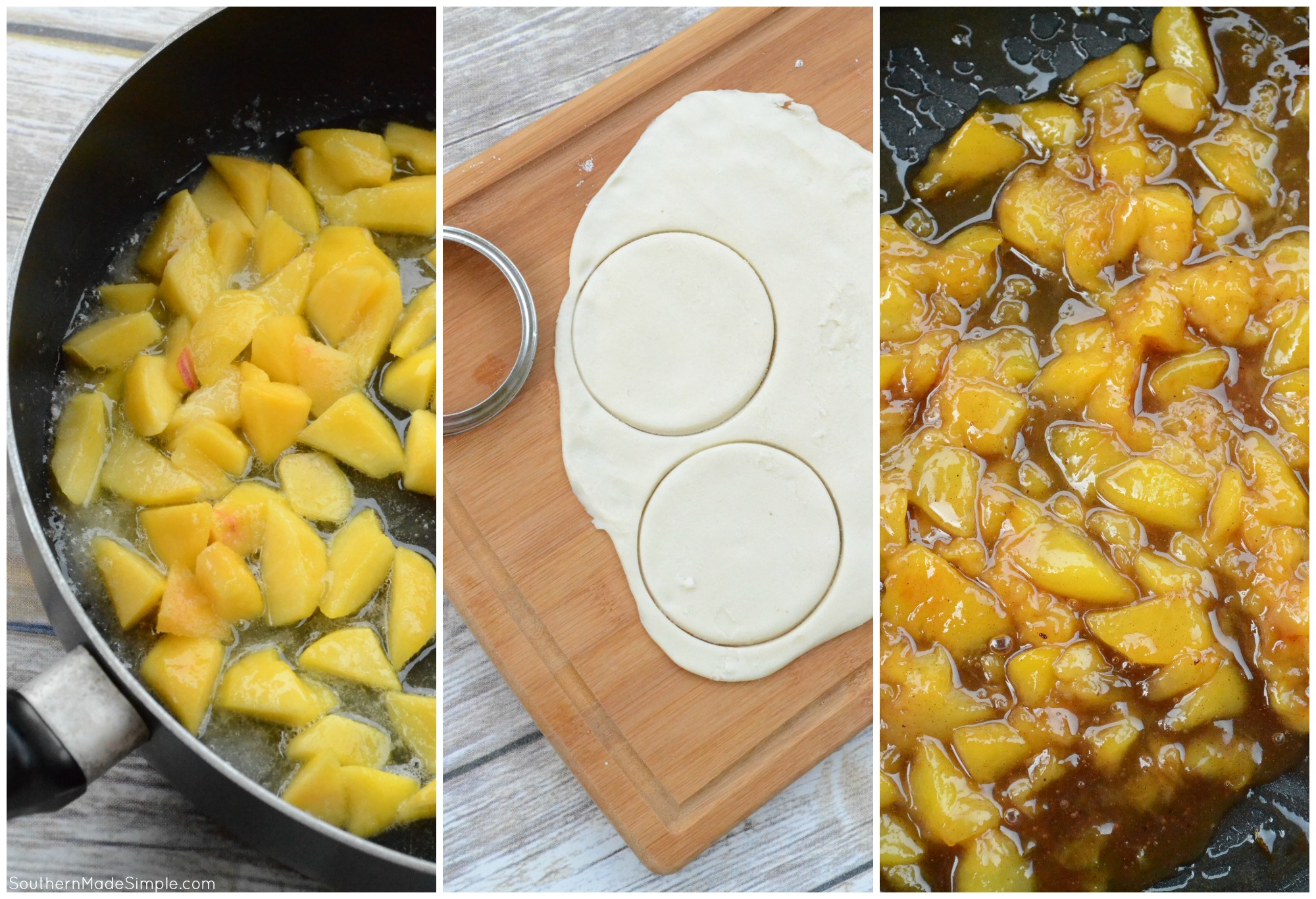 Once the peaches are finished cooking, you'll need to let them cool completely before making the pies. You can speed up that process by placing them in the refrigerator. While the peaches are cooling, go ahead and roll out the pie crust with a rolling pin and use a jelly jar lid to cut out your circles for the pies. I used a pint size jar lid and was able to cut out about 12 circles using two pie crusts. Once the circles are cut, place them back in the refrigerator while the peaches are continuing to cool.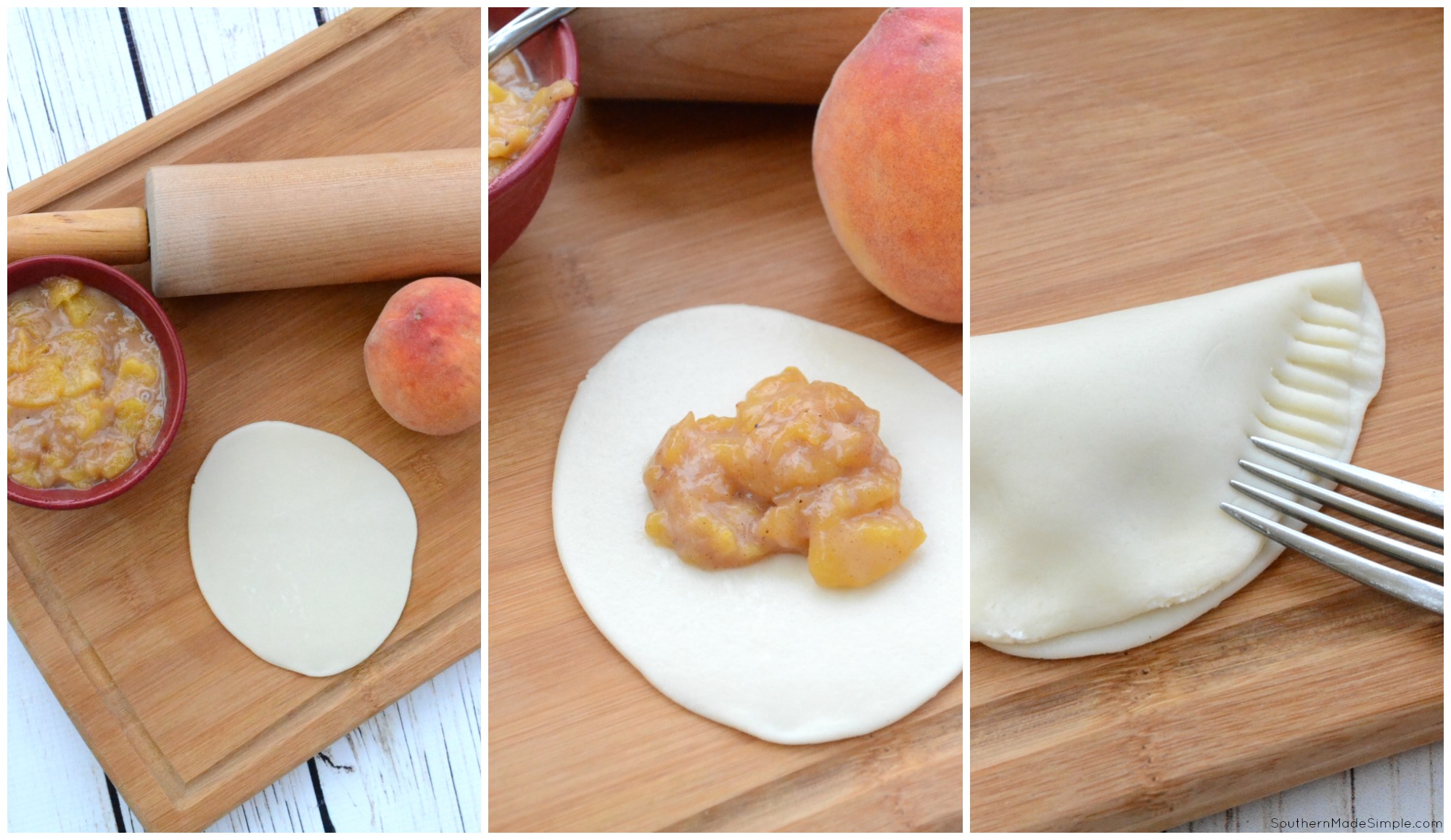 After the peaches and pie crust circles have chilled, remove the circles and flatten our with a rolling pin. Spoon about a tablespoon of peach filling onto the center of the dough and fold over into a half circle as shown. Be careful not to let any filling creep out of the sides! If that happens, you have too much filling for that particular pie. Crimp the pie closed using a fork.
Once all pies have been made, refrigerate them while briefly to allow the dough to firm up just a tad before frying. Pour enough LouAna Peanut Oil into your deep dryer to cover the pies completely when frying. I used about 1/2 gallon. Preheat your deep fryer to 375 degrees F. Once the oil reaches the proper temperature, place 2-3 pies in the fry basket and cook fry for 3 1/2 minutes.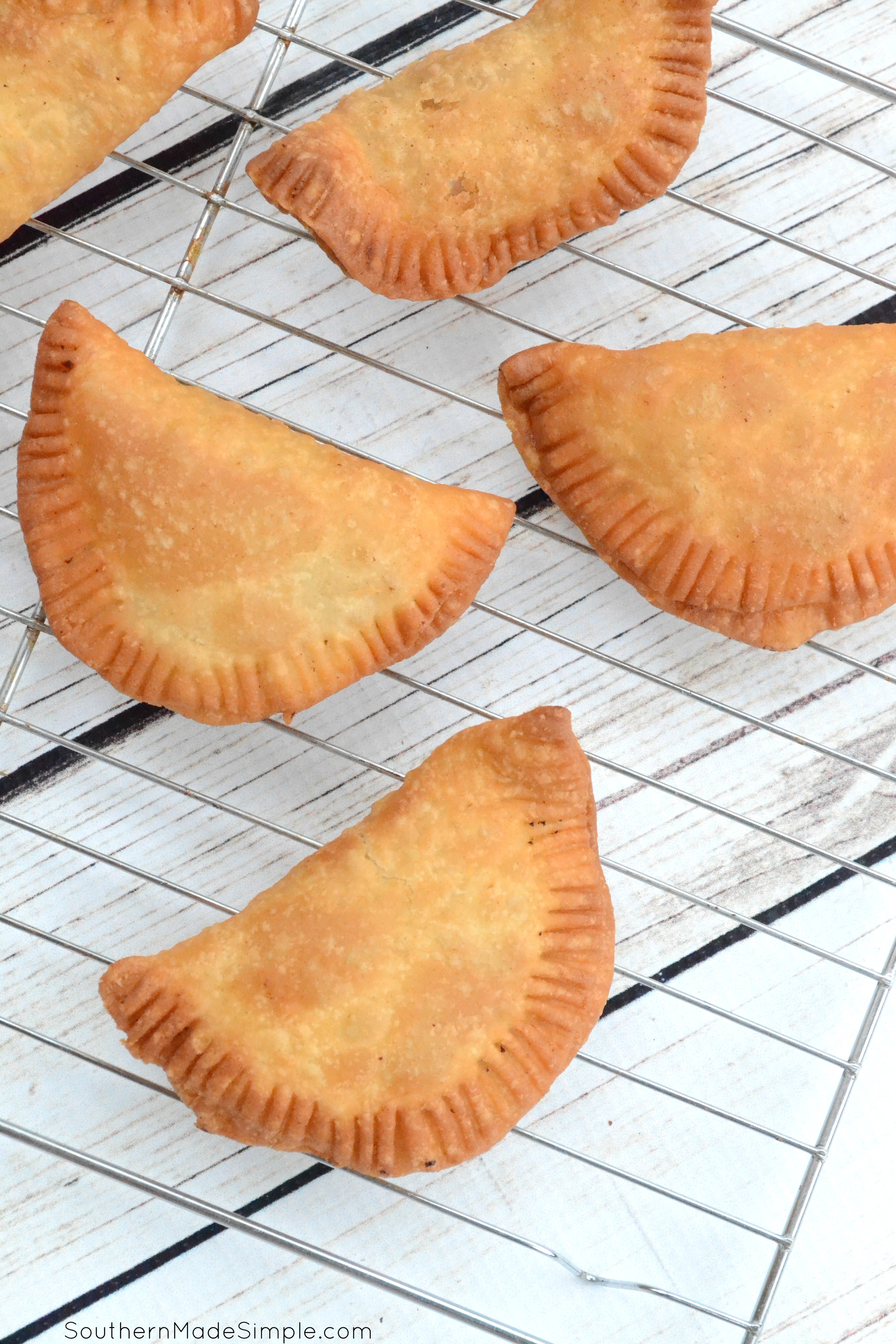 Set fried pies on a cooling rack with paper towels underneath to catch any excess oil. The pies are best served warm, and my family likes them best with a smidge of powdered sugar sprinkled on top!

Here's a printable copy of the recipe if you'd like to give it a try!
Southern Fried Peach Hand Pies
Ingredients
1

gallon

LouAna Peanut Oil

I used about half of the gallon

2

cups

diced peaches

about 3 large peaches

1 2

ct package refrigerated flaky pie crusts

1/2

stick of unsalted butter

1/3

cup

white granulated sugar

1

Tbs

brown sugar

1/4

tsp

nutmeg

1/2

tsp

cinnamon
Instructions
Slice fresh peaches into small pieces (If you choose to use canned, let peaches drain for 30 minutes before using)

Add peaches, butter and granulated sugar to a skillet and cook over medium heat for about 12-14 minutes, stirring frequently

Remove from heat and sprinkle with brown sugar, cinnamon and nutmeg and stir until well combined.

Cool peach filling completely before making pies

Roll out pie crust with a rolling pin and cut our circles using a pint sized jelly jar lid

Place dough back into refrigerator while peaches are cooling

Pour about 1/2 gallon of LouAna Peanut Oil into a deep fryer and heat to 370 degrees F

Remove pie crust circles from refrigerator and flatten each one with a rolling pin

Spoon about 1 Tbs of the pie filling onto the center of each circle and fold the dough over to create a pocket

Crimp the sides with a fork so than no filling will come out

Put back into refrigerator for a few minutes to firm up

Place 2-3 pies in the fry basket at a time to fry

Cook for 3 1/2 minutes and remove from grease

Allow to briefly cool on a drying rack

Serve while still hot
---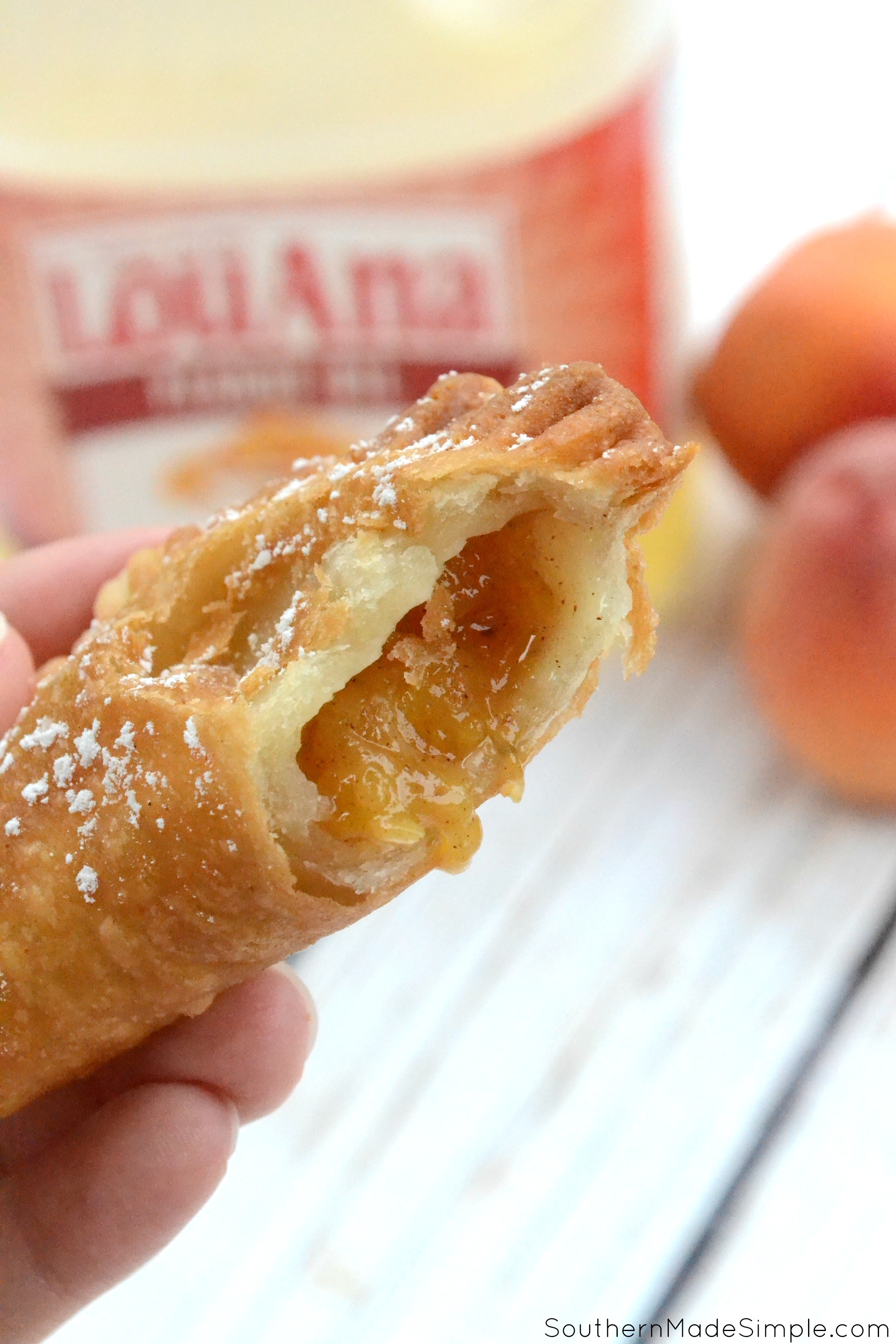 These hand pies are such a fun treat to make on warm summer days, and are absolutely delicious served with a side of creamy old fashioned ice cream! Using LouAna peanut oil really makes this southern favorite extra special, bringing out all of those delicious flavors for everyone to enjoy!
I especially love using LouAna oils because Lou Ana herself was born in the deep south in the early 1800's.  The south is undoubtedly a place where food is an elemental expression of love, flavor and family, so it's no secret that the best culinary minds come from the heart of the south!  With over 14 different types of cooking oil, LouAna has the perfect oil for all cooking needs, be it  sautéing, deep frying or baking, LouAna helps every type of cook put the best dishes on the table each and every time, guaranteed!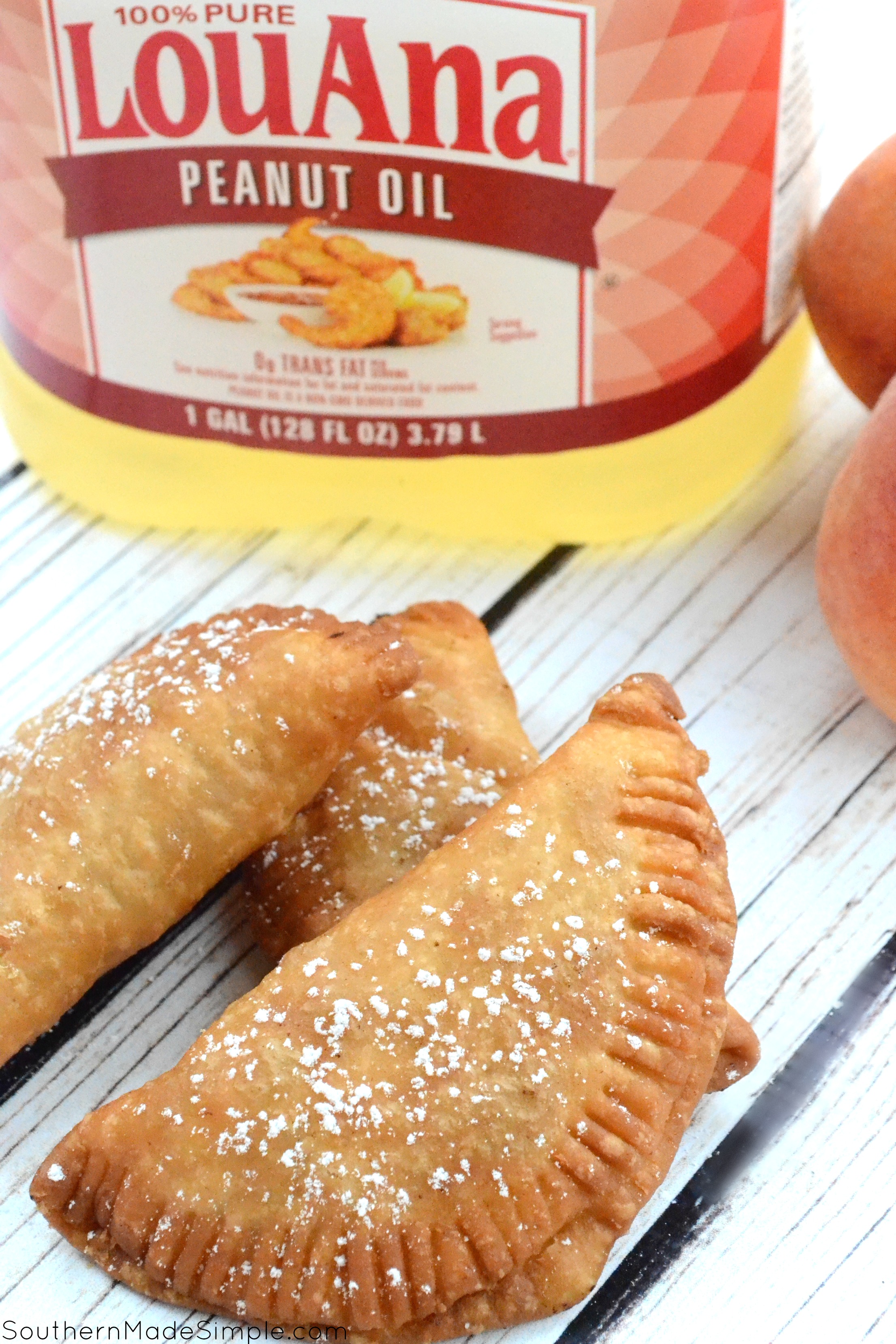 What types of food make you think of the sweet summertime? Do you have a favorite fried food that you love to prepare this time of year? Have you ever tried frying your favorites using LouAna Peanut oil? Swing by your local grocery store (find a location here) and grab a gallon for yourself!
Coupon Alert:
Don't forget to grab this print-at home coupon to save you $2.50 off of any LouAna Peanut Oil purchase!