When we planted our garden this year, one of the first things on my garden-wish list was pepper plants. I love cooking with bell peppers, and I especially love to add the heat of jalapenos to many meals that I prepare. My husband and I prefer our food on the spicier side, so we grabbed quite a few pepper plants. My mother in law makes this fabulous dip using pepper jelly (which I LOVE), and I knew that taking a stab at making my own pepper jelly was a must for this summer.
Once we started planting the plants, my husband realized that he accidentally picked up a carton of dragon cayenne peppers instead of the jalapeno peppers that we intended to get. I didn't know much about dragon cayennes, but we decided to go ahead and plant them anyway and that my husband would pick up the jalapeno plants the next time he went to town.
It's been a month or two since we planted those plants, and now it seems like we have peppers coming out of our ears! Talk about a bumper crop! Oh yeah, and those dragon cayenne peppers? Those jokers are HOT! I mean, whew! I also prefer a thick and hearty pepper that you can stuff, and you absolutely positively cannot stuff a dragon cayenne. Heck, you can barely eat the thing!
So I was left scratching my head trying to figure out what in the world to do with the things. Then I remembered that I wanted to make a batch of pepper jelly! I was a little nervous that the heat from the dragon cayennes would be too much, so I decided to add a little sweetness to it. And what could be sweeter this time of year that a plump, juicy peach?!
So when my husband came home from work the other day, he stepped out to the garden and picked a handful of peppers for me to make the jelly with. The jalapenos were a little on the small side, but my craving for pepper jelly just couldn't wait another day!
First, I washed the peppers and removed the stems and seeds. Using my trusty pair of herb sheers, I finely diced all of the peppers and set them aside in a bowl. Note: If you're dealing with hot peppers, WEAR GLOVES! You really don't want to accidentally rub your face or eye after you've been dealing with them. 🙂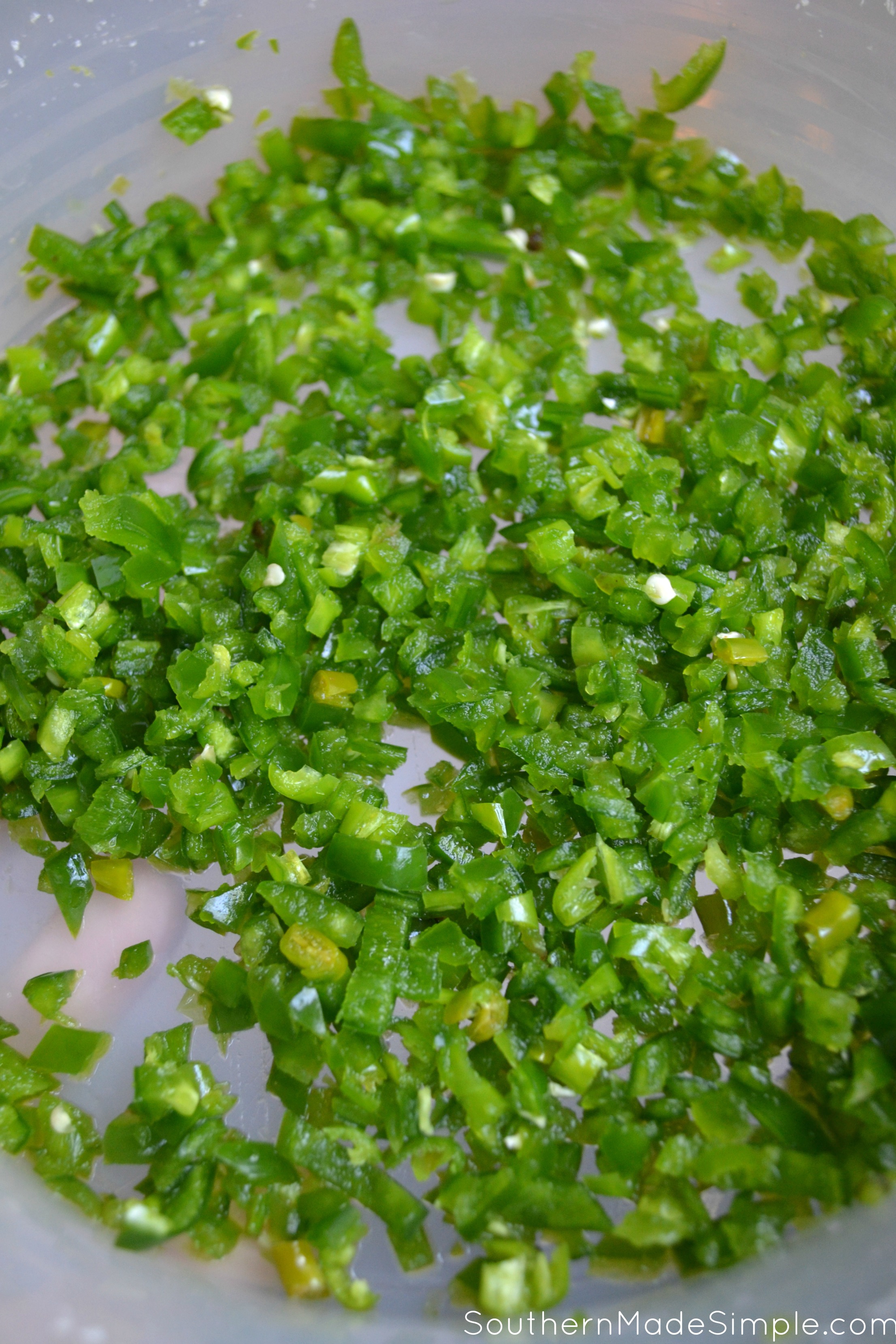 I went ahead and prepped some canning jars and lids by placing them in a hot bath while I started the actual jelly making process. This helps sterilize them and prevents them from breaking when the hot jelly is poured in.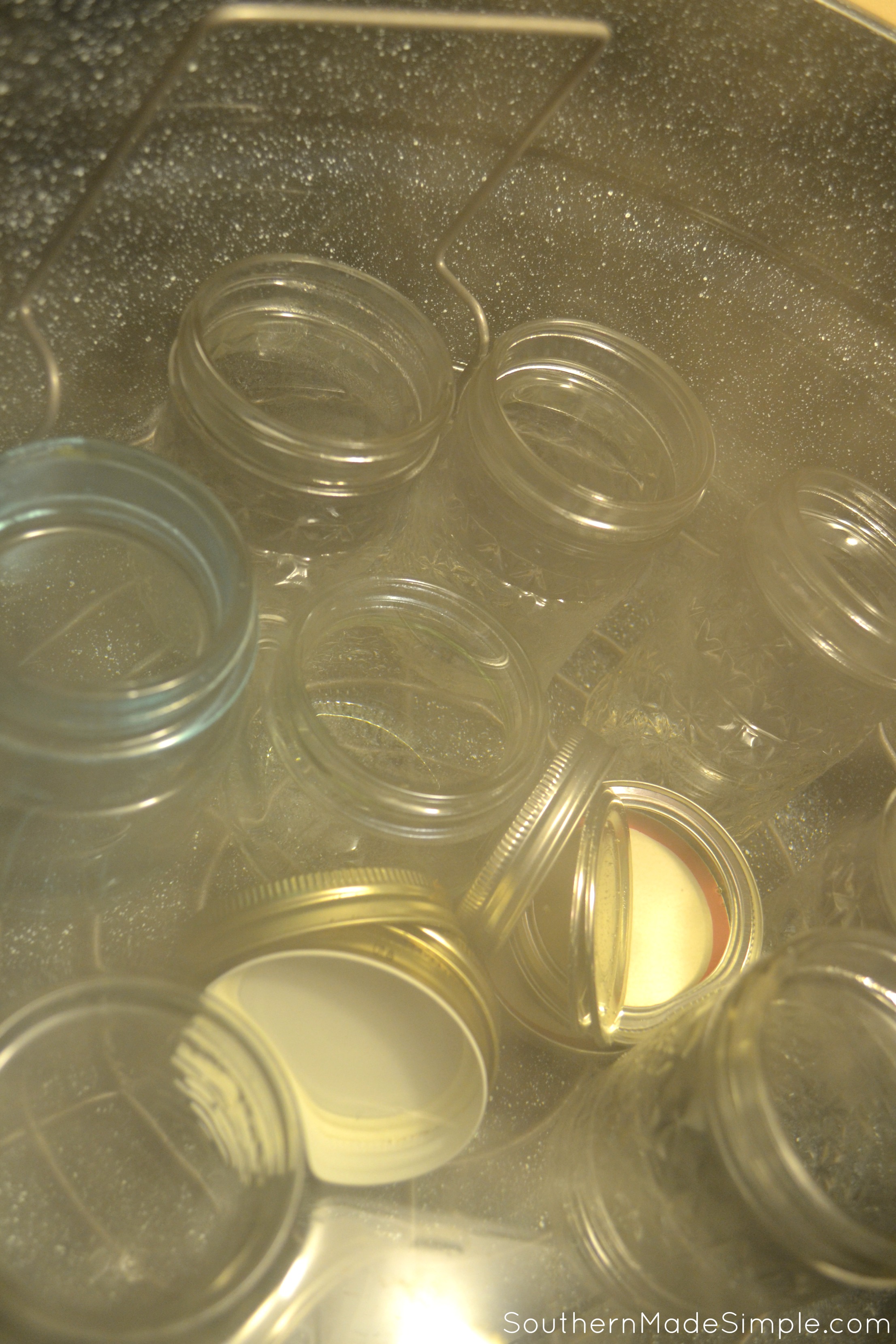 If you're new to canning, or if you're unsure if you have all of the proper tools to do it with, I HIGHLY recommend the Granite Ware Canning Kit! It comes with everything you need to start canning (except jars), and their pamphlet inside breaks the process down into really simple step-by-step instructions.
Once I had all of my ducks in a row, I took out a large pot and poured in the apple cider vinegar, sugar and diced peppers and brought it to a rolling boil, stirring all along. I then added the diced peaches (firmer ones work best) and 2 pouches of liquid pectin. I let this mixture boil for 3-4 minutes and stirred regularly.
While that was boiling, I removed the cans and lids from their hot bath and placed them on a dish towel. Once the jelly was done, I skimmed the foam off of the top and carefully ladled the jelly into the jars. I sealed them up tight and placed them back into the hot water bath to process for another 10 minutes.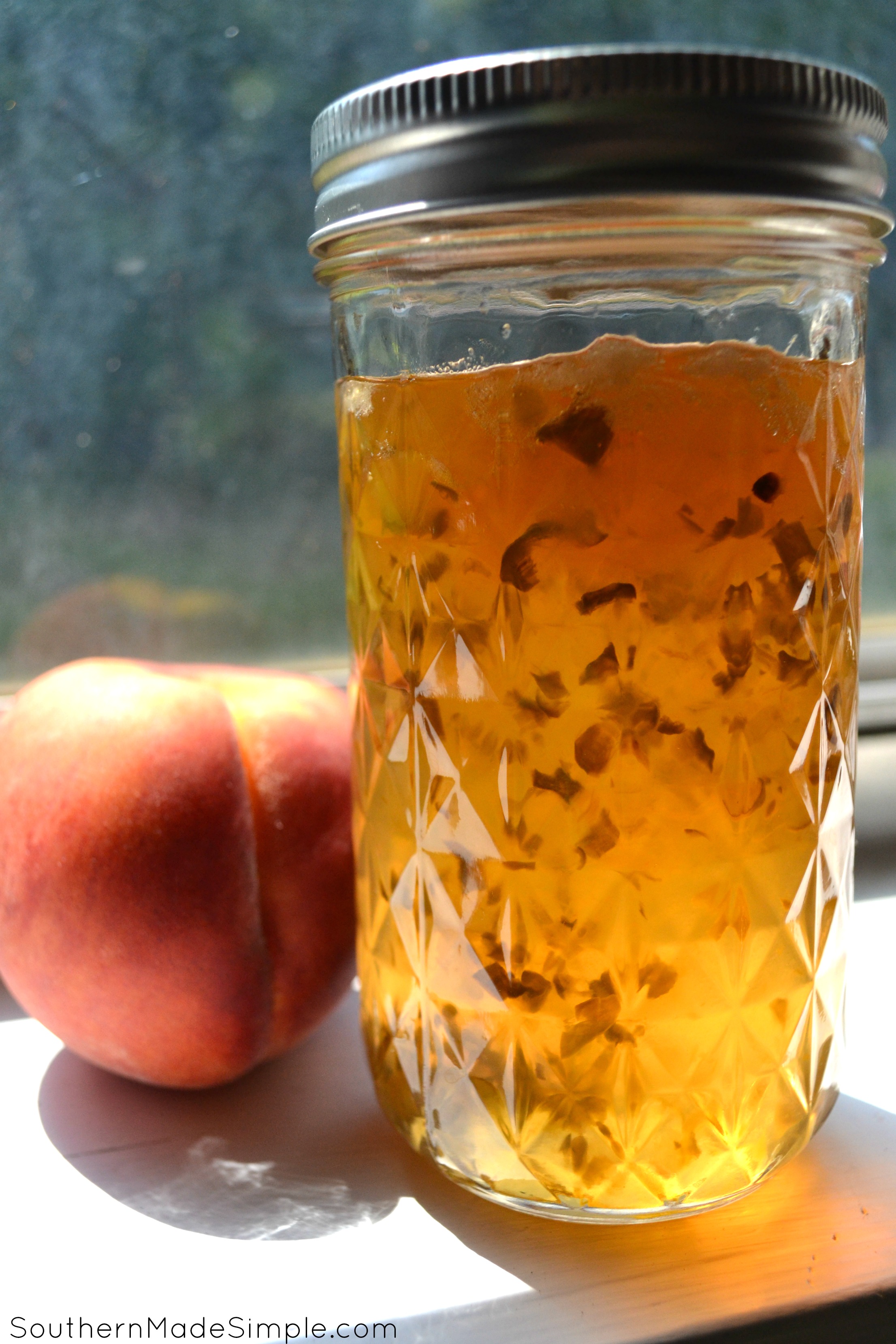 Finally, I carefully lifted each jar out of the hot water bath using tongs and left them alone on the counter until I heard the "pop" noise of each lid – letting me know they were all sealed properly!
Here's a free printable recipe for you to save if you want to give this pepper jelly a try (and I know you do!) 🙂
Jalapeno Peach Pepper Jelly Recipe
Ingredients
1

medium bell pepper

7

small jalapeno peppers

10

dragon cayenne peppers

optional - sub in extra jalapenos if omitting

2

peaches - peeled and diced

6 1/2

cups

sugar

2

pouches liquid pectin

I buy Certo brand

1 1/2

cup

apple cider vinegar
Instructions
Thoroughly wash mason or canning jars and lids and allow to heat in oven or in hot water inside a large canning pot

Remove stems and seeds from peppers. (I recommend wearing latex gloves while handling hot peppers)

Using a knife or herb sheers, finely dice peppers and place into a bowl

In a large/deep pot, bring apple cider vinegar, sugar and peppers to a rolling boil

Add in peaches and pectin and allow to boil for an additional 3-4 minutes

Remove from heat and allow to cool for 2-3 minutes - skim off foam from top of jelly

Remove jars and lids from oven or from hot water and dry thoroughly

Pour jelly into hot jars and place lids on top

Process jars in a hot water canner for 10 minutes

Remove jars from canner and allow them to sit untouched on the counter until all lids properly seal
---
The jelly turned out SO good, I almost cried actual tears of joy when I sampled it on a gooey warm biscuit. I'm not even exagerating, y'all! Canning is a labor of love, and the fruit of that labor is simply delicious!
Have you ever tried pepper jelly? Do you think you'd like it extra spicy, or a little more mild? Do you have any canning tips you'd like to share? Leave a comment below and let's chat!