Happy 4th of July weekend to all! I absolutely love this time of year. Everyone is cooking out on the grill, enjoying the outdoors, sippin' on sweet lemonade and devouring the delicious fruits and veggies that grow in our summer gardens.
Mmmm. I can smell the hamburgers and apple pie cooking right now! Ok, maybe I'm just daydreaming over here, but it won't be long before I get to enjoy those sweet summertime smells!
I DO smell something amazing filling the air of my home as I type this, though. I just took this beautiful batch of Bomb-tastic Blackberry Brownies out of the oven! Boy, aren't they just heavenly? I've heard of people incorporating different things into their brownies to make them "healthier". This recipe certainly isn't healthy, but I figured if other people could put black beans and avocados in their brownies, then by golly I could put blackberries in mine!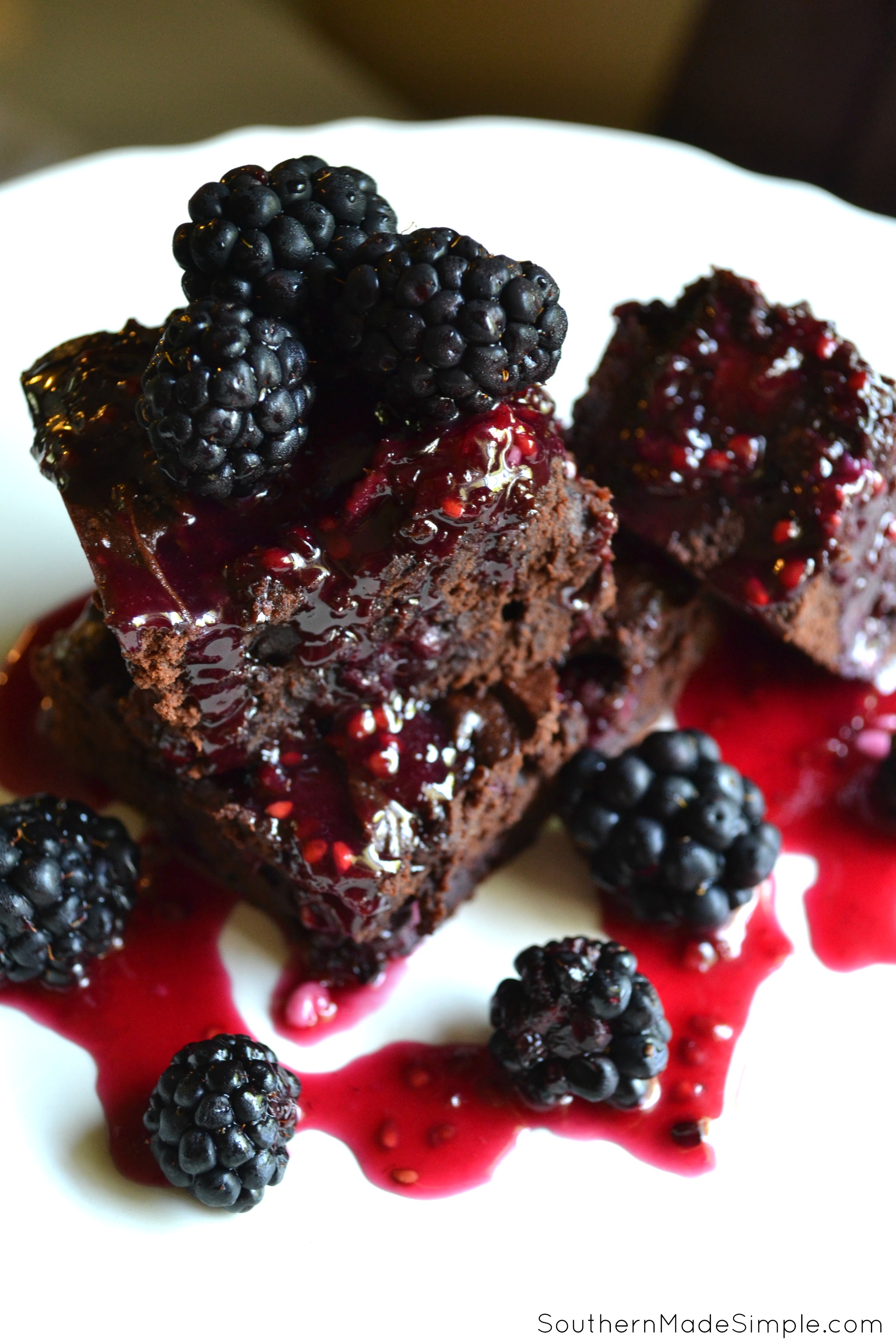 My mother-in-law bought us 2 packages of fresh blackberries earlier this week, and and they have been beckoning me sitting in my fridge ever since! I decided to toss a handful into my brownie batter to enjoy them in a whole new way. I even made a super sweet berry glaze using a little heavy cream and confectioners sugar to drizzle on top. These brownies would be perfect to take to a 4th of July cookout or party! I'd share mine with others, but I'm afraid I just can't take them out of my sight. It's okay to be a little bit stingy every now and then, right? 😉
Bomb-tastic Blackberry Brownies with a Sweet Berry Glaze
Ingredients
1

stick butter or margarine

3/4

cup

dark cocoa powder

1/2

cup

stevia

or sugar

3/4

cup

brown sugar

2

eggs

1

tsp

vanilla

3/4

cup

all purpose flour

1

tsp

baking powder

1/2

tsp

salt

1

cup

fresh blackberries or dewberries
Instructions
Preheat oven to 350 F

Spray an 8x8 baking dish with non-stick cooking spray

In a large microwave safe bowl, combine margarine, brown sugar, stevia and cocoa powder and heat until butter is melted (takes 15-20 seconds)

Stir until all ingredients are well combined

Add in vanilla and eggs and stir

Pour in baking powder, flour, salt and blackberries and stir again

Pour batter into greased dish and bake for 35-40 minutes, or until completely done in center

Let cool completely before eating

Top with sweet glaze sauce (optional)

Enjoy!
Notes
For Sweet Berry Glaze:
1/4 cup heavy cream
1/2 cup blackberries (or any berry you prefer)
3/4 cup confectioner's sugar
In a medium saucepan, heat heavy cream and berries until boiling. Remove from heat. Mash berries using a fork or potato masher. Return to heat and add powdered sugar. Stir until sugar is completely dissolved. Allow to briefly cool and then pour over brownies. Sauce will gradually harden.
---
What's on your 4th of July menu this year? For tips and tricks on how to simplify and create a stress free Fourth of July menu, check out this post I recently wrote! (There's even a giveaway going on there through July 12th, so don't miss it!)