During the busy work week, breakfast in our house is often an afterthought. It's usually rushed, thrown together, and hardly filling. By the time 10 o'clock rolls around, my tummy is rumbling and begging for Saturday to come. What's so special about Saturday, you ask? On Saturday, we brunch. And we brunch hard!
We put a lot of love into our bellies each Saturday morning. We'll break out the cookware that gets neglected on weekday mornings and we enjoy a sit down meal at the table. It's a real treat for our family, because it's just not something we get to do every day!
This past weekend, some serious deliciousness went down in our kitchen. These Cheesy Hash Stuffed Peppers created the ultimate brunch experience for us, and boy were they delicious!
One thing that I really love about this meal is that it contains a perfect blend of fresh produce with the convenience of pantry staples. The star of the dish actually isn't the peppers themselves, but the hash filling inside them. To make this recipe perfect, I used HORMEL® MARY KITCHEN® Hash as the base of my filling. I stopped in to Walmart the day before and grabbed a few of the ingredients. I walked straight in and found the hash without any trouble. You can find it in the canned meat section!
Now, before you get concerned at the sound of canned meat, hear me out! I think corned beef hash, in general, sort of gets a bad rap. For starters, I think a lot of people don't actually know what it is. Secondly, people assume that since it comes in a can, it must be boring, bland and mushy. Let's set the record straight, shall we?
HORMEL® MARY KITCHEN® Hash is simply diced beef, potatoes and spices. That's it! Nothing weird, no strange ingredients, and no "mystery corn" included. It may be a little mushy straight out of the can, but I'll show you how to revamp it into something really yummy below!
Here's what you'll need to get started:
Ingredients:
4-5 Bell Peppers – any variety
1 can HORMEL® MARY KITCHEN® Hash
1 small sweet onion – diced (optional)
1/4 tsp Cayenne pepper (optional)
Small handful chopped parsley (fresh is best)
3 eggs
1 cup shredded cheese – I used a 3-cheese blend
3/4 cup milk
1/4 cup sour cream
1/2 cup biscuit mix
salt/pepper to taste
Optional – Adding scrambled sausage, diced ham pieces or chopped bacon pieces in addition to the hash could add a nice savory flavor to this dish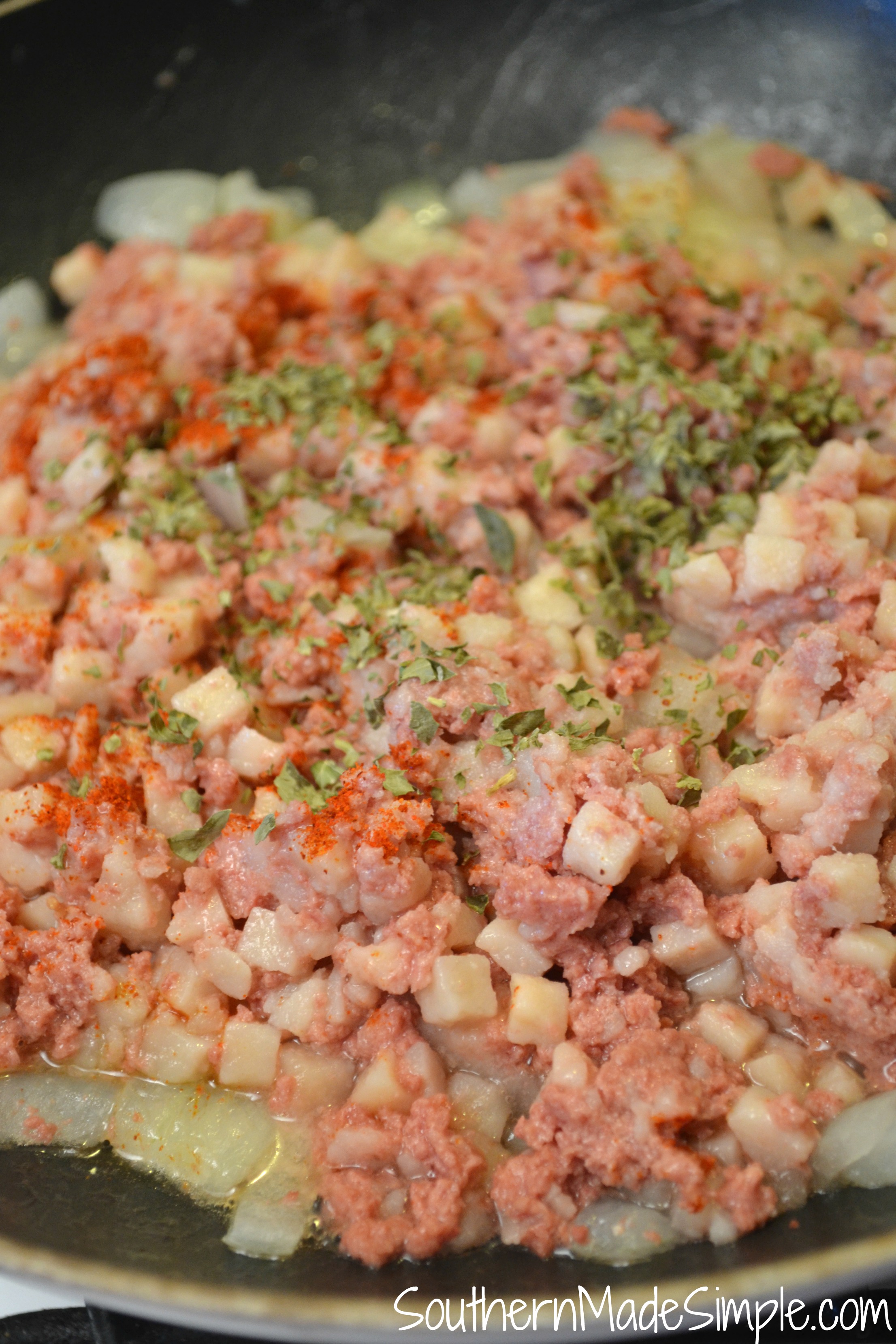 First, toss the diced onions into a skillet and allow to cook slowly. Once they become a little tender, add the can of HORMEL® MARY KITCHEN® Hash. Add in the cayenne pepper for a little hint of heat. Finally stir in some fresh chopped parsley for added seasoning. You'll want to allow to simmer in the pan until the onions are cooked all the way through and the hash turns a nice light brown color. Be sure to stir frequently to avoid sticking!
Next you'll want to get out an 8×8 baking dish to place your peppers in. Go ahead and remove the seeds and stems from the peppers and discard them. Be sure to give the peppers a good rinse – inside and out.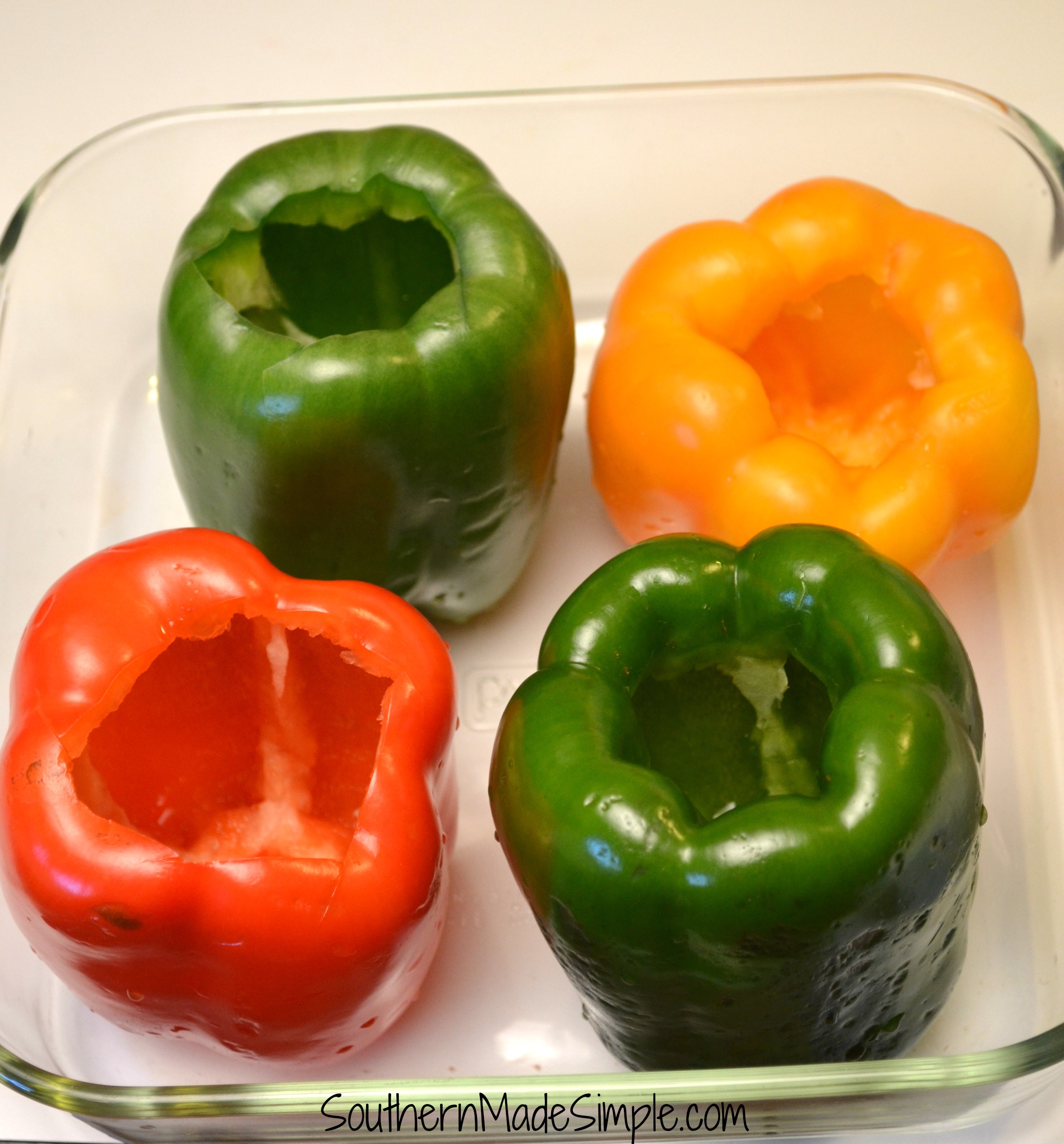 .
In a separate bowl. blend together the eggs, milk, shredded cheese, biscuit mix, sour cream, salt and pepper. Set aside.
Fill each pepper about half way full with hash mixture. Next, pour egg mixture into each pepper until full. Top with additional cheese if desired. I also added a smidge of chopped bacon on top for some extra crunch!
Preheat oven to 350°F Bake peppers for 1 hour, or until egg mixture is fully cooked. (You can insert a toothpick into the center to make sure the mixture isn't runny.)
Immediately garnish with additional cheese and additional toppings if desired.
These peppers were perfectly tender and juicy. The cheesy egg mixture gives the dish a perfect breakfast feel, while the hash filling creates a flavorful and savory touch that reminds me of a hearty lunch. Thus, the ultimate brunch is born! Now I've definitely got my eyes fixed on Saturday mornings, because this fabulous dish has quickly become a favorite of ours!