This post was sponsored by 
NAKANO
®
 Rice Vinegars
 as part of an Influencer Activation 
for Influence Central
 and all opinions expressed in my post are my own.
Walking into the new year, I was a little bit disappointed in myself for not making as many game-changing resolutions to hold on to for 2018. I'm typically one to make out my goals and resolutions well in advance and have them on display in my office for me to look at every day. However, seeing as how I kept my head in a toilet nearly all of the month of December (morning sickness is for the birds, y'all) I feel like I was doing pretty good to jot down just a few simple and out of the box goals I wanted to move towards in 2018.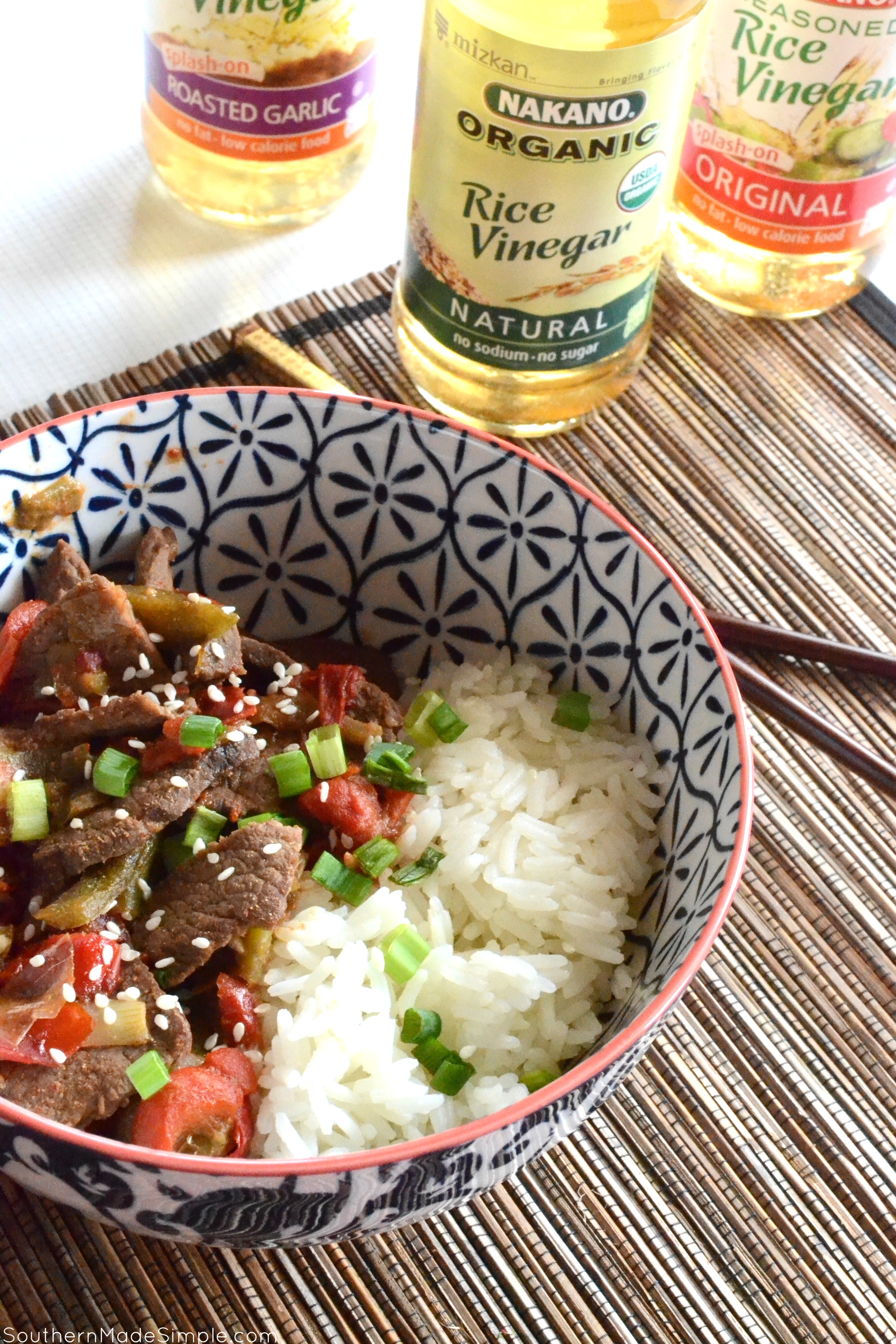 During this first trimester, food has been a real struggle for me. I've always loved (and still love) to cook things from scratch, but for some reason this pregnancy is not allowing me to do a whole lot in the cooking department. Truthfully, most days I just want to curl up with a jar of nacho cheese and a bag of tortilla chips and pig out, but every now and then my little peanut tells me that it wants some real food, and here lately, I'm all about the Asian-inspired cuisine!
One of my goals this year is to find ways to swap out beef in my recipes and use venison. My family primarily cooks with venison anyway, but we typically stick with more traditional, American based recipes when we cook with deer. This week, I tied my apron on and decided to get busy in the kitchen whipping up a delicious (and waistline friendly) version of honey ginger beef that quickly became near and deer to my heart! (See what I did there?) 😉
Swapping out beef and replacing it with venison has a ton of health benefits. For instance, did you know that venison has significantly fewer calorie, fat and saturated fat than beef does? Not to mention it contains more protein and vitamins and minerals than a single serving of beef does, too. In every instance that I've cooked venison (which is quite a bit) I've never had to prepare the meat any differently than when cooking cuts of beef. You simply cook it just like you would beef, but you have a leaner and health-conscious dish when you cook with venison!
One other simple swap I'm making this year is utilizing the awesomeness that is NAKANO® Rice Vinegars as a savory, low-calorie alternative to high-fat dressings, oils and butter. I added a few splashes of NAKANO Organic Rice Vinegar into the stir fry as I was cooking it, and then another splash into the jasmine rice to give it a depth of flavor that was truly divine! All of the delicious Asian flavors in this dish were really enhanced thanks to the rice vinegar, and I love that I'm able to create better-for-me meals with ease!
Here's a free printable copy of my recipe if you'd like to give it a try!
Honey Ginger Venison and Jasmine Rice Bowls
Ingredients
1

lb

Venison Backstrap or Tenderloin cut into strips about 3/4 inch thick

1

Cup

Jasmine Rice

cooked according to package instructions

For Venison Marinade:

1/2

Tbs

Sesame Oil

2

Tbs

Honey

2

cloves

garlic

minced

1

Tbs

Ground Ginger

1

tsp

Soy Sauce

Allow venison to marinate in this mixture for at least an hour

but overnight is recommend

2

Tbs

NAKANO Organic Rice Vinegar

1

bag frozen bell peppers or stir-fry mix

1

tsp

soy sauce

1

tsp

minced garlic
Instructions
Cut venison into strips about 3/4 inch thick and allow to marinate for at least an hour, but overnight is recommended

In a large skillet or wok, combine 2 Tbs NAKANO Organic Rice Vinegar, 1 tsp soy sauce and 1 tsp minced garlic with 1 package of frozen bell peppers or stir-fry mix

Allow to cook for just a few minutes, or until peppers are almost cooked throughout

Add in marinated venison and cook for 7-8 minutes, or until venison is cooked all the way through

Serve immediately with prepared jasmine rice and an extra splash of rice vinegar

Optional: throw in a few chopped green onions or sesame seeds for added texture, color and flavor!
---
You can find NAKANO Rice Vinegars in seven clean-label varieties and two organic offerings at your local Kroger, Publix or Walmart stores! You can even find a few fun and delicious ways to swap out other commonly used condiments and ingredients and replace them with NAKANO Rice Vinegar by visiting their website here!
Before you head out to the store, don't forget to grab this great money saving coupon so you can keep your pantry stocked with NAKANO Rice Vinegar, too!
Are you making any "swaps" this new year? What are some of your culinary goals you've challenged yourself to undertake? Have you ever cooked using rice vinegar before? Leave a comment below and share the love!