This post was sponsored by Funky Chunky® as part of an Influencer Activation for Influence Central and all opinions expressed in my post are my own.
It's no secret that there's something sacred about game days and football here in the south. We love to celebrate big during game days, and we especially like to show up and show out during championship games, playoffs and bowl games! We're still living it up big after a majorly successful year of collegiate football here in the great state of Alabama, but now we're switching gears and are huddling up for The Big Game at the professional level coming up in February!
No football homegating party is ever complete without pigging out on some lip smackin' good game day grub, and my family and I are particularly partial to indulging in a combo of sweet & salty goodness throughout all 4 quarters of the game. During the most recent playoff game, I set up a simple little sweet & salty snack bar with the help of the Funky Chunky® Half-Time Crowd Pleaser Tin, which comes with 5 varieties of fun and unique gourmet popcorn featuring buttery caramel popcorn drizzled with different types of chocolate and a delish combination of pretzels and nuts!
Sweet & salty snacks are the perfect choice to serve during any football game. Every ball game has it's sweet moments, and there are always those moments that are a little on the salty side, but no matter the outcome of the ball game, you've always got a winning combination scoring points with your tummy! 😉
The Funky Chunky® Half-Time Crowd Pleaser Tin is available for a limited time (now through February 4th,) and comes packed to the brim with a variety of 5 of their best selling flavors! The varieties included in our tin were as follows:
Sea Salt Caramel, Chocolate Pretzels, Chip-zel Pop, Chocolate Popcorn and Peanut Butter Cup Popcorn
The Chip-zel Pop variety scored the winning touchdown in my book. Salty chips have been my A1 since day 1 of my pregnancy, and mixing the goodness of chips and pretzels with all of that chocolaty goodness was a total match made in heaven!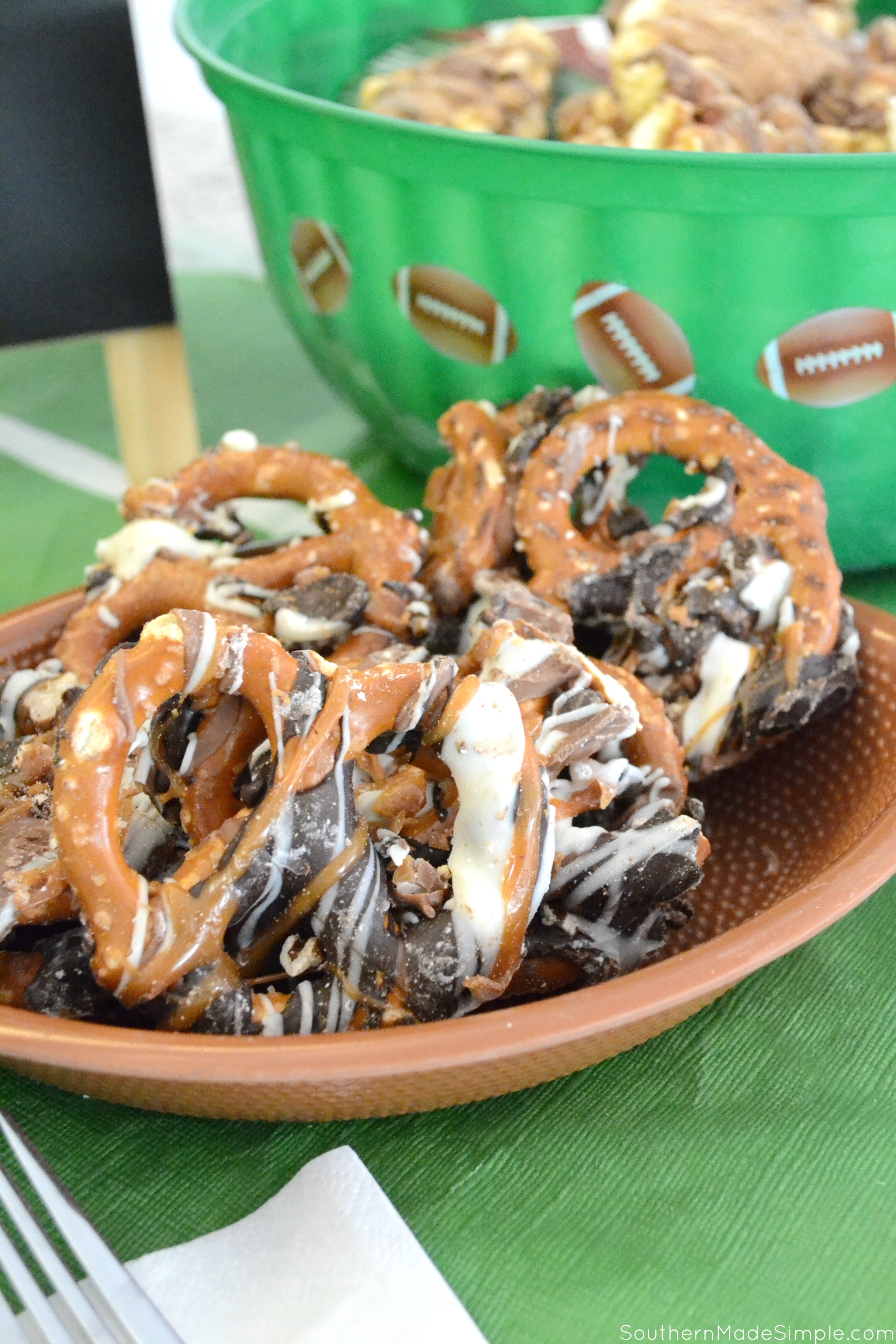 The chocolate pretzels were also a true MVP of our game day snack bar. Don't they just look positively scrumptious?! I'm convinced that I could have eaten nearly the whole Funky Chunky® Crowd Pleaser tin by myself in one sitting, but I quickly remembered that wouldn't be fair to the rest of the people watching the game. Sometimes you just have to take one for the team! 😉
I also threw together these fun little football themed pretzel rods for a whimsical twist, though I was a little bit tempted to take them off of the table after my first nibble of Funky Chunky popcorn, as there was NO denying that the popcorn was the tastiest touchdown worthy treat on the table!
If you're gearing up for The Big Game coming up in a few weeks are are going to be throwing a football watching shindig at your place, you'll definitely want to get your hands on the Funky Chunky® Half-Time Pleaser Tin so your game day spread is the talk of the town! You'll definitely flip over how perfectly the sweet and salty flavors join together in such tasty beautiful harmony!
Do you and your family like to celebrate big on game days? Are you a fan of sweet and salty game day snacks? Which variety do you think would be your favorite? Don't forget – these special celebratory tins are available until February 4th, so get your order in soon!